Travel
Lembeh: Back in Black
At no more than 5mm long, hairy shrimp are among the most challenging macro subjects you'll come across—if you can find them

The arrival of the new moon beckons us with the promise of otherworldly beings, and like a long-lost friend, the sultry air makes us feel immediately at ease. We are back to one of our favorite diving destinations in the world, and we couldn't be happier. In a gentle voice, Fandy, our dive guide from Lembeh Resort, tells us of the worry he has felt over the past two years, and of the despair of an industry that has been brought to its knees. "So many resorts and dive operations have closed, and lots of my friends have been forced to find other work. Many have to spend time away from their families, so I feel lucky to be here."
Many Indonesians who depend on tourism for their livelihoods were hit hard by the virus. While some dive resorts were strong enough to retain their staff during a period of zero revenue, others were not, leading to widespread unemployment and a "day-to-day" existence that many families thought they had long left behind. As an operator with a reputation amongst muck diving and black water photographers, Lembeh Resort and their dive operation, Critters at Lembeh, have always been dedicated to supporting their workforce and local community. The staff remained employed during the two years of the pandemic and kept the resort in top condition, working hard to ensure a high-quality experience for guests when they return. "Now it's okay," Fandy says with a smile. "We're back."

Lembeh's critters, like this crinoid shrimp, are masters camouflage and you'll need a skilled guide and a patient approach to capture them at their best

A mimic octopus on Lembeh's famed exposed black sandy slopes

On Fandy's signal, we back-roll and descend into the black. We place a bright light on the seafloor and gather around it as if it is a campfire. Breathing slowly, we allow our bodies to adjust to the rhythm of the sea at night, and it's not long before it reveals its supernatural beauty. Microscopic plankton fill the water, and as we hover in the water column, a myriad of otherworldly beings make their presence known.
Many are very tiny and in their larval stages, causing us to squint to gain focus as they seduce us with their flashy light displays. The migration of these strange creatures from the twilight zone up to shallower depths is believed to be the largest migration of species anywhere on our planet and, incredibly, it happens here every single night of the year. We are greeted by tiny blue tang and diamond squid larvae, along with numerous crustaceans and cephalopods. If you're lucky, you might even encounter the elusive paper nautilus—which, as it turns out, is actually a pelagic octopus.

A diamond squid patrols the blackness

A tiny blue tang in its larval stage

A Zanzibar whip coral shrimp clings on in the current

The currents that flow through the Lembeh Strait bring nutrient-dense water to its black sandy slopes and sheltered bays. These conditions support an abundance of microscopic food, and combined with the fine sediment and mineral-rich volcanic ash, create a breeding ground for peculiar benthic creatures found nowhere else on Earth—many of which often find shelter in man-made debris. Because the strait forms a narrow channel between the island of Lembeh and North Sulawesi (near the busy port of Bitung at its southern end), the prevailing current thrusts stray debris through from the Molucca Sea towards the Celebes Sea, thereby settling in the strait and often providing a place for critters to call home.
Whether it's black water or black sand, there is something quite magical about the critters of the Lembeh Strait. During the day, the black sandy slopes are awash with the most unusual marine species on our planet. Blue-ringed octopuses, mimic octopuses, hairy frogfish, the elusive hairy octopus, and flamboyant cuttlefish—the list is endless. You'll also find delicate and pretty soft corals, standing alone and unsurprisingly home to many small critters including numerous species of crab, nudibranch, shrimp and small fish. It is believed there are more than 2,000 species in a single five-mile stretch here, and more and more species continue to be discovered, creating a diversity of creatures hard to find elsewhere.

A flamboyant cuttlefish stands out against the rubble

Soft coral bushes provide a home for all kinds of tiny creatures

At night, everyone is out. The black sand is home to anything and everything in your wildest imagination. From the savage bobbit worm to the strange yet endearing stargazer, critters are bizarre in not only appearance but behavior.
If you're normally used to exploring coral reefs, the underwater world here instantly feels extraordinarily different. In contrast to colorful and busy coral reefs, the black sandy slopes of Lembeh are rich with muck and silt. The seabed is entirely exposed, allowing us to observe critter behaviors that would normally be closely guarded or obscured from view on a coral reef. Illusionist camouflage techniques, absurd feeding behaviors, and perplexing mating rituals are exposed for all to see.
While most critters are seen all year round and are not particularly seasonal, some individual species and behaviors have a tendency to be spotted more frequently during certain times of the year. August through December is a great time to spot blue-ringed octopuses. But if you want to see them with their eggs, then January to March is your best bet. You'll also see flamboyant cuttlefish mating at any time of the year, but you're more likely to see their eggs hatch from August to January.

A savage bobbit worm waiting for another unsuspecting victim

A stargazer buries itself in the sand, ready to ambush its next meal
Critters in the Can
For underwater photographers and videographers, a visit to Lembeh will not only provide a bounty of incredible subjects and behaviors to shoot but will also help fine-tune your techniques. Apart from the critters themselves, the resort's keen-eyed critter guides are the real stars of the show. Not only are they specialists at finding the critters themselves, but they are also accomplished photographers in their own right.
The guides can give you tips on how best to photograph a particular subject based on its behavior. They know which critters shy away from the camera. They'll even help you point your snoot. Underwater, you'll hear the guides shaking their rattles in a complex code alerting each other to what critters they have each found. At the end of the dive, you'll be presented with a diving slate full of the names of all the critters spotted—Latin names and all!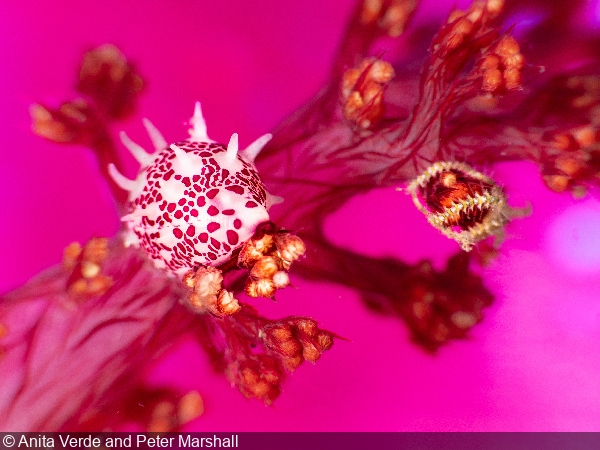 A cowrie, shot using an artificial background of holographic paper

For many macro photographers, a blue-ringed octopus is the ultimate prize

Because the black sand can distract from the subject, probably the most difficult thing as a photographer is trying to create an image with an aesthetically pleasing background. The way to achieve this is by using a shallow depth of field or by carefully positioning your lighting. A snoot can also be very effective, enabling you to light just the subject without lighting the surrounding area. Some photographers also like to experiment with artificial backgrounds, which can suit many subjects and help showcase them in an abstract way.
To get good photos, you will also need to get low to the sea bed—without resting on it. Many tiny critters make these sandy slopes home, so it is important that you stay off the bottom. Excellent buoyancy skills is a must. The use of a metal pointer can be helpful and is essential for providing some stabilization when photographing your subject.

A hermit crab poses on the black sand under a snoot

The Lembeh Foundation
Founded by Lembeh Resort, the Lembeh Foundation is a registered Indonesian charity promoting sustainability, awareness and education to communities on Lembeh Island. Through the resort's sustainability program, regular beach and underwater clean-ups are carried out—taking care of the resident critters, of course. The foundation's "Trash Bank," located in the neighboring village of Pintu Kota Kecil, has had a positive impact on local people and the environment. The program, which encourages local people to collect plastic waste from their homes and surrounding beaches in exchange for a cash amount per kilo of plastic collected, has not only reduced the amount of waste in the region but also continues to provide a source of income for local families.
During the pandemic, local women partook in a series of Lembeh Foundation workshops, learning to upcycle plastic waste into gift items that are then sold through the resort's gift shop and local markets—everything from shopping bags to pouches and wallets. The resort and dive center staff stayed busy with COVID-driven health and safety training, honing their guiding and photography skills, and nurturing Lembeh's very first coral nursery—a project that not only aims to restore the coral cover on the resort's house reef but to educate the community and guests about the restoration of coral ecosystems and their importance to our oceans.
One of the Lembeh Foundation's key projects is educating children in the local villages through the foundation's learning center. Run by Lembeh Resort staff and championed by local village's "Green Guru," Helen Pananggung, the program supports children through education by teaching them to respect and care for all aspects of the environment, and to protect what they love. The aim of the program is to create a behavioral change among communities led by the younger generation.
The foundation's FUNplastic program strives to further reduce the use of single-use plastics through recycling and repurposing. As you wander through the village, the only plastic you'll see is that which has been recycled and repurposed into useful items.
A minuscule "Shaun the Sheep"—or "Rabbit Shaun," because of his longer ears—clings to a small piece of algae

Celebrated for hosting an overabundance of the weirdest and most enigmatic creatures on Earth, the Lembeh Strait has without a doubt always been the epicenter of muck diving. Its mantle has been well deserved and is still the place by which all other muck diving destinations are measured.
But critter credentials aside, we can't help but feel that Lembeh is now so much more than that. The positive energy and steadfastness of the community here are admirable. There's been no idling here, no complaining—just gratitude and the resilience to go on. Lembeh is back, and it's better than ever.

A pair of vibrant harlequin shrimp
Planning Your Trip to Lembeh
How to Get There: The Lembeh Strait is to the east of North Sulawesi in Indonesia, around 60 minutes by car plus a 10-minute boat ride from the capital, Manado. Manado's Sam Ratulangi Airport is serviced four times a week from Singapore by Scoot, along with regular domestic flights from Jakarta and Bali.
When to Go: The busiest time for diving in Lembeh is during the dry season from late May to early November. However, because Lembeh is well-protected from ocean swells and monsoon winds, there is fantastic critter diving to be had all year round. Air temperature remains consistent at around 86°F (30°C) throughout the year.
Who to Dive with: Due to its proximity and ease of access from Manado, Lembeh is usually dived using a resort-based option—of which there are many to choose from. Lembeh Resort is among the very best, providing comfortable accommodation and first-rate facilities for divers and photographers. The resort's Backscatter Authorized Photo Center can carry out repairs, provide spare parts, offer gear for hire (including cameras, housings, lenses, and strobes), and even 3D print camera parts—a broken, lost or forgotten piece won't keep your camera out of the water here. If you are new to underwater photography or want to refine your skills, there are also numerous photography and videography courses on offer, from entry level to advanced photography and video production.
Diving Conditions: Visibility varies between dive sites and can often be unpredictable, anywhere in the range of 16 to 65 feet (5–20 meters). It is often highest at the most northerly dive sites, while at the most popular central sites in the strait, it is often between 33 and 50 feet (10–15 meters), making it suitable for macro photography. Water temperatures are relatively consistent throughout the year at around 82 to 84°F (28–29°C), with July and August being the coolest months at around 77–79°F (25–26°C).

A plain-spot octopus stakes its claim to a shell

---
About the Authors: Anita Verde and Peter Marshall have a passion for the planet's wild places, and through their images and narratives hope to inspire better appreciation and protection of the natural world. Based in Melbourne, Australia, they have professional backgrounds in tourism strategy, environmental sustainability, and government relations. When they are not underwater or on a mountaintop, they also work professionally as strategic consultants, advising governments and industry on sustainable destination planning and development, investment attraction, government relations, brand strategy and marketing. www.summitstoseasphotography.com
RELATED CONTENT
Be the first to add a comment to this article.
Newsletter
Travel with us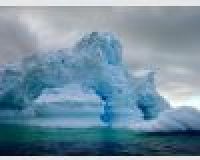 Antarctica
Plan Your Adventure >
Featured Photographer
Zena Holloway
Expert Photographer
Zena Holloway's images are striking, instinctive, driven by a deep understanding of her medium, Zena has been diving since she was a child. Completely self taught she delivers the remarkable, combining the highly technical...