Travel
Cayman's Kittiwake: The Big and the Small of It
The Ex USS Kittiwake rests in a shallow 60 feet of water on the West Side of Grand Cayman. This young, but iconic artificial reef has undoubtedly become a wide-angle dreamland. Ample ambient light paints a backdrop for this 251-foot-long artificial light and supplies an endless number of shooting opportunities.
When preparing to explore the wreck with your camera, wide-angle would of course be the setup that comes to mind. However, my many dives exploring this underwater playground have shown me a smaller side to this massive wreck.
Macro Photography on the USS Kittiwake
Over the past year I have put extensive effort into finding and documenting different types of macro life that are right here in our Cayman backyard. The effort rewarded me with finding macro "hotspots" in different areas around the island. One of the most successful locations found was, in fact, the Ex USS Kittiwake.
Some of the subjects are more common than others, but what this wreck really has going for it, is the array of subjects that can all be found in such close proximity on a consistent basis. Many of the subjects are territorial to areas of the wreck, allowing the chances to locate and identify them easier; and in turn, maximizing one's time to hone in on macro shooting skills and experiment with new techniques.


Kittiwake Critter List:
Banded coral shrimp
Secretary blenny
Grape-cluster doto
Headshield slug
Skeleton shrimp
Flabellina dushia
Slender filefish
Yellowline arrow crab
Sergeant major eggs
Squat anemone shrimp
Nimble spray crab
Crustaceans on the Kittiwake
The Kittiwake is covered with crustaceans boasting a variety of sizes and colors. Their bright colors often stand out prominently from the algae that has blanketed the wreck's surface. There are also many opportunities for a "black-background" shot, as many of these subjects make their homes outside of the wreck on the main deck.

Subject: Yellowline Arrow Crab
Size: Up to 6.5cm
This crab's body has amazing detail that can be paired with its bright purple claws to make it pop breathtakingly from the background. I use two strobes positioned on either side of my port, casting an even light to reduce shadows, and make the detail and pattern of their arrow-shaped heads stand out. They can commonly be found in and amongst the massive pulleys that line the bow and stern portion of the ship.

Take your time and find one that is in a good shooting position and allow some time for observation. These crabs are more often than not eating, which makes for a good behavior shot.
Subject: Banded Coral Shrimp
Size: Up to 5cm
If you found success with the old "Where's Waldo" books, you will spot multiple banded coral shrimp around the wreck. These bright and detailed shrimp make for great macro subjects. We see a lot of these guys around mid-ship on the upper deck. They like the pulleys just under the water cannon.
Be ready to pull the shutter as you approach. These shrimp can be timid and like to stay hidden once they are out of sight. A 100mm lens and powerful strobes help to get successful shots. By keeping your distance from your subject, you will have more than one opportunity to compose and photograph.

If you are in for a challenge, flip over the +10 and try for nice close-up. The size of this shrimp (up to 4 inches in length) helps for a quick autofocus on the eye, which will give you a very detailed and appealing outcome.
Subject: Skeleton Shrimp
Size: Up to 1.2cm
Some call these guys ghost shrimp due to their almost invisible appearance. Given their small size and translucent bodies, these shrimp are one of the hardest subjects to photograph that the Kittiwake has to offer.
The positive thing is, these shrimp are literally all over the wreck. The railing that lines the main deck on the port side of the ship seems to always be a popular location for ghost shrimp. Using a macro diopter is a must when going after the ghost shrimp, so you are going to need a good background to help with focusing issues. You can often find a smaller bundle of hydroids that has a single shrimp hanging onto it atop the railing, giving you an awesome blue-water background, which I find to be very helpful and appealing.


The shrimp themselves don't move around much, but the tiny tree-like structures they latch on to do. If there is any amount of surge, you will find these tiny critters swinging around for dear life. In this case, manual focus becomes a good option; or if your camera allows you to lock focus, set your focus point, hold your position, and wait for the swell to bring the shot to you.

This is one of the few subjects I found that stacking the Subsea +10 and +5 worked well with. Focusing was tough, but the key was lighting.
Subject: Nimble Spray Crab
Size: Up to 3cm
These crabs are less common to the West Side dive sites, making it a special critter to find on the Kittiwake. We find them most often on the bow of the ship, just above the anchor chain portholes. A longer focal length lens is the preferred tool for these crabs. They are often tucked up underneath a ledge of some sort. Lighting can be difficult, but the working distance of the lens gives you some room to work.

Their bright yellow and red color scheme makes them easy to spot and great to photograph.
Subject: Squat Anemone Shrimp
Size: Up to 1.2cm
These shrimp usually make their home in anemones, which are not abundant on the wreck. We usually see them in the small portholes at all depths of the wreck; sometimes hanging out next to the fire clams. Most photos of these shrimp show them in or around an anemone. On the wreck, we see them without the protection of their usual habitat. This makes the images interesting and unusual.

The 100mm is a must, as these guys are shy.
Nudibranchs and Slugs
The mention of the word "nudibranch" in the Caribbean can get you an array of puzzled looks. A subject not as numerous or vibrant as the nudis found in locations around the Indo-Pacific, but all the same, these crawling creatures do exist here in Cayman. More importantly for the purposes of this article, a couple of species have made the Kittiwake their home, making this wreck the most reliable location on the island for some photography opportunities of nudis in the Caribbean.
Subject: Flabellina dushia
Size: Up to 2cm
We commonly find this subject on the deep portholes along the port and starboard sides of the wreck. During the certain times of day these areas can be cast in shadow, so be sure to have a focus light. Wait for them to start climbing up and down pieces of algae for unique poses and compositions.
The small size of these animals would usually make the dive more about locating a subject, not actually taking photos of it. This is what makes them shine on the Kittiwake. Their white bodies would normally blend in with the sand making it a challenging spot. The wreck is covered with a dark brown algae that literally makes these guys pop off the background.

This is a subject that almost requires the use of a diopter. The +10 works well with their small size and really allows you to pull in some detail.
Subject: Grape-cluster Doto
Size: Up to 1.2cm
If you are in to photographing rare subjects, this should be your goal. This is the one subject that we have found on the wreck, but haven't spotted anywhere else in Cayman. They can typically be found on the thick hydroid patches on the smack stack and on the bow of the ship near the anchor chains. It's another subject we have found that requires the use of a diopter in order to avoid cropping down for detail.
If you can find one on the bow, I would stick with it. This seems to be the easier shooting location as the smack stack can offer some difficulties with giving you a good shooting angle. Be patient, as the hydroids sway back and forth and wait for the opportune moment to fire away.

If you want the shot, be prepared to work for it. This is another subject that will be challenging to produce intriguing images of. Their small size and lack of movement can lead to difficulties with composition.
Subject: Cuban Aglaja
Size: Up to 1cm
Headshield win the honor of being the smallest subject the wreck has to offer. These small subjects fall into the category of super macro—diopters welcome. These slugs can be found in the sand all around the wreck. They might be small in size, but they are big on color and detail.
Once you find one on the move, try to predict where it's heading and set up to capture as they crest a ripple of sand. I find this is a more engaging method to photograph them, rather than a looking straight down at the sand.

The 100mm and +10 diopter are the preferred shooting tools. The key is to locate a slug that is active.
Fish and Other Critters on the Kittiwake
Subject: Slender Filefish
Size: Commonly 6cm
Usually found amongst whip corals and gorgonians, this subject can sometimes be found free swimming around the outside of the wreck. They are known for their sneaky abilities to glide behind something just as you are about to fire the shutter. The Kittiwake though, being a rather young artificial reef, does not house tremendous amounts of plant growth for these subjects to hide amongst, making it easier to compose a compelling shot.
It is best to avoid the use of a focus light if you can; these small fish tend to get startled by the light. Flip the diopter away from the port for this one; these subjects can be fast moving and the diopter will make it hard to locate your subject.

If this shot doesn't say it all, I don't know what will. The macro life on the wreck is so dense, you can stumble upon shots with multiple subjects in one frame.
Secretary Blennies
Size: 2.5cm
These energetic, yet stationary guys are the perfect way to get back into the groove of shooting macro (or supermacro). Some subjects can be extremely frustrating to focus a shot on because of their movement. These blennies rarely leave their hole, except to dart out from time to time for food. This behavior makes for an endless number of poses to be captured.

I like to have a single strobe in an overhead position while photographing this subject. Given their usual locations it always seems to offer the fewest shadows.

As you spend more time within shooting distance, they seem to get used to the camera as well. Some appear to even dart out at their own reflection. The blennies' "tough guy" personas really lend the use of the diopter. Even when you get extremely close to them, they commonly stay out and about alert of their surroundings.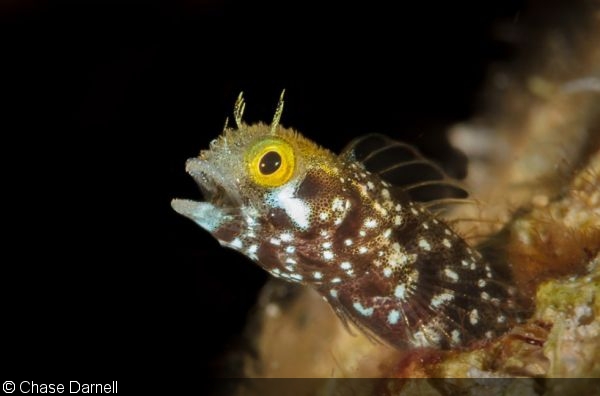 Patience is the key when it comes to this subject. Compose your shot and wait for the right moment. These blennies are very active and capturing that "open-wide" face can really add to your image.
Subject: Sergeant Major Eggs
Size: Tiny
For the serious macro junky, these eggs are the perfect subject to experiment with multiple diopters or lens stacking. You can find these nests of eggs scattered around the main deck of the wreck. For this shot, I used the Subsea diopters stacked, giving me +15. Once you maneuver close enough, focusing shouldn't be an issue as these guys don't move; but make sure you don't damage the eggs.

If you catch the eggs at the right stage, you can actually see visible fish embryos inside them.
Macro Video on the Kittiwake
Filming these small subjects is a whole new ball game. Focusing, composing and keeping a steady hand becomes nearly impossible while trying to maintain buoyancy. Have no fear: Once again the Kittiwake prevails. Given that the wreck is still intact, the level decks of the ship offer up endless areas for the placement of a tripod. Without this steady base, your shots will be very difficult to achieve.
This is the latest "Macro Life – Grand Cayman" episode that DNS Diving owner Dusty Norman and I filmed, entirely of subjects found on the Kittiwake—further proof of the macro wonders this superb wreck has in store.

Go Small Or Go Home
The Ex USS Kittiwake boasts an array of macro subjects that can be utilized to hone in on macro skills. The small proximity and very common sightings of all these critters make this our top macro "hotspot." So, if you are brave enough on your next trip to Cayman, dive the Kittiwake with the macro kit, and I think you will be impressed.
When: Diving is year round.
Subjects: Lots of critters, including skeleton shrimp, secretary blennies, slender filefish, and a selection of nudibranchs.
Equipment: A longer length macro lens can come in handy for more shy subjects. Add on a diopter to capture the selection of super-macro subjects.
Who To Go With: Every dive shop in Grand Cayman visits the Kittiwake as a special trip (additional $10 fee). Smaller dive operators, like DNS Diving, can spend more time assisting you with your gear and finding the critters you want to see.

RELATED CONTENT
Be the first to add a comment to this article.
Newsletter
Travel with us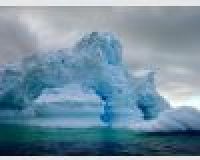 Antarctica
Plan Your Adventure >
Featured Photographer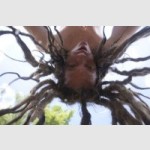 Ric Frazier
Expert Photographer
Born and raised in Texas, Ric's photographic journey began with participating in and shooting the skateboarding scene. Many scrapes and scars later, swimming with the sharks seemed like an equally stimulating experience....