Travel
Iconic Dive Site: Darwin's Arch

Divers often bemoan multiple dives on the same site—but not at Darwin's Arch. It's not uncommon for liveaboards to plan for six or more dives at this famed site in the Galápagos—it's that transcendent of an experience.

The Dive Plan
Located off of the northernmost island in the Galápagos archipelago, Darwin's Arch rises to more than 50 feet from the frothy ocean below. The remoteness of the site and lack of access to Darwin Island means this site is only accessible from a liveaboard.
Darwin's Arch features no predetermined entry or exit point. The currents are unpredictable to say the least, so your dive guides will likely wait until arriving at the site in the dingy to confirm the plan. Most of the time, you will drop in just south of "the arch" in the protected shallows. Here, there is little current, but usually some surge.

The Darwin's Arch dive plan often begins in the protected shallows, where sea lions and turtles are frequent sights—and that's followed quickly by hammerheads and whale sharks

After you've collected yourself and your camera, the guide will begin the descent down a slope of large boulders that leads to a protruding ledge. During the warm or rainy season (January–May), dives are conducted considerably deeper (80–100 feet) to maximize visibility. During the dry months (June–December), dives can be conducted at shallower depths (50–70 feet).
The guides in the Galápagos are pretty good at finding the perfect spot to spy schooling hammerheads or whale sharks. Follow their lead and when instructed to stop, either steady yourself behind a large boulder or use a reef hook. Once you've run out of bottom time, the guides will often motion to release from the reef and swim out into the blue in search of schooling fish or other pelagics.

Swimming out into the blue off Darwin's Arch can bring encounters with whale sharks, huge schools of fish, and eagle rays, among other subjects
Underwater Photography Gear for Darwin's Arch
Cropped-Sensor DSLRs and Mirrorless Cameras: A fisheye zoom lens is ideal for whale sharks or close encounters with large schools of fish, while a rectilinear wide-angle lens is better suited for skittish sharks. It can be a toss-up, so go with whichever lens you feel most comfortable lighting and composing.
Full-Frame DSLRs: Full-frame DSLR users will be best catered to by a rectilinear zoom, which will be flexible to handle close, large subjects like whale sharks and schooling fish as well as more distant hammerheads.

The added focal length provided by a rectalinear wide-angle lens helps better fill the frame with hammerheads, which are notoriously skittish

Compact Cameras: Adding a wide-angle wet lens to your compact setup wet will provide a sufficient angle of view to fit large schools of hammerheads or whale sharks in the frame. Bonus: If something rare (pilot whale, killer whale) swims by, then you can pop it off for a longer focal length "proof shot."
Lighting: Two powerful strobes are a must to illuminate skittish sharks in conditions that can be a little darker than your typical tropical reef. Make sure to use diffusers to soften the light output—there is a ton of particulate matter in the water that will otherwise light up.
Diving Gear: The most important equipment on Darwin's Arch is your diving gear. Currents make this a challenging dive, so make sure you're working with gear that you could use blindfolded. Additionally, consider thin gloves to avoid scraping your hands on the boulders. Divers with large cameras should bring along a reef hook to free up both arms for camera operation.

Look for large boulders with no coral growth to steady yourself. Using a reef hook can help those with large cameras stabilize in severe currents
What You'll See at Darwin's Arch
There are two primary seasons for diving Darwin's Arch. The months of June–December are typically known to feature a high percentage of whale shark sightings. Larger numbers of schooling hammerheads are observed January–May. Having said that, there is no better time to dive the Galápagos than whenever you are there!
Whale Sharks: Between June and November, the number of whale sharks observed increases dramatically. However, they don't often come right up to the reef—and you may not see them from the reef depending on visibility. Instead, your experienced guides will use a series of factors to determine when to swim out into the blue to find them.

Whale sharks can be found cruising by Darwin's Arch in especially large numbers in the months from June to December, when temperatures dip but visibility increases

Scalloped Hammerhead Sharks: Hammerhead sharks come out in droves at Darwin's Arch. Sometimes it may just be a dozen or so swimming around the large boulders. Other times, your guide may instruct you to swim out into the blue to get closer to a school of hundreds. Guides will also point out hammerheads' cleaning stations, where they are easier to approach.

If you've never seen a hammerhead before diving Darwin's Arch, you will likely add at least 50 to your tally—and that's just from a single dive!

Other Sharks: Darwin's Arch is also host to other notable shark species, such as Galápagos sharks (common) and tiger sharks (less common). Silky sharks also congregate in the shallows, often coming close to investigate divers during safety stops.

Silky sharks are known to follow divers from their safety stops to the surface. Make sure to keep your camera between you and the shark for safety, as this species is a bit inquisitive

Schooling Fish: The plethora of life at Darwin's Arch isn't limited to sharks. The convergence of the currents and nutrient richness of the water from upwelling produces a flourishing ecosystem. Schooling fish include barracudas, bar jacks, bonito and tuna.
Other Marine Life: Eagle rays, sea lions, green sea turtles, moray eels, dolphins, and almost anything else you can imagine.

While the dives at Wolf Island, just south in the Galápagos archipelago, are known for eagle ray encounters, you can find these underwater aviators at Darwin's Arch as well
Underwater Photography Tips and Techniques for Darwin's Arch
Peek-a-Boo with Hammerheads: Hammerheads are surprisingly skittish animals. In fact, just breathing out bubbles can be enough to scare them away. Try the peek-a-boo technique: Crouch behind a large boulder (holding your breath) and wait for the last second before the shark approaches to pop up and nab the surprise shot. If you stick out from the boulder the whole time, your chances are much slimmer.

Your best chance of getting a close encounter with swimming hammerheads is to have a low profile, or even hide in the rocks, before popping out at the last second

Don't Chase the Whale Sharks: Whale sharks may seem slow, but they are much, much faster than you. Trying to catch up with these large fish will not only be futile, but it may scare them away even faster. Instead, watch a shark's path and pick a point ahead of the animal where you hope to intersect. Keep your strobes in tight to avoid drag as you begin the swim, setting up your camera settings and strobe output along the way. When you finally reach the whale shark head on, pull out your strobes for wide coverage and compose your shot.
Rely on Ambient Light: The Galápagos' nutrient-rich water also means that particulates are likely to be lit up by your strobe light. With more distant subjects, or larger scenes, don't worry about lighting the whole thing up with your strobes. Instead, use a higher ISO and a more open aperture to allow in natural light. Use your strobes more as an underwater fill light than the sole light source. Make sure to shoot in RAW so you can color-correct more efficiently in post-processing.

If the sharks are too far away for your strobes to do anything (other than light up backscatter), consider relying more on natural light, possibly even converting to black and white in post-processing

Look for Hammerhead Cleaning: The hammerheads that cruise along the plateau at Darwin's Arch aren't too keen on divers approaching. Instead, have your guide look for cleaning stations. Here, the sharks are removed from the current and wait for reef fish to come up and clean their mouths. In addition to being a pretty cool behavior image, the sharks are much more tolerant of divers once they begin the cleaning process.

Hammerhead cleaning stations are located at a shallow sandy channel that runs alongside the eastern side of the Darwin's Arch corner. Here, the sharks are much more tolerant to the divers' presence

Safety First: Darwin's Arch is one of the world's best dives. It is also one of the more difficult recreational dives you will encounter. There are down-currents, up-currents, and all sort of other difficult conditions. Put safety above getting the shot. Make sure your gear is streamlined and as simple to operate as possible. Bring a signal device for the surface (ideally have one as a backup). And watch out for down-currents that can quickly bring you down from 80 feet to 110+ feet in just a few seconds, especially when swimming out into the blue.

Even when swimming out into the blue after a subject, make sure to pay attention to depth as down-currents or up-currents can have a tremendous impact in a short amount of time
Planning a Trip to Darwin's Arch
When to Go: January–June (hammerhead season) or June–December (whale shark season)
Subjects: Hammerhead sharks, whale sharks, tiger sharks, Galápagos sharks, silky sharks, schooling fish, green sea turtles, moray eels, dolphins, sea lions, and more
Equipment: Interchangeable lens shooters should pack a fisheye or rectilinear zoom, while compact users will benefit from the wider angle of view provided by an additional wide-angle wet lens
Who to Go With: Galápagos Master, Galápagos Sky and Galápagos Aggressor provide weekly trips to Darwin's Arch
A frigate bird poses at the front of the bow of the Galápagos Master liveaboard, with Darwin's Arch framed in the background
RELATED CONTENT
Be the first to add a comment to this article.
Newsletter
Travel with us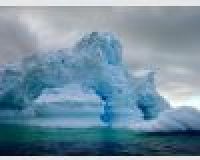 Antarctica
Plan Your Adventure >
Featured Photographer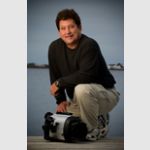 Donald Tipton
Expert Photographer
DONALD TIPTON began his professional photographic career in 1982 and has worked in commercial and advertising photography ever since. His underwater work is a celebration of color, texture, and form that few people will ever...