Travel
Iconic Dive Site: Cenderawasih Bay

Cenderawasih Bay is located on the north coast of West Papua, and lies east and south of Raja Ampat. Spanning more than 8,000 square miles of ocean, it is the largest marine protected area in Indonesia. While more than 1,000 species of fish and about 500 different species of coral have been recorded here, Cenderawasih has become increasingly famous for its large population of whale sharks, which come to the surface from the depths on a daily basis.

The Dive Plan
Unlike almost all other marine parks, fishing in the bay is still permitted, and the local fishermen make use of homemade wooden platforms—bagans in Indonesian—to make their daily catch. For us divers, those numerous fishing platforms provide a unique opportunity to have close encounters with Cenderawasih's majestic whale sharks (Rhincodon typus).
The initial goal is finding a bagan where lots of whale sharks have been seen. The bay has very little current and diving is done only underneath the bagans. There is no reef, but there is also no need to dive deeper than 30 to 50 feet. The whale sharks are content to hang out at these depths, and will even remain at the surface for long periods.

An Indonesian fisherman rests on his fishing platform, while a myriad whale sharks approach from below

Cenderawasih Bay is one of the few spots where divers can come face to face with dozens of whale sharks on a regular basis

Descending first to around 25 to 30 feet, you'll find the perfect position to shoot images of the whale sharks coming from the depths to the surface—with or without other divers in your frame. Next, ascend a few feet and shoot some images just under the bagan. Try to take advantage of the sun to shoot some whale shark silhouettes.
End your dive between the nets of the bagan. You will quickly notice the whale sharks have no fear, and they will even occasionally look you straight in the eye. But there's no need to be concerned, as these huge, fearless creatures are also very graceful and gentle.
These encounters may involve a single whale shark or as many as ten individuals. You will likely have all the time you need to get great shots, as they will usually stay underneath the bagan for the entire day—though we have noticed that they are most active at sunrise. When their stomachs are full, or when there's no more food to be had, the whale sharks disappear again into the depths.

A hungry whale shark hopes to suck out some of the fishermen's catch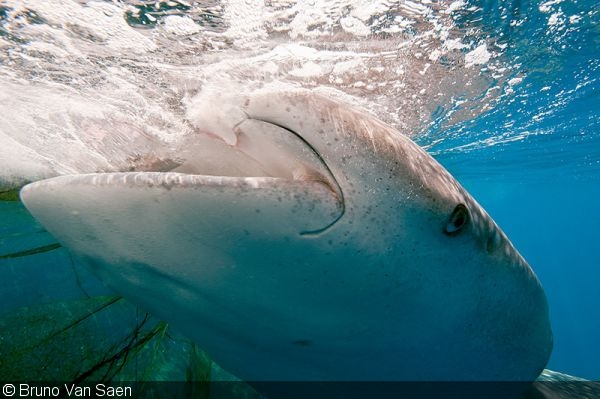 Staying close to the surface allows photographers to capture interaction between the whales and traditional fishing practices

Equipment
A fisheye is an excellent lens choice for Cenderawasih's whale sharks, as you will be able to get in very close. However, be aware that the fisheye's wide angle of view will all too easily bring other divers into the frame. Still, this is not always a bad thing, because a diver provides the scale that illustrates just how huge these animals are. At the surface, a mid-range zoom is preferable, rather than the fisheye, as we want the horizon to be flat.

What You'll See
Whale sharks, whale sharks, and more whale sharks! The local fishermen use a surprisingly simple technique to attract these giants. By throwing a bucket into the water, a unique sound is produced that reaches far and wide, bringing the whale sharks to the surface from the depths. The fishermen then toss a small part of the netted sardines (ikan puri in Indonesian) into the water for further encouragement.
But the whale sharks aren't coming just for show—they have their own reason for making an appearance. With their mouths wide open, they swim slowly towards the nets, and then sucking in huge quantities of water, they vacuum up some of the small sardines, which slip through the holes in the nets. Only after they've had their fill will they return to the deep once more.

The usually calm conditions of the bay make it possible to capture reflection shots of the world's largest fish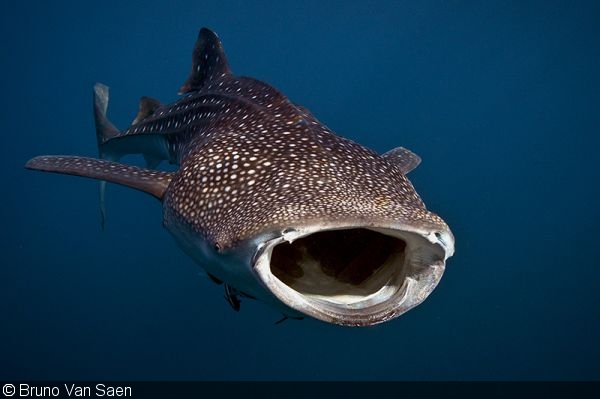 Open wide! A whale shark moves in, hoping to come away with a little snack

Photo Tips and Techniques
Strobes and video lights are not allowed, but as you're shooting quite near the surface, you can do without them anyway. Depending on the ambient light and visibility, we set ISO values between 100 and 800, typically in combination with apertures of f/2.8 to f/11. Despite whale sharks being fairly slow-moving subjects, we recommend using a relatively high shutter speed, from 1/100s to 1/250s, as we still want to ensure we properly freeze the action.
Given the whale sharks' huge size (between 15 and 50 feet), you should be able to approach closely and make full use of lenses such as either a 10.5mm fisheye or a 12–24mm zoom. Keep in mind fisheye lenses allow a much wider view but will create rounding effects. Consider using your camera's continuous shooting mode, since you're shooting in available light and don't have to worry about your strobes having time to recharge.
As well as getting in close, be sure to shoot some reflections, silhouettes, and over-unders. A bigger dome could be a useful investment for your half-half shots.

Although it looks like the diver is touching the shark, he is in fact many feet above the enormous animal

Including divers in your images can add a sense of scale and perspective—showing the casual viewer just how big the sharks are

Planning a Trip to Cenderawasih Bay
When: Diving is year round. Allow for two or three days of diving with the whale sharks.
Subjects: The bay is all about the whale sharks, but there are also a few reasonably good reef dive sites where some endemic fish can be found. There are some small wrecks inside the bay as well.
Equipment: Fisheye, fisheye zoom, or wide-angle zoom lens. A larger dome port is good for split shots.
Who To Go With: We recommend visiting Cenderawasih Bay on a liveaboard. Some offer "open deck" dives, meaning the ship stays at the same location and you can enter the water whenever you want. A good choice is Indo Cruise's MSY Seahorse. An alternative option is visiting the whale sharks from Nabire or Kwatisore village, but it will easily take around three hours by boat to get to the area where the bagans are.

A whale shark retreats after having its fill of fish for the day

RELATED CONTENT
Be the first to add a comment to this article.
Newsletter
Travel with us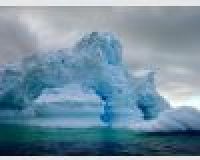 Antarctica
Plan Your Adventure >
Featured Photographer
Reinhard Dirscherl
Expert Photographer
Reinhard Dirscherl, born in 1964, is a self-employed photographer, lives in Munich and is dedicated to travel and underwater photography. He was born in Oberpfalz (a region in Bavaria) and he lives up his photographic ambitions...