Travel
Iconic Dive Site: Blue Heron Bridge

The Blue Heron Bridge dive site in Riviera Beach, Florida has become well known for the wide diversity of unique macro photo subjects that thrive in its waters. Technically, the location is called Phil Foster Park but most people here in south Florida just seem to call it "the bridge."
Twice a day, the tidal currents bring in interesting creatures swept along in the Gulf Stream, and as Forest Gump's mother would say, "you never know what you are going to get." Macro might be the main draw, but there are often sightings of spotted eagle rays, manatees, the occasional turtle, schools of jacks, and other larger fish.


Dive Plan
There are really two separate dive sites at the Blue Heron Bridge, and though you could do them both on the same dive, you wouldn't want to. To find the interesting cast of characters, it takes a slow and patient approach. For most people new to Blue Heron Bridge, I'd recommend diving the East Side, or "Little Bridge" first, and then trying the West Side ("Big Bridge") once more familiar with the area.


Dives need to be properly timed with the tides. One rule of thumb that works pretty well is entering the water about 45 minutes to one hour before high tide, which happens twice a day. The current will be running north at that time. The slack current will happen about 30 minutes after the high tide, and that typically represents the best visibility and least amount of current. Shortly after slack, the current will begin to move to the south—and the visibility will then go south as well. In general, visibility changes every day, but typically ranges from 30 to 60 feet. Occasionally it can be up to 100 feet, but it can also drop down into the single digits.
The depth here is only about 15 feet on average, so while a typical dive day here involves only one dive, it can be a two-hour affair or even longer. There is boat traffic in the area, so you need to know where the boat channels are. There is also a dive flag requirement to be aware of.

Photography Equipment
Generally, people use a macro setup at Blue Heron Bridge, but close-focus wide-angle can be rewarding as well. For macro, a basic macro lens and wet close-up lens (aka "diopter lens") is the obvious starting point.
There are a lot of quite small subjects, and this sort of rig is ideal for those. However, there are some great subjects that are a bit larger, such as batfish, searobins and frogfish—so a little bit shorter focal length is in order for them. The Nikon 60mm comes to mind here as it works with both APS-C and full-frame Nikon DSLRs. A focus light is important, as it can get a bit dark under the Little Bridge, for example.

What You'll See
When you first enter the water, the landscape is featureless sand; as you get further along you run into areas with more rubble plus some scattered grassy areas. There are some small wrecks to explore that hold a lot of blennies and banded coral shrimp.
The creatures at the Blue Heron Bridge don't exactly want to be found and many are not obvious at first; you have to patiently go look for them.


Listing all of the creatures found at BHB would take all day. Here are some frequent sights:
Several types of octopus (yes, during the day)
Mantis shrimp
Box crabs, starfish, neck crabs, and several varieties of hermit crabs
While not actually a crab/crustacean, the extremely weird but cool horseshoe crab is a "living fossil"; they are easily found at the Blue Heron Bridge by keeping an eye open in the sandy areas.

Other fairly common creatures that make good subjects include batfish, searobins, flying gunards, stargazers, eels, and at least three different species of fireworms. There are also at least three different species of jawfish, and it is not uncommon to find a mouth-brooding male taking cares of its eggs.
Other creatures that take a little more work to find include seahorses, skeleton shrimp, squat shrimp, bumblebee shrimp, frogfish, pipefish, pike blennies, tiny nudibranchs, and the nightmare-ish bobbit worm. The most interesting thing about Blue Heron Bridge, though, is that you just never know what you are going to find next.

Photo Tips and Techniques
Since there's so much variety at Blue Heron Bridge, there is no single photo technique that works for everything that a diver will encounter. The main piece of advice I'd give is just to slow down and work on one subject at a time. With such an abundance of subjects, it is really tempting to knock out a few quick shots of a creature and then move on and on. For a first visit, that might not be a bad idea, just to get an idea of what is there; but better images will come from working a little longer with a given subject.
Speaking of subjects, it is also tempting to try to immediately find some of the more unusual creatures, and pass by great subjects in the meantime. Blue Heron Bridge serves up something different every day, so it pays to get in tune with that and shoot what it has to offer. If today is "mantis shrimp day," it might be better to focus on that rather than spend your whole dive looking for that elusive hairy frogfish.


One thing that is tough about the Blue Heron Bridge landscape is that there is a lot of brown growth, and it really doesn't make for a very photogenic background. So, some thought should go into framing the shot to deal with that. A suggestion might be to get low and shoot upwards to reduce how much of the rubble is in the shot. Using a snoot or only a single strobe can also be effective solutions for selective lighting. Shallow apertures, called bokeh, can keep the creature in focus while blurring out the distracting background.
And one more thing: there are creatures everywhere at Blue Heron Bridge, so please do be careful with your buoyancy and awareness of your fins and anything else that can damage the bottom.

Planning a Trip
West Palm Beach (PBI) and Fort Lauderdale (FLL) airports both have good connections with most cities, so getting in is easy. There are a number of dive shops in the area that can rent tanks and other needed gear, including Pura Vida Divers, plus Jim Abernethy's Scuba Adventures and Force-E Divers. Talk to the shop staff about the dive flag rules and boat traffic, and maybe inquire about diving the excellent offshore sites as well. Hiring a guide will help with the dive logistics, and most are great at spotting prized critters.
While there is some seasonality, Blue Heron Bridge is actually very good all year around. Since it is protected water, it is diveable even when it is too rough offshore to even think about going out. Water temperature in the summer gets up in to the mid-80s Fahrenheit, and in winter can dip down to around 70 Fahrenheit or so. Parking can be hard to find on summer weekends, but generally weekdays are much less crowded. The park is not open 24 hours a day, so make sure not to plan your dive past closing time.

RELATED CONTENT
Be the first to add a comment to this article.
Newsletter
Travel with us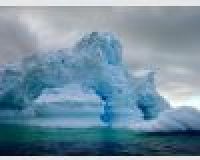 Antarctica
Plan Your Adventure >
Featured Photographer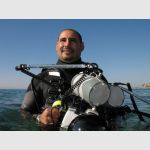 Noam Kortler
Expert Photographer
Noam Kortler is connected to the sea since he can remember him self. he was born on the coast of the Mediterranean sea of Israel and was diving and surfing when ever he could He moved to Eilat, the south popint of israel to...