Travel
Iconic Dive Site: Blue Corner

From most point of origins, the small island nation of Palau is roughly a 16-hour flight. But any jet lag is quickly wiped away after a dive on the famous Blue Corner. At a ridge that juts out into the ocean, upwelling and cross currents bring in a who's who of underwater photography subjects—dozens of sharks, eagle rays, Napoleon wrasses are just the regular visitors.

The Dive Plan
Depending on current direction and how many other boats are on Palau's most requested site, there are several mooring pins where you can begin your dive before drifting down to the Corner. Most include entering a beautiful blue hole—a great photo opportunity in its own right—before making your way to the Corner. Once at the Corner, you'll use a reef hook to attach to dead coral or rock at roughly 90 feet.
From here, you just have to sit back and watch the action happen in front of your eyes. The main subjects will be the dozens (or more) reef sharks cruising in and out of view along the wall. There are also giant schools of fish, most notably jacks or barracudas that cruise the Corner. For more intimate encounters, you might come nose-to-nose with a giant Napoleon wrasse.


After spending some time anchored into the wall, your guide may give the signal to unhook and drift to the other side of the Corner. Of course, this is highly dependent on the quality of action in your current spot—if you're treated to a plethora of big-animal action, don't expect to unhook from your spot for perhaps the rest of the dive. At the end of the dive, if not still with your guide, make sure to inflate a safety sausage, as there can be significant boat traffic in the area.

Equipment
With all the schooling fish, sharks and rays at Blue Corner, you'd have to be an awfully big risk-taker to use anything other than a wide-angle setup. That said, there's a significant debate over which wide-angle lens is best for DSLRs or mirrorless camera users. Having a fisheye or fisheye zoom is ideal for capturing large schools of fish, the overly friendly Napoleon wrasses, or landscape shots of the Corner.


However, the reef sharks and rays do not tend to come nearly as close. For these subjects, a rectilinear wide-angle zoom lens (even with a diopter) is perhaps most appropriate. You will likely be doing several dives at Blue Corner, so you can always switch between fisheye and rectilinear zoom when you want to change the subjects you're able to successfully capture.
Compact users have it easy—just use your camera's 24–28mm equivalent lens for the shy subjects and pop on a wet lens when something more friendly comes up to you. Strobes are also a must, as Blue Corner can be deep and dark, and have less light in general. Since the action can really pick up at a moment's notice, you might also consider adding an action camera like the GoPro to the top of your camera to capture B-roll. As mentioned above, a reef hook is a necessity, so you can use your hands to wield your camera. (Many dive operators provide hooks if you don't own one.)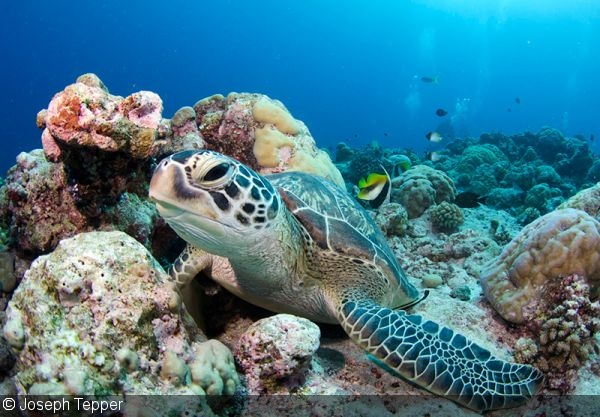 Photography Tips and Techniques

As hinted at earlier, there are two types of wide-angle subjects that frequent the Blue Corner: the approachable (and downright over-friendly) and the skittish.
Napoleon fish are regularly fed by some of the dive operators. While we don't necessarily condone interference like this in the natural environment, the learned behavior is beneficial for underwater photographers, as the giant fish will literally bump into you. With a fisheye lens or wet lens, the trick becomes how to light a subject that is basically touching your camera. Two strobes are a necessity for even lighting, and feathering them out will avoid hotspots on the large subject. One bonus tip is to hold your hand in the shape of a fist to make the wrasses think you have food—even if it's a bluff.


In the coral patches and sand on top of the corner, you'll also regularly find approachable schools of fish and turtles. Most of these subjects are familiar with divers, so just approaching the schooling fish slowly will be enough to fill the frame.


For the other subjects you'll find when hooked on the Corner, there are three primary challenges: distance from subject to lens, lack of available light, and backscatter. The sharks and rays are weary of divers and will rarely come within six feet of divers before pulling up. That's why it's important to stay in a line with the other divers when hooked in; trying to advance closer to the subjects will just push them back further. Having a rectilinear wide-angle zoom lens (or just your compact's proprietary lens) will help better fill the frame with skittish subjects.
Since the best spots to hook in are usually below 80 feet, there's often not much available light. Using powerful strobes would make sense, except that the amount of nutrients produced by the currents and upwelling will result in a lot of backscatter. Instead of trying to bring back the light with strobe power, it's best instead to rely on boosting your ISO, opening your aperture, and slowing your shutter speed enough to let in light without resulting in a blurred subject.


Once you have a ton of shark profiles and Napoleon wrasse images in your memory card, think about including other divers in the image. The action at Blue Corner is intoxicating and including other divers in the scene brings drama and a sense of adventure to the image.


Planning a Trip to The Blue Corner
When: Diving is year round, but the dry season (September to May) provides the most consistent visibility and diving conditions.
Subjects: Lots of reef sharks, Napoleon wrasse, eagle rays, schooling fish, wahoo, tuna, giant groupers. Always a chance for great hammerheads, whale sharks and whales.
Equipment: DSLR users should pack both fisheye lenses for the friendly subjects and a rectilinear zoom for more shy sharks. Compact users should pack a wet fisheye lens to capture the large schools of fish and Napoleon wrasses. Don't forget your reef hook.
Who To Go With: For land-based diving go with Sam's Tours. Liveaboards like the Palau Siren also frequent the site several times on their weekly itineraries.

RELATED CONTENT
Be the first to add a comment to this article.
Newsletter
Travel with us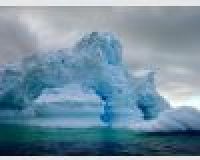 Antarctica
Plan Your Adventure >
Featured Photographer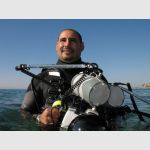 Noam Kortler
Expert Photographer
Noam Kortler is connected to the sea since he can remember him self. he was born on the coast of the Mediterranean sea of Israel and was diving and surfing when ever he could He moved to Eilat, the south popint of israel to...