Travel
Iconic Dive Site: Jellyfish Lake

When you visit Palau you think of all the big guys that are waiting in the "Blue Corner" or the "German Channel," but one of the most famous attractions for underwater photographers isn't even in the ocean.
Jellyfish Lake is nestled in the "rock islands," which are thought to have been formed more than 10,000 years ago. Even today, the lake is still connected to the ocean through lots small cracks and openings. Over thousands of years, the millions of jellyfish in the lake have evolved to become stingless, due to a lack of natural predators. In terms of the lake's composition, there are two layers: The upper part contains the salt water and rainwater, but below 45 feet there is a chemocline with a high concentration of toxic hydrogen sulfide. Given this, scuba diving is out of the question, and underwater photographers will need to rely on their freediving skills to produce stunning shots.

There are millions of jellyfish lurking in the lake, but don't worry—none of them sting!
The Dive Plan
Whether you're going with a land-based dive operation or a liveaboard, the first travel leg involves taking a small boat to a jetty at Eil Malk Island. Then it's a bit of a hike from the jetty to the lake, involving a trek up and over a hilly rainforest. For this reason, it's best to make sure your photo and dive equipment is in as compact a package as possible to make the trek easier.
Once at the lake, there's enough space to prepare everything on the platform at the edge. There's no complicated dive map or plan; just quietly slip into the lake and get settled. You don't have to focus on a dive profile, deco, or current—just focus on the photography.

There's no scuba diving at Jellyfish Lake, so you'll want to practice your freediving skills prior to visiting
Equipment for Jellyfish Lake
Every morning or evening when you prepare your camera for the next dive, you'll need to think about the images you want to capture. There are lots of great opportunities for fisheye and wide-angle shots, but you can also go for a zoom lens or even macro for a jellyfish abstract. If you're adventurous, you can change your lens at the lake's small jetty.
A compact camera will be more flexible; just attach a wet wide-angle lens. If you have a GoPro or something similar, don't forget to bring it. It's quite easy to capture the motion of the medusas and create an impressive video.
The big equipment debate at jellyfish lake is: "To strobe, or not to strobe?" While there can certainly be plenty of light during the middle of the day, there's much less in the early morning and late afternoon, when the canopy blocks the majority of the sun. And when it's dim above the lake, it's really dark underwater. Plus, producing dramatically lit images is hard to do without employing strobes. On the other hand, leaving your strobes back at home will lighten the load on the hike to the lake.

Strobes are tough to carry through the jungle to get to the lake, but are essential for taking dramatically lit images with the sun in the background
What You'll See
The dominant species in the lake is the (stingless) golden jellyfish. At daytime they follow the sunlight, crossing from east to west and staying away from the shadows. During this continuous movement they acquire energy by converting sunlight into sugar and capturing zooplankton. Your divemaster should be able to point out where the largest congregation of jellies is during any given time of day.
Another species that's found in lake—though less commonly—is the moon jellyfish. They stay very calm in the water, mostly below 15 feet, during daylight hours, but at nighttime, they become active and move to the surface. These jellies have very tiny stingers that you might feel when they come into contact with sensitive skin. Their natural predators, white sea anemones, sit on the edges of the lake and try to catch any medusa coming close. Water in shadow is some kind of barrier between the jellyfish and the anemones. If you're really lucky, there might be a crocodile lurking around the lake.

What you'll see: Lots, lots, and lots of jellyfish. Oh, and maybe the odd crocodile
Photo Tips and Techniques
These little guys move the whole time in random directions and the formations are never the same. Accordingly, you have to move in close slowly, stay calm, and choose the right moment to press the shutter. But that isn't the only challenging part; the scenery is so amazing, that it's really hard to concentrate on shooting. So, take your time, look around and make your plan. Be patient and wait for the largest congregation of jellyfish in a single frame.
On a very sunny day, a good choice is to try silhouettes, especially making use of Snell's window to include the clouds and trees above. For this, use an ultra-wide fisheye lens combined with a long breath-hold and dive down 10 to 15 feet. Moving a little more into the shadows, you'll be able to capture great over-under shots and reflections on the water, since the light is softer above the surface here. For both of these shots you need a very flat surface, otherwise you won't get a clean layer separation in your over-under images or you'll capture wave action in the reflection shots.

Split shots communicate not only the underwater environment, but where this lake is located topographically
Planning a Trip to Jellyfish Lake
When: Best time of the day is between 10am and 2pm. Choose a sunny day to capture silhouettes or a cloudy day for split-shots
Subjects: Golden and moon jellyfish
Equipment: DSLR users should pack a fisheye or rectilinear zoom lens; compact camera users should bring a wet lens wide-angle or fisheye adapter
Who to go with: All dive operators in Palau offer a trip to Jellyfish Lake

RELATED CONTENT
Be the first to add a comment to this article.
Newsletter
Travel with us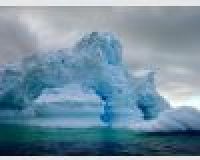 Antarctica
Plan Your Adventure >
Featured Photographer
Lea Moser
Photographer
Lea Lee started underwater photography in 2006. since then she loves taking beautiful underwater world with her camera. Her favorite subjects are fish faces&behaviour and extreme wide-angle shots.