Travel
From a Fisheye's Perspective: Fiji with the Island Dancer II
Pushing a paper in a cubicle for eight hours can be exhausting, and it doesn't typically stir a diver's passions.
Sometimes we need to turn our backs on monotonous routines and escape to a tropical oasis of adventure. The perfect antidote to the daily grind of daily life lies just beyond the horizon on the island nation of Fiji. A direct 11-hour flight from Los Angeles to Fiji serves as a much needed safety stop that decompresses the accumulated stress of perpetual work "To-Do lists."
Located 1,500 miles (2,414 kilometers) due north of New Zealand, the Republic of Fiji encompasses 807,783 square miles (1.3 million sq km) of the South Pacific Ocean and Koro Sea, and includes more than 320 islands, of which only 111 are inhabited. These islands are predominately volcanic in origin, though many of the smallest members gradually emerged from the sea as the extended caps of coral reefs.
Fijian diving opportunities are plentiful and diverse. Strong current drifts, "slow & easy" critter hunts, exciting shark feeds, wreck explorations and fascinating night dives await. Over 1,200 species of fish (including seven endemic species), five sea turtle species, 12 species of whales and almost 400 species of coral add to the amazing diversity in Fijian waters. Diving is good year-round since seasonal changes are relatively mild.
Diving in Style
The Dancer Fleet's Island Dancer II is a 101-foot-long luxury dive yacht designed specifically for divers who prefer small groups, individualized service and superior amenities. Five staterooms accommodate 10 guests and feature an ensuite bathroom, climate control and a wardrobe. The salon is often the hub for big fish tales between dives as it offers a computer work station, an entertainment center and charging stations, and is adjacent to the gourmet meals and snacks served in the dining area.
Four to five dives per day are made either directly from the mothership or a tender. You can dive with a buddy or with one of the knowledgeable guides. The crew especially pampers underwater photographers and videographers by making sure each camera system is thoroughly rinsed and then safely stored on the convenient dive deck camera table after each dive.
Radiant Beauty
Fiji was crowned "The Soft Coral Capital of the World" by diving enthusiasts decades ago. If divers think Fiji is synonymous with soft corals, they may get the impression the dives are similar to a leisurely stroll through an art gallery to look at the "pretty" items on display. The underwater world of Fiji is neither tame nor mundane, yet the most exciting dives are intricately linked with these exquisite creatures that closely resemble blooming aquatic flowers.
Soft corals (Alcyonacea) and gorgonians (sea fans and sea whips) are prominent throughout the Fijian archipelago due to the currents that continuously bathe the reefs with warm, nutrient rich water.
The currents feed the corals and also disperse larvae to seed and replenish the marine populations. Incoming tidal currents offer the best opportunities to capture the dazzling colors of these creatures as they stimulate the coral's polyps to extend in order to catch food. The incoming open ocean water is also generally much clearer than that of an outgoing tide.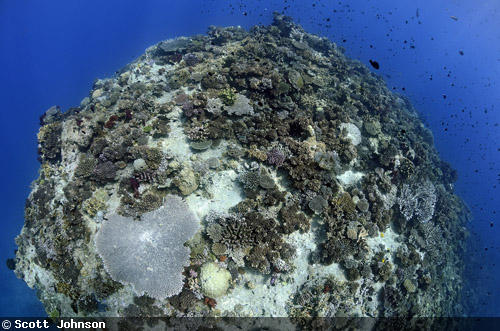 Bligh Water, which was named after Captain William Bligh of the HMS Bounty, separates Viti Levu and Vanua Levu. It is also home to two dive sites that are near and dear to the underwater imaging community. E-6 and Hi-8 earned their name for the rolls of film & video shot old school at the site "back in the day."
These pinnacles rise from a depth of 3,000 feet to within a few feet of the surface. This is a perfect wide angle dive. Position a patch of soft coral or a sea fan in the sun, set your ISO between 100 to 200, use a small aperture, such f13, a 1/250th shutter speed, push your strobes to full power and then try to freeze the sun's rays as they dance around your primary subject.
Gau's Big Show
Gau Island's Nagali Pass, located 55 miles (90 km) east of Suva, Viti Levu, is a narrow cut in the surrounding barrier reef that funnels currents and serves a passageway for pelagics and schooling fish. This can be one of the most exciting, challenging and shortest dives on the planet depending upon the current. There is only a four to five hour window each day to safely dive this site when the action is just right.
Strong tidal currents run through Nagali Pass. The right time to jump in is just after a slack tide and before the incoming current is at full strength. Grey reef sharks (Carcharhinus amblyrhynchos), red snapper (Lutjanus campechanus) and bigeye barracuda (Sphyraena forsteri) usually congregate in prodigious numbers at this time.
The guides will position the group near the bottom, about halfway down the channel. A reef hook will allow you to secure your place without disturbing or damaging the habitat. Once you are comfortable, all you need to do is compose and shoot as the sharks and other animals cruise back and forth in front of the group.
A mid-range zoom lens will give you added reach and versatility to help you fill the frame. Strobe light, fast shutter speeds and shooting up will separate the sharks from the water column and stop the motion. If your zoom outreaches your strobe light you will end up with monochrome images, so be patient and allow your subjects to swim within strobe range.

A 250 lb. (11 kg) Malabar grouper (Epinephelus malabaricus) parked itself directly in front of me during my most recent visit to Nagali Pass. Intent on photographing the sharks, I unsuccessfully tried to peer around the massive fish. My comic stretching maneuvers proved futile and I dared not try to reposition myself and risk being thrust out to sea at warp speed. The gregarious Malabar's bright, inquisitive eyes, protruding fleshy lips and polka dot colored flanks eventually won me over.
The Namena Marine Reserve
The Namena Marine Reserve encompasses both Namenalala Island and its horseshoe-shaped barrier reef. Dive sites in the reserve include Chimneys, Kansas, Keenans, Magic Mound and North Save-a-Tack Passage. Numerous swim-throughs and arches are found among the reserve's bommies and walls. The interiors of these natural structures are lavishly decorated with soft corals, gorgonians and sponges.
A model holding a flashlight and swimming into or out of the openings can create a compelling image. Framing the vibrant colors surrounding the model against a backdrop of blue water or the black recesses can make the shot burst to life. Such shoots may test your creative juices, your lighting skills and the model's patience.
These same corals, sea fans, sea whips and sponges that highlight your wide angle shots are home to an amazing variety of small animals. In particular, pygmy seahorses (Hippocampus bargibanti) and their arch enemies, longnose hawkfish (Oxycirrhites typus), can be found on the red sea fans.
Sequencing the Behavior
Energetic anemonefish, hunting banded sea kraits and displaying blue ribbon eels are a few of the plentiful Fijian marine subjects that will give you the chance to document interesting behaviors instead of merely snapping ID shots.

Two of my wins on the last trip were a common reef octopus (Octopus cyanea) grooming itself at Gau's Noku Wall and pink anemonefish (Amphiprion perideraion) dancing in and out of the tentacles of a semi-closed magnificent anemone (Heteractis magnifica) at Kansas. Neither was a hit and run experience.
If animals present unusual behaviors or are in unique situations, such as a cleaning station, and I have a workable lens with me, I try to make the most of the opportunity instead of taking a few hurried pics, then rushing off to find the next best thing.
Trade the Daily Grind for Adventure
Fiji may indeed be the "The Soft Coral Capital of the World". Fijians are definitely among the friendliest and most congenial people on the planet and the entire archipelago is a tropical oasis. But the main thing that repeatedly prompts me to return to the Island Dancer II and Fiji, is the chance to leave behind the daily grind, if only for awhile, and embrace the heart of adventure that is so readily grasped in Fiji.
RELATED CONTENT
Be the first to add a comment to this article.
Newsletter
Travel with us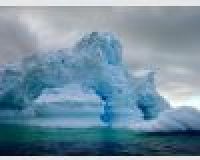 Antarctica
Plan Your Adventure >
Featured Photographer