Travel
From a Fisheye's Perspective: The Belize Aggressor and Sun Dancer
By Joseph Tepper and Matt Weiss, May 10, 2012 @ 09:00 AM (EST)
By Matt Weiss and Joseph Tepper

There are some dive spots that you just want to giant-stride right into—and Belize's Blue Hole is one of them.

After all, it was the stunning image of a dark blue blemish on a turquoise expanse that intrigued Jacques Cousteau enough to strap on fins and a tank and jump in 1972. The legendary marine explorer was among the first to truly explore the Blue Hole and its surrounding atolls aboard the research vessel, Calypso. Cousteau and his one-man submarine were the first to determine the depth of the hole at 410 feet.
Belize's famous Blue Hole
But the explorer didn't stop Belize's first "liveaboard" here—the Calypso took Cousteau and his crew around to explore the area's pristine walls, strange and spectacular critters and some of the Caribbean's best diving. Even forty years later, you can retrace Cousteau's steps aboard the Sun Dancer II and Belize Aggressor III.
Diving with the Belize Aggressor and Sun Dancer
As was the case back in 1972, the best way to dive your way through Belize's atolls is by liveaboard. By eliminating the 50-mile journey to and from Belize City every day, liveaboards provide unmatched freedom when it comes to diving the outer reefs of Belize's atoll system.

Divers and photographers may not be able to board the Calypso in Belize, but the area does offer two luxurious dive vessels: The 110 foot, 18 passenger Belize Aggressor III and the 138 foot 20 passenger Sun Dancer II. Both boats offer 7-day itinerates that cover the best sights, like Turneffe, Lighthouse Reef, Half Moon Caye and, of course, the famed Blue Hole.
The boats feature all of the accommodations you would expect from the leaders in liveaboard diving: roomy cabins with ensuite bathrooms, an impressive entertainment system, and comfortable lounge between dives. Both boats cater to photographers, offering spacious dive decks with dedicated camera tables fit with air hoses, charging stations and plenty of space for all your equipment.

But it is with the little things that the boats shine through: Hot towels await after ever dive, snacks in between three delicious meals, and hot coco as the perfect night cap to a nice night dive.
Photographing Belize's Atolls
Belize's pristine reefs offer a wide range of photo opportunities, from small blennies to car-sized sponges. A large majority of the dive sites visited by the Belize Aggressor and Sun Dancer are walls that have little to no current.

This means leisurely dives searching for hidden critters in various nooks and crannies of a reef with a macro lens, or looking into the blue for turtles passing by as you photograph corals and sponges. One thing is for certain—the near-aquarium-like conditions make the perfect training ground for any underwater photographer young or old.
A diver explores the dramatic wall of a Belize atoll

Underwater Macro Photography In Belize

While it might not be immediately apparent that Belize's walls are covered with great macro subjects, going slowly and searching carefully will reveal the ocean's smaller majority.

Lobsters hidden in holes, moray eels searching for prey and beautiful flamingo tongues are a few of the highlights. For most of the macro life, the hardest part of the photography is finding them. For this reason, make sure to take full advantage of the knowledgeable Aggressor and Dancer dive leaders, who are accustomed to combing the walls for macro marvels.
Decorator crabs are among the many macro treasures Belize has to offer
While Belize's official slogan is "Un-Belize-able," for underwater photographers a more apt pun might be "Unbe-eel-able"—eels are everywhere! Moray eels are almost always found in nooks, gaping their mouth in preparation for their next ambush. The almost-blind fish will usually not retreat when approached closely, so you can take your time and prepare you composition.

Normally the biggest challenge when shooting morays is to isolate them against a pleasing background. Using low depths of fields to blur out the background, or careful and deliberate side lighting to create a dark background are effective ways of combating the distracting environment. Also keep a look out for the lesser-seen golden and spotted morays.
Eels are popular subjects from beginner to advanced underwater photographers
For those at prefer the truly small – decorator crabs, shrimps and the always-photogenic flamingo tongue – a 100/105mm macro lens (or close up wet lens for your compact camera) is preferable. Shoot upwards for a black background to make these cleverly colored crustaceans stand out.

Belize diving also provides a great opportunity to try new techniques. The current-free dives give you plenty of opportunity to float in one place until you get the shot you want. Even common subjects, like anemone shrimps found all over the Caribbean, can look beautiful if you take the time to create unique compositions.
Even a simple Coleman's Shrimp can look stunning with the right techniques
One hotspot for macro activity is Belize's seagrass fields. This ecosystem is prime real estate for macro treasures like octopus, salfin blennie, pipehorses, and sea horses. Ask your Aggressor or Dancer dive guide what the macro subject "du jour" might be. But be careful not to kick up too much sand while critter hunting, or you might scare away that delicate seahorse you've so desperately been searching for.
When they get mad, Sailfin Blennies like to show off a beautiful fin
Night dives in Belize bring out even more amazing macro subjects: Images of banded coral shrimp shoveling handfuls of worms into their mouths, lobsters on a midnight march, and even a close encounter with a squid will follow you out of the water and into your dreams after the last dive of the day.
Squid are popular night subjects that can be shot with a 60mm lens
The Whitespotted Toadfish is endemic to the waters of Belize. Listen carefully for "croaking" on
night dives to find one for a photo opp!
Wide Angle Underwater Photography in Belize

Diving Belize's atolls is all about the dramatic walls; and wide-angle photography off 1000-foot drop-offs has its advantages and challenges. The biggest value of walls to photographers is the easy access to getting below the subjects and shooting upwards. This means opportunities for nice blue backgrounds and perfect alignment of the sun.
A lot of photography books will tell you not to shoot into the sun – those same books also probably say not to bring your camera with you in the ocean in the first place! Shooting into the sun is a great creative technique for wide-angle underwater photography. A beautiful sun ball behind your strobe lit subject can provide extra depth to your images.
Carefully positioning a diver infront of a sunball adds an extra element to a simple wide-angle subject
In order to make the sun anything but a big white blob you will need to max out your shutter speed and use tight apertures, which means you foreground subject will be very dark. Therefore, for larger subjects, like the healthy barrel sponges found in Belize, you will need a lot of strobe power to bring back color and detail into your subject.

Another technique you can utilize on walls is to get completely beneath your subject, and shoot up at it so it blocks the sun. You will get dramatic sunrays extending from the subject without having to worry about exposing for the bring sun. Keep an eye out for coral and sponge protrusions from the reef, which allow the photographer to shoot up and separate the stunning reds, greens, or yellows from the reef.
Ask one of the Aggressor or Dancer divers to pose as a silhouette to add an extra element to a wide-angle photo.
Belize's underwater environment also offers other more mobile wide-angle subjects: Tarpon gliding through balls of glassfish in caves, stingrays flying across a sandy bottom, and the occasional sharky visitor will make you glad you've spent hours refining your wide-angle technique on coral and sponges.
Photographing the Blue Hole
Diving Belize's Blue Hole is like stepping into another world not to be missed. Throw out the sun, coral and sandy bottom for even just one dive to explore this moody underwater cathedral.
The Blue Hole is stunning from high above and high below...
At over 400-feet-deep, seeing the sandy bottom on the Blue Hole dive would not be a good thing. In fact, safety is the primary concern of the Dancer and Aggressor staff—all diving is done non-deco and it is important to be comfortable with your diving ability for a quick 7-minute, 150-feet bounce dive.
Once you get your feet (or fins) under you, take some time to snap some pics of the breath-taking stalactite formations that have dripped down from the mouth of underwater caves in the last millennia.

For SLR users, a super wide-angle lens (10mm-16mm) is a must. At this depth, and with water often being less than tropical-blue, getting close to the stalactite subject is critical. Instead of taking the time to place a model in the background (there isn't enough no-deco time) use the other descending divers as impromptu models.
As on the way down into the cave, make sure to keep proper dive protocols in mind with a slow ascent. Divers who don't waste all of their air on the underwater cave formations will be rewarded with a fantastic shallow dive at the end: It's a safety stop-turned macro photography shootout that makes a wonderful end to the dive.

A Fin Kick Back in Time...
You can't help but feeling a little like a time traveler exploring Belize's Blue Hole and surrounding reef in much the same fashion as Jacques Cousteau did back in 1970—after all, the underwater landscape has changed little since the Frenchman first dived down forty years ago, and even 100,000 years before that.
And if the notion of diving down into the Blue Hole, exploring some of the Caribbean's most pristine reefs, or having your pick of rare critters doesn't excite your inner underwater photographer, take the word of the world's greatest underwater explorer. Simply put, Cousteau described Belize as "one of the four must-dive locations on this blue planet."

Just hop aboard the Sun Dancer II or Belize Aggressor III and you'll see why this is still true even today.
RELATED CONTENT
Be the first to add a comment to this article.
Newsletter
Travel with us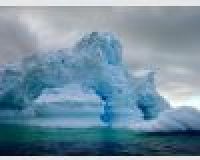 Antarctica
Plan Your Adventure >
Featured Photographer
Michael AW
Expert Photographer
Pursuing the art form of documentary photography, Michael AW is well known for his saturated colour imagery. His work on environmental issues and natural history, have been featured in BBC Wildlife, Asian Geographic, GEO,...