Travel
Fine Diving and Dining at Siladen Resort
Discover a feast of food and photographic subjects at Siladen Resort

Food: At its finest it nourishes us, dazzles us, and sustains us. So too does the best diving. Sometimes, these two elements meet in the most unlikely of places—far away from the wining and dining of the big city, but rather on a spit of sand in the shadow of a Sulawesi volcano.
That's exactly what you'll find at Siladen Resort, where the cultures of food and diving are inextricably intertwined. Beneath the banyan tree on the beach, divers spend their surface intervals not only filling up on a seemingly endless buffet or carefully curated chef's tasting menu, but also on the latest underwater images and sightings.
Pipefish or panna cotta. Turtles or tartare. Frogfish or filet mignon. Clownfish or cannoli. Soft coral or spaghetti. Nudibranchs or gnocchi. At Siladen Resort, it's all on the menu.

☆ ENTRÉE ☆
Delectable Delights at Siladen Jetty
The island of Siladen sits on the edge of the Celebes Sea within reach of three unique marine ecosystems: Bunaken, Manado, and Bangka. But divers need not travel far from the resort to experience some of the best diving the region has to offer. A five-minute snorkel from one of the beachfront bungalows is all it takes to reach a stark coral wall that drops straight down to several thousand feet.
The dive site begins at the nearby Siladen Jetty, which is often a bustling central point for daily island life. Visitors from the mainland use the pier to access the island; local children splash about in the shallows while dogs roam the beach; and floating fishing houses are moored just offshore. Feet below, a shallow shelf is stocked with photogenic subjects like turtles, eels, and whitetip reef sharks.
It's easy to descend straight down the wall in search of wide-angle subjects, but the shallows aren't to be overlooked. Early in the morning or late in the afternoon, golden light pierces the surface with splendiferous sunrays back-lighting the pristine reef. The conditions are ideal for a casual snorkel or capturing an over-under with coral below the surface and North Sulawesi's Manado Tua volcano looming in the distance.

Siladen Jetty is just the beginning of what the region has to offer, with macro subjects like clownfish and healthy coral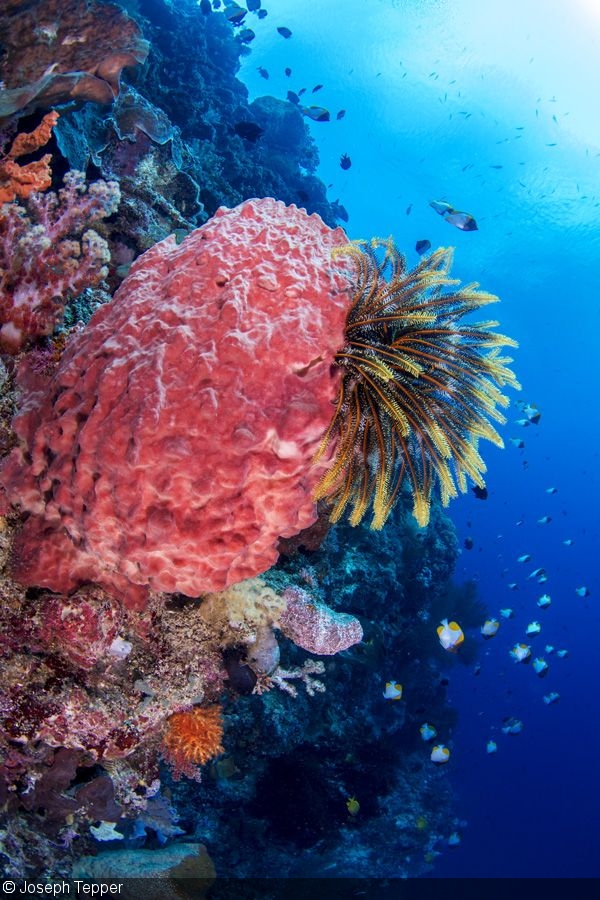 Barrel sponges make for great foreground subjects when framing reef scenes

The wall itself is a colorful buffet of subjects. Fuchsia barrel sponges grow large enough to easily fit one of the 400-pound green sea turtles that call these waters home. Soft corals come in a spectrum of tones, and years of marine protection has insured that reef fish thrive in large numbers. For macro enthusiasts, eagle-eyed guides find critters aplenty along the wall: Nudibranchs of all shapes and sizes, hairy squat lobsters, and crinoid shrimps all reside just off the jetty.
Siladen Jetty is truly an amuse-bouche of what the region has to offer underwater photographers of all levels and all tastes. For a full spread of fantastic photo subjects, hop aboard one of the resort's speedy, comfortable dive boats and surf over to Bunaken National Park.

An orange goby takes cover on a matching whip coral off of Siladen Jetty

The corals in the shallows surrounding the Siladen reef are compelling over-under subjects
☆ MAIN COURSE ☆
Bountiful Beauty in Bunaken National Park
Is there such a thing as too many turtles? You might find yourself contemplating this conundrum as you cruise along on a drift dive inside Bunaken National Park. On a single dive, it's possible to tally up dozens and dozens of turtles—green, hawksbill, and even leatherbacks thrive in these waters.
The proliferation of turtles is largely due to the protection afforded as a marine protected area and the diligent conservation efforts championed by local resorts like Siladen. Bunaken National Park is one of Indonesian's oldest: Established in 1991 and covering more than 500 miles of some of the most biodiverse waters in the Coral Triangle, this swatch of ocean is home to almost 400 species of corals.

Dig in to turtles, large sponges, and abounding fish life in Bunaken National Park

A dive model shows just how large the sponges grow in Bunaken

Top Siladen Dive Sites
Siladen Jetty
Lekuan (1, 2, 3)
Bunaken Timor
Mandolin
Tiwoho
Even with the designation of a national park, the region still faces ongoing threats of destructive, illegal fishing and plastic pollution. Siladen Resort is as committed to taking care of the ocean environment as taking care of its guests. Several times a year, resort employees engage in cleaning up plastic waste—and local school children are educated about the importance of avoiding single-use plastics like cups and straws.
Turtles too get the five-star treatment: The Siladen staff protects the local turtle population by closely monitoring nests for threats. Lucky guests might even be treated to a turtle nest hatching, which occurs every couple of months. Even if you miss such a momentous event, you definitely won't be wanting for turtles when diving in Bunaken.

A turtle descends after taking a breath at the surface

Winding its way along the west side of Bunaken Island, the dive site Lekuan is so large that it's divided into several sections. Turtles are found at every strata of the reef—at the surface catching a breath, on top of the reef chowing down on coral, or sleeping at a sponge at 70 feet. Lekuan—roughly translated as "zigzag"—features a mind-blowing topography of coral corners and valleys. Sea fans and barrel sponges stick out into the blue for impressive wide-angle subjects, and schooling fish in large numbers can blot out the sun. Keep an eye out into the blue for fleeting eagle rays, dogtooth tuna, and napoleon wrasse.
Bunaken's biodiversity is buoyed by the strong currents that sweep along the island. Sites like Mandolin and Mike's Point can experience powerful currents, which bring a bounty of wide-angle life but can make macro photography challenging. It's best to save room for the decadent critters found on the slopes off mainland Manado.

Giant frogfish can be found at several sites in Bunaken National Park

It's not uncommon to see turtles taking naps in soft coral or sponges
☆ DESSERT ☆
Decadent Critters of Manado
Just when you don't think your memory card has had its fill of what Siladen has to offer, you discover the cherry on top: the mouthwatering macro critters of Manado. Seemingly a world away from the dramatic walls and blue water of Bunaken, the sites near the mainland are largely sloping muck dives.
With Lembeh Strait right on around the corner of the very tip of North Sulawesi, the standard for macro photography is high. But do the dives around Manado deliver. Expect to see frogfish on nearly every dive—from the size of a basketball to just a few millimeters in length. Their ubiquity on Manado's dive sites increases the chance of capturing a killer shot, such as a painted frogfish yawning to suck in a fish egg.

Round off your Siladen experience with the critters of Manado Bay

A frogfish vacuums up a fish egg during a night dive off of mainland Manado

Striped catfish work their way down the slopes of a Manado Bay dive

Pygmy seahorses are also common. Throughout Bunaken and Manado dive sites you can photograph bargibanti, Denise's, and even the rare Pontoh's pygmy seahorse—after all, it was Hence Pontoh, a local Indonesian dive guide, who first brought these diminutive seahorses to the world's attention. Indeed, the vast majority of Siladen Resort's dive guides grew up on the island and have spent their lives diving the surrounding sites, so finding often tricky critters is almost second nature.
The dive site Tiwoho is particularly productive for macro shooters. Located just offshore from a village of the same name, this site is part reef and part sandy slope. Symbiotic relationships abound on the dive. Banded shrimps clean the mouths of eels, orangutan crabs flit about on bubble coral, and ghost pipefish hide amongst gorgonians. For a moonlit escapade, arrange a night dive in Tiwoho to see its dark denizens such as stargazers and bobtail squid.

Pontoh's pygmy seahorse is just one of the species that the keen-eyed guides at Siladen Resort can find in Manado

Night dives deliver strange characters, such as this whip coral shrimp
☆ DIGESTIF ☆
White Glove Service
A meal or dive vacation is only as good as the service—and at Siladen Resort, no effort is too small. The entire resort staff knows your name within only hours of your arrival, the housekeepers leave chocolates during turndown service, and the bartender is ready to prepare your go-to pre-dinner aperitif as you approach the bar.

The superb cuisine is matched by luxurious accommodations and exemplary service

Photographers are well looked after with the dedicated camera room

The amenities, too, are top notch. Sure, the thought of getting your fill of underwater photography for four dives a day sounds tempting. But you could just as easily lounge by the expansive pool with one of Siladen's signature cocktails. Or take the afternoon off and indulge in a spa treatment: You might just need their "Slimming Massage" to help with the unwanted "baggage" gained from too much dessert.
Whether your craving is for divine diving, fantastic food, or perfect pampering, Siladen Resort and Spa caters to every palate.

The sun sets over Siladen's expansive swimming pool
RELATED CONTENT
Be the first to add a comment to this article.
Newsletter
Travel with us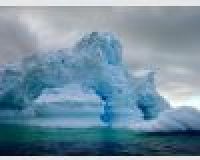 Antarctica
Plan Your Adventure >
Featured Photographer
Mauricio Handler
Expert Photographer
Mauricio Handler is a Caribbean based commercial and editorial underwater photographer. His body of work emphasizes his ongoing passion with unspoiled destinations and their unique marine wildlife. He is passionate about shark...