Travel
Exploring New Zealand's North Island
New Zealand's freshwater trout are veracious feeders and take the opportunity to swallow anything floating around

Sandwiched between the Tasman Sea and South Pacific Ocean, New Zealand's rugged coastline provides a fantastic variety of life both in and out of the water. The dramatic landscapes and unique marine biodiversity both make for fantastic photographic opportunities, which is why I have decided to call this place home for now.
Originally from the UK, I recently moved to the city of Auckland with my partner and what better way to get to know our new home than a good old-fashioned road trip. We packed our dive gear, camera equipment—trusty Canon EOS 5D Mark III in Ikelite housing and Inon Z-240 strobes—and all the usual camping stuff into the back of our little car and set off in search of an adventure.

A curious triggerfish admires itself in the dome port
Goat Island
Our first stop was Goat Island, a popular marine reserve located on the east coast, just a two-hour drive north of Auckland. The black sand beach provides an excellent shore dive location and is very popular for beginners. Fortunately, our friend offered us a space on his boat, so we could skip the shore entry and head out to the deeper water.
Expect to see schools of snapper, an abundance of crayfish, nudibranchs, flatworms, triggerfish, stingrays, and eels—and even the occasional dolphin. Also, being a marine reserve, the fish are extra friendly, so you will often be followed by curious snapper or triggerfish, making them very easy to photograph.

You will find plenty of crayfish poking out of the holes

Hiding among the dense kelp
Lake Taupo
There are many famous and well-documented dive locations in New Zealand, such as Poor Knights and The Three Kings, but this was a road trip focused on adventure and discovering something new, so we decided to drive 200 miles south to Lake Taupo. What we found was beautiful mountain scenery with crystal-clear freshwater rivers filled with a variety of interesting fish and bird life, the most abundant of these fish being several species of trout which were introduced in the 1860s.
Seeing the clarity of the water and the sheer number of these fish, I couldn't resist getting into one of the cool 57°F rivers and shooting some images. This was a lot harder than I initially thought, as the fish kept their distance and my hands quickly became very numb. With some persistence and a lot of patience, the fish seemed to forget I was even there and began feeding and even bumping up against my camera. Be sure to take advantage of the stunning life above and below the surface by packing your dome port and shooting some over-unders.

The rivers are idyllic both above and below the surface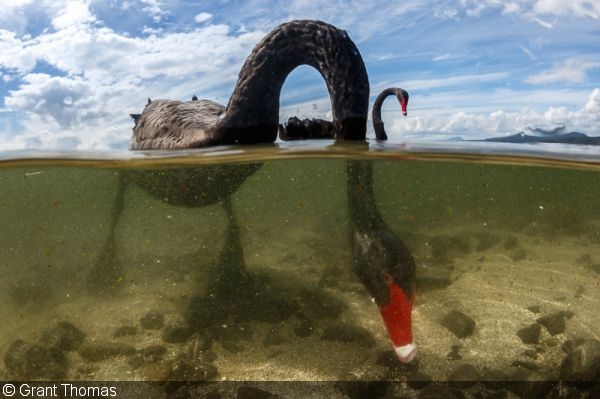 You will find friendly black swans around most of the lakes and rivers
Cape Palliser
Continuing our journey south, we set our sights on Cape Palliser, the most southerly point of New Zealand's north island. This part of coastline is notorious for big waves and strong currents running through the Cook Strait, but also home to the largest breeding colony of native fur seals. And who doesn't want to swim with seals?
We spent some time scouting for a good location along the coastline, somewhere sheltered with relatively easy water access, and of course lots of seals. There was a bit of a swell and the visibility wasn't great, but we jumped in and the seals were immediately intrigued. Most of them kept their distance, but a brave few dared to come in for a closer look.

The adult fur seals put on great displays of underwater acrobatics

Curiosity eventually got the better of the seal pups, though they stayed close to the edge, bobbing their heads under the water

There are shallow rock pools dotted all along the coastline where, during the summer months, you will often find the seal pups playing. With a bit of patience, you can get close enough to photograph them in the water. Unfortunately, I found that most of them weren't too interested in getting in with a strange man dressed in neoprene, but there are plenty of other fascinating bits of life around to keep your camera busy.
New Zealand's reputation as a nature lover's paradise is well-deserved, but for photographers, the sights below the waterline are just as mesmerizing as topside. The breathtaking scenery creates a backdrop for a fantastic road trip with wonderful camping along the way, and the shore-entry dives welcome divers of all levels. You'll likely need to brave some chilly water, but the photographic rewards are well worth the trouble.

Eagle ray smiles for the camera
Planning Your Trip to New Zealand
How to Get There: To explore the North Island, you can fly to either Auckland or Wellington. There is a ferry service that links the North and South Islands, which is a must do if you have the time, and a number of domestic airports dotted around the country.
Getting Around: New Zealand has fantastic scenery everywhere you look and to take advantage of the amazing photo opportunities, it's best to have your own vehicle. There are a number of vehicle rental companies at every major airport with anything from small family hatchbacks to large camper vans—it really depends on how adventurous you're feeling. You can also take the bus to most places, and tickets can be purchased online from a number of companies.
When to Go: You can dive New Zealand waters all year round. In winter, the water is a bit colder, but visibility is better due to fewer plankton blooms. As for the freshwater rivers and lakes, the visibility can differ depending on the amount of rainfall.
Where to Stay: If you're ready for an adventure or you're on a budget then camping or renting a small camper van is the best way to explore the country, especially if you have all of your own diving equipment. If camping is not your thing or maybe you just prefer a hot shower, don't worry as there are plenty of motels, hostels, and Airbnbs across the country.
Dive Equipment: Water temperatures can range from 58°F (11°C) in winter to 72°F (22°C) in summer. For shore entry dives, booties will come in very handy.

---
About the Author: Travelling the globe working as a freelance photographer and PADI scuba diving instructor has given Grant Thomas a firsthand insight into the effects humans are having on the natural balance of our planet. This is why he strives to capture and reveal the amazing nature we have in hope of promoting awareness and conservation for the future. Grant won the top prize in two categories of the 2018 DEEP Indonesia International Underwater Photography Competition.
RELATED CONTENT
Be the first to add a comment to this article.
Newsletter
Travel with us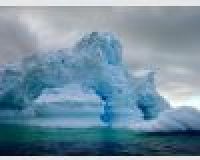 Antarctica
Plan Your Adventure >
Featured Photographer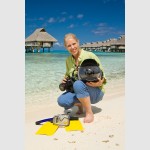 Michele Westmorland
Expert Photographer
Freelance photographer with a variety of photographic skills. Michele photographs the marinelife and topside beauty of many exotic locations. Here images have appeared in a variety of national and international publications....