Travel
An Underwater Photographer's Guide to Eilat, Israel
By Mark Fuller, May 22, 2012 @ 09:00 AM (EST)
Eilat is Israel's most southern city populated by 46,600 people, located at the northern tip of the Red sea. The city is adjacent to Jordan to the east, Egypt to the south and Saudia Arabia to the southeast.
Eilat has a desert climate which suites most divers/holiday makers, as there are on average 360 days of sun garunteed. Temperatures in the summer exceed 113F with water temperatures at 82F. Winter is just as appealing with an average outdoor temperature of 70 °F and water temperatures are around 68 - 79 °F, which makes for a perfect spring vacation.
A huge selection of hotels are available in Eilat. Almost the whole bay is surrounded by hotels, so accommodation will be the least of your worries. The same goes for dive clubs—the south beach is littered with clubs all providing above standard dive training, full gear hire with regular dive club services.
Diving in Eilat
The best part of Eilat is that 90 percent of the dives are walk-in shore dives, so for us underwater photographers having the choice of diving deep or shallow is a great advantage. Diving without a guide is also permitted as long as you have a dive buddy. Although this much appreciated diving freedom that is granted to divers is great, the Eilat nature reserve is very strict on protecting the bays marine life.
Diver/snorkeling rangers are ever present to enforce the rules with fines if needed. No diving with gloves or knives is permitted and touching or harassing marine life or coral will get you in trouble.
The bounty of the red sea as a photographer is we can shoot both wide-angle and macro. Clear blue seas with hard and soft corals for wide-angle photography and all the little critters posing for the macro.
There are 3 wrecks in Eilat as well: The most popular "Satil" is a navy missile ship wreck located right in front of Marina Divers, where you can dive the wreck with a wide variety of fish. There is also the smaller wreck at a deeper 90 feet, and a newly sunken "Sun boat" wreck at the northern beach.
Eilat Diving Facts
Where: Southern Israel
Language: Official language is Hebrew, but English is widely spoken.
Currency:Israeli new sheckel, $US is accepted in many places, and alot of duty free curreny converting is available.
Time Zone:GMT+2
Water Temperature: 26C 78F
Diving Experience Level: Perfect for beginning divers. Little current and clear visibility ideal for new divers, while some of the wreck dives geared towards the more advanced.
Photography Experience Level: Easy, the calm waters and endless list of possible subjects is great for beginer photographers.
Eilat Underwater Photography Subjects
Eilat macro subjects:
While the Red Sea has become a photography hub for stunning wide-angle imaging of soft corals and schooling fish, Eilat boasts a rare combination of neat macro subjects.

Blennies blanket whip corals waiting to be shot, gobies glide along coral heads posing for the camera, and the rich waters are also home to numerous species of shrimp.
Common Macro and Super-Macro Subjects Include:
Wide-Angle Subjects:
All you need to do is lift your head up for a second from your housing's viewfinder to find a suitable wide-angle subject. Stunning, yet immobile, soft coral makes the perfect subject for beginning photographers hoping to get the knack for wide-angle lighting. Add a carefully placed model silhouetted against the sun and you have a really beautiful subject.

One of my favorite less mobile subjects are the lionfish and surrounding glassfish. Unlike the Caribbean, where lionfish have become public enemy number one, the catlike fish of the Red Sea are revered by shutterbugs. Try capturing one, two, three, or more of them as they cut through a mirror of glassfish.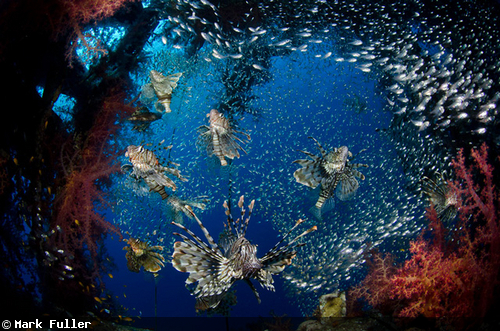 Wide-Angle Subjects Include:
Countless soft and hard coral opportunities
Glass fish on reefs capes
Underwater Photography Equipment for Eilat:
Camera
Housing
Strobe(s)
Macro port
Dome Port
Macro Lens
Fisheye Wide-Angle Lens
3mm suit in the summer
5mm in the winter
Underwater Photography Tips for Eilat
Go Super, Super Small!
While standard magnification can capture Eilat's macro marvels, to truly catch every detail of an intricate blenny or gobby, make sure to pack a wet-lens. Blennies abound out of cracks and crevices and you can spend hours with a 105mm lens and macro diopter shooting their adorable expressions.

Creative Lighting:
Eilat's ease and accessibility of diving makes for the perfect place to try that off camera strobe or snoot you've been waiting to use. Backlighting the gaping jaw of a gobby on a whip coral or a fiery soft coral adds a unique flare to a simple subject.

Model Behavior:
Adding the silhouette of a model to a wide-angle shot of soft coral is a nice compositional element. Use the diver to blot out the full power of the sun to create a halo effect and bring out the blues and reds of an image.

Lionfish (photo) Hunting:
Instead of hunting these Red Sea lionfish with a spear, hunt them with your wide-angle lens. The image of a pack of lionfish pushing through a stream of glassfish is a must for an underwater photographers portfolio after a visit to Eilat.
Planning Your Trip to Eilat:
When to Go: Diving is year-round.
How to Get There: From Ben Guiron International Airport in Tel Aviv, you take a car (4 hours), bus (5 hours), or domestic flight to Eilat (40 minutes).
Entry Requirements: US citizens require a valid passport and a return ticket home, but there is no special visa requirement.
Tipping: Tipping is considered polite, although some establishments may include gratuity in the bill.
Taxes: None
Connectivity: Phones and internet are widely available in downtown Eilat.
ATM Access: Yes.
Health Concerns and Vaccinations: None
Drinking Water: Safe.
Emergencies: Be sure to have your Dive insurance, diving licence and log book up to date. TA decompression chamber with a trained medical rescue team is on call 24 hours a day, 7 days a week at the hospital in Eilat should a diving incident require emergency treatment. The decompression chamber in Eilat is located within 10 minutes drive of most of Eilat's dive sites.
Where to Stay: There are countless hotel options for your stay in Eilat, ranging from the inexpensive to the luxurious.
Who to Dive With: There are countless dive clubs to chose from in Eilat. Check out Isrotel Diving, Nemo Divers, or do a search of your own for many more.
Other Activities:
Be the first to add a comment to this article.
Newsletter
Travel with us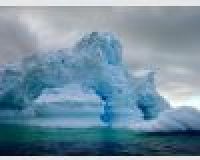 Antarctica
Plan Your Adventure >
Featured Photographer
Libor Spacek
Expert Photographer
I am a photographer and filmmaker, scuba instructor and yachtmaster coastal based in Czech Republic. Me and my partner Petra Dolezalova (photographer, publicist, diver) own a Dutch photography and film production Escape to...