Travel
Down Under Done Right - Diving The Great Barrier Reef
May 7, 2010 @ 01:50 PM (EST)
By Michael J. McNamara

I love getting together with avid scuba divers and sharing tales of where we've been and the amazing things we've seen. Invariably, when I mention that I spent six weeks sailing and diving along the Great Barrier Reef back in 1990, a look of awe appears on those who haven't been there and a smile pops up on those who have.

I've yet to find a diver who doesn't wish he or she could visit the Great Barrier Reef someday, while those who have—including me—yearn to return. That feeling is even shared by those whose entire lives are intertwined with the reef, whether as dive masters, marine biologists, or crew among the hundreds of dive boats or site-seeing aircraft that visit the reef daily. Perhaps its unique distinction as the only living organism on the planet earth that's visible from outer space offers a glimpse of how it compares to other tropical reef systems on the planet, and why it could take several lifetimes to dive the majority of its hidden treasures.



Having made friends with several unforgettable Aussies during my first trip, and fallen in love with both the country and the reef, I vowed to return someday to continue my adventures.

However, it took nearly two decades before I landed an assignment to help document the GBR for the UNESCO World Heritage Photo Project. In late 2008, the pieces for my documentary started to fall together when Panasonic introduced its micro-Four Thirds system Lumix DMC-G1.

Interest in using this compact camera underwater was high on all sides, and Panasonic agreed to build a custom underwater housing for it. But soon after I began preparations Panasonic sweetened the pie with the introduction of the Lumix DMC-GH1, which features full HD 1080p video and stereo sound in addition to the 12.1MP of the original DMC-G1.

How I landed two Lumix DMC-GH1's and a custom underwater housing (that included a button to activate the HD video mode) before the GH1 even began shipping to the US is another story, as is the story behind the compact flash and LED lighting systems I put together for this project (Inon flash optimized for still photos, FIX LED lights for video). But while I was working out equipment details with my contacts at Panasonic, I began searching for a dive charter operation, research scientists, and other necessary supports needed to make the documentary possible. My UN contacts opened the door to managers at the Great Barrier Reef Marine Park Authority (GBRMPA) in Townsville, Australia who highly recommended only two dive charter operators, one of them being Mike Ball Dive Expeditions (MBDE).

I first learned about Mike Ball on my original trip to Australia in 1990. By then he was already a legend among serious Aussey divers, having opened his first dive school in Townsville in 1969, launched the first custom built twin hull live-aboard diving vessel, the Watersport, in 1981; followed up the Watersport with the Supersport in 1986 and the Spoilsport in 1986; and pioneered too many dive techniques and programs to list in this article (check them out here).

The Spoilsport was now operating out of Cairns with an itinerary that appeared to closely match what I was looking for, so I chose an 8-day, 7 night Coral Sea Safari trip (roughly $3600 US depending on conversion rates for a double-occupancy cabin with window and included head). In addition to the potential for "Unlimited Dives" on pristine reefs all located north of Cooktown, the Coral Sea Safari includes a scheduled stop and hike at Lizard Island where Captain Cook once climbed to the top of its hill trying to find a way out of the maze of reefs. I figured that would be a great spot to get overview shots for my documentary, but I was also fascinated by the scheduled 75-mile side trip to the Osprey Reef system (weather permitting) located outside the GBR Marine Park in the Coral Sea.

If you're on a tighter budget, the Fly Dive Coral Sea option (under $2,000 US) encompasses the first 4 days of the Safari, including a chance to swim with several dozen sharks during a feeding frenzy, dive off 1000 meter walls in 100 foot-plus visibility, hit a dozen other super-dive locations, explore Lizard Island, and take a scenic, low level flight back to Cairns over the Great Barrier Reef.

My trip in September was well past the migration period for Dwarf Minke Whales, but in June and July the Spoilsport gets booked up fast for its encounters with these incredible mammals.

Getting there is half the fun!
If I could travel to the Great Barrier Reef in the time it takes to fly to Belize, Cozumel, or even the Red Sea, I'd book an annual dive excursion there and so would many divers I know. But from my home just outside of NYC it took more than 28 hours to arrive in Cairns, Australia. Fortunately, the flights are reasonably priced, and you can get there for under $1500 US if you do your homework and lock in your ticket price a few months in advance.

Pack as lightly as possible to avoid hefty airline baggage fees, and consider renting gear from the ship or purchase what you need prior to setting sail.
Mike Ball Dive Expedition's headquarters are located in midtown Cairns, one of the prettiest and most interesting cities I've ever visited. It has the distinction of being located between two World Heritage areas—the Great Barrier Reef to its East, and the Wet Tropics of Queensland to its South, West, and North.

From MBDE, it's an easy walk of the ocean, the mall, and just about every major hotel in the city. From the minute I entered dragging all my luggage and photo gear, I knew I was in good hands. The staff was more than familiar with the jetlag I was experiencing after my long flight and only 3 hours of horizontal sleep in my hotel the night before. The fact that they spoke the same language, albeit with a cool Aussey accent, was a real plus.

What I'll always remember is how they helped me solve my biggest dilemma of the trip: a burnt out battery charger for the Lumix GH1. There I was, about to head out to sea for 8 days to do a UN documentary, with only 4 fully charged batteries for a camera that didn't yet exist on the shelves in Australia. Fortunately, I was able to locate another UN photographer in Brisbane with a compatible battery charger for the older G1. Unfortunately, it would take at least two days to get to Cairns, and by then I'd be in the Coral Sea completely out of reach.

The solution? Mike Ball and his staff promised to send out the battery charger on a plane scheduled to pick up the Fly Dive Coral Sea passengers at Lizard Island in four days.

Perhaps it was my stressed out look that day, the assignment I was on, or the fact that Mike Ball loves to tell stories, but soon after he figured out how to save my ass Mike invited my dive partner and I out for coffee prior to our evening departure on the Spoilsport. If you ever have a chance to sit and talk with Mike Ball, make sure you bring a recorder. He has more outrageous diving stories to tell than Jacque Cousteau, and colorful doesn't begin to describe his stories, his sense of humor, or his personality! The history of his exploits, his company's successes and failures, and his obvious love for the Great Barrier Reef and sport diving could be the subject of several books. Our coffee break lasted longer than expected, and the boss himself wound up dropping us off at the ship just as he had surely done for guests in the past.

Smooth Sailing and bye-bye 3G
It had been several years since I'd spent time on a live aboard dive boat, and was pleased to find all of my equipment and luggage already in my stateroom when I arrived. I was also pleased with the view from my window (far too large and square to call it a porthole!) and the size of the included shower and head. I've had to deal with far less comfort in some land-based hotels in the past.

As the Spoilsport pulled away from the dock we gathered for a formal introduction to the crew, dive masters, and head chef, followed by an informal introduction to our fellow divers. First impressions are important, and I was impressed with the level of experience found in nearly every crewmember. Three hours after we departed Cairns I was also surprised that I could still send and receive email on my phone and laptop using the Vodaphone 3G modem I picked up in Brisbane. But soon after that, the 3G-network signal disappeared, and for the next four days I was gloriously free from any email or phone distractions. It reminded me of the way things were on my first trip in 1990.
The Spoilsport has been actively transporting divers to the GBR for more than two decades, but even upon close inspection gives little clue to its age. Credit that to its original design and the dedication of its owner and well-trained crewmembers. Aluminum dual hull live aboard boats are now fairly common in Australia and around the world, and in relatively calm waters found around the Great Barrier Reef are the most stable.

If not for the sound of the engines in the background, it was hard to tell we were underway between dive destinations—accept for the 75 mile crossing to the Osprey Reef on Friday evening, which I'm told upset some of 28 guests on board. I slept soundly that night dreaming about giant clams and clownfish, more comforted by the sound of the ocean swells slapping the bow and the ships rolling. Time bouncing around on Coast Guard cutters in stormy seas made that possible.

The Spoilsport has a raised deck dedicated to SCUBA equipment, with three large tables for setting up and cleaning camera gear and equipment, hanging racks for wetsuits, fresh water buckets to check and clean camera gear, three ways to enter the water including a jump deck and two stairways. Each diver is assigned to a numbered station next to his or her dive partner, and given a numbered drying towel as well. Nitrox tanks were easily identified with green Teflon tape (which I repurposed to protect my toes from blisters, much to the delight of the crew.) Whenever I needed something while preparing for a dive, such as an extra weight or help getting my tank and BC tightened up, a non-diving or diving crewmember was always ready to assist.
Getting into the water is fairly easy, even for those with cameras, and there's an efficient routine: Get your gear on, hand your camera system to crewmember, jump in from the center platform, and swim to the side to pick up the camera. Upon returning to the ship, a crewmember stationed on either side at water level takes the camera from you and places it in a fresh water tank so you can concentrate on getting out of water and out of your gear.

The optimized diving procedures, crew support, and the experience level of all the dive masters (as well as those training to be dive masters) turned the Spoilsport into a fine-tuned diving machine. As a result, I felt at ease from my very first dive till my 23rd.

Wakey, Wakey, its time to dive!
After sailing all of Thursday night, we arrived at Cod Hole Reef, about twenty miles east of Lizard Island, for our introductory dive. Prior to entering the water that day, I was most concerned about my camera equipment and the custom acrylic housing, which had never been below 5 feet (in a pool!) than I was re-acclimating myself to the underwater world. I certainly didn't expect to be approached within minutes by several of the largest and friendliest Potato Cod Fish I'd ever encountered. They were more than happy to pose while I tested out the camera equipment and watched at least one other diver comically struggling with the concept of buoyancy control.

Visibility at the first few dive sites on the GBR fell short of what I had expected (or remembered from way back), as there appeared to be an algae bloom caused by a recent shift in currents.

At Cod Hole we had a good 40-50 feet visibility, but later in the day at Challenger Bay visibility dropped to below 30 feet. On that afternoon dive, my dive partner and I found ourselves swimming against the current—in both directions! Fortunately, by the time we returned for a night dive, the current had subsided, but sediment and algae were even more apparent in the dive light beams.

Challenger Bay is clearly a popular night dive location, as dozens of predatory fish tagged along with us using the bright dive light beams to locate potential prey—to my dismay. I kept turning off the beam so they'd go away, but they quickly returned.

The next day's dives out on Osprey Reef in the Coral Sea were the polar opposite of these first relatively shallow dives within the GBR Marine Park, with 80-100 foot visibility and incredible drop offs into the deep blue. The shark feed was easily the most incredible dive I've ever experienced, and perhaps due to the nature of my documentary, I was given a prime seat to shoot the feeding frenzy from roughly 20 feet away (no shark cage, but coral wall to my back). As I set up, a 7-ft White Tip Reef shark approached to within 2.5 feet of my camera and I almost reached out to touch its tail as it passed, but thought better of the idea.
All told, over 24 sharks came in for the feed, including White Tips, Grey Reef Whalers, and Silvertip Whalers. Someone spotted two Hammerheads out in the distance, but they never came in for a bite of the tuna meal set for them.

The shark feed was followed later that evening by one of the most memorable night dives I've experienced.
Wouldn't you know that it was also the only night dive I made without my camera? Worried that my camera batteries would run out before reaching Lizard Island in two days, I left the camera behind—but took along a 1000 Lumen FIX LED video light with me as a dive light.

Perhaps it was the brilliance of that light, or a small gift from King Neptune, but as my dive partner and I began our ascent back from our 80-ft max depth, we were met by a giant Manta Ray at about 30 feet. To our amazement, the Manta Ray circled around us for several minutes, often as close as three feet away, coming in and out of the darkness and giving us a close up view of its underside. Meanwhile, twenty feet below us several divers sat in awe witnessing the event, and later told us about a second Manta Ray just outside the reach of our lights that eventually took off with its partner.

Perhaps I was dreaming about sharks and manta rays and not paying attention, but my next dive got a bit scary, and ended with a bone-dry tank, the first of my diving career. This dive started with a dingy trip out to a marker buoy, a back flip entry into the water, and a hand-over-hand decent along an anchor cable down to a depth of 110 feet. The 3-5 knot current made the descent even more challenging, and at least one diver reached the bottom with just enough air to go right back up.

The dive plan was to follow the dive master (recommended, but not required), and drift along a short coral ridge, cross a much deeper valley to a coral wall about 300 feet away and slowly drift to the surface, hopefully within swimming distance of the ship. Apparently, that's what everybody else did. But when I spotted the largest fan corals I've ever seen in an area twenty feet below the anchor drop-off, I headed for them against the current and started shooting.


In what seemed like only a few minutes, I turned to my dive partner and noticed she was hanging back near the anchor area and motioning wildly for me to check my gauges. Surprise! I was at sitting at 140 feet with 700lbs left in the tank! Needless to say that cut short my photo session, and I began the drift across the valley to the wall on the far side, sipping air like it was cognac. I made my safety stops along the way, but the air stopped flowing at the surface, and it sure felt good to get my first gulp of fresh air.

I could have stayed at Osprey Reef for the remainder of the trip if given the choice, but that night we steamed back to Lizard Island, where I finally picked up the battery charger and the ship swapped out some passengers. On our return from Osprey Reef, it was nearly flat calm, with the night sky filled with stars right down to the horizon. Over the next few days we revisited the giant Potato Cod at the Cod Hole, then made our way to places such as Lighthouse Bommie, Pixey Gardens, Steve's Bommie, and Acropolis.

This last location contained enormous fan, staghorn, brain, and soft corals, plus it was relatively shallow and contained an enormous fish population. On several occasions I found myself swimming over coral gardens that were so large and intricate that it was like riding in a helicopter through the skyscrapers of NY City. The size and complexity of these reefs, along with the teaming life that appears at every conceivable angle is hard to describe. I tried my best to capture the feeling using a mixture of still photos and HD videos, but I also set the camera aside and embraced the fact that I was now a temporary resident living within the largest tropical fish tank on the planet.

Normally I'd tell you about how well the camera system worked and how happy I was with the thousands of photos and hundreds of videos I took for the documentary. Or I'd go into more details about the largest and oldest Loggerhead Turtle that the crew had ever seen (It followed me back to the ship!). However, that wouldn't leave me room to describe how pampered we all were in the dinning room each evening, although one phrase I heard nearly describes it: 5 Star Diving! Each night's fair had a special theme, from Greek to Asian, and we ate like kings and queens. No trip is complete without the traditional "Barbie", and ours included generous portions of grilled Kangaroo (the highest protein and leanest meat found in Australia. Thanks again, Chef Andy!)

As far as I recall, this is the first time I've returned from a dive trip weighting more than when I left. In addition to the main meals, there were always snacks, drinks, and coffee on hand to fill the calorie void left by sucking compressed air.

The great food was often accompanied by excellent entertainment from the crew, which included Captain Pete, a notorious high-seas outlaw (at least that's what those he let live say about him) and a master of vocal storytelling. It seems that even the sea birds have a liking for him.

Perhaps Captain Pete handpicked his crew, or they came looking to sail under him, but nearly all of the crew had interesting histories and experiences to share, and their accents added to the telling.

Did the advertisement for unlimited diving on the Coral Sea Safari really fit the bill? For me it did, as I sat out at least two dives (but made 23) during the week in order to spend time absorbing the sun on the upper deck, backing up my photos and videos, and having great conversations with the captain and crew. I think the itinerary is perfect for photo-enthusiasts and videographers as it visits tried and true photo-ops on the reef with a cross section of coral formations, sea life, and depth. Those seeking an adrenalin rush as well can be fully satiated on the two-day trip to the Osprey Reef and its tuna-loving shark population. If I could choose the itinerary, I'd add two more days to explore the Osprey Reef system and not double up on visits to Cod Hole and Challenger Bay. Next time!




To access my Google Earth Multimedia Journal (GEM) of my trip to the Great Barrier Reef, which includes photos, movies, maps, and additional links, download this small .kml file and drag it to Google Earth.


RELATED CONTENT
Be the first to add a comment to this article.
Newsletter
Travel with us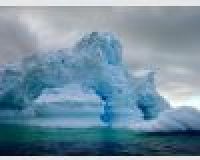 Antarctica
Plan Your Adventure >
Featured Photographer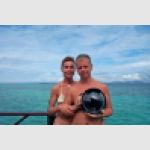 Andrea Ferrari
Expert Photographer
When they are not diving Andrea and Antonella Ferrari live in the countryside south of Milan, Italy, in a beautifully restored farm going back to the eighteenth century, with their beloved English Bull Terrier. After having...