Travel
Diving Southern California's Oil Rigs
December 12, 2009 @ 06:36 PM (EST)
Just off the coast of Southern California lies a unique habitat that is overlooked by most underwater photographers. It is a remembrance of a once thriving industry strung along our coastline. No, not ship wrecks. Not even kelp forests. I'm talking about our oil rig platforms.

The platforms are perched high above the waterline for protection against California's severe weather conditions. Supported by a labyrinth of massive beams, pillars and pipes, these are Herculean structures.

The pillars themselves jut straight up from the ocean floor from hundreds of feet below. Engineered to maximize strength and stability, the pillars are interconnected by crossbeams in 45-foot increments.


The first rig on our stop today is named "Eureka". As we approach the loud humming and hissing of the drill platform, the steel on steel banging mixed with barking sea lions make an interesting audio track. The dive master competes with this ambient nose as he gives his briefing.

"This rig is constructed in over seven hundred feet of water" he shouts, "we won't be throwing an anchor so watch your depths and have fun!"


Our boat is loaded with 12 experienced shooters from the Los Angeles Photographic Society. Today is one of their many day trip shootouts. It seems we have hit it just right as the topside conditions are balmy with a slight breeze, the water is icy blue and the surface is glassy with an ever so slight bump -- near perfect conditions. Yesterday it was close to gail force winds, white caps and 8 second swells. I guess that's California for you-- if you don't like the weather, wait a few minutes.

The entry is done from a live boat with the engines at idle speed. We slowly approach the designated entry point as people put on their final pieces of gear. Timing is everything when your diving exposed like this. Even though it's calm now, conditions can change on a dime. The captain puts the stern into the perfect position and with military like precision we enter the water.

Cameras are handed down and after a few finkicks I slip below the surface. The cobalt colored water embraces me like a cool blanket. Wow, the viz is unreal today and everything is suddenly silent.


I imagine flying through a submerged skyscraper, starting on the roof and going down with each crossbeam another floor. Every pillar hosts communities of life.
I can see a structure ahead, but I can't help from looking straight down, the visceral light beams creating shadows below me, the feeling is incredible.


Kicking against a slight current and descending, I arrive at the first crossbeam, leveling off at about the 50 foot mark. Divers above and below set off in different directions.


The submerged structure is really something to behold. With a constant current blowing, pelagic larvae of all different types can find a home here. The shallower surgy spots are host to large mussels, giving way to Corynactus, Bryozoan, Brittle Stars, Sponges of endless variety and much more.


The water at this time of the year can hover around the 70 degree mark up top, which is very comfy, but as one descends things change quickly.

I exhale and set off to explore the next floor. The first thermocline visually appears like a slight oil slick, a natural separation of the warmer water from the cooler water.

I pass through and the temperature drops a good seven degrees, quickly reminding me why I'm grateful for my drysuit. Below that first thermo-layer the water is notably cooler. Not only that, but something to notice as an underwater photographer is that the water has taken on a greenish haze and the penetrating light has dropped a bit.

The green haze happens to be drifting organisms, a constant conveyor belt of planktonic passerby's. Some stick to the beams and grow, some are consumed, and others just keep cruising through with the current. Subsequently, the beams are loaded with life here including dinner plate sized scallops, various types of Rockfish and cabazons.


My goal is to head on down to the second set of cross beams, somewhere around the 100 foot mark. Soon I begin to see the tell tale signs of my depth, the milky white plume of the Matridium anemone. The beams down here are just loaded with life. Growth upon growth, nothing here is exposed.

There are layers of sponge with scallops and brittle stars lacing through like stitching. There are barnacles reaching out for food and quickly retracting, hydroids everywhere, big sea stars and talk about Nudibranchs!.



I have to resist the temptation of looking for Nudi's today, im shooting wide angle, Okay, just a peek!!, (rice sized Dotos? Hermissenda, San Diegensis, Dendronotus hmm...maybe I need Go Nudi here!)

Note to self: repeat dive with macro lens.


Resting at the second set of beams near a corner, I'm looking out and around. This is a really cool opportunity to see the unexpected. It's possible to see sharks, rays, mola-molas, sea nettles. I didn't get lucky today, but maybe next time.

From my position I can see the next crossbeam below me, and I can see the one above me, even through the haze of the thermocline. I have never been below the third set of crossbeams but the allure is always there.

Looking up I am stunned by the clouds of Blacksmith. They are countless in numbers as they sway back and forth. They turn from silver and shiny to black and back again as a sea lion darts through the mass. My buddy shooting video is cruising and catching the motion. Big sheepheads are out here too, and occasionally one might even see some Barracudas.


As I am hunkered down shooting I am reminded why I can look should not touch.

A large female Sheephead sneaks up on me and bites my finger. Yow!!!!, it felt like someone smacked my finger with a hammer, I pushed back too see her toothy mouth open as if she was laughing at me. Nice, I can't believe a Sheephead bit me.


My bottom timer beeps away and lets me know that its time to start my ascent. Cruising through the tightly packed pillars, again im reminded of a skyscraper, gliding through the hallways.

I pass through the thermocline and back into the blue, clean clear water. My body begins to warm up as the sunlight blasts through the surface.

Here I can see divers on opposite sides of me at least 50 feet away on both sides, there is arguably 80-100 feet of viz. With all of this light, I decide to shoot ambient. I crank my D300 up to ISO 2000 and let the shutter fly. I see my video buddy shooting away, at a distance all I can really see is his outline and the lite light from his video lamps. Using his lite I try to create a moody "man at work" kind of feel. I meter the background then stop down a bit.


As I approach the end of this dive I am reminded of the exposure to the open ocean. The surface is 20 feet above me and I am already rocking and rolling. The conditions have changed. I kick out and away from the structure to alleviate that problem. I sport a pelagic Stingray forty feet below, what a way to wrap it up. The boat swings in and we clamber back on board. Incredible. Everyone is excited and chattering away, and this was just the first dive of the day.
Photo ops out here never stop, whether your shooting wide or macro, video or still.

There is always a host of creatures that live within this massive vertical reef system and even the possibilities of spotting pelagic animals.

Southern California is home to many oil platforms, starting from Santa Barbara down and into the Huntington Beach area. They structures offer chances for unique photo opportunities. If you would like to take a run out to explore the rigs for yourself, I recommend a local charter.

There is nothing quite like cruising these huge man made structures coated with color and pulsing with life. Though they are beautiful they can also be dangerous. This is a dive only for advanced divers, and always bring a signaling device. Always remember, safety first.








RELATED CONTENT
Be the first to add a comment to this article.
Newsletter
Travel with us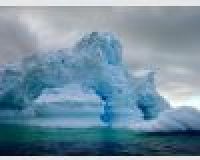 Antarctica
Plan Your Adventure >
Featured Photographer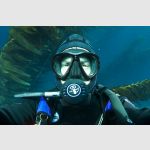 James Forte
Expert Photographer
In 1990 he moved to Santa Barbara, Ca to attend college and found his new surroundings above and below the coastal American Riviera, full of adventure and visual beauty. James soon discovered the Channel Islands Marine...