Travel
Diving in Your Backyard: Lisbon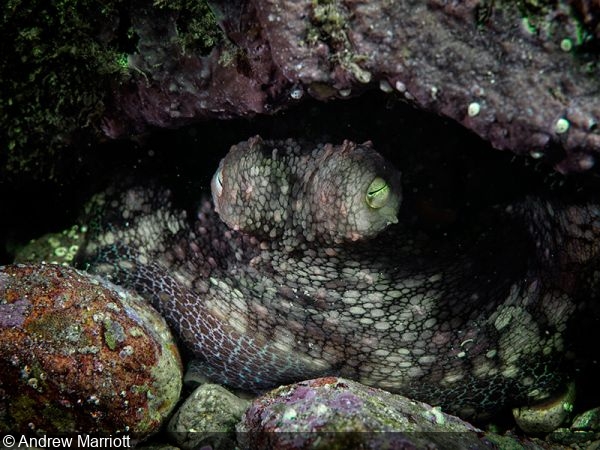 The rocky bottom off the shore is a playground for octopuses

Diving, and by extension, underwater photography is only possible on amazing trips to exotic foreign destinations. That is just a fact. If you are in Europe, you need to at least make it to the Red Sea if you want to get your gear wet. In North America, you will be heading to the Caribbean if you want to use those fancy new strobes. Of course, if you want to take a great picture, you will have to get yourself to the far-off reaches of the Pacific. All of this is nonsense, of course—yet for many divers these are the truths they live by.
The real truth is that there is diving all over the world, and a lot of it will be close to where you are sitting while reading this. I recently attended a family wedding in Cascais, Portugal. This is a lovely spot in the greater Lisbon area right on the beach. I had been there before and it had struck me that it reminded me of Laguna Beach in Southern California, where I did much of my early diving. With that thought lodged in the back of my head, I resolved to see if I could dive there on future trips.

The River Gurara MV can be done as either a recreational or technical dive

As we all know, weddings are time-consuming affairs and I was only going to be in town for three days. It just so turned out that the day before the big event I had a hole in my schedule in the morning. This was my chance, so I packed my mask and camera, along with all my snazzy wedding outfit!
I knew absolutely nothing about diving around Lisbon, beyond the fact that there is an ocean, and I could do a beach entry in some spots. To remedy my ignorance, I reached out to Portugal Dive and my new friend Arlindo Serrão. Over coffee he enlightened me about the realities of diving in Portugal—and my mind was blown. The diving was amazing, and not just in the far off Azores or Madeira. There is a German U-boat off Porto in the north, and it is within recreational depths. Walls, reefs, big fish, blue water, caves, and some crazy novelty dives in fresh water—Portugal is rich in great diving. Nobody has heard of it though; it has gotten lost in the rush to get on liveaboards in Egypt.

The water may be a little chilly, but put on the appropriate suit and it's no problem

Look for flashes of silver, as these waters are teeming with schooling fish

For our Saturday morning dives, we had planned on diving right where I was staying in Cascais, but heavy surf had stirred up the bottom, and Arlindo thought our time would be better spent an hour south in the local diving mecca of Sesimbra. For local divers in Lisbon, this is the go-to place for diving on the weekends. Formerly a fishing village, Sesimbra is now a very picturesque town more focused on tourism. With a long, sandy beach and colorful buildings overlooked by a castle, it is a postcard-perfect spot. More importantly for divers, Sesimbra is also home to the biggest Portuguese maritime reserve, and its 20 square miles are home to a diverse range of underwater flora and fauna.
Our dive plan for the morning was a classic wreck and reef itinerary. Arlindo knows I am very keen on getting rusty whenever I can, so he put the River Gurara MV on the top of the list. The ship was a large Nigerian flagged general cargo ship built in 1980. With a displacement of 13,194 tons, the vessel was similar in size to a World War II era cruiser. On February 26, 1989, it suffered an engine failure on its way to Liverpool from Nigeria. With no power, the huge North Atlantic swells punished the ship and drove her onto the rocks a mile or so off the shore near Sesimbra. The massive waves smashed the stricken vessel and broke her to pieces, leaving a trail of debris along the bottom. At least 18 crewmen lost their lives in the tragic accident.
In the years since, much of the wreck has been salvaged and removed, but there is still plenty to see today. Part of the engine room is still there, and it makes for some fascinating exploring, but the star attraction is the propeller. If you don't fancy wrecks, don't worry. The huge amount of scattered wreckage makes for an excellent reef. Look inside the dark places, and you will find a variety of eels and octopuses trying their best to blend in. Swimming just above the bottom, you'll spot colorful wrasses and alien-looking schools of squid. For those into fish ID, keep an eye out for the plentiful congers, pouts, and sea breams.

The wreck has a nice variety of fish, and plenty of rust for those who are into that

The dive itself is nice and easy, and there is no need to go into any confined spaces if you don't want to. For those into wrecks, like me, there is much more to explore. The nice thing about the dive is that it is shallow as far as wrecks go, with an average depth of only 72 feet. You can dive it on a single tank, or if you are a technical diver, head down with whatever tanks you need.
Speaking of technical diving, I was incredibly impressed by the diving infrastructure around Lisbon. I can't speak for the rest of the country—yet—but I can say that whatever kind of diving you want to do, it can be arranged easily. Diving around Lisbon is year-round, and even on weekdays. In smaller, and less trafficked, areas diving may shut down during the winter months and weekdays. Check ahead if you are planning a trip. Around Lisbon, you can dive on short notice at any time of the year, barring major offshore weather systems of course.

The dive infrastructure around Lisbon is incredibly well developed

The plan for the second dive was the well-known Jardim das Gorgonias, a pretty self-explanatory name. This is an excellent site, especially for a second dive. With an average depth of only 45 feet and a maximum of 52, you will have plenty of time to explore this colorful garden. The entire area centers around a giant rock outcropping that is thickly covered with gorgonians, sponges, soft corals, and other colorful marine life. The richness and color found here are awesome, and that is only on the bottom.
Jardim das Gorgonias is a great spot for some close-focus wide-angle photography, but the macro is awesome, too. During the months when the seas warm up (to a balmy 68°F), the nudibranchs move in. There is a wonderful variety of nudis to be spotted, and many people are shocked to learn that these little critters can also be found in colder waters.
Aside from the slugs, you can find cuttlefish and pipefish hiding and hunting within the reef. In the many holes and cracks, look out for forkbeard fish, octopuses, eels and a variety of sea stars. Above them you will have plenty of the ubiquitous sea breams to keep you company. Surrounding the rocky reef is a large sandy plain. This may sound dull but do yourself a favor and take a look: Out in the sand you can find flounders and stingrays.

Jardim das Gorgonias has a lot of color, and plenty of octopuses hiding in the nooks and crannies

The Jardim das Gorgonias is a fantastic photography dive, and you can do it several times with different lenses without feeling like you are repeating yourself. Add in the longer bottom times, and you have a real homerun dive spot!
After the dives, it is back to the small harbor, and to what is probably one of the best post-dive rituals around. Right outside the dive shops are wonderful seafood restaurants that sell the catch brought in by the few remaining local fishermen. So, while your gear hangs and dries in the bright Portuguese sunshine, you can enjoy a seaside lunch in a small town right out of the pages of a travel magazine. At the end of the day it's back in the car and across the bridge into Lisbon by early afternoon.
Now I know that not everybody jets off to Lisbon for the weekend, but 4.5 million people visit the city every year. Those of you in Europe are very likely to be in Portugal at some point to soak up the beaches and sun, but make sure to go a little further past the breaking waves and do a dive. If I can manage to dive during a three-day weekend for a big family wedding, I know that some of you can do much better! I love feeling like I've discovered a real diving gem that nobody seems to know about (at least before I wrote this). I can't wait to head back to Portugal for more long weekends and see what else the country has to offer. I see a German U-boat in my future very soon.

Incredible reefs aren't only found in tropical waters. Look closer to home and you might be surprised by what you find

---
About Arlindo Serrão: Arlindo is the kind of diver who usually doesn't have to wash his equipment, because every dive is in fresh water lakes and caves. There is an exception though, and that is when he wants to dive wrecks. Not too many of those in fresh water. Arlindo is passionate about diving in Portugal and holds TDI MKVI Full Cave CCR and MKVI Mixed Gas 60m CCR certifications. You can find his excellent Portugal dive travel business on Facebook, and on the website Portugal Dive.
About Pedro Bernardo: Pedro loves deep diving and photography. A guy with a splendid sense of humor and someone you would pick to be your buddy on any dive! Currently he is finishing his TDI MKVI Mixed Gas 100m CCR certification. We can't wait to see the pictures he brings back from the really deep depths! You can find him on Facebook
RELATED CONTENT
Be the first to add a comment to this article.
Newsletter
Travel with us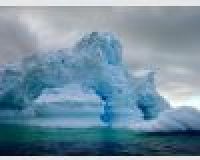 Antarctica
Plan Your Adventure >
Featured Photographer
Pieter Rutten
Photographer
Pieter Rutten, born in August 1976, lives with his wife in a village in the south of Holland. He works as a graphic designer for a small printing company. He also has his own company, pieterrutten.com, that specializes in...