Travel
Discovering the Secrets of Oman's Underwater World
A diver enveloped in golden sweepers (Parapriacanthus ransonneti) off Dhofar in Southern Oman

Hands up those of you who know about diving and underwater photography in the Sultanate of Oman. Okay, you can both put your hands down now! Indeed, the tropical seas around Oman really are little known around the world. I've been told on more than one occasion by seasoned dive travel professionals that they were unaware of the quality of the diving here. In part, that's because it's only in the last decade or so that Oman has been opening up to world tourism, but it's also because Oman continues to be overshadowed by better-known dive destinations.
The sheer variety of marine life here is breathtaking. From the megafauna of Arabian Sea humpback whales, whale sharks and oceanic manta rays (now reclassified as mobula rays) to exciting encounters with zebra sharks and moray eels, including the dramatically beautiful dragon moray, which, in Oman, is only found in the southern region known as Dhofar. If you're lucky you might see an ocean sunfish (Mola mola) or even an orca. Then there's the macro world of crustaceans and nudibranchs, including the beautiful Spanish dancer. Coral reefs are generally in a healthy condition, and what's more, Oman's Indo-Pacific waters and marine life are only around eight hours flying from Europe compared with 12 or more to Malaysia, Indonesia or the Philippines.
Oman is a place of dramatic contrasts. Its epic expanses of mountains and deep valleys, deserts, a 1,900-mile coastline of unspoiled golden beaches, and over 5,000 years of history invite us to explore and learn more about this fascinating country. Then there are the Omani people, for whom hospitality is part of their DNA and who guarantee a very warm welcome. The Sultanate is also a safe and relaxed place to visit—and all too easy to fall in love with.

Healthy corals off the Capital Area of Muscat

A vibrantly colored Spanish dancer (Hexabranchus sanguineus), Dhofar

A sicklefin lemon shark (Negaprion acutidens) cruises Dhofar's waters
Tons of Turtles and the World's Biggest Fish
So, what makes Oman's underwater world so special? Oman has some of the richest, most biodiverse seas in the world: 1,600 species of fish, 20 species of whales and dolphins, and nearly 200 species of corals have been recorded here, and new species are regularly being discovered.
Oman is one of the world's most important sanctuaries for turtles. Four of the world's seven species of turtles nest here. Located at Ras al Hadd, where the Sea of Oman meets the Arabian Sea, the Ras Al Jinz turtle reserve is Oman's only official center that provides expert guides for the public to watch green turtles nesting and laying eggs as well as hatchlings taking their first ungainly steps to the sea. Upwards of 20,000 green turtles are estimated to return to Ras Al Hadd, where they will lay two to three million eggs, throughout the year, at the same beaches where they hatched some 25 to 35 years earlier. Green and hawksbill turtles are regularly seen during dives around the Capital area and Musandam, while loggerheads and olive ridleys nest on Masirah Island.
Diving here is relatively benign, with not much in the way of strong currents, which keeps us photographers happy. Oman offers world-class diving and spectacular underwater photographic opportunities—both macro and wide angle. These waters also hold a fair number of surprises for divers, with or without cameras. Earlier this year, I came across a small pod of false killer whales hunting tuna, while a friend of mine saw an oceanic mobula ray at the Daymaniyat Islands—the first anyone can recall having been seen there—and just recently, a Mola mola was spotted.
Whale sharks are regular seasonal visitors between June and September around the Capital area and May to October in Musandam. It's not unusual to have groups of 10 or more, and occasionally, groups of 20 or 30! You don't have to travel to Ningaloo on the other side of the world to swim with these gentle giants.

Green turtles (Chelonia mydas) gather for a group portrait, Capital Area

A pod of Indo-Pacific bottlenose dolphins (Tursiops aduncus) off Dhofar

A whale shark (Rhincodon typus) and its reflection off the Capital Area
Khareef and the Reef
What is striking about the fish life here are their sizes. Many species are larger than their counterparts in the Red Sea or other parts of the Indo-Pacific. For example, honeycomb moray eels can grow at least as large as giant morays elsewhere.
The endangered population of Arabian Sea humpback whales, comprising just 70 to 80 individuals, tells us something special happens in Oman's Arabian Sea. These humpbacks are the only large baleen whales on the planet that do not have to migrate to breed and give birth in shallow tropical bays or feed in polar waters. There is a very specific reason for this. Each summer, between June and September, the Dhofar region experiences the effects of the southwest monsoon, or Khareef, as it is known locally (Arabic for "Fall"). This is one of the world's most powerful weather systems and drives northeasterly currents equal in volume to the Gulf Stream. We see its ravaging effects every year across the Indian subcontinent. In Oman, though, it has a very different impact.
Strong winds and heavy seas make diving in the south impossible between May to September. The winds however, weave their magic on land by bringing weeks of coastal rain and condensing fog that turn the landscape from an arid wilderness into a wonderland of lush green hills, flower-filled meadows and even waterfalls. With more rain falling on Dhofar during this time than in the whole of Arabia combined in a year, the landscape now resembles the green hills of Ireland. When the rain ends mid-September, the greenery progressively dies off and arid conditions return.
The Khareef also plays an important role in Dhofar's economy. Every season it refills the water table of coastal areas that support the region's diverse tropical agriculture—think coconuts, bananas and mangoes. The cool, soft rain also attracts tens of thousands of visitors from neighboring countries seeking an escape from the searing heat of summer.

Honeycomb moray eels (Gymnothorax favagineus) grow big in Oman's waters, Capital Area

Stormy seas whipped up by powerful winds during the southwest monsoon, or Khareef

The Khareef also transforms the barren land…

…into a verdant landscape of green

While the effects of the Khareef on land are easy for all to see, the changes it brings to the underwater world are just as dramatic but seen by just a few. Throughout the summer, from Somalia all the way along the southeastern edge of the Arabian Peninsula, the largest tropical upwelling system on Earth draws cold, nutrient-rich water from the depths to the surface. The Khareef is so powerful that the coastal water temperature drops from 82°F (28°C) in May to 62–66°F (17–19°C) in August, when the upwelling is at its strongest.
The enormous amount of nutrients in the surface water, bathed in hours of bright sunlight, triggers the development of a massive three-months-long bloom of phytoplankton, which is carried hundreds of miles offshore by ocean eddies. This brings in an explosion of life from the Indian Ocean to feast on the bounty. Indian oil sardines appear along the coast, not just in the millions, but in the billions. Meanwhile, in shallow waters, where sunlight meets rocks, the deep-water nutrients feed fast-growing Sargassum seaweeds, kelp, and red and green algae.
In October, just after the monsoon has stopped, diving around Mirbat in Dhofar, when the growth of the seaweed is at its strongest, might be a strange experience for anyone who dives in temperate and tropical waters—during this time, you will see both on the same dive. The temperate vegetation dominates the seascape, giving divers the impression of what it would be like to dive in the coastal areas of Norway or Scotland—if it were not for the 80°F (27°C) water and the presence of tropical species.
Gliding over a temperate backdrop of undulating kelp or finning around taller seaweeds one can encounter Indo-Pacific species such as the beautiful dragon moray eel, colorful parrotfishes, rays, nudibranchs, and even a cockatoo waspfish nestling beneath the seaweed canopy. Vivid orange Oman anemonefish nestle into their host anemone amongst the seaweeds, and you might see a small group of striped shrimpfish bobbing along against a backdrop of kelp. Meanwhile, just below this canopy, coral communities wait for the seaweed to die back, and once again, have access to sunlight to grow and prosper during the winter months.
This unique co-occurrence of temperate seaweeds and kelps alongside tropical coral and fish communities happens nowhere else on the planet and makes for photographic opportunities that cannot be found anywhere else.

The striking dragon moray eel (Enchelycore pardalis), photographed off Dhofar

A cockatoo waspfish (Ablabys taenianotus) sheltering in the seaweed

During the Khareef, tropical species like the Oman anemonefish (Amphiprion omanensis) co-exist with temperate vegetation
Diving in Oman
While the seasonal upwelling in Dhofar provides a natural cooling of the coastal ecosystem during the hottest months, life in the Sea of Oman is protected by a different mechanism. Thermoclines just 10 feet below the surface act as a protective thermal blanket for corals. Unless high surface water temperatures persist unusually longer than normal, or the cooling winds stop blowing, corals remain in a temperature zone in which they can survive.
There are three principal locations for diving in Oman—Musandam, in the north; the Capital Area of Muscat; and Dhofar, in the south.

The calm waters of Musandam, the rugged Omani peninsula protruding into the Strait of Hormuz
Musandam
Also known as the "The Norway of Arabia" because of its many scenic fjords, Musandam offers dramatic mountain backdrops and azure waters. Indo-Pacific humpback dolphins surf the bow waves of dhows and dive boats. There are dozens of dive sites to be explored from day boats and liveaboards. Here, you will find hard and soft corals, a profusion of colorful reef fish, and everything from rays and whale sharks (seasonal) to turtles and nudibranchs.

A cowtail stingray (Pastinachus sephen) relaxing on a sandy bottom

A sexy shrimp (Thor amboinensis) struts its stuff on the reef

A yellowbar angelfish (Pomacanthus maculosus), resplendent on a stark black background
The Capital Area
The Daymaniyat Islands are around 45 minutes by boat from the Muscat area. They belong to one of two marine nature reserves, the other being the Barr Al Hikman peninsula. The Daymaniyats comprise nine islands and offer some of the very best diving, not just in Oman, but in the whole region. Diving takes place throughout the year. May and June offer the best visibility, which can range from 50 to 80 feet. Expect to see schools of colorful fish, green and hawksbill turtles, several species of rays and moray eels, barracuda, crustaceans and nudibranchs. Corals include large formations of Acropora and Porites, as well as several species of soft corals and gorgonians.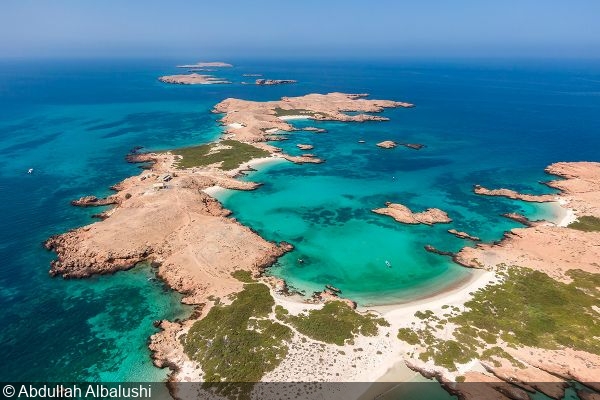 A drone's-eye view of the Daymaniyat Islands and the stunning surrounding turquoise waters

Fahal Island lies about two-and-a-half miles from the capital. While Oman's shark population has declined substantially over the years, juvenile blacktips can still be seen here. The island's shallow sandy bays are common hangouts for large rays and there is the small wreck site called "The Tug and Barge" where nudibranchs and frogfish are sometimes seen.
Bandar Khayran is just a short ride away from the capital. With its many inlets and channels, this area has a wide range of hard and soft corals and reef fish in shallow, sheltered bays that are ideal for those making their first open water dives. There is also a great wreck dive. The Al Munassir was a Royal Navy of Oman landing ship that was sunk in 2003 to become an artificial reef and dive site. It lies at the entrance of one of Bandar Khayran's inlets and sits upright. Doors and hatches have been removed so the wreck can be penetrated by appropriately trained divers. It provides a fascinating dive experience in depths ranging from 60 to 100 feet. The gangways are festooned with soft corals and you can see large rays, moray eels and a variety of reef fish.

A male pharaoh cuttlefish (Sepia pharaonis) gently embraces his female as she looks for a safe place to lay her eggs

A zebra moray eel (Gymnomuraena zebra) peers out from under a ledge

The bluetail trunkfish (Ostracion cyanurus), also known as the Arabian boxfish
Dhofar
Moving to the far south, Dhofar has an unspoiled Arabian Sea coastline stretching some 125 miles. Salalah and Mirbat offer excellent diving from day boats, while many dive spots around Mirbat are also accessible from the shore. Eagle Bay is one of those, where it's not uncommon for a pod of Indo-Pacific bottlenose dolphins to come and check you out. Along with the usual species, expect to see the strange-looking two-faced toadfish, mobulas, dragon morays, and, in the immediate post-Khareef season, tropical and temperate species co-existing.

A two-faced toadfish (Bifax lacinia) oozes charisma

Lunar fusiliers (Caesio lunaris) fill the frame

A male yellow trunkfish (Ostracion cubicus) that has lost its namesake coloration

Perhaps the jewel in the crown are the Hallaniyat Islands. About 25 miles east of Hasik in Dhofar, this group of five islands forms a small archipelago that sees relatively few divers. Best dived from a liveaboard, this is a real pristine wilderness where you can see oceanic mobulas, Arabian Sea humpback whales, sperm whales, large schools of fish, and a range of different species of moray eels and rays.
The best time to dive in Dhofar is between October and May with the clearest water occurring in the spring, while water temperatures are warmer from March to May.

The Crambionella orsini jellyfish is a regular in the Sea of Oman
Underwater Photography in Oman
The oceanographic events which fuel Oman's marine biodiversity, the large sizes of its marine life, and very unusual photographic opportunities do bring some challenges. Depending on the season, underwater visibility can be variable from day to day, or even dive to dive. Generally, the summer months offer the best visibility. At other times, water color can change from blue to green, and the nutrients and phytoplankton, which are so important to Oman's marine life, can become a serious backscatter challenge.
Taking photos of subjects in very confined spaces, finding an appealing composition, and carefully balancing natural and artificial light take some thought and patience. For example, dragon moray eels tend to live in crevices and withdraw when a diver approaches. You'll need to wait for them to relax and return to their favored spot close to the opening. Snoots and/or edge lighting will help by preventing strobes blasting the area with unwanted light.

A yellowspotted burrfish (Cyclichthys spilostylus) makes a face for the camera, Capital Area

Oman's healthy corals provide ample opportunities for fish portraits, like this one of the Arabian bluestriped dottyback (Pseudochromis aldabraensis), Musandam

Coping with Oman's photographic challenges effectively takes a range of skills:
Excellent buoyancy skills are a must to avoid disturbing sand and other debris.
Having a good understanding of subject behaviors will help capture the drama of the moment.
When you find a potential subject, the first thing to do is to assess whether you have the space to take the shot. If in doubt, move on. No image is worth looking at later knowing you damaged the reef or harmed an animal. Studying a scene gives you time to identify composition ideas.
If the subject seems shy, look for an area close by to take a few practice shots in order to set strobe and camera settings, rather than make disturbing movements close to the subject that are practically guaranteed to frighten it away.
Up close and personal with the common lionfish (Pterois miles), otherwise known as the military turkeyfish

Edge lighting—that is the turning the strobes at an angle to the subject to minimize the light spill in front of it—will help to reduce backscatter. Snoots will control the lighting even more.
I use half stop diffusers on my strobes (plus I add one-eighth straw coloured gels just to add a touch of warmth to the image).
A key aspect of managing backscatter is to get as close to the subject as possible, consistent with your composition. Sometimes this will make for difficult pre-dive decisions about whether to set up for wide angle or macro. A good compromise can be a mini-dome for close focus wide angle, and if that Mola mola turns up, well, you've got a fighting chance!
Remember to review after you've taken the few first shots, and adjust your strobes or composition to prevent blow-outs or unlit areas that you want filled.
Finally, a few corrections in post-processing and spot removal may be needed.
A thriving reefscape off the Musandam Peninsula

---
About Paul Flandinette: Paul is an award-winning filmmaker, professional underwater photographer, and author. Specializing in fish portraits, he is the photographer and co-author of "Secret Seas"—the first photographic book to reveal Oman's underwater world. His filmmaking career has included productions for some of the world's leading companies and government organisations as well as a number of broadcast documentaries. He is currently developing underwater photography-focused liveaboard trips to Oman's Hallaniyat Islands. www.paulflandinette.com

---
About the Book: In "Secret Seas," underwater photographer Paul Flandinette and marine scientist and underwater photographer Michel Claereboudt invite the reader on a breathtaking journey of discovery into one of the last remaining underwater worlds to be explored. The diversity of Oman's marine life is spectacular. The country is one of the world's most important sea turtle rookeries. Reef communities brimming with life are home to nearly 200 species of corals and more than 1,600 species of fish. Whale sharks make regular seasonal appearances while colorful reef fish glide over vibrant corals and rocky outcrops. "Secret Seas" features stunning images showcasing 160 different species while an insightful narrative explains why Oman's seas are so special.
RELATED CONTENT
Be the first to add a comment to this article.
Newsletter
Travel with us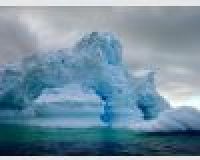 Antarctica
Plan Your Adventure >
Featured Photographer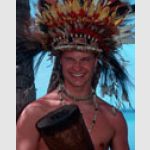 Espen Rekdal
Expert Photographer
Espen Rekdal (31) is a natural history photographer, videographer, writer and marine biologist. He specializes in underwater stills photography. Though extreme macro work has been a speciality in the past, he has branched out...