Travel
Destination Portfolio: Martyn Guess, Dumaguete
A pink skunk anemonefish makes eye contact from the safety of its host anemone

In May this year, I led a photography workshop for UK-based tour operator ScubaTravel to the critter haven of Dumaguete in the Philippines. Based at Atmosphere Resort in nearby Dauin, I captured a collection of images of a typically wide-ranging variety of stunning macro critters. The original trip dates were rearranged a couple of times thanks to Covid-19, and we were one of the first groups of tourists to visit the resort since the borders reopened earlier this spring. During the Philippines' extended lockdown, no scuba diving was permitted at all, and all of the dive guides in the region had been unable to work for more than two years.
Like me, they were thrilled to be back in the water and as enthusiastic as ever to show us the fantastic array of critters that call the Dauin coastline home. We spent hours underwater shooting macro subjects such as frogfish, seahorses and flamboyant cuttlefish, and we had plenty of time to experiment with new photography equipment and techniques. A short boat trip across to Apo Island also provided excellent wide-angle opportunities in the marine reserve, which houses a large population of green and hawksbill turtles as well as dive sites adorned with lush hard and soft coral growth.
While the resorts and dive centers in the Philippines struggled to survive during the pandemic, life underwater in Dumaguete continued to flourish, and the destination remains a paradise for underwater photographers of all levels.

A tasseled hawkfish set against an orange sponge, creating a colorful bokeh background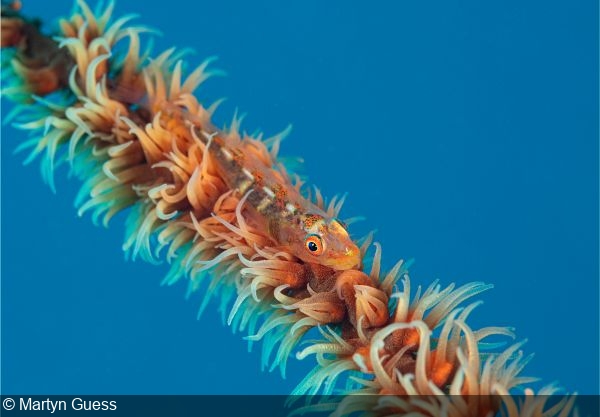 Whip coral with resident goby. A slower shutter speed and shooting up into the water column helps to achieve the blue water color as the background

A yawning lionfish taken with a slow shutter speed, one of a series of images I took using relatively long exposures

Painted frogfish come in many varieties and can take on the color of the algae they live in. The harsh light of a snoot helps highlight its skin texture

A green sea turtle at Apo Island shot with a Nauticam WACP-1. It is important to get both eyes looking at the camera, as this is what holds the attention of the viewer

A juvenile oriental harlequin sweetlips shot at a slow shutter speed. We have probably all seen these small fish buzzing around the reef, with their fins going so rapidly they create a blur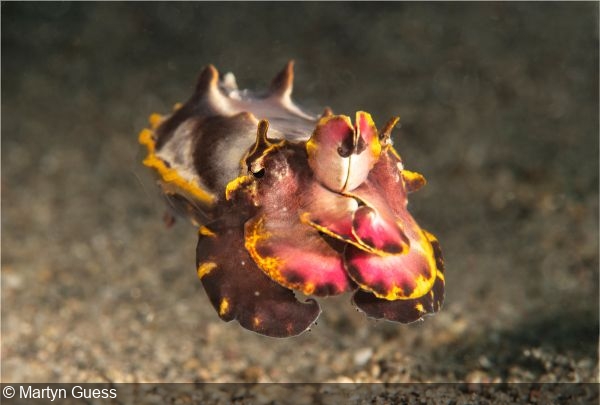 A flamboyant cuttlefish, the flamenco dancer of the reef! This was shot with an open aperture to help blur the distracting background of the seabed and separate the subject

An ornate ghost pipefish nestling in a white coral sea fan and showing off its camouflage

A painted frogfish shot with a slower shutter speed to lighten the negative space

A male cardinalfish mouthbrooding eggs. Patience is the name of the game with these subjects, as every minute or so the fish will open its mouth to move the eggs and allow water to wash over them

A pink skunk anemonefish shot with a very slow shutter speed (1/10s) and camera panning across the anemone to give the picture a surreal blurry look

The common seahorse and its mate shot with a Meyer Optik Görlitz Trioplan 100mm manual focus lens to give the background a unique look

A darker colored ornate ghost pipefish framed against the weeds and grass on the seabed

A polka dot frogfish, my favorite variety of this species and quite rare. I used a relatively open aperture to soften the surrounding habitat and help separate the subject

A peacock mantis shrimp taken with a long 150mm macro lens to help create the soft bokeh background and keep my distance from this skittish critter

To see more of Martyn's images, head over to his Instagram page. You can also check out his workshops at ScubaTravel.com.
RELATED CONTENT
Be the first to add a comment to this article.
Newsletter
Travel with us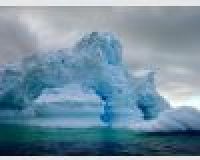 Antarctica
Plan Your Adventure >
Featured Photographer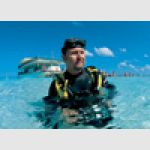 Ty Sawyer
Expert Photographer
Ty Sawyer is the current Editor-in-Chief of Sport Diver Magazine and Editorial Director of ISLANDS magazine. Prior to that, Sawyer worked as Editor of Skin Diver Magazine and, for a brief time, Discover Diving. Sawyer has been...