Travel
Destination Portfolio: Aaron Halstead, Southern California
A cabezon rests among a huge field of brittle stars on one of the oil rigs off the coast of Los Angeles. "The Rigs" provide endless imaging opportunities and the pilings host a massive diversity and density of marine life

Learning to dive in Southern California may come with some challenges, but it's certainly not without benefits. With a tight-knit dive community and density of talented underwater photographers, you have a lot of resources to learn from. Combine easy access to diving wrecks, the Channel Islands, oil rigs, and a number of fantastic shore dives, with a few international airports sprinked in for travel, and what more can you ask for?
There is a sentiment I've heard echoed countless times over the years: "California has some world-class diving." Although the younger version of me may have easily shrugged it off and scoffed at the thought of hopping on a boat or even packing your car instead of getting on a plane and flying to some "sexier" locale, the older (and I like to think, wiser) me has come to recognize that there is, in fact, some world-class diving in California.
Kelp forests are, without a doubt, one of our most iconic staples of SoCal diving. Add in a sea fan and some blue water, maybe a bright orange garibaldi (aka "California goldfish") and you have the makings for a classic image. I happen to have an affinity for sheepshead; I find they are generally one of the more curious subjects, so they too make for a great subject in the kelp.
If you happen to ever tire of kelp (shame on you, but I get it), a trip to the northern Channel Islands can provide you with vast, endless fields of brittle stars, carpeting almost everything as far as the eye can see. Anemones and sea stars make for great close-focus wide-angle subjects, both because they don't move and because they simply aren't a brittle star and will stand out, literally, in your images.
If you happen to get your fill of islands and want to mix it up, there are the world-famous oil rigs. These man-made structures host a variety of marine life and are also completely covered in echinoderms, anemones, and other encrusting life. Sea lions are a regular sight on safety stops, with the structure and (hopefully) blue water to provide unique backdrops. Occasionally, the rigs attract vast schools of bait fish, and are generally just loaded with invertebrate life and the opportunity for pelagics: salps and jellyfish, sharks, and if you're lucky, Mola mola; although, like the sea turtles of La Jolla, I've not witnessed them myself, so I can neither confirm or deny.
If boats aren't your thing, or you need a bit more flexibility in scheduling your diving, there is plenty of shore diving too. I'll admit, I'm a creature of habit and routinely hit a handful of sites. Even so, there is a huge variety to be had. Veterans Park and La Jolla both offer some great muck opportunities, providing a stark contrast to my regular go-to sites in Laguna Beach. True of any site, when conditions are good, Laguna feels like a completely different place.
There are also the seasonal oddities such as the tuna crab invasion and warm water visitors, the semi-regular squid runs or the occasional aggregations of Melibe nudibranchs. Blue- and blackwater dives are also possible, but come with a host of challenges. For the rust seekers (wrecks) or technical divers, there are a number of sites to get your fix. From the depths to the tide pools, there is a lot of variety to keep you busy, no matter your interests. Hopefully, I have now convinced you that Southern California does, in fact, have world-class diving!

A tube anemone photographed with a slow shutter and a snoot off Santa Cruz Island, one of the islands in the northern part of Channel Islands National Park. These large anemones are one of the few subjects on the bottom that (literally) stand out from the vast fields of brittle stars

A common but charismatic fish in SoCal waters is the sheepshead. These fish are incredibly common at Laguna Beach, one of my favorite local dive sites. Sheepshead are curious and goofy, two characteristics that make them fantastic photographic subjects!

The abstract textures and colors of a master shapeshifter, the California two-spot octopus from Laguna Beach. Without a doubt, cephalopods are my absolute favorite subjects. I rarely see them out and about during the day, but fortunately, this one decided to pause in its midday hunt and posed for me

Tuna crab invasion! Once every few years, millions (maybe billions?) of tuna crabs show up seemingly overnight in Southern California waters. They turn the oceans into a crustacean soup that predators (and photographers) cannot get enough of. This particular horde was photographed off La Jolla, San Diego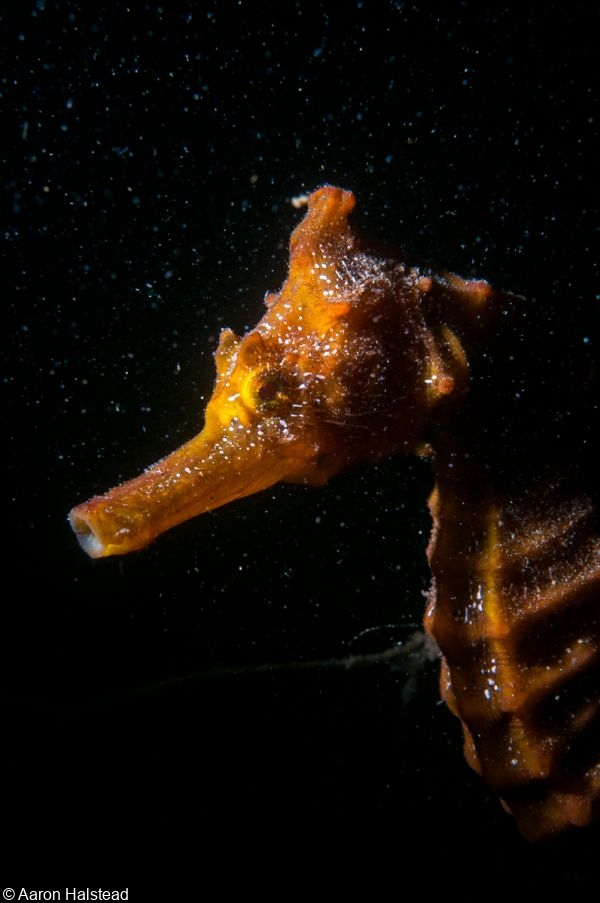 The Pacific seahorse is an incredibly rare visitor to California's waters, but every once in a while when the water warms up a bit more than normal, they make their way far enough north to become US citizens for a short while

This colorful and wacky looking guy is a California mantis shrimp. Almost any mucky or sandy bottom in Southern California hosts these cool crustaceans but that does not make them easy to find, as they spend the vast majority of their time with just their eyeballs sticking above the mouth of their burrows. Local knowledge can be invaluable when diving, whether that be in California or elsewhere

I'll come clean: This image was shot in Monterey, but the scalyhead sculpin does range down into the northern Channel Islands, so it counts!

A more dramatic take on a classic sea fan with kelp and blue water background off San Clemente Island. The fading light forced a slow shutter, so I simply embraced the slow shutter and took it a step further, and added a panning motion, giving the kelp a pretty unique background

The California state fish and perhaps the most recognizable denizen of California's waters, the garibaldi. These huge damselfish can be found on just about every single dive site in the lower half of the state and their bright orange coloration makes them unmistakable and unmissable. This one posed for my camera off Catalina Island

Not to be outdone by the garibaldi is SoCal's most iconic (and common) nudibranch, the Spanish shawl. Omnipresent in Southern California, these large nudis are a favorite of mine and many other underwater photographers. No matter how many you see, if you find one in a good spot, you just have to photograph it!

Taking advantage of the squid run, this small California two-spot octopus was seemingly feeding on the eggs. The squid run is an unpredictable but incredible event. Not only do millions of market squid cloud the waters, but countless predators emerge to feed on the eggs and the squid themselves. I witnessed this particular event at Redondo Beach

An unheralded shark, the California horn shark. This adorable and floppy baby was spotted on a nighttime muck dive at Redondo. This site is largely just sand, but while it may be less than aesthetically pleasing, for a critter nerd like me, it is a playground of weird and wacky subjects, especially at night

They may not look like typical nudibranchs, but that is in fact what these guys are. Lion's mane/hooded nudibranchs aren't a common visitor to Southern California waters but when they do appear, they appear in bunches. These were photographed off La Jolla, San Diego

Sometimes it's good to stand out from the crowd, or at least that is what I said to this anemone at San Clemente Island. It is surrounded by millions of brittle stars but has staked its claim to one small patch of seabed

I'll end with one more sheepshead. This one obliged me by framing itself perfectly in this small swim-through at San Clemente Island

To see more of Aaron's fantastic California imagery, please check out his website, d1ver.com, and give him a follow on Instagram.
RELATED CONTENT
Be the first to add a comment to this article.
Newsletter
Travel with us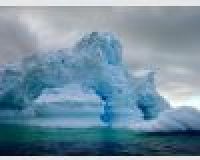 Antarctica
Plan Your Adventure >
Featured Photographer
Libor Spacek
Expert Photographer
I am a photographer and filmmaker, scuba instructor and yachtmaster coastal based in Czech Republic. Me and my partner Petra Dolezalova (photographer, publicist, diver) own a Dutch photography and film production Escape to...