Travel
Chasing the Perfect Turtle Shot and Other Marvels at Siladen Resort
Candy crabs are just some of the critters found on Bunaken's fabulous wall dives

To my right was a sheer wall draped with colorful coral and sponges; to my left, endless blue water as far as the eye could see. Soon, the unmistakable shadow of a turtle came into view, and as it got closer, I readied my camera for a shot. I tried to stay completely still, not wanting to startle it, and it continued on its collision course, until we were almost face to face. As I snapped away, I descended slightly—suddenly concerned that the turtle would run straight into me—but at the last moment, it made a small change in direction and proceeded to swim right over my head, ascending up the coral-covered wall to the surface for a breath of air.
I continued to drift in the slow-moving current, and shifting my gaze back to the reef, I noticed a sleeping turtle within arm's length. Wedged into a perfect turtle-sized crevasse in the wall, she was far too peaceful to be rudely awakened by my strobe flashes, so I skipped the shot and let the current continue to move me along the wall. Wondering if I'd missed my last turtle photo op of the dive, it only took a few more minutes before I spotted yet another turtle swimming against the current along the wall—again, headed straight towards us. As it glided lazily past, not even seeming to notice or care about our presence, I framed the graceful creature against a beautiful cerulean backdrop. Clearly, around here, the turtles rule the roost.

As our dive guide put it, our turtle-packed first dive was just an "average day" for turtle numbers

The next morning, I woke up to the soft golden light of dawn coming through the ample windows in my luxury oceanfront villa, anticipating the days ahead of exciting dives. I moved out to the private terrace on the beach and slowly sipped my morning coffee from the hammock. Then it hit me. I had a serious decision to make: Was I going to shoot macro or wide angle? I took another sip of coffee and gazed out to the glossy ocean. There was no need to worry: There would be plenty of time to take advantage of both the excellent wide-angle and macro opportunities offered at Bunaken National Park. Crisis averted. Back to relaxing.

Bunaken National Park boasts some of the healthiest reefs in the Coral Triangle

Creature Comforts
When you're diving a location as fantastic as Bunaken National Park, you also want to stay at an equally superb resort, and Siladen Resort & Spa is just the place. Located on a pristine white sand beach, the resort meanders back into the island in a beautiful garden setting with plants and blooming flowers dotting the paths. The traditionally designed villas have a sophisticated style that instantly make you feel at home. Wooden floors, king-sized draped poster beds and outdoor showers are just some of the lovely features of Siladen's accommodations. I adored the wonderful private terraces—the perfect place to relax and contemplate the ocean, listen to the birds, or sipping a sundowner while watching the sunset.
Enjoying Siladen's delicious meals in the most picture-perfect settings on the beach was the perfect way to cap off a great day's diving. With both international and Indonesian cuisine on offer, there were plenty of options. And don't even think about skipping dessert: One night, we had a chocolate lava cake that I think I will dream about forever.

Siladen Resort treats its guests like royalty and the service is impeccable

Even your camera gear gets the luxury treatment: The large air-conditioned camera room comes with charging stations, limitless towels, and two large freshwater dip tanks
Breathtaking Bunaken
Established in 1991 as one of Indonesia's first marine parks, Bunaken National Park falls within the area known as the Coral Triangle, which boasts the highest biodiversity of marine life in the world. The park covers over 340 square miles and includes the islands of Bunaken, Siladen, Manado Tua, Mantehage, and Nain. With some of the healthiest reefs in the region, it's a top location for divers and especially underwater photographers.
Siladen Resort is the ideal base to dive the park and the surrounding areas. Many dive sites are less than 20 minutes from the resort, including the beautiful walls around Bunaken Island. The resort's outstanding dive staff takes care of all equipment, even offering to carrying large cameras to and from the boat. Dive gear is set up and taken down each day, so the only thing you need to worry about is getting the perfect shot.
The boat schedule for the following day's dive sites was usually posted the night before, so it was easy to talk to the dive shop or the knowledgeable dive guides about which lens was best for each site. Most days, the two morning dives were wall dives around Bunaken or Siladen Islands, where there were more than enough subjects to do both wide angle and macro.

Big barrel sponges are a highlight of Bunaken's reefs

A good wide-angle lens and decent strobes are needed to capture the reef in all its glory
Nailing the Turtle Shot
I have to admit that before visiting Siladen, I had believed North Sulawesi was only about macro diving and the amazing critters of the muck. How wrong I was! My first dives off Bunaken Island were completely unexpected. Looking from the boat, the water was so clear you could see the bottom. The steep walls were teeming with life, dominated by huge coral and sponge structures and immense schools of fish.
And did I mention there were turtles? In fact, there were so many turtle photo ops, it got me thinking about the different types of shots every photographer needs in their profile, and I set out to try and take all of them.
Blue Water: Position yourself slightly below the turtle; avoid swimming directly over turtles as that often scares them away because you block their ability to get to the surface to breathe. Use your strobes to illuminate the underside of the turtle, but angle them to avoid backscatter. If you can get directly under the turtle and compose the shot so the turtle blocks out the brightest part of the sun, you can capture the sun beams around the turtle. Add a diver in the background for a more complex composition.
Be careful not to overexpose the underside of the turtle with your strobes when shooting beneath it

On the Reef: The walls around Bunaken Island seem to be a favorite nap-taking place for the turtles. Wedged into crevasses, several per dive were often spotted, eyes closed and resting. I also saw one large green turtle scratching his shell clean under a huge purple gorgonian and several sitting directly atop large sponges (a soft bed maybe?). For these compositions, still try to shoot upward as much as possible. If they are sleeping, try not to disturb them with too many strobe flashes.
A resting turtle makes for a serene subject—catch one foraging for a more dynamic composition

Silhouette: Bunaken's turtles did not seem to be bothered by divers. It was easy to swim next to and slightly below them, without them becoming spooked and swimming away. Turn your strobes off, try to get directly below the turtle, and shoot up towards the surface. Use a small aperture and a fast shutter speed. These shots can be interesting to convert to black and white as well, showing the contrast between the turtle silhouette and the bright light.
Turtles have an instantly recognizable silhouette, making them excellent subjects for this technique

From Above: Usually, shooting from above, directly downward, makes for uninteresting photos, but you can sometimes break this rule with turtles because of the beauty in the detail of their shells. Bunaken's wall dives make it easy to be above a turtle off the wall so that below the turtle is blue and not distracting coral.
Siladen Resort is also making an effort to conserve the park's turtle populations. Rewards are given to island residents for information about turtle egg nests, and resort staff have been trained in relocating the eggs to an area on the resort grounds where they are safe from poachers and predators. This also means lucky resort guests may get to watch hatchlings make the journey from the beach to the ocean and capture the iconic baby turtle's first swim photos. (Sadly, I didn't get that opportunity, so I hope I can come back for this one day!)
The right depth of field and exposure provide just enough of this shrimp's environment for context

A leaf scorpionfish has a strong profile that works even when coming in close
Critters Galore
Not only are the splendid walls great for wide angle, they are also packed with the small stuff. The numerous soft corals house candy crabs and soft coral cowries. The multicolored anemones are home to several species of anemonefish and clownfish, porcelain crabs, and cleaner shrimp. My dive guide's eagle eyes also spotted ornate and ghost pipefish, leaf scorpionfish, and countless nudibranch species.
On the mainland, there are black sand muck dives perfect for critter hunting that rival those along the Lembeh Strait on the other side of the Minahasa Peninsula. There are frogfish of all sizes, from juveniles as small as a pea to adults as large as baseball gloves, and in colors ranging from black to orange, yellow and purple. On one muck dive, a peacock mantis shrimp scuttled across the reef and practically ran into a juvenile waspfish trying to blend in with the sand.
Night dives were also great for macro photography, both in the muck and off the wall. My guide eagerly pointed out two Donald Duck shrimp and I came across two cone snails moving on the reef with their proboscises fully out, presumably hunting. As beautiful and alluring as this strange snail is, though, inside its proboscis is a harpoon-like object that delivers enough venom to really ruin your critter hunt—so don't get too close!

Nudibranchs are in abundance around Siladen—just take your pick

A colorful peacock mantis shrimp stands out against the muck background

Cone snails should be treated with the respect they deserve!
A Little Bit of Everything
As well as being a great base for diving around Bunaken National Park and nearby muck sites on mainland North Sulawesi, Siladen also offers three-tank dive trips to Banka Island—known for its vast swaths of soft coral—as well as other locations. The resort takes care of your topside needs too, arranging tours to the mainland to visit places like Tangkoko National Park, and organizing volcano, waterfall and jungle hikes, highland tours, white water rafting, cooking classes, city tours—the list goes on.
To top off the beauty of the resort and the excellent service and facilities, Siladen is also going above and beyond making every effort to preserve and protect the environment. My favorite little touch was that they do not serve plastic straws but biodegradable bamboo straws. They have made a commitment to being green with various projects to improve energy efficiency and efforts such as using Biosolve, a bacteria-based cleaning product that eats grease and converts it to carbon dioxide. In addition, they have installed buoys to prevent boat anchors damaging the reef, they support artificial reef creation projects and beach clean-ups, and they actively work to reduce their waste.

A giant frogfish blends into the reef effortlessly

On the last dive of the trip, we were headed back to a gorgeous wall at Bunaken Island, and the age-old question that torments so many underwater photographers was, once again, spinning through my head: "Wide angle or macro?" But how to choose between capturing the big, beautiful coral formations and getting closer and searching for the many critters I knew had to be among the rich life of the wall?
For Siladen Resort's guests, neither decision would be wrong—there's just such an incredible variety to shoot. However, I did do one little test: Every few minutes, I would turn around and look out to the open blue to check if there was a turtle in sight—and, astonishingly, perhaps two out of three times there was. I don't think there's a better place to photograph these lovable, photogenic animals.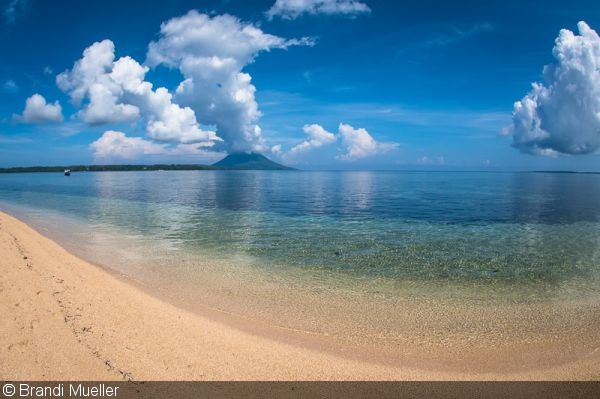 The picture-perfect Manado Tua, a dormant volcano just across the water in front of the resort

RELATED CONTENT
Be the first to add a comment to this article.
Newsletter
Travel with us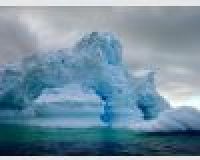 Antarctica
Plan Your Adventure >
Featured Photographer
Linda Pitkin
Expert Photographer
From early childhood Linda Pitkin has had a passion for nature, which led her to a career as a biologist (now completed), and to become an underwater photographer (ongoing). She started diving in 1979, took up underwater...