Travel
Cenotes: Photographing the Light (and Dark) Side
Found throughout the Yucatan Peninsula of Mexico and parts of the Caribbean, cenotes are surface connections to subterranean water bodies - a deep, natural sinkhole resulting from the collapse of limestone bedrock filled with fresh water. Each is different, with striking characteristics of its own.
Some have ethereal light rays, while others evoke a mysterious mood, and some are just plain adventurous. For underwater image-makers, if you haven't experienced the cenotes, put it on your bucket list!

Do Your Homework
Enlist the services of a knowledgeable, local dive operator. As we were cenote greenhorns, this proved invaluable. Not only did our dive operator, Dive Aventuras, have extensive knowledge of the area, but also are underwater photographers who knew exactly the types of images we wanted to capture.
Weather and time-of-day absolutely play important factors in your success to bag the shots you want, so it pays to go with a local operator who's in the know and can assist you in planning each day's dives.

Setting Up The Shots
Shooting with a Canon 1DC and Canon 5D MKIII, we used fisheye lenses extensively to capture "the big picture" for the viewer. Shooting in manual mode, ISOs topped out at 6400 on several occasions, while shutter speeds varied from 1/40th to 1/125th. For crisp images, apertures of f/8 or higher were maintained in most cases, but in some set-ups, it was so dark that your only choice was to lower aperture to avoid noise in the image.
Available light was used for the majority of still images, depicting silhouettes contrasted by the blue and green hues and the otherworldly light beams. For some of the shots with divers or a model, strobes were used sparingly to fill the scene. Other uses for lighting included one photographer lighting up the scene, giving other shooters a visual stage in a nearly pitch black set-up.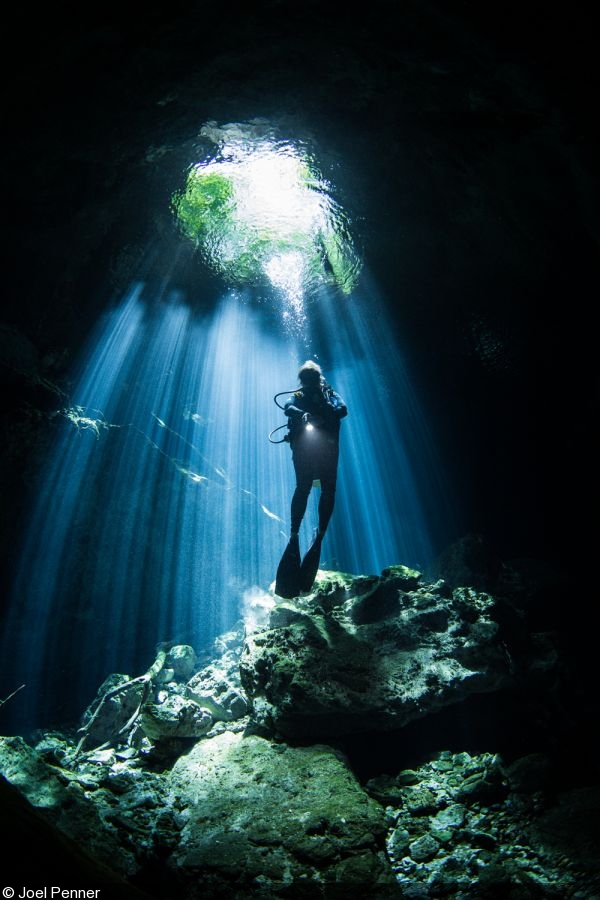 Dive Buddies Are Models Too
Adding a diver or model to the frame not only conveyed the size and scope of the cenote, but also added to the mood of the image with more of a "connection" for the viewer. Our aim was to share the mesmerizing visual experience of each cenote in a photograph.
Since our small group did not have any "dedicated models", we'd model for each other after shooting to our content, most of the time on scuba, but a few occasions free diving. Most of the locations have short, easy access from the parking area to the cenote entrance, making it convenient to swap gear for different photo set-ups.


For more information about Dive Aventuras, please visit their web site: www.DiveAventuras.com.

---

About the Authors: Joel and Jennifer Penner are avid divers, making the ocean their office as often as they can. When not in the water, they run a multimedia company called, NEWMEDIASOUP. For more information, please visit their web site: www.newmediasoup.com.
RELATED CONTENT
Be the first to add a comment to this article.
Newsletter
Travel with us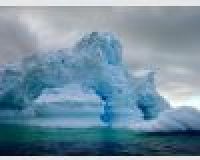 Antarctica
Plan Your Adventure >
Featured Photographer
Ron Steven
Expert Photographer
Rogest (Ron G Steven) Rogest\'s work has been in articles and portfolios and featured on the front covers of publication all over the world, he is an author (A fish In My Heart). An ardent supporter of the environment, Ron...