Travel
California Dreaming
A sea lion playing with salp

For scuba divers, Southern California diving is characterized by swaying kelp forests, giant black sea bass, sea lions, and temperate water. Tourists often want to visit Catalina Island if they are in the Los Angeles area, but local divers are privy to where the best dive sites are. I have been diving in California waters for about 10 years and recently spent two days diving Southern California's best-kept secrets: the Oil Rigs and Farnsworth Banks.

The Oil Rigs
The Oil Rigs consist of three working rigs about eight miles offshore of Long Beach where divers can submerge after receiving permission from the rig operators. They are named Eureka, and Ellie & Ellen (the twins). On a good day, divers can visit all three. Conditions vary because the rigs are in open water, but this can be advantageous. You never know what might swim by in the middle of the ocean.

Cabazon in a carpet of brittle stars

The day was typical for Southern California diving. We boarded a local six pack, the Giant Stride, at 6:30am and started motoring out before 7am. There were only a handful of divers on-board, and we chatted excitedly about our upcoming adventure. Skies are often overcast in early summer, and today was no exception. We debated the merits of diving in drysuits versus wetsuits. Typically, summer water temperatures in California are in the 60 degrees Fahrenheit range. But, this is no ordinary year: It is the second year of a La Niña event and the water temperatures have averaged about 10 degrees colder than usual.

Scorpionfish among brittle stars and Corynactis

I had opted for a 7mm wetsuit and worried about whether I would be warm enough. Upon arrival, we do a live drop. Boats are not allowed to tie up to the rigs so they must back up to the rig where divers do a giant stride one at a time. My initial plunge felt a bit chilly, but I quickly adapted to the temperature. I swam to my buddy, with my Nikon D850 and Nauticam Wide Angle Conversion Port (WACP) in tow, and we started our descent. I chose the versatility of the WACP for the Oil Rigs, because of the variety of marine life found there. The lens is perfect for medium-sized animals while still keeping the lines of the oil rig structure straight. Having the ability to shoot at lower apertures without distortion can be helpful as well, since it can be dark under the rigs especially when water clarity is not great.

Salp chains under the Oil Rigs

The Oil Rigs are for advanced divers only. Conditions can be unpredictable, and the rigs sit in several hundred feet of water so divers must have control of their buoyancy. There are crossbeams about every 50 feet of depth, so it is easy to measure. I descend to about 70 feet and find hundreds of salp chains, sea butterflies, and pyrosomes floating by on the current. It is like a pelagic jelly soup, and I have never seen the water so dense with life. It is mesmerizing, and as I wonder about it, I sense a presence to my left.

California sea lion on a bed of Corynactis

Thinking it is my buddy, I glance over to see a coy sea lion resting on the crossbeam. She gazes up at me like a sweet puppy dog with her big brown eyes. Comically, her body is wrapped in a salp chain like a belt around her middle. She is one of the highlights of the rigs that day. We always hope for encounters with sea lions and possibly cormorants as nothing can quite prepare you for the surprise of seeing a bird swim by when you are 60 feet deep. No birds visited me this day, but there were plenty of the other usual characters. Fat sheephead wrasse are abundant around the rigs. Clearly, they have been feasting for some time on the jelly soup. Many garibaldi, the California state marine fish, are nesting on the crossbeams. They are very territorial and lunge at me when I get too close to their nests.

Garibaldi defending its eggs at the Oil Rigs

Brittle stars are so thick they look like a fuzzy carpet with bouquets of pink Corynactis interspersed between them. There are nudibranchs and scallops, and hiding among these are cabazons, scorpionfish, and rock fish. But the biggest surprise of all was finding a juvenile Mola mola passing by in the blue. This sunfish was about 18 inches in diameter, small compared to a full-grown adult. Although not uncommon, this is the first time I have ever been in the water with one.

Sheephead wrasse are abundant around the rig structures

A juvenile Mola mola passes by in the blue
Farnsworth Banks
Farnsworth Banks is an underwater seamount on the backside of Catalina Island. The first dive is on the deeper pinnacle which starts in about 70 feet of water and plunges to a few hundred feet. The deep water is cold, and I have opted for a wetsuit again. I find it is 51 degrees Fahrenheit on the bottom, but there is so much to see I barely register the cold. Today I have set up my camera with a 15mm fisheye lens so I can capture the vast scenes I know I will find. The most iconic thing about Farnsworth Banks is that it is covered in purple hydrocoral. Although not a true coral, it is utterly stunning. It can be found in a few other parts of California, but it is not common. Here it is abundant.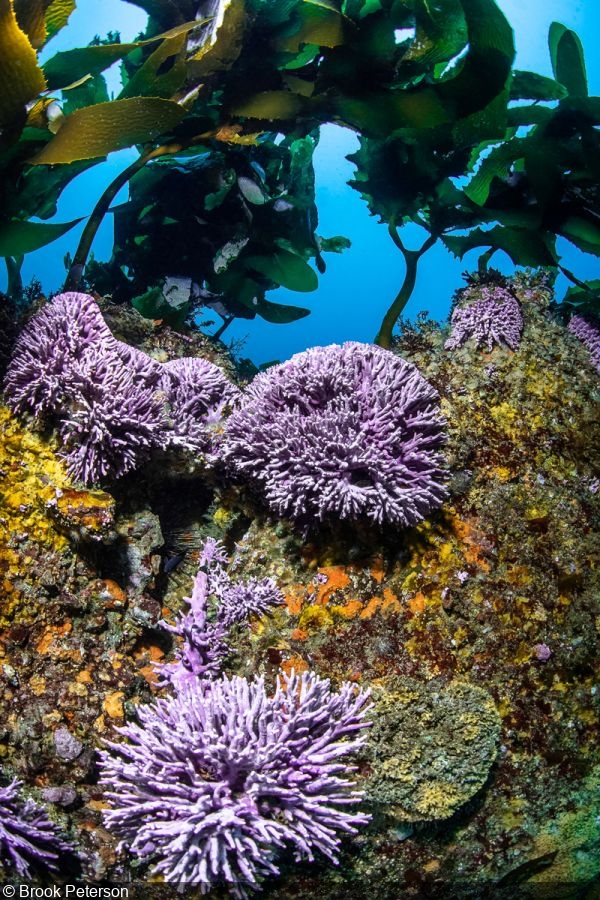 Purple hydrocoral and kelp at Farnsworth Banks

The coral hides scorpionfish, which seem to be tucked into cracks everywhere. I click away, shooting close focus wide angle on these scenes. Shortly, though, I notice one of my Retra Pro strobes has stopped firing and is giving me an error light. The rest of the day will be challenging because I am shooting with a wide-angle lens and only have one strobe. The solution I find is to shoot mostly verticals and if I am shooting horizontal, I make sure the non-firing strobe is on the water side of the image where ambient light takes over.

Purple hydrocoral and fans surrounded by a school of blacksmiths

The second dive is slightly shallower, starting in 55 feet of water, where there are blacksmiths schooling around the pinnacle. Garibaldi nest here, too, and the purple hydrocoral is omnipresent. One of the highlights of this dive is an area known as "The Yellow Wall." The wall starts at 95 feet deep and plunges down further than I can see. The entire wall is full of yellow Corynactis, a small flower-like anemone. It is breathtaking, but I can't stay long because of the depth.

The yellow wall plunges into the abyss below at Farnsworth Banks

Back up to the boat and on to our third dive of the day on the west end of Catalina Island. I keep to the shallow water where I can warm up a bit and spend my time with the nesting garibaldi and swaying kelp beds. The dives have been spectacular, and I feel very satisfied.

Kelp swaying in the current at Farnsworth Banks

California has some of the most interesting and unique diving in the world. It has some hidden gems that can be magnificent even in difficult conditions. Wide angle and macro photography are appropriate although sometimes conditions dictate which will be better. Diving is common all year round, but the best time is from August to October, when the visibility is better and the water is slightly warmer. Most divers opt for day boats, although there are several operations that go out for multi-day trips. I prefer the Giant Stride, which is a small boat for six people. Larger operations include Catalina Explorer and Sundiver International.

Garibaldi over purple hydrocoral and sea fans at Farnsworth Banks

To see more of Brook's amazing images or to join her on a guided photography expedition, check out her website, www.waterdogphotography.com.
RELATED CONTENT
Be the first to add a comment to this article.
Newsletter
Travel with us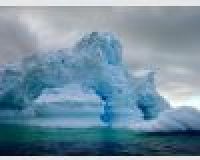 Antarctica
Plan Your Adventure >
Featured Photographer
Karin Brussaard
Expert Photographer
Karin was born in The Netherlands in 1972. Her brother persuaded her to join him on a divecourse in 1997. Like she once said "I'll never go diving" she also said...