Travel
British Blue Sharks
Being an underwater photographer based in the UK can sometimes be difficult. Many of the most desirable destinations and subjects are found on the other side of the world. I must admit that the idea of diving here in England had never really appealed to me either: The freezing cold water and our unpredictable weather is sort of a turn-off.
After visiting Australia earlier in the year and experiencing temperate water diving for the first time, I was an instant convert to underwater photography in local waters. It was while planning my first adventure that I made an exciting and unexpected discovery…


The Blue Sharks of Cornwall
Down in Cornwall, in the southwest of England, a local diver and photographer named Charles Hood has come to realize that blue sharks can be reliably found in our waters for a few months each summer.
Charles and a select group of photographers have spent the last couple of years perfecting the art of attracting the "blue dogs" to his boat, and he now runs trips out for small groups to photograph and snorkel with them. This was the last thing I had been expecting! I had wanted to swim with blues for a long time, and was amazed to find out that they were regular visitors to our shores.
I needed no further encouragement and quickly made arrangements to charter Charles' boat the following week. Photographing pelagics like blue sharks found dozens of miles into the open ocean is highly weather dependent—wind and waves can make or break the trip. Having organized a small group of enthusiastic underwater photographers to join me, I kept my fins crossed for good conditions and plenty of sharks.


Attracting the Sharks
Luckily, the day of our arrival brought with it glorious sunshine and flat seas—the trip was on. The plan was to travel as far out into open water as possible and then start chumming to bring the sharks in to the boat.
Charles has his own special recipe for chum (known locally as "rubby dubby"), and this is dropped into the water to create an oil slick that acts as a dinner bell to any hungry fish in the area. Pieces of mackerel are also attached to a buoy off the back of the boat, which can be used to bring the sharks in really close when—or if—they show up.
After choosing our spot for the day and getting the bait into the water, there was nothing left to do except kick back and wait for a passing shark to pick up the scent. At this point, I was still a little unsure what to expect. Was I really about to have a full-on shark encounter just off the coast of England? The prospect was incredibly exciting, but as minutes turned to hours and lunchtime passed, most of our group had given up hope.
Then it happened, just as Charles had said it would: A sleek little dorsal fin broke the surface and made a beeline straight for the bait.


Photographing Britain's Blues
Moments later, two more sharks arrived from the depths and we all frantically kitted up. Cautiously we slipped into the water, trying our best not to spook the sharks after waiting so long for them to show up. I had imagined they would be a little skittish and keep their distance, but instead they came straight in to check us out. Although clearly being investigated by the sharks, I never once felt threatened by them and did not witness any aggressive behavior.
As it turns out, the blue shark is a very cooperative photo subject, seeming particularly interested in our cameras and strobes. They move almost lethargically through the water and come very close, making it fairly easy to get good images. I found a wide-angle fisheye zoom lens (such as the Tokina 10–17mm) to be ideal for photographing blues. Most of the time you can keep your fisheye focal length at its widest setting, as the sharks would often come right in and bump the dome port.
I had expected them to move a lot quicker and planned to use high shutter speeds, but in reality this did not prove necessary. Most of the time I was shooting at 1/125th of a second, with my aperture set between f/8 and f/14 to keep the sharks in focus while still lighting the image nicely. If the sun fell behind a cloud or I was shooting down into darker water for a particular shot, I simply increased the ISO to compensate. I also used both of my strobes to help light up the white underbelly of the sharks, and always tried my best to keep the sun behind me so as not to blow out the shot.
After three hours in the water with five different individuals, it was finally time to pull out the bait and head back to shore. As I watched the last of the sharks disappear below, I took a moment to reflect on the day's events. Without having to travel thousands of miles, I had just experienced one of the most exciting wildlife encounters of my life. Best of all: It happened right in my own backyard.


Who To Dive With:
The only current operator to offer days on the water with blues in the UK is Charles Hood, who is based in Penzance in cornwall on the southwest coast of England. Snorkeling with blues in the UK is a fairly new phenomenon and Charles is the pioneer of these interactions. He first discovered that it may be possible to swim with blues while offering other dive trips in the area and encountering them regularly. Perhaps more famous for his basking shark trips, Charles now offers full-day charters of his rigid-inflatable boat for 4–6 people to go out and swim with the sharks.
When To Go
The best time is mid-June to late September—the so-called British summer.
Where To Stay
Penzance has many hotels and "bed and breakfasts" near the harbour from where the boat leaves in the morning. There also some nice campsites if you're looking to save a few quid and see some of the English countryside.

---

For more of Daniel's work, make sure to visit his official website or "like" his Facebook page. Also, Daniel was recently featured as Photographer of the Week.
RELATED CONTENT
Be the first to add a comment to this article.
Newsletter
Travel with us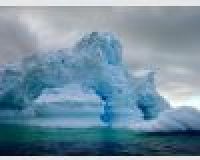 Antarctica
Plan Your Adventure >
Featured Photographer
Andre Crone
Expert Photographer
Award winning photo journalist Andre Crone started diving when he was 24 years old. He bought his first underwater camera as soon as he got his first diving license. He started his production company Elysia Productions four...