Travel
Bountiful Bali
By Joseph Tepper
"You've never dived in Indonesia?" stuttered Michael Cortenbach, owner of Bali Diving Academy, almost barely able to get the words out of his mouth.

In my mind, the Balinese restaurant where we were eating our lunch fell into a hushed silence.

As much as I was ashamed to admit it, I hadn't. While diving in Indonesia might be the trip of a lifetime for most, it is a rite of passage for underwater photographers. As a sworn Caribbean diver, the thought of sitting on a plane for more than four hours seemed crazy. In spite of this, after three flights and over 24 hours of travel I found myself in a small Balinese diner ready to join the hoi polloi.

Having never experienced Indonesian diving, I didn't know what to expect from Bali; but this did not stop me from making my own mental "wish list." I pictured all of the wonderfully weird things I wanted to see: painted frogfish, wonderpus octopus, and pygmy seahorses. I imagined soft coral reefs glistening through water as perfectly blue as some blueberry sports drink. I pictured myself swimming along the gentle giants –mantas, Mola Mola, reef sharks– all within arms reach. I thought I'd imagined too much.
So when Michael asked me what I wanted to see on my trip to Bali, all I could say was "everything."

"Well then, you're going to love Bali," he said, breaking the silence, which to me seemed everlasting. "We have everything."

Bali Hai May Call You…
The first image of Bali you are likely to remember is that of the island's central mountain chain poking through the clouds on your descent into Ngurah Rai International Airport. Like the tips of a giant's fingers grasping the cloud, the mountains that push through the haze are actually the very peaks of an immense underwater mount that extends thousands of feet below the surface.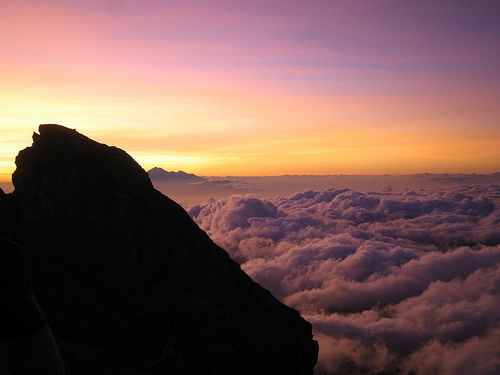 The tallest of the chain is Mount Agung, an active volcano that rises 10,000 feet out of the ocean. It is the haunting silhouette of "The Great Mountain" that follows you around the island in one form or another- sometimes barely extending over the horizon, other times blocking out the sun. Even divers who would ignore anything above the waves on their vacation cannot escape Agung's presence. After all, it was the volcano's eruption in 1963 that pushed a beached naval vessel back in the water and gave the island one of its most famous dives, wreck of the USS Liberty.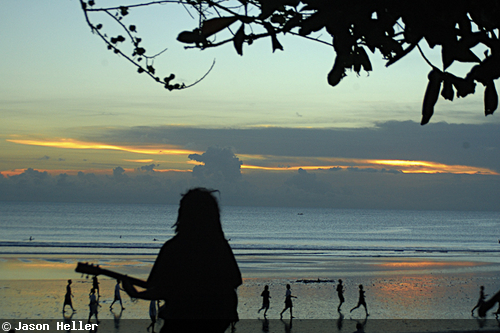 Despite a growing population of nearly 4 million, Bali remains one of the most ecologically diverse and intact islands in the Indonesian archipelago. In 2010, a team of scientists recorded 952 species of reef fish on Bali's surrounding reefs, including 8 species never previously identified. What's more, Bali received the highest Environmental Quality Score out of all of Indonesia's 33 provinces that same year.

For years, Bali has been either a layover for photographers on their way to more remote islands or a topside-only destination. But those savvy divers who take a step past Ngurah Rai's sliding doors and take the time to discover all Bali has to offer will discover that the photographic possibilities are as endless under "the Great Mountain's" shadow as they are under the turquoise water that lies at its base.
Bali Diving Academy
Characteristics found in good dive companies are safety, reliability, and knowledge of the area. However, for the discerning underwater photographer these qualities are really bare bones. We need the "x-factor." These intangible qualities are not always easy to find, but easy to identify when you come across them. Just a few in my week with the Bali Diving Academy…

1. Staying open two hours late for my arrival to squeeze in a night dive.
2. Staying with me on two, separate 95-minute dives in 10 feet of water in a fruitless search for a coconut octopus.
3. Getting up at 5 AM for a dawn dive to spot some bump heads.
4. (The most important) Lending me a computer mouse when my laptop's track pad decided to quit.

So while saying things like "the staff was great," "they knew all the secret sites," or "ideal for photographers" are absolutely on par, it is the little things that make the Bali Diving Academy the perfect choice for any photographer or diver.
The Mantas of Lembongan
Spend even one day on this island off of Bali's southeast coast and you are likely to hear the same question from every local you talk to: "How many Mantas did you see today?"

One of the most famous dive sites in the area, the aptly named "Secret Manta Point," is home to some of the biggest stars in Lembongan. Sloping down to 40 feet, this site is better described as a stretch of limestone shelf extending from the island's sheer rock cliffs, which serves as a feeding and cleaning station for dozens of mantas.
If Manta Point was ever truly a secret, it was long ago. The dozen or so mantas patrolling the shallows are chased not only by eager divers and photographers, but also snorkelers and kayaks. Nevertheless, Manta Point is the perfect environment for shooting mantas: the water is shallow, visibility is consistently 60ft +, and the mantas are by no means in short supply.

While the proximity to the mantas might lend itself to some stunning head-on shots, the background is not very exciting. In order to avoid a very "blah" limestone negative space, it is best to shoot at an upward angle- sometimes even directly towards the surface. You can even turn off your strobes completely, crank up the camera's f-stop and shutter speed (around 1/320th at f22) and begin to look for that perfect silhouette shot.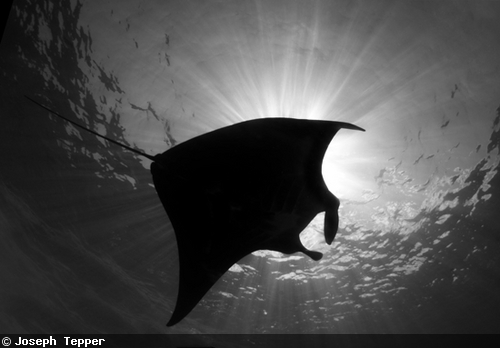 As with shooting the silhouette of any subject, the key is to freeze the Manta in a position that is easily recognizable to the viewer. By turning off your strobes and eliminating that naggy recycling time, you can shoot sequences of the manta approaching you in continuous mode to capture the perfect manta position.
Don't let the calming shallows of Manta Point lull you to sleep. While the easy diving and photography of the manta arena provides enough big animal action for an entire trip, there are many more wide-angle and macro opportunities waiting on Lembongan's north side- but you'll have to hop on a rollercoaster to shoot them.


Flying Along, Singing A Song
The health and magnificence of the soft coral growth on the north wall will make you feel like a kid in one large, underwater cotton candy store. The overwhelming watercolors glistening in the 150-foot plus clear water are the perfect backdrop for both macro and wide-angle subjects- sea snakes, frogfish, leaf fish, and seahorses are all commonly found in Lembongan's reefs. But this proliferation of life comes with a catch- currents, and lots of them.
The super-sonic currents that ride along the island's northern wall bring the nutrients necessary to support areas rich coral life. Don't let this discourage you from bringing your camera. The coverage of soft coral is far too impressive to pass up; in fact, you could shoot with your eyes closed on any given drift dive here and capture a variety of pastels. One particularly impressive dive –as well as the local Divemaster favorite– is called Toya Pakeh.
Located off the sister island Nusa Penida, the entrance to this fantastic drift dive seems innocent- a mirror smooth surface over which rows of mangrove trees dangle their branches only inches above, as if to taunt the soft coral visible just below. However, even seconds after entering the water, it becomes clear that the innocent appearance above the surface only hides this rollercoaster of a ride.
It may be impossible do more than take snapshots as you fly along the reef in a three-knot current, but sometimes this is enough for amazing photographs. The key here is to have confidence in your settings: find a shutter speed and aperture (usually around 1/160th at f16) that works well and don't worry about changing it to much as you coast past soft coral and other subjects.
If you are especially fortunate, you may spot the area's most coveted prize- the Mola Mola (Oceanic Sunfish). Typically residing at several thousand feet, the Molas grace the shallows to feel the warmth of the sun's rays through the clear water. Although the Mola Mola season is considered to be in July, it is still possible to witness these enormous, dinner plate-shaped creatures year-round.
While the up-paced wall diving found in Lembongan may be characteristic of Indonesian diving as a whole, it is far from the only option in Bali. For those divers who would rather spend their dives carefully combing around a site rather than holding on for dear life on an underwater rollercoaster, Bali's north cost provides a more relaxed alternative.



USS Liberty- The "all in one" wreck
A quick two-hour drive along the coast is all it takes to get from southern Bali to the diving town of Tulamben. But for a drive that is so short, the differences between Lembongan and Tulamben could not be greater. Divers have long flocked to Tulamben's black sand beaches for the region's best muck-style diving; but diving in Tulamben found its roots rather by accident- by a "hell-lava" accident.
In 1942, the USS Liberty was serving as a transport ship when it was struck by Japanese torpedoes and left beached on the black sand of Tulamben in the shadow of Mount Agung. For over twenty years, the Liberty rested underneath palm trees until the eruption of Mount Agung in 1963, which gently pushed the 400-foot ship back in the water one last time.
While it may be hard to pull yourself out of bed early on a dive vacation, the best time to dive the Liberty is just after dawn, right before the crowds of divers arrive. Following the sloping sand down to 60 feet, the sharp bow of the ship cuts through the dim, early morning water much like Mount Agung through the clouds seen from the beach. The wreck itself is covered in amazing coral growth, and has become a mecca for a variety of large sea life.
As the tainted, early morning sun mixes with the turquoise water, keep your eyes peeled for a school of thirty bumphead parrotfish, the resident early morning attractions of the wreck. Even if you haven't had your morning coffee and are a bit grumpy, the bumpheads will be ready for you. When preparing your settings, keep in mind the low light and the position of the sun: boost your ISO (around 400) and slow your shutter speed to properly expose the green-ish water.
The low morning light and a human subject make nice additions to the composition.
The bumpheads aren't the only players on deck in the morning- a large school of jacks, which spins around the wreck like a tornado, makes the perfect background to any soft coral shot. The wreck also attracts a variety of macro life- nudibranchs, squat lobsters, and leaf fish are enough to make this dive site a day (or week) long adventure. For those divers who can pry themselves away from this amazing wreck, Tulamben has much more to offer.
Tulamben- Bali's Lembeh
While Tulamben diving may have earned its name from the Liberty's serendipitous sinking, its claim to fame now-a-days is for its smaller inhabitants. As Michael put it, Tulamben is the "Lembeh of Bali." For most underwater photographers, Lembeh is the holy grail of muck diving, reachable with additional domestic flights. If you are the least bit skeptical that a dive site only hours north of Denpasar can live up to the "big leagues" like Lembeh, all it will take is one night dive to change your mind.
In the shallows of Noisy Reef right off the local BDA shop's beach you can fulfill all your macro dreams practically in one night. Giant Spanish Dancers with emperor shrimp perfectly camouflaged against its polka dotted skin light up against a dive light. Other highlights of this site include countless brilliant nudibranchs, mantis shrimp, squat lobster, and resident harlequin shrimp- and this is only the "house reef"! One thing's for sure, keep your eyes open and your ears perk for the clank of your guide's pointer against his tank.
The diversity of macro critters in Tulamben basically means the dives can be customized to the photographer. The Divemaster will determine the location based upon what you want to shoot. Treasures to most photographers –critters like pygmy seahorses, boxer crabs, and squat lobsters– come as little surprise to local Divemasters, who save their excitement for more rare sightings. One especially rare sighting in the region is the wonderpus octopus, which can be spotted poking its eyes out of its sandy enclave.
Painted frogfish are another popular request from underwater photographers visiting Tulamben. Finding frogfish isn't the difficult part in Tulamben, rather waiting out the subject for that perfect yawning shot. The key is being prepared and knowing what to look for- high shutter speeds will freeze the yawning motion, while a series of "pre-yawns" indicate the big one is coming.
If the rapid tap tapping of your Divemaster's pointer and tank rings out in your dreams, do not be alarmed. This is completely normal. You will know you're hooked to Tulamben diving when your shutter finger begins to twitch at the sound of a bike bell ringing, or any other metallic clank.
Perhaps wrecks draped in soft coral, critter hunting, or exhilarating drift diving just aren't for you. Maybe you are looking for a destination that offers both wide-angle wall diving as well as mucky macro dives. If this is the case, just keep heading west to Pemuteran.
Pemuteran: The Far, Far West
Almost on the complete opposite side of Bali from Lembongan, Pemuteran serves as the eco-tourism capital of the island and features equally impressive wide-angle and macro photography as the rest of the region, all in one location. Just off the coast of Pemuteran, the small island of Menjangan is home to a temple for hundreds of locals who hop aboard water taxis to pray throughout the week; but below the waves the hard and soft coral walls are always equally as crowded with marine life.
One highlight dive of the Menjangan wall is a site called Sand Slope- a sharp wall dive that slopes up onto a shallow reef ideal for finding small crustaceans like Orangutan crabs, decorator crabs, and squat lobsters. The crystal clear blue water makes the perfect background for shooting some of the more stationary subjects such as immense barrel sponges, turtles, and creepy crinoids sticking out over the walls edge.
Macro enthusiasts who visit Pemuteran need to look no farther than the beach right off of the local Bali Diving Academy office, which features a prominent macro site called "The Jetti."
Easily navigated by a dozen large pier supports in the sand and a pair of sailboats only ten feet overhead, the site is a great place for 90-100 minute dives by photographers looking for a large dose of macro medicine.
The shallow depth and small size of the site is ideal for letting photographers spend great amount of time with a single subject before moving onto the next. You can spend nearly half an hour alone with a pair of ornate ghost pipefish before moving on to a baby eel hiding in a glass bottle, and another twenty minutes with a crab wearing an anemone as a stylish chapeau. It is a macro shooters playground.
Finding "Everything" in Between Dives- Bali Topside
If the diversity Bali's diving environment isn't enough to lure you in, the availability of above water subjects will be just as hard to resist. The quick drives between diving regions are the perfect time to practice some of your topside photography as well as off-gas. If you're anything like me during dive trips, the last thing on my mind is looking up from my laptop editing photos when not in the water. However, even for the staunchest divers, it is hard to ignore the many photogenic subjects that seem to separate dive sites along the road.
From the striking peaks of Bali's central mountain chain, to the rice patty fields carved like steps into the mountain side, and even the millions of scooters buzzing around the island, Bali is one of the few places where underwater photographers will find themselves filling up memory cards just as fast above as underwater.
Bali Basics
Where: Located at the westernmost point in the Lesser Sunda Islands in Indonesia, tucked between Java and Lombok.

Language: Balinese and Indonesian are the most spoken languages in Bali, although knowledge of English is common, especially in the diving/travel industry.

Currency: Indonesian Rupiah

Time Zone: CIT (UTC+8)

Water Temperature: Varies greatly from low 70s (22c) in the South to mid 80s (28c) in the north

Air Temperature: Average 75-85

Diving Experience Level: Novice-very experienced. Although the shallow muck dives on the North are suitable for beginning divers, levels vary throughout the island and many of the current dives in the south are for experienced divers only.

Photography Experience Level: Novice-very experienced. The photography levels in Bali are as varied as the diving levels. The muck dives and wall dives in the north are perfect for long dives and refining macro skills, while the drift diving in the south requires confidence in shooting using a reef hook.
Planning Your Trip to Bali
When to Go: Diving in Bali is year round; but for the best chances to see Molas and Mantas, visit between April and October.

How to Get There: Flights to Bali leave from airports including Singapore, Tokyo, Taipei, and Seoul.

Entry Requirements: A valid passport is required. In addition, visitor's visa will be issued upon arrival.

Connectivity: Wireless Internet is usually available from your hotel for an extra charge, or from Internet cafes, which are quite prevalent.

ATM Access: ATMs are most often found in major towns or all over large cities like Denpasar or Kuta.

Health Concerns or Vaccinations: Since Bali is in the tropics, it is best to make sure your vaccinations are up to date.

Drinking Water: Bottled water is a good idea in most of Bali.

Emergencies: Sanglah Hospital in Denpasar has a recompression chamber.

Where to Stay: There are many choices for accommodations in diving regions. Diving companies may be able to suggest/arrange accommodations.
RELATED CONTENT
Be the first to add a comment to this article.
Newsletter
Travel with us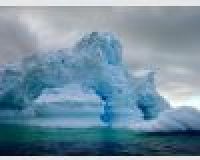 Antarctica
Plan Your Adventure >
Featured Photographer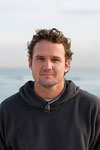 Tim Calver
Expert Photographer
Tim Calver is a freelance photographer who lives in Miami Beach, Florida. He developed his career and his unique style at the Bimini Biological Field Station on South Bimini Island in the Bahamas, where he lived and worked for...