Travel
An Underwater Photographer's Guide To Bonaire
June 7, 2010 @ 06:02 PM (EST)
By Matt Weiss
Bonaire is a small Caribbean island located 50 miles north of Venezuela. It is one of the five islands of the Netherlands Antilles, and together with Aruba and Curacao, part of the ABC islands. The islands of the Netherland Antilles, which also includes St. Martin, Saba, and Sint Eustatius (Statia) provide some of the best diving in the Caribbean.

Bonaire is truly a divers island, famous for its dedication to marine conservation. The small island, only 111 sq. miles, is surrounded by coral reefs, which have been declared a marine sanctuary and been protected for the last 30 years. These protected reefs are easily accessible from the Western and Sothern sides from the shore, and the Northern reefs, including those on the uninhabited 2.3 sq mile island Klien Bonaire, are easy to get to by a quick boat ride.
The Bonaire coastline as seen from the dock at Captain Don's Habitat Bonaire

With little else to do, there are only a few sandy beaches, and not much activity in the town, diving is the main reason most visits Bonaire. There are over 70 dive sites on the island, many of which are accessible by shore. Since the island is located in the southern Caribbean it has an arid climate, which leads to little run-off of sediment to cloud the water, and very calm conditions. The accessibility to healthy reefs from the shore has fostered a "diving freedom" mentality on the island, and dive operators offer unlimited shore diving packages. Tanks are made available 24 hours a day for you to take to any of the shore dives.
The ability to dive whenever you want and as often as you want has made Bonaire popular among underwater photographers looking to maximize their productivity by diving at their own pace and as often as they want. Keep in mind that in order to enjoy the unlimited shore diving, you must rent a truck (which is included in many dive packages) and go to the dives yourself, dive your own profile and prepare your own equipment. The lugging of heavy tanks or unguided diving is not everyone, and your dive operator will also offer a number of boat dives throughout the day.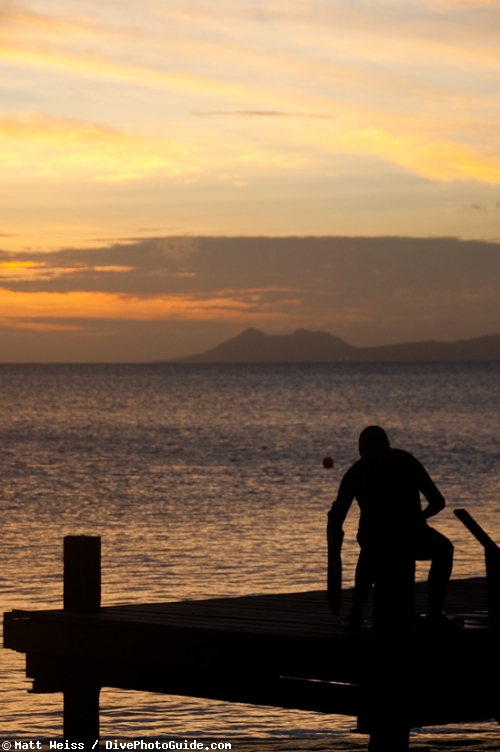 A diver prepares for a dive at sunset

Bonaire's favorable geographical location in south Caribbean and the island's dedication to the preservation of their reefs means that every day has the potential for exceptional underwater photography opportunities -- whether it consists of 2 boat dives or 6 shore dives.
Frogfish - a sought after subject for underwater photographers in Bonaire

Bonaire Facts
Where
: Southern Caribbean, part of the Netherlands Antilles
Language
: Papiamento is the native language. Almost everyone speaks English and Dutch. Many of the locals also speak Spanish and resorts often have staff that speaks French and German.
Currency
: The Netherlands Antilles Guilder (NAFl.) Dollars are widely accepted, but you will most likely receive guilders as change. Euros are accepted at most hotels.
Time
Zone
: Atlantic Standard Time
Water Temperature
: Around 80 degrees Fahrenheit, 29 degrees Celsius.

Air Temperature
: Around 80 degrees Fahrenheit, 30 degrees Celsius.
Diving Experience Level
: Excellent for beginners. Very little current and shallow reefs.
Photography Experience Leve
l: Excellent for beginners.
Underwater Photography in Bonaire
Subjects
Bonaire is both a wide-angle and macro destination. It's best known for a few macro subjects, mainly frogfish and seahorses, which are seldom seen in many Caribbean islands, but are relatively common in Bonaire. This is not
Lembeh Strait
, but if you spend a few days diving in Bonaire there is good chance you see one of these elusive gems. Other sought after macro subjects in Bonaire include scorpionfish, cleaner shrimp, arrow crabs, jawfish, blennies and more.
Additionally, the fish life is abundant on the reefs, and Bonaire is an excellent place to practice fish portraits.
List of macro subjects
Seahorses
Frogfish
Scorpion fish
Cleaner shrimp
Arrow crabs
Jawfish
Blennies
Reef fish portraits including colorful parrotfish and angelfish


Colorful orange soft corals, large colonies of brain coral, and bright purple sponges in blue water make for excellent wide-angle subjects.
The area is not known for its big fish life, and sharks are almost never seen. There are opportunities to photograph tarpon, barracuda, eagle rays, southern stingrays, and green and hawksbill sea turtles. The turtles in particular often are willing to oblige photographers with close, lengthy encounters.
List of wide-angle subjects:
Hard corals
Soft Corals
Sponges
Tarpon
Eagle rays
Southern Sting rays
Sea turtles
Underwater Photography Equipment For Bonaire
Since the marine life is diverse in Bonaire, photographers should be set-up for both wide angle and macro photography.
Compact Cameras
A strobe for the macro life is highly recommended. Additionally, a wide-angle wet lens with a dome port is a good addition for wide-angle images of large corals and sea turtles as the lens will allow you to get closer to the subject.
DSLRs
Bonaire is a destination where there is the possibility to use the full collection of lenses suitable for underwater use.
A macro lens in the 100/105 mm range is good for small fish portraits, shy seahorses, and small invertebrate images.
A macro lens in the 60mm range is good for larger fish portraits like the bigger angelfish and frogfish
A fisheye lens works well for focusing close to subjects like corals, sponges and sea turtles.
If you have lenses that you enjoy for underwater use, surely there is a subject for them in Bonaire.
Camera Bag (compact camera)
Must bring-
Strongly recommended-
Optional-
Camera Bag (SLR)
Must bring-
Strongly Recommended-
Not to leave anything at home!
Bonaire Underwater Photography Tips and Techniques
Vary your shooting. Every dive has opportunities for wide-angle and macro subjects. Two things to check the night before:
The Weather – If it's going to be rainy or overcast, shoot macro
The Dive Sites – Ask the dive masters if a sea horse or frogfish has been spotted on the site recently. It's not guaranteed you will find it again, but there is a much better shot at seeing these subjects, and you might want to set-up for macro.
Shoot wide on the wall dives. A few of Bonaire's dive sites are either very steep slopes or walls. This offers a good opportunity to get some shots of corals or sponges with nice blue backgrounds.
Look for isolated wide-angle subjects. Often times, many of the large corals will be around other large corals which can make getting close, and below the subject difficult. Remember, Bonaire's reefs are protected and no touching is allowed. If you find corals that are isolated around sandy areas or rubble, it's easier to get a good angle and position your strobes without damaging the environment.
Keep the background in mind for macro images. A strong fish portrait will have good contrast between the subject and the background. A good way to create this contrast is to create a black or blue background. Get below the subject, and shoot the fish with only open water in the background.
For dark backgrounds, use a fast shutter speed so no ambient light is in the image. The strobes will be the only source of lighting in the image, so make sure they are directed at only the subject.

For lighter blue backgrounds, slow down your shutter speed so that ambient light lights up the background. Your strobes will freeze the subject.
Look for interesting backgrounds. It's not always the case that you can catch your subject with only open water behind it. For instance, gobies and blennies are not often found swimming the water column. In these cases, look for interesting backgrounds that can complement the subject. Using coral polyps can sometimes create interest rather than distraction in the frame
Try using 100/105mm lens for seahorse images. Seahorses are shy subjects and if you get too close they will turn their heads away from you, making it impossible to get good eye contact in the image. The longer working distance of longer focal length macro lenses means you can still get good magnification at longer distances, ideal for shy subjects.
Try using a 60mm macro lens for frogfish. Unlike seahorses, frogfish will remain stationary and allow close approach. The frogfish in Bonaire can be about the size of a baseball, a nice size for getting in close with a 60mm macro lens.
Photo Techniques For Bonaire
To get the most out of your trip to Bonaire, read the following guides from the Technique Section before leaving.
Topside Excursions
There is not a wealth of activities of non-divers in Bonaire, but there is enough going on to fill a dry day or two.
The iguanas on Bonaire are big and photogenic

Water sports. Windsurfing is big in Bonaire, and many of the top windsurfers are from the island. Lessons are available as is rental equipment. The full range of other water-sports like water skiing, kayaking and snorkeling are easily arranged as well.
Wildlife tours. Bonaire offers some wildlife, including donkey and flamingo sanctuaries. Additionally, the large iguanas scurrying around the island offer fun photo opportunities
The town. There are few nice streets in the town of Bonaire and a couple of good restaurants offering international cuisine. It's not a big city, but there are some nice shops and plenty of places to buy souvenirs.
A Casino. There is small casino is the Divi Flamingo hotel with slot machines and some table games. It is open until 4:00 am.
Planning Your Underwater Photography Trip To Bonaire
When To Go:
Diving in Bonaire is year round. The high season from December 15- to April 14th and this is only because people tend to visit Bonaire to escape the cold climates elsewhere. The diving is the same during the low season, and the boats will be less crowded. The months of September and October offer chances of witnessing coral spawning.
How to get there:
Bonaire is serviced by Flamingo International Airport. Direct flights are available from some major U.S. cities including Houston, New York and Miami. There are also direct flights from Amerstdam and many surrounding islands.
Entry Requirements:
All visitors must have a valid passport and return ticket. No special visa is required.
Tipping
: Tips are generally accepted for good service. 10-15% is appreciated. Some places may include a 10-15% gratuity.
Taxes:
There is a 5% tax on almost all goods and services. There is also a $35.00 USD departure tax for international destinations.
Connectivity
: Phone service is available throughout the island. Internet is also readily available, and most resorts offer wireless access.
ATM Access
: There are few ATMs on the island, including one at the airport.
Health Concerns and Vaccinations
: No vaccinations are required to visit Bonaire
Drinking Water
: The tap water is safe to drink in Bonaire.
Emergencies
: There is a 60-bed hospital on the island with a recompression chamber located nearby.
Where to stay:
To write this article, DivePhotoGuide dove with
Captain Don's Habitat Bonaire
and
Divi Flamingo Resort
. Both provided professional dive shops and excellent accommodation.
Beautiful Bonaire

RELATED CONTENT
Be the first to add a comment to this article.
Newsletter
Travel with us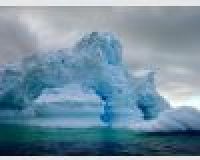 Antarctica
Plan Your Adventure >
Featured Photographer
Peter Verhoog
Expert Photographer
Peter Verhoog is one of Europe's most acclaimed underwater photographers, based in The Netherlands. He was born in 1955, leant to dive in 1976, and took his first underwater photographs in 1978. During his journeys he...