Travel
The Best Underwater Photography in the Indo Pacific: Lembeh Strait
By Joseph Tepper
Muck: Brit. /m>k/ , U.S. /m^k/ "Excrement, manure; dirt, waste matter."
Muck—it's not the most appealing notion. So why would an underwater photographer travel 10,000 miles around the globe to a remote destination just to dive in it?
While some of the world's muckiest locations might seem barren silt landscapes punctuated by recycling and used shoes, they are also undersea oases for the weirdest and wildest critters.
Pygmy seahorses are just one of the rare photo gems of Lembeh, Indonesia.
On my 6-week-long journey through the "Best Underwater Photography in the Indo Pacific," I had seen a lot of critters—but the muck diving at Lembeh blew them all out of the water. That's why the fine folks at Critters@Lembeh ask for only one thing when you arrive, your critter wishlist. Here are some of mine:
Blue Ring Octopus
Star Gazer
Pygmy Cuttlefish
Mandarin Fish
Harlequin Shrimp
Hairy Frogfish
But even the most complete, over-the-top wishlist you could think of couldn't even come close to everything you will see in just a week in Lembeh…
Twenty years ago, diving in Lembeh was unheard of. Today, there are dozens of hotels, resorts, dive shops and even liveaboards that bring divers to the best muck diving in the world. But not all muck diving operators were created equal—and if you're looking for only the best in dive guides, accommodations and food then you have to go to Lembeh Resort and Critters@Lembeh.
First opened in 2003, Lembeh Resort is one of the originals on the strait and continues to provide top-notch service to its guests. The 14 cottages and 2 garden view rooms climb up the hillside to provide breath-taking views of the straight right from your private balcony.
For divers and non-divers alike the amenities continue with a spa, fresh water pool, and restaurant and bar serving up three square meals a day. But for the hardened underwater photographer, most of the time will be centered around the Critters@Lembeh dive shop. Simply put, the team at Critters@Lembeh is one of the best in the business—they have a combined dive count in the strait of 50,000 and even have a full time marine biologist on staff to help you identify that rare nudibranch captured on your memory card.
Macro Muck Photography in Lembeh Strait
Lembeh Strait is so rich in subjects, that pinpointing one to a specific site is quite difficult. Where else in the world can you see ten different blue ring octopuses on ten different dive sites, a sea fan with dozens of pygmy sea horses, a mimic octopus disguised as seven different animals in one week?
While there are periods of time where a specific subject might be common to one site, the fact is, in Lembeh strait there are so many amazing subjects that on any given dive site, at any given time, you are likely to photograph something magical.
Here is the magic from my 10 days in Lembeh:
A fang blenny makes a home in a soda bottle. Lembeh's rich muck environment
boasts a variety of rare and beautiful macro life.
Cephalopods
For most photographers who visit Lembeh, the real stars of the show are the octopuses—from blue rings to mimics and everything in between.
Even in some of the world's best macro locations, a blue ring octopus sighting is a rare one, but in Lembeh, during most times of the year, you can see three or four on a single dive—sometimes even mating with each other. In their normal state, blue rings are quite a boring color, but using a pulse of water the knowledgeable dive guides at Critters@Lembeh can get what every photographer wants: big, bright, blue rings.
Getting the bright blue rings of the octopus on camera is a photographer's dream.
The dive staff at Critters@Lembeh use a pulse of water to reveal the creature's true colors.
Since octopuses often blend in well and keep close to the sand, using low apertures in
Bokeh can help bring the viewers' attention right to the subject's eye.
The blue ring also has a lesser-known cousin called the Mototi or Poison Oceallate Octopus. Although these beauties may feature only one ring when aggravated, they are just as poisonous and just as photogenic.
He might have only one blue ring, but don't be fooled. The Mototi is nearly as
poisonous and just as photographic as its blue ring cousin.
Both the Mototi and the Blue Ring often take to hiding in bottles and cans when clumsy photographers invade their personal space. In one amazing encounter with a frightened Mototi, the eight-legger took off into a Sprite bottle—rather than trying to exclude the bottle from the image I made a conscious effort to include it for an extra comical effect.
Many creatures in Lembeh make their homes in discarded containers and other trash.
Including the "Sprite" logo in this shot adds a bit of humor and draws the viewer in more.
Mimic octopuses are also tops on any Lembeh wish list. If you're especially lucky,
you may see one act out the part of a crinoid or lionfish in disguise.
Of course, Lembeh is home to other cephalopods, like this flamboyant cuttlefish.
Knowing cuttlefish are somewhat translucent, I used a snooted strobe to backlight
the subject. The result--a silhouette of a glowing cuttlefish.
Like their blue ring relatives, cuttlefish require a little agitation to bring out their colors. To bring our their colors with your camera, make sure to use a good set of strobes even when shooting at low apertures.
Crustaceans
The crustaceans of Lembeh might not receive as much attention as blue ring octopuses or frogfish, but they can be equally rewarding photographically. For a really colorful subject that pops out of frame, it's hard to beat the emperor shrimp on a bright sea slug. Unlike many subjects in Lembeh, which live on a rather bland background, these shrimp tend to hitch rides on vibrant nudibranchs and sea cucumbers—perfect negative space.
Emperor shrimp make for natural subjects and are often found laying on colorful nudibranchs or slugs--
even better for negative space in an image.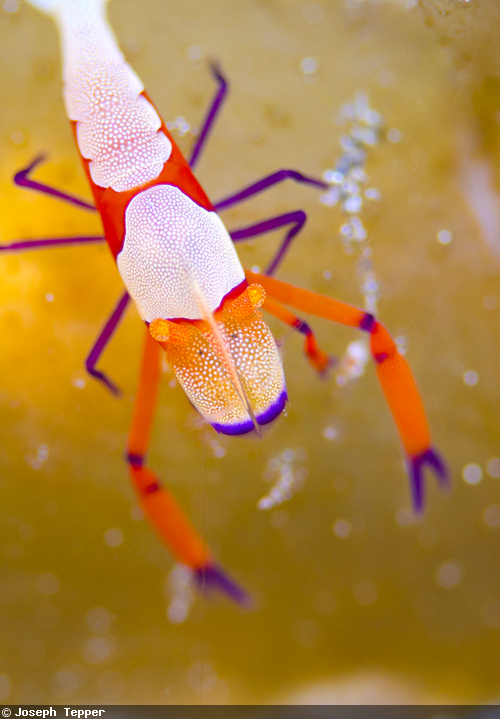 By lowering your aperture to 3-5.6 you can achieve a blurring effect known as Bokeh.
The plethora of crustaceans in Lembeh makes for great practice of new techniques. For those crustaceans that choose not to live on an amazing nudibranchs background, a spotlight effect from a snoot is an effective way to draw attention to the subject.
A Tozuma shrimp blends in perfectly to the long fingers of a sponge. You can use
a snoot to make him more visible to the viewer.
Here, the snoot is used for a more subtle affect. This is achieved by keeping a slower
shutter speed and open aperture with a slightly less powerful snoot output.
Crustaceans like the Tozuma shrimp also make for excellent practice for shooting bokeh. While it is almost photographic instinct to shoot at high apertures for black macro backgrounds, there's something to be said for a nice blue negative space in a macro shot.
Tozuma shrimp, like many underwater photo subjects, seem to blend seamlessly into their environments.
Shooting at low apertures (f4) draws attention to the subject
and provides a pleasing blue-water macro background.
Orangutan crabs make for a fantastic subject: They feature bright colors and can
often be found on interesting background. Here, the detail of the
bubble coral is brought out by strong strobes and high apertures.
Of all the shrimp in Lembeh, perhaps the most photogenic is the Harlequin Shrimp—with electric blue accents tattooed onto their porcelain body. In the case of Harlequins, two are better than one. Patience is key when waiting for both subjects to come into frame for a pair shot.
Two are better than one! For the classic shot of dual harlequin shrimp, you might have
to be patient for the subjects to position themselves side to side.
Eels and Sand-Dwellers
Lembeh's muck isn't only a draw for underwater photographers—but also for some of the creepiest critters that go bump in the night. Some of the most prized sand-dwellers – snake eels, stargazers, and crocodile fish – make their home in the muck.
Like many sandwellers, this crocodile fish is best seen when it pops its head out at
night. Night dives in Lembeh are a must for shooting and snooting these types of subjects.
A snake eel pops his head out of a hole. Make sure to look out for eels receiving a
cleaning from shrimp for a classic behavior shot.
Sand-dwellers are by no means in short supply in Lembeh, but the tricky part is finding a way to make them really pop from the background. Snooting is especially effective for sand-dwellers, as the rounded light modifier helps spotlight the subject from the sand.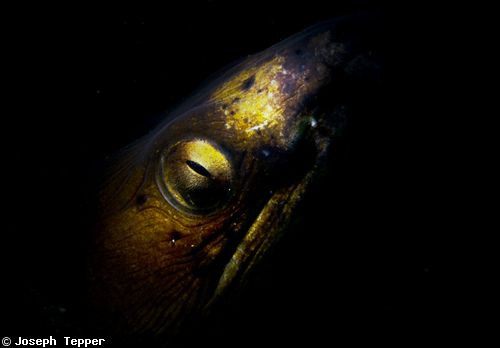 Spooky! Dramatic side lighting gives an otherwise simple shot a different mood.
Snoot lighting is extremely popular in a muck environment to make subjects pop. Above: closed apertures create a strong
spotlight effect. Below: more open apertures can be used to soften the snoot's effect.
Eye see you!
Arriving in Lembeh, one sand-dweller in particular was at the top of my list: the Stargazer. As if you need any more reason to go on a night dive in Lembeh (in addition to the usual suspects), these benthic beauties pop their creepy faces through the sand in the dark.
Stargazers range in sizes from a few inches to over a foot long. Crtitters@Lembeh
guides are experts at finding these scary subjects in the sand.
Displaying proper muck diving etiquette is especially important when shooting sand-dwellers. Instead of a traditional fin kick, frog kicks will avoid stirring up the sand too much. Of course, sometimes backscatter can just look like stars in the sky…
A stargazer gazes at "stars"--an effect created by throwing sand in the path of the snoot.
Frogfish and Scorpionfish
Lembeh might just be the frogfish capital of the Indo-Pacific. From the size of a fingernail to several inches, from clean-shaven to hairy, there is a seemingly endless variety of "hoppers."
Hairy frogfish are top at the list of subjects in Lembeh. They are slow-moving--perfect
for trying creative techniques like snooting, bokeh and side-lighting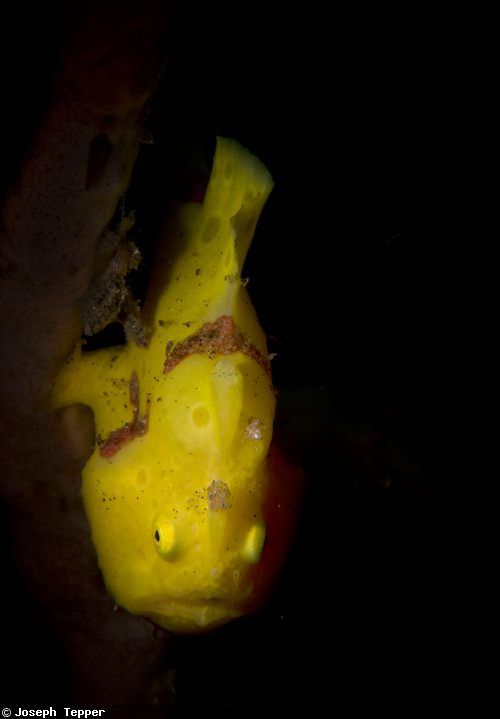 Side-lighting creates a dramatic effect to this small frogfish and eliminates a
distracting background. You can produce this effect by using just one strobe turned at a 90-degree angle to the subject.
Night dives too are full of frogfish folly.
In Lembeh, it seems that the hairier, the better. The hairy frogfish features dozens of tassels and is easily one of the more popular for photographers. While I stuck with a 105mm lens during my duration in Lembeh, the availability and familiarity of the frogfish with divers could easily lend itself to a 60mm or even close-focus wide-angle.
Someone needs a shave...
Of course, the signature frogfish shot is one with its mouth agape in the middle of a yawn. The excellent dive guides at Lembeh will never resort to the insensitive, unethical trickery of sticking a fishing line down the froggy's throat (as is unfortunately commonplace for other dive shops), so it's all about luck. And while I was not fortunate enough to witness a yawn-in-progress, I still managed to have a frogfish filled adventure.
Lembeh is even home to super-rare species like this black hairy frogfish, who has attached himself to this seastar for protection.
Don't forget about the leaf fish cousin! A snoot from behind shines through the leaf fish's translucent body.
Seahorses, Pipefish and Pipehorses
As with everything, underwater photography subjects come in trends. And right now it seems that the rage is all about pygmy seahorses. At many destinations you might have only one or two sea fans with only a couple pygmies: But at Lembeh, they come in the hundreds.
So many images of pygmies feature fans in poor shape. The availability of pygmy
subjects in Lembeh means there's no crowding of seahorses, leaving the polyps of the sea fan open and colorful.
When shooting pygmie, eye contact is key--but attempting to move the subject even gently can cause serious harm. Instead, wait for the pygmy to swing back and forth in the current and time your shot for when it's facing you.
The advantage in richness of subject matter is not only avoiding a wait time for a seahorse, but from a photographic standpoint—you can move from one to another if it isn't "cooperating" instead of hassling it.
Pygmies might be the most popular seahorse, but pipefish are also strong photographic subjects. With their sharp colors, banded pipefish are an easy choice for a photo—but getting them in focus is another matter. To eliminate distracting backgrounds, I chose to shoot with very low apertures in a technique known as Bokeh.
Ghost pipefish are often found hiding in crinoids. Low apertures bring attention to the
subject, while the leading lines composition creates a more dramatic image.
Instead of relying on my camera's autofocus to get pinpoint accuracy, I locked the focal length and waited for the subject to come into focus and fire off a series of shots. This spray and pray method is more time consuming than autofocus, but will help assure precise focus.
These pipefish are no more than a few inches long, so getting sharpness with
autofocus can be tricky. I prefer to lock a focal length and take a sequence of shots when the subject comes into focus.
S-Curves are a strong way of improving composition. With long subjects like eels and pipefish, try waiting until they form large, dramatic curves when swimming.
See something special?
Opportunities to capture spawning and mating behavior with subjects like this pregnant pipefish abound in Lembeh.
Of course, even simple seahorse subjects in Lembeh can be used to experiment with your creativity. Here, I've backlit a plain seahorse with my snoot to accentuate his curves.
Even less rare subjects like this common seahorse can be transformed into captivating images. The shallow, easy diving conditions in Lembeh give photographers the freedom to experiment with techniques like backlighting.
Mandarin Fish Photography in Lembeh
Here's one kiss you'll want to capture with your camera.
Each day at dusk, dozens of mandarin fish gather just outside the Lembeh house reef to seek a mate. In an act of romance, the male and female finish their mating with what has become known as a "kiss."
A kiss is captured!
Capturing this kiss is easier said than done. After 20 minutes of chasing the female, the male engages in the peck for only three seconds—a short time to lock onto the subject, much less change any settings. I found it best to take a test shot of the coral every few minutes to check the exposure as the lighting changes with the setting sun.
A focus light is a must on this dive for your camera to lock focus on the fast-moving mandarins. You can be even more prepared by using a red focus light, as the output seems to be less deterring to the fish.
The moment when the mating mandarin fish make contact lasts only a few seconds.
Be prepared with a focus light and proper exposure.
It can be up to a 70-minute dive to prepare for the mating, which only lasts 10 minutes—but it's worth it for a keeper kissing pic.
It's not all about the love: Keep an eye out for other interesting behavior, like these two
males biting into each other over one lucky female.
Lembeh's Other Fish Subjects
With all the weird and wonderful creatures to be found at Lembeh, it may be all too easy to forget about the less rare fish. But they are still worth a snap or two…
It's an x-ray fish! Actually, this photo was achieved by placing a strobe behind the see-through soft coral and gobby.
Seeing double? By setting your camera's settings to "multiple exposure" you
can include the same subject in different parts of the frame.
A yellow blenny hides out in the opening of a toothpaste bottle.
Yum yum! A lizardfish snaps up his fangtooth blenny lunch.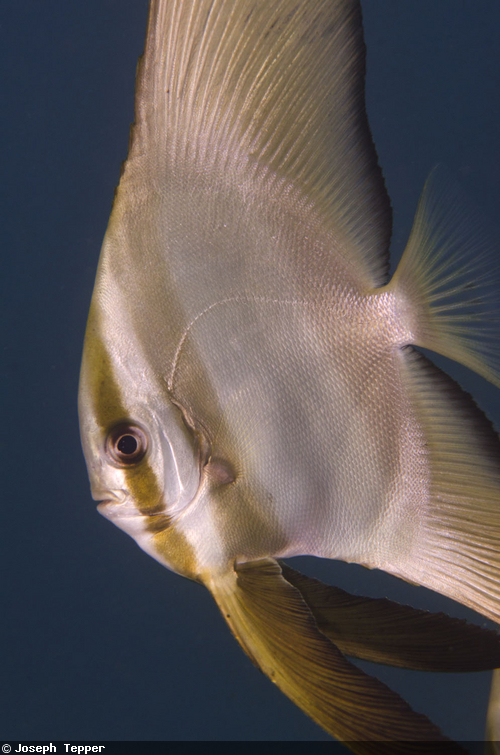 Lembeh: More than Macro...
Simply put, Lembeh is the muck capital of the world. The unrestricted access to the ultra-rarities of diving – blue rings, mimics, hairy frogfish – combined with the sheer amount of diversity is something that can't be truly appreciated in a single dive or day or visit. It is a rare occurrence to find a first timer at Lembeh, and even more rare it seems to find someone who only went once.
And just when you think you've squeezed all the macro juice out of the strait, all you have to do is hop in for a quick boat ride to the outside of the strait for equally as impressive wide-angle opportunities. But that's another adventure for another day…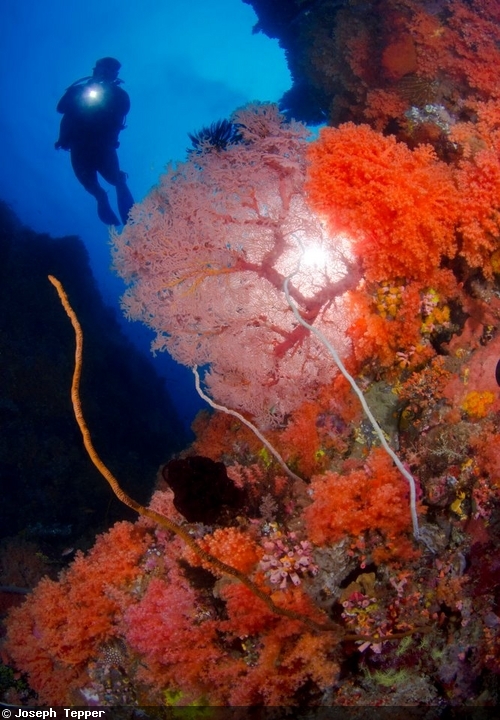 RELATED CONTENT
Be the first to add a comment to this article.
Newsletter
Travel with us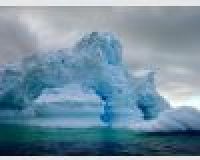 Antarctica
Plan Your Adventure >
Featured Photographer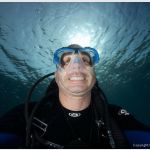 Mark Melnick
Photographer
I don't think I have a particular style. I still consider myself learning how to take pictures and am constantly trying new things. Lately I have been enjoying the challenges of wide more than macro. I am sure having fun...