Travel
Beqa and Back: Travels to Diving's Most Famous Lagoon

Two things most divers know about Fiji: One, it has a reputation as the "soft coral capital of the world." Two, it is known as one of the best places in the world to go diving with sharks.
With my healthy obsession with sharks and my portfolio lacking wide-angle images of colorful reefs, it is surprising I had never visited this island nation before. As chance would have it, I had scheduled a trip to Tonga this summer with my route making an interesting layover—in Fiji. After extending that layover slightly—let's say three weeks—I began to plan how best to photograph both Fiji's sharks and endless coral reefs during my stay.

Beqa Lagoon Resort
First on my itinerary was the stunning Beqa Lagoon Resort, which is just a 30-minute boat ride from the popular backpacking town of Pacific Harbour on the main Fijian island of Viti Levu. Most of the staff are employed locally from the surrounding villages and have lived on Beqa Island all of their lives. I love to visit resorts that give something back to the community, and Beqa Lagoon works hard to offer an authentic cultural experience to their guests. Sure, they offer cold drinks and towels on arrival, but it is the Fijian authenticity that really elevated this resort in my experience.
For photographers, and the curious traveler, the resort offers guided tours to local villages, where you can purchase local crafts, interact with school children, and even participate in traditional ceremonies such as a sevusevu, the drinking of kava as a gift and sign of respect.

The serene view from Beqa Lagoon Resort is the perfect way to end a day filled with colorful reefs and adrenaline-inducing shark dives
Diving Beqa Lagoon
Beqa Resort's private beach serves as the entry point for their own house reef, which can be dived at any time and is an easy first dive that is perfect for checking out camera equipment. There are huge patches of anemones and coral heads that extend out from the resort where one can find a variety of smaller critters. Nudibranchs, lionfish, moray eels, octopus and abundant reef fish provide interesting subjects for photographers of all levels while the shallow calm bay is the perfect place to experiment with new kit or camera techniques.

Just because there is a world-class shark dive doesn't mean you should pass up the opportunity to photograph the amazing reef scenics around Beqa Lagoon Resort

While this site can be visited at will, the rest of the diving is organized into two or three tank dives that leave the resort every morning after breakfast. The guides here know their stuff and there are a number of famous sites within the area that rival the famed dive sites in the most northern reaches of Viti Levu.
A dive site named "Fantasy" provided my best images, and I would have been content diving there for the whole of my trip! Every single inch of space is covered in a kaleidoscope of colors that are a dream for any underwater photographer. Huge sea fans fight for space among bright red, purple and pink soft corals while schools of anthias add more color to an already saturated image.

Although I was having great fun shooting wide-angle images, it was a slight deviation from what had brought me to Fiji in the first place. I was here to see big fish, specifically big sharks
Shark Diving in Beqa Lagoon
Pacific Harbour has long been famous for its shark diving. Tourists and photographers alike have raved about the number of sharks and other species that can be seen there (even on a bad day). The subject of shark provisioning is controversial and I certainly do not wish to debate it in this report, but I will mention that I believe it to be a great tool in shark conservation when done responsibly. The Beqa shark encounter helped establish Fiji's Shark Reef Marine Reserve.
For this reason I was excited to hear that the people at Beqa Lagoon were in the process of setting up a new shark diving site. Although this site is near to the other shark dives which offer large amount of bull sharks, the Beqa Lagoon guys have succeeded in finding a spot frequented by tiger sharks. This is great news for visitors to the area, as it is possible to see two of the world's most charismatic predators with great reliability in neighboring locations.

Beqa Lagoon Resort's dive is made unique by the higher-than-average rate of close encounters with the highly prized tiger shark

The guides at Beqa Lagoon Resort will put you right in the middle of the action, but make sure to always be prepared during the dive as safety is the number one concern

While the Beqa Lagoon Resort dive is a work-in-progress in terms of standardization, they have a high success rate. Frequent visitors to the dive included lemons, bulls, tawny nurse, gray reef and blacktip reef sharks. The tigers are definitely the stars of the show.
Photographing Beqa Lagoon's Shark Feedings
The primary concern for dive operators when working with big sharks should be safety. This means controlling divers and their proximity to the animals. Often, photographers complain that they cannot get close enough and want more freedom on these dives, but this can cause problems for operators. Don't be that guy who puts yourself and the sharks' reputation at risk. By staying at the resort and completing multiple shark dives, there will be plenty of opportunities to get close to the animals and get the shot without breaking the rules.
The shark trips are always two tank dives with a surface interval conducted at the site. Sometimes the sharks take a while to show up, so it is important to utilize this time when nothing is happening to get your settings correct for that day's conditions and be ready when the sharks arrive. Start with a relatively high shutter speed—around 1/160s—and then play with aperture and ISO until you get the desired lighting.

Always use strobes if you have them, as the dive is around 60 feet deep and you want the flash to light the shark's details and really bring more contrast to the image

Another problem to overcome (or call it a double-edged sword) in Fiji is the huge numbers of fish invading the scene. The marine ecosystem is so healthy that it can sometimes be difficult to even see the sharks. I have literally hundreds of potentially great photos ruined by fish in front of my lens. All you can do is keep shooting and hope that everything comes together. When it does, the results can be outstanding. There are not many other destinations in the world where you can shoot sharks in this environment.
Shark dives are also one of the only times I would recommend using electronic sync cables if you have them. This basically means you can shoot in bursts when the sharks pass by and give yourself more chance of getting sharp images. This option isn't available with fiber optics, as it takes time for your camera's pop-up flash to recycle the charge.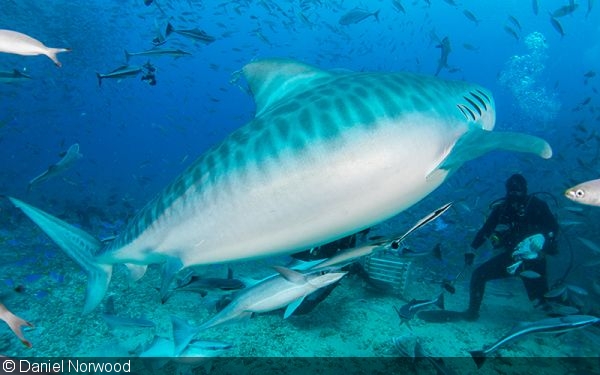 I have lost count of the times I have got excited to see large animals and completely forgotten about images and focusing on photography. Be ready!

Positioning yourself in the "shark arena" is also very important. Depending on your desired composition, I recommend that photographers take up one of two possible positions in the lineup. The first option is to head to either end of the group. By being the last person in the line, it is possible to shoot out away from the other divers into the blue and when the sharks approach get nice clean images with no bubbles or other distractions.
The second option (and one which provides very different results) is to get in the middle of the group and position yourself directly in front of the feeder. Here you can try to capture popular open mouth and teeth shots as the sharks come in to feed. Try both to add variety to your portfolio.

Beqa Lagoon offers much more than sharks: There are colorful bommies, crazy critters and endless soft coral reefs to be found a short boat ride away
Planning a Trip to Beqa Lagoon
When to Go: Diving is year round, but fewer bull sharks are seen in the months of November through January.
How to Get There: The water taxi to Beqa Lagoon Resort is just a two-hour drive from Nadi International Airport. This airport is visited by direct flights from Los Angeles, Sydney, and Hong Kong, among others.
Who to Dive With: Beqa Lagoon Resort provides knowledgeable dive guides, a dive center that caters to underwater photographers, and luxurious accommodations.
Entry Requirements: An up-to-date passport is required to obtain a visitor's visa, which can be purchased upon arrival.
RELATED CONTENT
Be the first to add a comment to this article.
Newsletter
Travel with us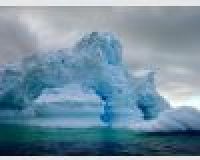 Antarctica
Plan Your Adventure >
Featured Photographer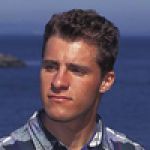 Brandon Cole
Expert Photographer
Brandon Cole is a wildlife photographer specializing in the marine environment. His portfolio includes one of the top cetacean files with over 25 species of whales and dolphins represented, fishes and invertebrates from...