Travel
Bangka: Indonesia's Lesser-Known Jewel
A shy anemonefish hiding in its home

Have you ever had difficulty deciding whether to visit a macro or wide-angle destination for your next underwater photo adventure? If so, Bangka Island could be the perfect destination for you, since there's no need to choose. Here, you will find the best of both worlds: There's great macro with some of the "most wanted" critters, and colorful, healthy reefs with beautiful coral gardens and abundant fish life. This small island in North Sulawesi, Indonesia, is located in the heart of the Coral Triangle and offers a huge marine biodiversity, with diving accessible year-round.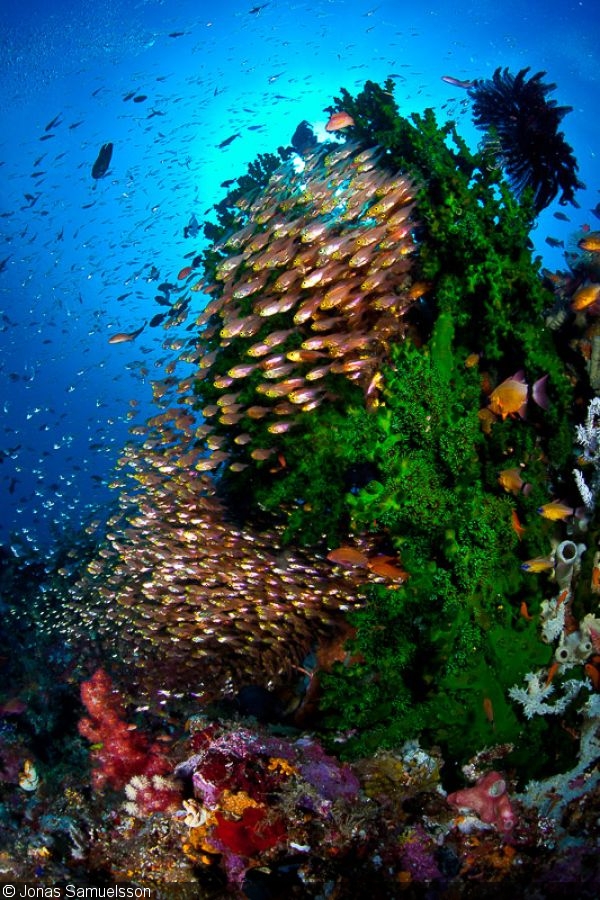 A typical Technicolor Bangka reef

Soft Coral Paradise?
On our first day of diving, we had no idea what to expect. Sure, we had read some articles and seen some pictures online of nice, colorful corals with great visibility, but that was as much as we knew. It was difficult to find more detailed information about Bangka, except that this promised to be a world-class soft coral dive destination—perhaps on a par with the likes of Fiji.
When our dive guide came and briefed us about the dive plan for the day, we quickly realized that there was so much more to Bangka than that. Still, when he started talking about muck and macro, we couldn't help but feel a little puzzled, given Bangka's reputation for soft corals. Did Bangka have as much in common with its nearby famous neighbor, Lembeh Strait? As serious macro fans, we were ready to go critter hunting!
Jumping into the water, the conditions were perfect for muck diving photography, with a slowly sloping sand area. It didn't take long to find our first critter subjects, and soon they kept emerging one by one throughout the dive: frogfish, nudibranchs, ghost pipefish, flamboyant cuttlefish, pygmy seahorses, and more.

A frogfish couple hang out at one of the muck sites

A wide-angle shot of an ornate ghost pipefish shows its surrounding habitat

Nudis like this Hypselodoris bullockii make good subjects for some interesting depth of field decisions

Spot the parasite! An Ocellaris clownfish with its intimate friend

Still, the main reason we chose Bangka was for the corals—and especially the soft corals. Would it live up to what we had heard? On the second day, our dive guide promised us we would find out.
After a 10-minute boat ride, we arrived at our first dive site of the day. The water was dark blue and, looking down from the boat, the visibility looked absolutely fantastic: you could see every little rock and coral that was down there—even as much as 80 feet below us.
Underwater, the visibility was as good as it looked from the surface, and the abundance and diversity of soft corals and fish life was everything we had hoped it would be. And with perfect weather and the incredible viz, we took our time trying to capture some nice sunballs.

Balancing foreground and background for a nice sunball shot

A lionfish hides among the colorful corals

After a week of tremendous diving, we began to wonder why Bangka remains "off the map" in the diving world. With some of the best coral and fish life in the region as well as a jaw-dropping complement of critters, this little-known gem really shines. And there's an added bonus: Which self-respecting underwater photographer wouldn't want a guide and dive boat all to yourself? It's a real joy to be able to do several dives without meeting any other divers. You will certainly have a hard time finding crowded dive sites in Bangka!

The health of Bangka's reefs are threatened by a new Chinese mining operation

Paradise Under Threat
Bangka offers some of healthiest corals we have seen, perhaps in no small part due to its relative lack of celebrity compared to its famous neighbors, Lembeh Strait and Bunaken. The question is only how long it will stay this pristine.
Unfortunately, there are plans to expand the mining industry of iron ore and other minerals on the island, a very real possibility as Bangka and the surrounding area, unlike Bunaken, are not protected as a marine park. Some damage has already been done—the Sipi dive site has suffered extensively after the mining company constructed a solid jetty, rather than a floating jetty—and if the project goes ahead in earnest, it will be devastating for the surrounding corals and marine environment.

A gorgonian moving in the current

Planning Your Trip to Bangka
When to Go: North Sulawesi has a dry season and a rainy season. The latter starts in November and ends in March.
How to Get There: Fly to Manado via airlines such as SilkAir, Garuda, and Lion Air. The resorts will arrange a pick-up at the airport. The drive to takes about two hours, followed by a short boat ride to reach Bangka.
Entry Requirements: Nationals of Brunei, Cambodia, Malaysia, Singapore, Thailand, Philippines, Vietnam, Hong Kong, Macau, Chile, Morocco, Ecuador and Peru can enter Indonesia free for up to 30 days. Citizens of most other countries can obtain a visa on arrival for US$35.
Where to Stay: Many of the resorts are basic and rustic, offering a close-to-nature experience. With reefs surrounding large parts of the island, most of the resorts have easy access to a house reef.
Who to Dive With: Murex Dive Resort offers an excellent house reef and a well-equipped a PADI-certified dive center.

RELATED CONTENT
Be the first to add a comment to this article.
Newsletter
Travel with us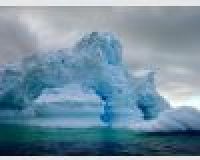 Antarctica
Plan Your Adventure >
Featured Photographer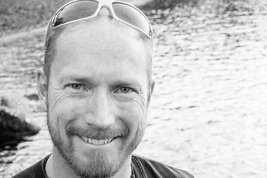 Stefan Beskow
Photographer
For me, one issue is more important than anything else. Time! When I dive I normally make long dives and try to dive whenever it's possible. Every dive is a potentially bad dive just as well a really good one, but you...