Travel
Baja Shark Photography Guide – Part I
A great white shark in all its glory, Guadalupe, Mexico

There are few places in the world that offer the kind of underwater biodiversity that you will find in Baja California, Mexico. The ocean surrounding the desert Baja Peninsula is an ocean oasis filled with wildlife. The nutrient-rich waters are home to approximately 900 species of fish, 36 species of marine mammals, thousands of breeding seabirds, and of course, lots of sharks. In this two-part feature, I will cover the best places and seasons that present the greatest photographic opportunities for sharks in Baja. Each of these locations is unique and different in the species you will find and the type of shark interaction you will have, and require different techniques for making the best of your time in the water.

Cage diving is the only safe way to photograph and interact with the great white shark
Isla Guadalupe: Great White Sharks
This isolated oceanic island lies 160 miles west of the Pacific side of northern Baja's Pacific coast. Guadalupe is arguably the best place in the world to photograph great white sharks. It's blue (30–100 feet-plus viz), waters are warmish (68–72°F/19–21°C) and there's an ample supply of big sharks, making this a shark photographer's haven.
All the diving here is cage diving and despite that, photographers still get a lot of great opportunities. There are surface cages and submersible cages, depending on which outfit you go with. Some liveaboards boast more submersibles, which can yield more cage time—this can be a big plus. Watch closely which cages get the most action. Sometimes, there are days or weeks where the sharks are more surface oriented and other times where the sharks stay deeper. It can depend on water temperature and other factors. Feel free to ask the crew to rearrange which cage you are assigned to based on the action, but remember to be courteous to crew and other guests—likely you are not the only photographer on-board.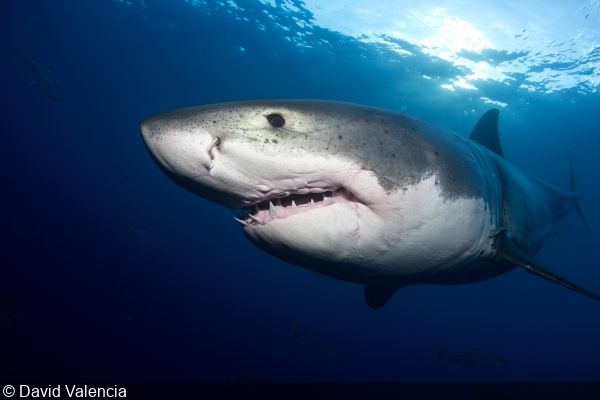 Guadalupe is the best place in the world to photograph great whites

If you're wondering when to go, there's no real bad time. However, the beginning of the season (July, August and September), you will encounter mostly smaller juvenile males in the 10 foot range. The big sharks start showing up around October and November, especially the larger females. These trips are usually filled with close passes with large, confident sharks. Whenever you decide to go, make sure you maximize your cage time. The more time you spend in the cage, the better chances you will have to capture that exciting shot you're after. Shark behavior can change fast and you will want to be in the water when it does.

To get the best images, spend as much time in the cage as possible and be ready for the action!

Photo Tips
A good place to start is wih an aperture of f/8, a shutter speed of 1/250s and ISO around 400. Water conditions can vary, so be ready to change these initial settings. Morning conditions can be calm and clear but sometimes there's a milky haze near the surface, which makes things rather bright. In the afternoon, the light can disappear behind the mountains, which makes things darker. Be prepared to adjust accordingly.
Strobes can be a cumbersome accessory in a crowded cage, and there is plenty of light on the surface so natural light can be enough on the surface cage and even in the submersible. Still, in my opinion, the pros of using artificial light outweigh the cons. Although the water is blue, there can be lots of debris, so adjust your strobes appropriately and constantly check your results during the slower moments. Keep them at half power so as not to blow out the white coloration on the sharks' bellies, and only have the strobes on when the sharks are coming in close enough for them to be effective; otherwise turn them off.

When the sharks come close, strobe light will help illuminate every detail of this apex predator

Another thing to bear in mind is to protect your expensive dome port! It's easy to get bumped around in the cage and not realize you hit your camera on the aluminum cage. I usually keep the palm of my hand on my dome at all times when not shooting. This also helps with freeing any bubbles that may want to stick to the dome. Some keep the cover on, but I find it's too easy to lose it and I've seen dome covers float away, so this is not an ideal solution.

Which Wide Angle Lens Is Best?
There is some degree of debate here. I recommend 10–17mm or 15mm, but even a 16–35mm will work as the sharks can sometimes be shy and keep their distance. I like to use the widest lens possible as I am always looking for that in-your-face shot as the shark slides right by the cage in front of the dome. Others may like to shoot the entire scene of tunas, yellowtail, white sharks, and cages. Generally, a zoom lens with some versatility is ideal, as you can adjust the settings depending on how close the sharks choose to come to the cage.

Perfect conditions and close passes provide the best photography opportunities

Multiple cages provide different angles to shoot the sharks

To get the best underwater images, you need to be creative. There are so many different angles and details to capture of these incredible sharks, so look at some images before your trip so you can visualize what you're looking for and set yourself up for success; for example, shots with light rays, close-ups, shots with the cage, multiple sharks, silhouette shots, open mouth shots, over-under shots, and endless other possibilities. Round out your great white shark shots with some topside action. Long lens shots or even drone images can really bring together your collection.

Recommended Operators
This year, the Mexican Government introduced a new national park fee of $75 per day to visit Guadalupe Island and this is not included in the price for your liveaboard.

The famous features of the great white shark are evident when captured in such close proximity
La Paz, Baja California Sur: Whale Sharks
One of the most sought-after species for shark photographers is the whale shark. Who knew that just a short 10-minute boat ride from the La Paz boardwalk (Malécon, as the locals call it), you could find the largest shark in the ocean. This accessibility makes this one of the most convenient spots in the world for some exceptional shark photography.

Another giant that can be found in Baja, the iconic whale shark

The whale sharks are located in an area recently declared a national park called El Mogote, which means "man-made hill." This is a shallow area that concentrates a great deal of plankton, so expect the water to be greenish and visibility in the 15–30 feet range. Strobes are not allowed—so no need to carry those along. One of the rules of the park is that all interactions are via snorkeling. Make sure you have a good set of fins because you will need to do some swimming to keep yourself in position if the sharks are moving. These whale sharks are constantly looking for plankton and they can swim until they find a good feeding area. When they feed, they change their posture to vertical and feed while swimming in circles. This is the best time to get that great open-mouthed feeding shot.

At the surface whale sharks can often be seen sucking in large mouthfuls of plankton

Photo Tips
Be ready! Have your settings dialed in before you jump in the water. It's even a good idea to focus your camera on your fin or hand as soon as you are in the water. This allows your camera to not have to search for a focus in the typically green and often murky water. Be aware of the sun's location on a sunny day. If you shoot into the sun when there's murky/green water, you may be disappointed with the reflection in your dome, and how the color looks in your camera. If you shoot with the sun at your back, you will find the color of the water much more pleasing and in some cases bluer.
With that in mind, try to position yourself well. If the sharks are swimming, I recommend gently swimming in the direction they are swimming, so you can engage with them for a longer period of time. If you swim towards them, they will pass you in a matter of seconds and it can be very difficult to catch up. Make sure you use a wide-angle lens for these behemoths. Although the sharks that frequent this area are juveniles, they are still in the 15–25 foot range. Sometimes you will want to fit the entire shark in the frame and other times you'll be looking to capture a certain behavior or detail.

Try to capture more than one animal in the frame if the opportunity presents itself

Other species in the area include mobulas and giant Pacific mantas, and even bottlenose dolphins can enter the scene. Be ready for these different animals, and be aware that other whale sharks may merge together when they are feeding, an excellent opportunity for the multi-shark shot. Feeding behavior is really interesting and unique to capture, as other whale shark aggregations around the world do not always exhibit this particluar behavior. The area where the whale sharks are found is usually calm, so it's a good opportunity to try your skills at over-unders if you have a big enough dome port.

Half-and-half shots are a great way to show how close to the surface whale sharks feed

Recommended Operators
The season for whale sharks is mid-October to end-April. The best time is November and December, as this is when the visibility is best, the water is warmer, and more whale sharks are in the area feeding.

Baja is the best place to photograph the planet's biggest fish

---

To see more of David's work, visit his Instagram page, where you can find even more epic Mexican shark images. Keep an eye out for Part II of this feature!
RELATED CONTENT
Be the first to add a comment to this article.
Newsletter
Travel with us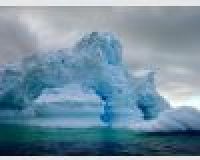 Antarctica
Plan Your Adventure >
Featured Photographer
Werner Thiele
Expert Photographer
Werner Thiele, born 1966 in Austria lives in the middle of the Tyrolean Alps. His images have been rewarded more than 190 times Gold, Silver and Bronze Medals on international competitions, including such prestigious Gold...