Travel
The Addictive Currents of God's Pocket
A lingcod glowers at the camera from the rocky reef at Aquarium

I learned most of what I needed to know about God's Pocket by watching the water right in front of the resort. The whales that feed at the mouth of the cove, the crows that call to one another from the forested shoreline, and most of all, the mighty tides.
When the boat from nearby Vancouver Island deposited us at Hurst Island, where world-renowned God's Pocket Resort is found, the cove was full of rich, green water. I distinctly remember that it covered the rocks and pilings on our arrival, because I spent a few minutes noting the location of a few pretty fish-eating anemones and marveling at the fact that I easily counted five different species of nudibranchs on the dock buoys. And I was stunned when—after unpacking and putting my camera rigs together, a three-hour task—I walked back down to the dock to see those same rocks fully exposed, kelp and barnacles glistening in the sun. It wasn't news to me that the tides here dictate everything divers do—optimal dive sites and times, of course, but also the timing of your wakeup call and your meals—but this stark display of British Columbia's water movement drove the fact home in a way words never had. Mind officially blown, and I wouldn't even be doing my first dive for another 12 hours.

A huge Tritonia nudibranch traverses the soft coral- and sponge-covered reef at Browning Wall

A red Irish lord tries, unsuccessfully, to blend into the sponge-encrusted wall at Seven Tree Island

Such huge tidal shifts can translate to ripping currents, of course—a skilled dive staff and well-timed dives make all the difference in ensuring divers' comfort and safety—but they also deliver huge rewards in the form of incredible marine life. The fuss in this regard is centered squarely on Browning Pass, an area that attracts even the most reluctant cold water divers to explore the chilly waters of British Columbia, with famed reefs that are said to rival any in the world. I closed my eyes that night and willed myself to sleep, but no dice—I was simply too excited. I'd been reading obsessively about this area ever since I first donned a drysuit 20 years ago and listened to countless repeat visitors extol the notable virtues of this place, but due to a series of life events and canceled trips, I had never managed to visit. I could scarcely believe I was finally here.
I was up long before breakfast the next day, trying unsuccessfully to hide the fact that among our group, I was the irritating "morning person" diver who was ready to hit the boat the second the sun was up. After our checkout dives in Hoodi Nudi Bay—a protected cove enclosing rocky reefs, a thatch of tall, orange sea pens, and an array of nudibranchs—we were off to one heck of an introduction at Seven Tree Island. This spectacular site, one of the crown jewels of the pass, was beyond my imagination, with the sheer wall and sloping rocky reef that circle the island so thickly covered with vivid soft corals and sponges that the area resembles a candy store—an underwater photographer's dream, one giant swath of gorgeous negative space.

Giant plumose and fish-eating anemones flourish in the shallows underneath the forested shoreline

Nestled among the fluffy invertebrate coverage are some of the equally gorgeous fish the area is famed for: brightly colored red Irish lords, kelp and rock greenlings, and frilly mosshead warbonnets. Against the jade-colored water, the result is a stunning kaleidoscope of color. We were dropped on this site during a perfectly timed slack tide, but the huge exchanges during our visit meant that the current had started picking up notably as we approached the end of our dive. Our group, mostly very experienced divers from California, executed a safety stop in a familiar way—by grasping the stalks of bull kelp to avoid being washed away—grinning at one another the whole time.
Seemingly more low-key sites like Aquarium, Hussar Point, and Snowfall were no less rewarding. Shallow rocks dotted with bull and palm kelp give way to slanted reefs blanketed in white plumose anemones punctuated by the occasional colorful fish-eating anemones. At Aquarium, I swam slowly, stopping to photograph a gaping lingcod and an enormous cabezon before becoming distracted by a huge, deeply hued lion's mane jellyfish pulsing by in the mellow current. One lucky diver surfaced, elated, hooting, "Who saw the giant pacific octopus? Just me? Only me? Well, don't worry, I got some shots!" Her delight was naturally met with a chorus of loud, envious boos and threats of tossing her camera overboard!

A deeply hued lion's mane jellyfish pulses by

The tide times delayed two "big ticket" dives to the latter days of our trip. Fantasy Island, a pinnacle that peeks through the surface and bottoms out at about 70 feet before it slants into the depths, is known for reliable wolf eel (actually elongated fish) sightings. We descended past a swirl of kelp to a tumble of anemone-covered rocks, and then started searching for the gray Muppet-y faces. I located one crunching on an urchin not long before I needed to begin my ascent, and I got close and grabbed a few images before alerting another eager photographer to the photo opportunity.
We wrapped up our trip at famed Browning Wall, a sheer drop-off so covered in soft corals and sponge and anemones that it's impossible to find a bare spot on which to rest a finger. Reefscapes, lingcod, and red Irish lords occupied the wide-angle shooters in our group, while the macro fanatics were rewarded with candy-stripe shrimp, mosshead warbonnets, and a bizarre-looking grunt sculpin. The current began picking up, and I realized I was the last one in the water. I was due on the boat in three minutes, just enough time to complete my safety stop. I drifted through the emerald water, surfacing to the sight of the rocky, serene beach whizzing past, yet another obsessed diver sucked into the addictive flow of Browning Pass.

A wolf eel enjoys a spiky snack at Fantasy Island

Shrimp can sometimes be found living among the branches of the orange sea pens in protected coves
Diving God's Pocket
Divers at God's Pocket Resort are offered three dives a day, usually timed with ebb or slack tide times. Because of this coordination with tide timing, dives are strictly scheduled, and dive time is limited to one hour without exception. Water temperatures during my visit ranged from 45°F to 50°F (7 to 10°C); a drysuit is obligatory.
Given the advanced nature of the diving here—walls, pinnacles, currents, and the likelihood of limited visibility and rapidly changing conditions—divers should be very comfortable diving a drysuit in a cold water environment; the resort requires divers to have a minimum of 100 dives, with at least 50 of them in a drysuit. This is especially true of underwater photographers, who should ensure that they can pursue photography without damaging the delicate invertebrate life that covers the reefs.

A sharpnose crab sways in the shallow waters at Browning Wall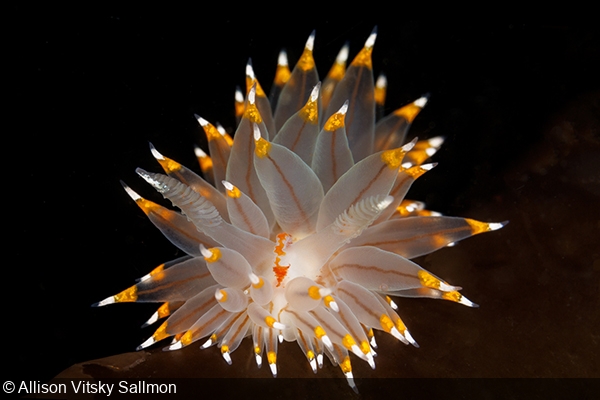 Checkout dives at Hoodi Nudi Bay deliver an array of nudibranchs, such as this Antiopella fusca
Underwater Photography Tips for God's Pocket
British Columbia's waters are incredibly nutrient-rich. Even during the clearest months, photographers can expect to experience at least some particulate, making capturing perfectly clean wide-angle images a challenge.
Avoid backscatter by getting as close as possible to your subject.
Take extra care with respect to strobe placement and aiming. A good starting point is to space your strobes the same distance apart from one another as the camera is to the subject; if you're very close to a smaller subject, you may find that your strobes will need to be quite close to your port.
Pulling your strobes back—the fronts of your strobes no further forward than the middle of your housing—can help ensure that strobe flash does not appear at the edges of your image as flare, especially critical if you're using a fisheye lens.
Patience is imperative: Work slowly and deliberately and review your images often so you can adjust your settings and strobe positioning as needed.
The kaleidoscope eye and multihued coloration of red Irish lords add to the beautiful colors of British Columbia's Browning Pass

---
About the Author: Allison Vitsky Sallmon's photographic work has been recognized in numerous international underwater photography competitions and published in books and magazines on diving, marine life, and nature photography. She is also an avid writer and commonly contributes articles on diving, travel, and marine conservation issues to North American dive media. Allison is founder and president of Dive into the Pink, a nonprofit organization that mobilizes the dive community to raise money for breast cancer research and survivor support. She is a proud member of the Women Divers Hall of Fame. www.avitsky.com
RELATED CONTENT
Be the first to add a comment to this article.
Newsletter
Travel with us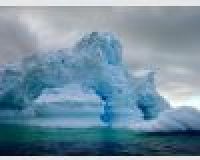 Antarctica
Plan Your Adventure >
Featured Photographer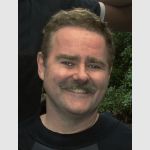 Scott Bennett
Expert Photographer
When he isn't applying his creative skills to one of the animation projects he's working on, Canadian Scott Bennett can frequently be found behind the lens of a camera. While on an extended business trip in the...