Wide Angle Underwater Photography at Night
By Joseph Tepper and Chase Darnell
Night diving is a fantastic opportunity to photograph macro critters and their unique behaviors that aren't seen during the daytime. But just because the sun goes down, that doesn't mean there aren't wide-angle opportunities as well.
Nighttime Wide-Angle Underwater Photography Subjects
If you've ever gone on a night dive before, you know that the stars of the show are macro critters—and with good reason. When the sun goes down, many subjects emerge that are otherwise absent during the day. There are also rare behaviors to be captured such as cleaning, feeding and hunting.
But there are a plethora of wide-angle subjects as well. Some of these subjects are on specialized dives. One such example is the famed Kona manta ray night dive. Here, dozens of mantas swoop around feeding off of plankton in the dead of night. Cocos is well known as well for a night dive, where countless whitetip sharks hunt in the dark. Finally, photographers are increasingly capturing coral spawning events at night.
Other than these specialized dives, traditional reef dives at night provide opportunities to photograph close-focus wide-angle subjects such as eels and various crustaceans. Shipwrecks are also popular night dive subjects, as the black background adds for an extra element of mood.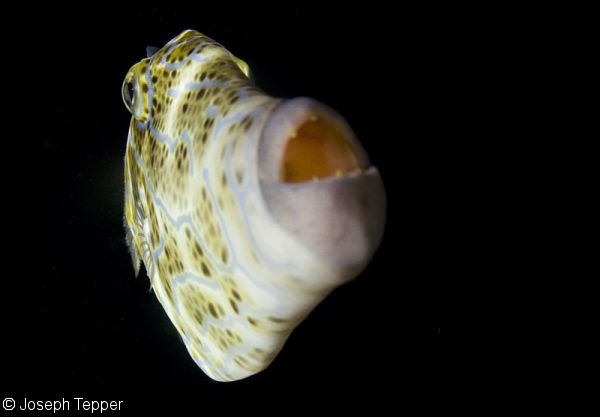 You never know what wide-angle subject you'll find at night—be it a filefish or a shark—so make sure you're prepared with the right gear and techniques
Photo Equipment for Wide-Angle Underwater Photography at Night
Compact camera users have a bit of an advantage here, as they aren't forced to choose an interchangeable lens, and rather can switch back and forth between macro and wide-angle by using wet lenses. A fisheye wet lens is important because it increases the field of view and allows the shooter to get much closer to large subjects.
Likewise, DSLR and mirrorless camera users will want to be equipped with their widest lens—preferably a fisheye or fisheye zoom. This is especially important at night, when your strobes are the only source of light. This means if you are more than five feet away from the subject, you will likely struggle to have enough strobe light illumination.
Getting close is especially important at night, when you're relying solely on your strobes to illuminate the subject
Speaking of lighting, a good focus or video light is a must. Don't rely on your on-board strobe focus lights: Often you'll want a focus light centered on the subject, while your strobes will provide more even lighting being pointed slightly away. A focus light with a red mode may be useful for focusing on subjects scared away from bright, white light.
Some subjects, while large, are timid when it comes to bright video lights. Using a red mode sometimes is less disturbing while also allowing your camera to focus
Wide-Angle Night Dive Photography Tips
Use a Fast Shutter Speed: One thing beginning photographers forget is the effect of their focus lights and fellow diver's torches at night. This can leave a noticeable spotlight effect in the middle of the frame or even overexpose certain subjects. This can be easily avoided by using fast shutter speeds (quicker than 1/160s), which will eliminate the effect of continuous light.
If you don't want a bright spot from your focus light or the lights of other divers to appear in the frame, make sure to use a shutter speed of at least 1/160s
Continuous Autofocus Mode: With continuous autofocus, your camera is constantly adjusting focus as the subject moves from the instant you half-press the shutter. Using this at night can help with moving subjects in low-light conditions. However, if you find that your camera is still struggling given the low-light conditions, you may want to lock focus manually.
Lock Focus: Sometimes, even with a focus light, your camera can struggle to focus on fast-moving wide-angle subjects. In this case, the best approach might be to lock your focus at the distance you're shooting from. Ideally, if you're shooting at f/8, you'll want to lock focus manually on a subject roughly three feet in front of the port.
Even with a focus light, your camera may struggle to achieve focus at night. If this happens, use manual focus to lock on to the distance at which you're shooting with an aperture of f/8
Get Close for Color: Coral reefs themselves make for interesting subjects at night. By getting close (within two feet), you can illuminate the bright colors of soft coral, hard coral, and sponges with strobe light. Unlike during the day when you want to consider a large reef scene, at night it's best to choose one or two reef elements to focus your strobe light on to make the color pop from the black background.
Video Light with Burst Mode: An alternative option is to use a powerful video light (more than 2,000 lumens) both as a focus light and as the primary light source. This works best in situations where you want to be able to shoot in burst mode without waiting for a strobe to recharge. For example, by using burst mode, fast shutter speeds and a video light, you have a better chance of capturing a killer image of a whitetip shark feeding frenzy in Cocos.
If you want to be able to shoot in burst mode, consider using a video light as your sole source to avoid the recycle time of strobes
Learning Wide-Angle Photography at Night: There's also something to be said for using night dives to practice wide-angle lighting technique. As long as you're comfortable in the dark environment, night dives are a great learning environment. Unlike daytime, when you have to balance the artificial light with sunlight, at night the sole source of illumination is from your strobe or video light.
Final Thoughts
Night diving photography certainly conjures up images of rare critters emerging from the reef and sand, but learning how to shoot wide angle in the dark is a useful skill. From the famed manta night dive to shark feeding frenzies, going wide at night can produce stunning images.
Dolphins, manta rays, and sharks are just some of the wide-angle subjects that come out to play at night
RELATED CONTENT
Be the first to add a comment to this article.
Newsletter
Travel with us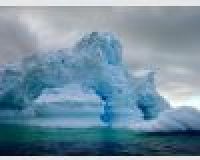 Antarctica
Plan Your Adventure >
Featured Photographer
Mark Thorpe
Expert Photographer
I started shooting underwater photographs way back in the early 90's during a military posting to Djibouti, as soon as my head went underwater for the first time I knew I had found my calling. On leaving the service I...