Watermarking In Lightroom 3
In my previous article, I listed the top 5 new features of Lightroom 3 and Photoshop CS5 that I think field and underwater photographers will like the most. In the next few weeks I will be going into detail on how to use each of the new features. To start things off, let's take a look at Lightroom 3's new watermarking feature.

Now, I can easily make our exploration of Lighroom 3's new watermarking tool a discussion about how to properly mark your images and copyright law, but I'll spare both of us the trouble. I'll leave that up to you and your copyright attorney. If you are new to the concept, reference DPG's article dedicated strictly to copyrights. Just remember your basic goal with watermarking is to let others know the image they are looking at belongs to you and isn't up for grabs.

The options available to us for adding a watermark are adding a company or personal logo, or a simple text field. We'll go over both here, but I always add my company logo to my images. In previous versions of Lightroom we were tightly restricted as to what kind of watermark we could add. We were not able to add a logo, nor were we able to control the placement of the watermark, the font used, the size and position of the font, or the color of the text. In Lightroom 3, that's all changed and many more options are available.

Step 1
In Lightroom's grid view in the Library module, select the images you want to export and add a watermark to. Control + click (mac) or right click (PC) on any selected thumbnail. An option menu will pop up. Look for and click 'Export" to begin the process.

Step 2
Once your export dialogue is open, look toward the bottom for the Watermarking panel. Check the watermark box and then select "Edit Watermarks…" in the drop down menu.

Step 3
Your Watermark Editor will pop up and you can immediately start to see the possibilities and the differences with Lightroom 3 and prior versions. As your first step in the editor, select whether or not you want to add a text or a graphic watermark. If you choose text, go to the bottom of the editor to type in your preferred text. You can then adjust the look of your text in the "Text Options" panel. This is where geeky people like me start to get excited, because these custom options were not available in earlier versions of the program. You can now adjust the font color, alignment, style (bold text or not), and even adjust the qualities of the text's drop shadow.


Step 4
To add a graphic watermark or logo, go back to the top of the watermark editor and select "Graphic" as your "Watermark Style." You'll of course need to create a logo if you don't already have one, and have a jpeg version available. Don't worry too much about size as Lightroom allows you to size your logo accordingly. That said, I wouldn't suggest doing something crazy like working with a 300mb logo file.

Look in the upper right for the Image Options panel and click on "Choose" to find the graphic or logo on your computer you want to use. Once selected, your logo will automatically appear on the image, and you can start dialing in the details in the "Watermark Effects" panel. From your watermarks opacity, to its size, to where it sits on the image, I think the effects panel gives you everything you need regardless of whether you are adding a graphic or text.

Once you are finished getting your watermark to look the way you want, click on the drop down menu in the upper left of the "Watermark Editor" to save your new preset.

Step 5
Name your new watermark preset whatever you like. In my case I named it "My Logo Preset." Click "Create" to save and then click "Save" in the lower right of the Watermark Editor to get back to the export dialogue.
Step 6

You can create several different looks for different outputs. You may want your web site to look different from what you email, or different from what you post on Facebook or Flickr. Either way, your new preset will appear in the in the export dialogue and in the Watermark Panel from now on, so you don't have to repeat this process each time.

When you batch export now or in the future, select the new watermarking preset, create your other preferred export options and click "Export" in the lower left of the export dialogue. If you create multiple watermark presets, simply select the look you want and go. Easy!
Of course, the end result is batched images with professional looking watermarks perfectly and consistently placed on all your images. Stay tuned for the next article on Photoshop CS5 and Lightroom 3's top five features focusing on Lightroom and ACR's new noise reduction technology—cool stuff!

Jason Bradley is a professional nature and underwater photographer based in Monterey, California. He leads seminars on digital workflow using Adobe products and field expeditions immersing the photographer in coastal and underwater environments. To see his work and view a list of upcoming workshops, visit www.BradleyPhotographic.com

RELATED CONTENT Jan 17, 2011 1:18 AM
amr rakha
wrote:
you know i registered on this website ... just to thank you on the pretty clever steps for the watermarking ... i was searching a lot to know how to do it ...
million thanx :)
Newsletter
Travel with us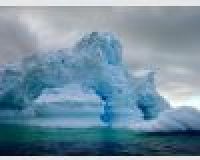 Antarctica
Plan Your Adventure >
Featured Photographer
Franco Banfi
Expert Photographer
Franco Banfi was born in Switzerland in 1958 and started diving in 1981. Although in Switzerland there is no sea, there are many lakes and rivers. In one of these lakes Franco learned how to dive and one year later was immersed...