Post-Processing for Beginners: Basic Photoshop
In this tutorial, we focus on the basics of Photoshop so you can create subtle changes
In this second tutorial on basic post-processing, we open Pandora's Box. That's right! We are going to start you down the path of editing your underwater photos in Adobe Photoshop. First, forget all the nonsense you have heard (and think) about Photoshop as a supremely powerful tool that can make your images into whatever you can dream.
Photoshop is not an Instagram filter; it is very complex software that can create incredible digital art. People who don't understand it, tend to mock it as something "real" photographers don't do. This is a long debate and we won't go into it here in depth, but in an era when many cameras can create instant digital composite images with only minimal effort, why are people so afraid of Photoshop?
How much post-processing you do is your choice. After mastering the basic "developing" steps in Adobe Lightroom, the logical next step is a dedicated editing program like Photoshop. The critical lessons here revolve around the concept of layers and how masking works. These two concepts are the foundation of all Photoshop projects. Understand them, even at the most basic level, and it will open incredible new avenues for you to explore. In these tutorials, we will only use a few basic tools. Ignore everything else on the screen! There is a huge array of confusing icons and terminology in Photoshop, so only focus on one or two things at a time. Alright, let's get started.

Introduction to Photoshop and Simple Editing Steps
The first step of any edit is going to be in Lightroom or Camera RAW (the predecessor to Lightroom that us dinosaurs like to still use). Everything flows top-down and goes in a logical sequence. The difference now is that we will be taking our Lightroom product into Photoshop when we are done. What this means is that you need to develop an understanding of the entire process, and it will change what adjustments you make in Lightroom. You will quickly develop a feel for what you want to do, so don't be intimidated.

Before: Wow, who messed up that shot?! Too dark and strobes pointed in the wrong direction (Olympus OM-D E-M1, 8mm f/1.8 fisheye, f/5, 1/80s, ISO200)
Lightroom and Brightness Fixes in Photoshop

Finally, we launch into Photoshop. To start with, our focus is on a close-focus wide-angle image shot in poor conditions. In the original picture, the strobes were angled too far apart for this kind of shot, leaving overexposed edges and a shadow in the middle. In Photoshop, this is an easy fix when we introduce the concept of masking.

Making Color Tweaks in Photoshop

With our lighting fixed, it is time to tackle some color balancing. We do this by adjusting the hue, saturation, and darkness of the primary colors in our image. By being able to adjust these values for each color, we can make small tweaks that create a powerful final effect. Finally, we focus on getting the shadow colors to look correct. Underwater shadows are very tricky, and they can look unnatural to our eyes. Photoshop is a great tool for making your shadows stand out less and putting the focus where it belongs.

After: With only a couple minutes work, we have a much better image that looks very natural
Simple Fixes in Lightroom
Before: Single strobe low to create dramatic lighting. Problem is we created some funky cyan shadows (Olympus OM-D E-M1, 60mm f/2.8 macro, f/8, 1/80s, ISO100)


For this second image, we start by making our Lightroom adjustments. The final goal here is to create a black background and that allows us to push the shadow and black sliders further than we normally would if we were only working in Lightroom. Having a coherent vision of what you want the final product to look like is critical, and it will heavily influence these first basic steps. Little changes in the early Lightroom stages can save you a lot of time in Photoshop, where things are more complex.

Fixing Shadow Color and Depth in Photoshop

We continue the transformation of our dramatically lit fish shot in Photoshop. Once again, we focus on changing the color and depth of the shadows. Underwater shadows are the color of the ambient water, and these jump out as ugly and unnatural, especially when we are going with a black background. It is critical to fix these shadows so that they make sense with respect to the background colors. In this case, we want to make the background black, so we need shadows that are in the dark end of the grayscale.

After: Now, this is much more like what we were thinking when we set up the shot
Setting the Stage in Lightroom
A decent image, but the lighting has drawn the focus away from the subject in the center (Olympus OM-D E-M1, 60mm f/2.8 macro, f/5, 1/200s, ISO100)


This little nudibranch is going to be our most extreme makeover yet. Our goal is to create a snoot effect but using Photoshop instead of a physical device. Upon closer examination, we see that the "face" area of the nudi has detail and is in sharp focus; the rest of the image has a bokeh effect. What we need to do in Lightroom is to knock those highlights down as much as possible before we begin the heavy lifting in Photoshop.

Creating an Easy Artificial Snoot Effect in Photoshop

In Photoshop, we can complete the snoot effect. Our emphasis here is on layers. We didn't just paint a single black layer on and try to make that work, because it never will. To get the effect, we apply numerous layers and build up the snoot and shadow effect slowly. The gradual buildup of black in a big stack of layers is critical to creating believable images. The result is an image that would appear to be shot with a snoot; it is not unnatural or artificial.

After: Looks like it was snooted in water, but this was acutally just 10 minutes in Photoshop
Final Thoughts
As you can see, these are all basic steps, but the results are dramatic. In Lightroom, we make adjustments that create our base, then in Photoshop we create our masterpiece. All these edits were done using only the most basic tools and all took less than 10 minutes. Now imagine what you can accomplish if you have an hour or two to play around with!
Don't go crazy just yet though. Take your time and get a strong understanding of how layers work and how to mask. Every minute you spend perfecting those easy steps will save you hours of frustration later.
RELATED CONTENT
Be the first to add a comment to this article.
Newsletter
Travel with us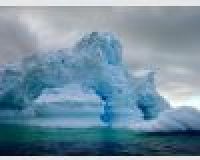 Antarctica
Plan Your Adventure >
Featured Photographer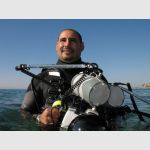 Noam Kortler
Expert Photographer
Noam Kortler is connected to the sea since he can remember him self. he was born on the coast of the Mediterranean sea of Israel and was diving and surfing when ever he could He moved to Eilat, the south popint of israel to...