Photographing Shipwrecks
Most shipwrecks are just that – they are wrecks. Once magnificent greyhounds of the oceans that have ingloriously run up on reefs, been ground down by waves and turned into undersea scrap yards. Or perhaps they were blown up by mines, torpedoed or dive bombed to the bottom. To make matters worse some wrecks continue to be pummeled, rolled, moved and demolished by waves driven deep by hurricanes. Ship wrecks are in essence wrecks first, ships second and the job of an underwater photographer is to make a "ship" picture out of a wreck. The philosophy is simple but the execution is extremely difficult.
The greatest problem any underwater photographer faces anywhere is visibility. It is a critical element in shipwreck photography. Take for example the challenge of making a picture of the 911-foot long aircraft carrier Oriskany off Pensacola in 40 feet of visibility. Get my point? Even in clear water it is difficult to "see" a small ship in its entirety and therefore hard as hell to make a true portrait of a ship. For instance it may be possible to photograph the entire bow but it really is a single feature, like a nose on a face. The wheelhouse is another single feature like eyes on a face.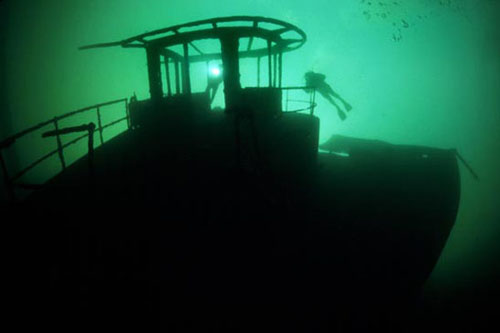 In good visibility the best plan is in wreck photography is to find a section of the ship that actually looks like a ship or a signature feature of that particular wreck. If the current will allow, back away from the wreck to get a larger perspective. Swim above it and around to find a provocative angle.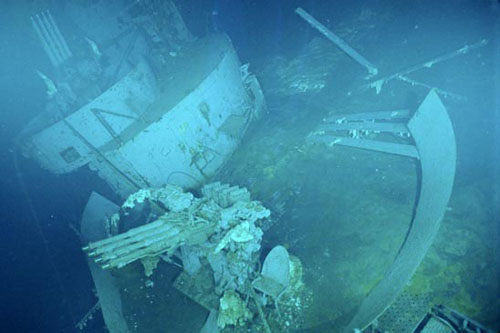 Once you have found your shot lets talk about scale and the tiny diver. Yes, a diver adds a sense of scale to the image and there seems to be some law of underwater photography that says you will fold your arms, carry a light and hover like a disinterested mannequin over the wreck. The little diver with a light is a cliché and I am among the guilty, but I still try and stretch my mind for another way of creating scale.
Do you homework on the wreck before you dive. In poor visibility or deep water you are limited and want to know where you are going. Signature features of a wreck may include a canon, deck guns, funnels, propellers, the wheel house…something that says something about that particular ship.
If you remember anything, remember this: A GOOD GUIDE IS PRICELESS, even in great visibility, and an absolute no brainer if you plan on any interior work. I use the wreck of the USS Coolidge in Vanuatu as an example. This ship is a luxury liner turned troop carrier sunk by a mine. A world class shipwreck that YES, you should get to if you are a wreck hound. The Coolidge may be a shore dive but she is a very seductive deep wreck with lots of incredible rooms filled with incredible things to photograph and she swallows bottom time you would not believe. Diving the Coolidge has the addictive qualities of crack, and a good dive guide will get you where you want to go fast and get you out, with pictures, alive.
My own gear bag for wreck photography includes a super wide angle rectilinear lens such as a Nikon 14mm or Nikon 14-24 mm zoom necessary for DX format cameras. The 10-24 or 12-24 zooms are also good. Again do your homework and know what lenses are compatible with your generation of digital camera and housing ports. Fisheye lenses are out because they bend and distort straight lines. For light I use two strobes on the housing and carry a mesh bag with weighted strobes that will fire on slaves to back light objects or light up interior rooms. And on the very rare occasion when there is an incredible wreck in a workable depth with a good mooring above or near it I may bite the bullet and try to use special HMI lights. This is a specialized, costly and very labor-intensive endeavor requiring cable wrangling and ship supplied power to a 1200-watt light head, but the effect of stage lighting a wreck is sometimes worth the trouble.
Last word on shooting shipwrecks: I am sad to say that some of the best artifact photography could now be accomplished just by walking into a wreck diver's basement. Take only photographs, leave everything else where it is.
RELATED CONTENT
Be the first to add a comment to this article.
Newsletter
Travel with us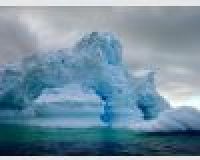 Antarctica
Plan Your Adventure >
Featured Photographer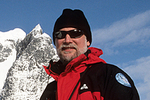 Chris Weaver
Expert Photographer
As a certified scuba diver since 1978, Chris Weaver has made hundreds of dives with his childhood friend Michael Salvarezza, taking photographs of their experiences in remote locations ranging from the temperate waters of Cocos...