Photographing Dwarf Minke Whales
The majestic dwarf minke whale, a seasonal visitor to the Great Barrier Reef

By Matt Curnock
Each Austral winter, dwarf minke whales migrate to the northern Great Barrier Reef. When they arrive, they aggregate in the vicinity of the Ribbon Reefs, north of Cairns, most likely for breeding purposes. The timing and location of this aggregation is remarkably predictable from year to year, and many of the same individual whales are seen for multiple years in the exact same locations. Their behavior is remarkable, and they are perhaps the most inquisitive and "friendly" species of whale on the planet.
As a researcher with the Minke Whale Project, I've been fortunate enough to swim with and photograph dwarf minke whales in the Ribbon Reefs annually since 1998. I first learned about underwater photography by taking whale pictures for photo-identification purposes, and by picking the brains of numerous professional photographers with whom I've shared dive trips over the years. In this article, I am passing on some key tips and tricks, learned over 25 years of photographing minkes, to help you get the best results from your Great Barrier Reef minke experience and underwater photography.

Snorkelers at the surface enjoy once-in-a-lifetime encounters with these gentle giants
Choosing a Trip
It's important to note that swimming with dwarf minke whales in the Great Barrier Reef requires a marine park permit. As of July 2022, only eight dive tour operators hold these permits. These operators are required to follow strict management guidelines and monitor their whale interactions. So the first step is to make sure that the operator you choose holds one of these permits.
The trips depart from Cairns or Port Douglas in Queensland, and 90% of minke whale encounters in the Great Barrier Reef occur in June and July, peaking in late June and early July. Booking around this time gives you the best opportunity to see more whales, for longer periods of time, while booking at the margins of the season (late May or early June; late July or early August) can be hit and miss. Because the window for the best interactions is so small, some of the operators' trips are sold out many months in advance, so book ahead as early as possible to avoid missing out. It is possible to get out to see the whales on a day trip boat from Port Douglas, but I strongly recommend choosing a liveaboard operator in order to spend at least a couple of days in the vicinity of the Ribbon Reefs.

Multiple whales visit the site and often stay for hours at a time

Vertical approaches to the surface provide the chance to capture the whales in a different format
What to Bring
The water temperature in the Ribbon Reefs during June and July usually varies between 72°F–79°F (22°C–26°C). This might not seem cold for folks used to diving in temperate waters, but some encounters with minke whales can last for several hours, and in this time you can lose a lot of body heat. I recommend wearing a 5mm steamer wetsuit with hood to allow you to spend as much time in the water with the whales as possible. Note that many of the permitted operators have good quality wetsuits available for hire, but it is best if you bring your own fins, mask and snorkel if you have them.
One of the great things about these trips is that you don't need to be a certified diver to swim with the whales, so no scuba gear is required and the best interactions, and photographs are captured at the surface using only snorkel gear. However, the liveaboard itineraries do include visits to a number of superb dive sites, so bring your dive equipment if you want to experience that as well.

The whales swim close to the surface so all that is required is a mask, fins, and snorkel

Scuba divers can also enjoy stellar reefs teeming with fish
Camera Equipment
As you would expect, you are going to need a wide-angle lens to capture images of minke whales, and a fisheye lens works best. Some folks prefer the look of a rectilinear lens, and I've seen some great photos taken with these, but if or when a whale comes super-close, you will need the extra field of view the fisheye provides to include the entire animal in the frame.
I use the popular Tokina 10–17mm fisheye zoom lens, which means I am also able to zoom in if the animals remain a little further away. This versatility means I am ready for all kinds of encounters no matter what the whales decide to do on any given day. I shoot with a Nikon D7200 in a Nauticam housing, and use dome ports of various sizes combined with a 45-degree magnifying viewfinder, which helps immensely with neck comfort during long water interactions on snorkel.

The whales come very close, so a fisheye lens is useful to fit their entirety in the frame

The Code of Practice for swimming with the whales specifies no flash photography. Bring strobes along if you intend to scuba dive on the reefs, but switch them off or leave them on the boat when the whales arrive. They won't improve your whale photos anyway—try lighting a 25-foot animal with a small flashgun and you will quickly realize you are wasting your time! If you have a separate topside camera, bring it along; a good telephoto lens will enable you to capture awesome images from the boat when you aren't in the water as well as some glorious sunsets each evening.
Another essential but unusual item for this particular trip is a quick-release tether. Constructed from a bicycle tube, some climbing rope, and a 25–30mm stainless steel snap-shackle, this device allows you to hold your camera with both hands whilst remaining safely connected to a surface rope and the boat. Wear the tube around your waist, snap the shackle onto the rope, and your hands are now free to steady your camera in choppy seas—and you won't drift away from the boat. The quick-release shackle is critical, in the very unlikely event of a whale catching onto the rope and dragging you underwater. Note that, due to this risk, the dive crew won't let you use such a device without a functioning quick release mechanism.

A custom-built tether lets you clip to the line and free up both hands to hold the camera
Camera Settings and Tips
As mentioned above, the best results are achieved with natural light only, near the surface, while snorkeling. Lighting conditions can vary dramatically and change suddenly (bright sun, passing clouds), which is why I tend to use the Shutter Priority mode. The whales' natural color markings vary from pure white to a dark metallic gray, with lots of intricate patterns, particularly around their shoulder region.
The white patch on their shoulder and pectoral fin tends to overexpose often, so for this reason I use my exposure compensation to deliberately underexpose by a half stop or more in bright, sunny conditions. Newer cameras with high dynamic range might not need to do this, but in any case, a low or base ISO setting will help you to get a more balanced exposure through the brighter hours of the day. If you prefer to shoot in manual mode and are unsure where to start, here are some settings to begin with:
Shutter speed: A minimum of 1/125s is recommended to avoid blurry photos. In full sun, I'm usually at 1/250s and am happy with the results.
Sensitivity: ISO100 through most of the day, bumping it up in the early morning or late afternoon.
Aperture: I usually set this to auto (Shutter Priority), as it will vary from f/7 to f/11 depending on the light level. If you're shooting manual with a crop-sensor camera, f/8 is a good place to start. Those with full-frame sensors and rectilinear lenses behind a dome, to improve corner sharpness, start with f/10.
Expose for the white patches on the pectoral fins to make sure you don't blow out the highlights

Include the surface in the image to add another element to the top of the frame

Shooting down from the surface shows another unique perspective

Capturing great photos isn't all about the camera settings, and some other useful advice for shooting minke whales will help you to get good results.
Firstly, It is very important to follow the Code of Conduct and do not chase or swim towards the whales. It is illegal and also pointless, as the whales will simply swim away, ruining your own interactions and upsetting your fellow passengers in the process. For the best encounters, relax and be calm on the snorkel rope and let the whales come to you. This may be the laziest whale swim experience in the world—all you have to do is lie there and wait! That being said, if you want to get the best images, be prepared to spend a long time in the water. Interactions with minkes can often last several hours, so you don't need to rush to be first off the boat. However, interesting opportunities can sometimes arise for those who stay in the water until the very last minute, when everyone else has returned to the boat. Patience is a virtue, and those who have it will enjoy the experience the most.
While waiting on the line, be sure to study each individual whale's behavior, as this will help you to predict when they may come close and at what angle they may approach from. Some whales will become bolder and approach more closely as time passes, so be prepared at all times and be ready to hit the shutter with a split-second's notice. Photographers who are prepared have the best chance of capturing dramatic lighting effects (e.g., sun rays in the late afternoon), multiple whales in the frame, cool poses (e.g., in mid-turn, arched back), and other interesting behaviors.
Sometimes the whales will arch their backs or display other behavior that is great to capture

When the whales pose for the camera, make sure you are ready to get the shot!
Post-processing
I won't go into too many details here, as there are lots of different ways to do this in variety of programs, but I usually start by white balancing from the white shoulder/flipper patch of the whale. I then add a touch of clarity, pull back the highlights and remove any annoying spots and backscatter that may distract from the subject of the image. I then sometimes fiddle with the whites and darken the blacks a bit. The image is then ready to publish!

A playful whale blows bubbles at the surface, making for an interesting behaviour shot
Final Thoughts
Whatever happens during your trip, it will always be dictated by the whales. Following the advice above will give you the best chance to get good photos from your minke whale encounters, but it is important to remember that these are wild animals in their natural environment. They are free to do their own thing, and there are no guarantees that they'll approach you or put on a show for your benefit. It's amazing that they show any interest in humans at all, and even if you only get a fleeting glimpse of a whale passing by, you can still consider it a privilege and special experience.

Share the Love
If you manage to capture images of the whales during your expedition, please consider donating them to the Minke Whale Project, so that researchers can identify the individual whales using their natural color patterns, and learn more about their movements and behavior. You can also join our beloved Facebook community of whale nerds in the group "Friends of the Minke Whale Project" and share stories, photos and highlights from your minke experience.

Another example of the healthy coral reefs that can be dived during a minke whale trip

---
Matt Curnock is an environmental-social scientist and whale nerd, based in Townsville, Australia. You can see more of his underwater photos on Instagram. Matt has also been featured as a DPG Photographer of the Week. To learn more about the whales and the research program that studies them, please visit www.minkewhaleproject.org.
RELATED CONTENT
Be the first to add a comment to this article.
Newsletter
Travel with us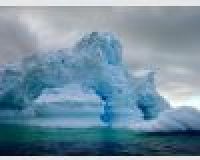 Antarctica
Plan Your Adventure >
Featured Photographer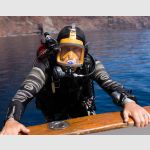 Jason Isley
Expert Photographer
Jason left UK in 1995 to travel Southeast Asia and soon discovered scuba diving in Cairns, Australia. Having completed his PADI Divemaster he then trained as an underwater cameraman and towards the end of 1996 joined Simon...