Underwater Photography on Oil Rigs
Southern California scuba diving is unique in many respects. Home to the beautiful giant kelp forests, the California coast is a haven to invertebrates as well as fish and big marine animals. But one of the most singular experiences one can have in Southern California is discovering the photography "black gold" of underwater oil rigs.
Diving California's Oil Rigs
Although oil rigs punctuate our world's oceans in almost every corner of the globe, there are only scant few that are accessible for diving. Southern California provides access to two of the most famous: the "Eureka" and "Elly & Ellen." Here's what an average day of diving on an oil rig is like:
The adventure begins with an early morning departure on one of the local dive boats. As always, I am charged with anticipation as we begin the tour toward our first stop, Eureka. The oil rig platform is eight miles from the shore of Long Beach, and the boat ride is relatively short. Boats are not allowed to tie up to the platform, so divers must be prepared for a live drop.
As I near the swim step, I glance up and notice several lazy sea lions are lounging on the tires that serve as bumpers for the oil rig's service boats. As we descend, we are immediately awed by the thousands of baitfish that are taking advantage of the shade provided by the platform. They shimmer and move in a synchronized dance that is mesmerizing. But then there is a palpable change as if the water itself is alive with excitement. The fish seem to cluster tightly in the center under the oil rig's platform and I see that there is a large school of bonito patrolling the outside of the structure.
Sea lions are one of many interesting underwater subjects that gather around oil rigs. Others include baitfish, cormorants, and macro critters
A large school of barracuda enters the structure and I see a bird swimming down toward them. It's a cormorant trying to catch its dinner. The barracuda are much too large for the bird, and it abruptly changes direction and heads for the school of baitfish.
The eco-palooza continues on the rig itself where there are mussels and scallops with beautiful strawberry anemones strewn between them. Brittle stars wave their arms from between the shells, and some of the empty shells are home to blennies. I see a yellowfin fringehead atop an empty shell that is full of the fish's eggs. There's even several of California's state marine fish, the Garibaldi, guarding large red patches that house their nest of eggs.
The oil rigs are great for diving year round, but most divers prefer the warmer months from August to December, when the water is potentially clearer and has less movement. They provide some of the best photo opportunities in Southern California. The structure under the platform makes a great background and the abundant life assures plenty of subjects. That being said, ocean conditions can be unpredictable, making photography a challenge.
Two of the most dived oil rigs are located in the waters off of Southern California
Underwater Photography Equipment for Oil Rigs
Whether you shoot video, use a compact camera, or DSLR, there is something for everyone. There is often a lot of action happening, so videographers are rarely disappointed. Be aware that available ambient light varies greatly depending on cloud cover, sun position, and even the density of the baitfish. For this reason, video lights and strobes are highly recommended, although filters work well too in the shallower range.
Compact camera users will benefit by having both wide-angle and macro wet lenses. However, changing a lens on a "bottomless" dive can be risky, and there is no place to set a camera down. Ideally, you should have a way to secure these extra lens attachments.
DSLR users will have to plan ahead. The oil rigs have both excellent macro and wide-angle opportunities, and sometimes it is the visibility that determines which setup to use. On days when the conditions aren't ideal, sticking to a macro setup will reduce your frustration.
Compact shooters are encouraged to use fisheye wet lenses to capture the wide scenes, and other subjects up close. But the "bottomless" environment means you should be careful taking them on and off
Oil Rig Photography Subjects
Sea lions: Sea lions are often curious and will approach divers to get a closer look. Be patient and wait for the sea lion to feel comfortable enough to come to within a foot or two of your lens so it can fill the frame. Keep your strobes on half power so that they will recycle quickly, and set your camera to shoot multiple frames per second. You can meter for your shutter speed, but often 1/100s works fine. If it is especially dark, you can go as low as 1/60s and rely on your strobes to freeze the movement of the sea lion.
A sea lion investigates a diver. For this encounter, don't chase after the sea lions. Rather, be patient and calm—they will usually approach you out of curiosity
Cormorants: Birds are especially fun to shoot underwater—but tricky. A wide-angle lens can yield dramatic results. Keep an eye on the movement of the baitfish. They will part when there are predators and their movements will become a bit harried when a hunter is among them. You can often hide behind part of the structure and watch for the cormorant to swim down to you. They will dive to a depth of 60 feet or more. They are usually surprised when they come across a diver, as they are focused on the hunt, so be prepared for them to suddenly bolt when they spot you.
Cormorants can dive down to 60 feet, so make sure to keep your head on a swivel and always be ready to increase your shutter speed to freeze these speedy subjects
Baitfish: The challenge with photographing baitfish is exposing for their reflective sides. You may have perfect settings for the water conditions, and the fish are blown out because of the reflection of the strobe light. Keep your strobes low and behind your housing handles, pointed slightly out. You may need to try several power settings, but start with 1/4 power. Baitfish are best photographed using manual strobe settings as TTL usually results in overexposure.
It can be difficult to photograph baitfish without blowing them out with strobe light. Start with minimum or 1/4 power and then adjust up
Other Fish Subjects (Garibaldi, Cabazon, Lingcod): There are several fish such as the Garibaldi that reside and nest on the structure of the rigs. Close-focus wide-angle shots with a fisheye lens work best for these. If the fish has eggs, you can get to within a few inches of the nest and the fish will remain close to protect its nest. Use a wide-angle lens focusing from 10–15mm to achieve the best results. Keep your strobes about as far apart as your subject is to your dome. In other words if you are two feet from the fish, place your strobes two feet apart.
A Garibaldi, California's state fish, can often be found on oil rigs in the region
Rig Structure: The encrusted oil rig structure itself is a stunning subject, much like a reef scenic. Try a circular fisheye lens (4.5–8mm) for a unique look. Background subjects such as divers and oil rig pilings will appear elongated or curved if they are along the outer edges of the lens. Be aware that lens flare is a challenge with a circular fisheye lens. Strobes should be pulled well behind and either under or above the camera housing. Composition is paramount because you cannot crop a circular image.
A circular fisheye lens produces unique results, while capturing a wide scene through a 180-degree field of view
Oil Rig Photography Tips and Techniques
Macro for Bad Conditions: While the wide-angle subjects might be the main draw of oil rigs, macro critters abound. Often, the surge makes it very difficult if not impossible to focus using various magnifiers. Look for nudibranchs, gobies, sea stars, crabs and shrimp. A focus light is a must. There is a lot of potential to make use of the open water as a background for your subjects, so if you want a nice black background, set your shutter speed as high as your camera will allow (1/250s or 1/320s), stop down your aperture (f/18 to f/32) and use an ISO of 100. For a blue background, set the ISO to 500 or higher, and your shutter speed to 1/100s. Keep the aperture around f/18 to preserve as much sharpness as you can in your image.
Pay attention to upcoming conditions before diving an oil rig. Stick to macro if it looks like the surface conditions or visibility may take a turn for the worse
Reduce Backscatter with a Snoot: If the visibility on the oil rigs is less than optimum, backscatter may become an issue. Wide-angle snoots can help to reduce backscatter. Simply put, reduce the angle of the beam of your strobe by putting something such as a PVC coupling or the cut-off sleeve of an old wetsuit around the end of your strobe. It should extend about an inch over the light to direct a narrower beam. If particles aren't lit in the first place, they cannot appear as backscatter in the image. Another trick is to take vertical images. This reduces the negative space in your image, giving less area for backscatter.
Using a snoot, or light modifier, helps focus the beam on a specific area in the foreground, which will help reduce backscatter throughout the rest of the frame
Oil Rig Potential Hazards: "Eureka" and "The Twins" are the only oil rigs that are open to scuba divers along the California coast. "Eureka" sits in approximately 700 feet of water and "The Twins" are about 260 feet above the sea floor. Because of the depth, scuba diving here is for advanced divers only. The rigs also sit in open water so there is a potential for current and surge. Divers must be comfortable with a live drop and must be able to control their buoyancy. Because the oil rigs are working rigs, resupply boats may visit while divers are under the structure. Engines on these boats usually remain running, so it is important to stay far away from them while diving. All divers should carry a surface marker buoy, and listen carefully to dive briefings and instructions about entering and exiting the structure. A magnetic compass is useless under the rigs, so divers should pay attention to their direction to avoid disorientation.
Planning a Trip to California's Oil Rigs
How to Get There: The nearest airports are in Los Angeles (LAX), Long Beach (LGB) and Orange County (SNA). All three airports are within 30 minutes of the Port of Long Beach, or San Pedro, where the dive operations are located.
When to Go: The oil rigs are open year round, but local divers prefer to go between July and December.
Ocean Temperature: California has temperate water (50–70 degrees Fahrenheit, 10–21 degrees Celsius). Plan to wear a 7mm wetsuit, or a drysuit.
Who to Dive With: Sundiver International has both large and small (six pack) charters out of Long Beach Harbor. The Giant Stride (six pack) runs out of San Pedro Harbor.
Final Thoughts
Oil rigs aren't what you'd call a "traditional" dive environment. With a bottomless dive, changing conditions, and often exposed surface conditions, oil rigs are best suited for an intermediate photographer. But for those of you who have the opportunity to (legally) dive a rig, take it. They are often-forgotten underwater oases that draw in a bounty of life, such as marine mammals, baitfish, and even hunting birds who take the same plunge down onto the rig as an underwater photographer—just for a shorter period of time.
RELATED CONTENT
Be the first to add a comment to this article.
Newsletter
Travel with us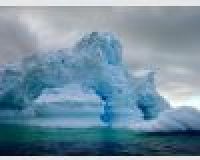 Antarctica
Plan Your Adventure >
Featured Photographer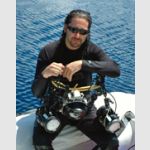 Jason Heller
Expert Photographer
Jason Heller is a New York City based commercial photographer specializing in underwater, travel & lifestyle photography. He is also the founder and publisher of DivePhotoGuide.com, a popular portal for the global community...