Image Orientation: Landscape vs. Portrait in Underwater Photography
There are a lot of initial instincts when we pick up a camera for the first time—or at least the first time in a long while. You might be quick to bullseye the subject in the middle of the frame, or be trigger happy with the shutter. Swiftly following these is the tendency to compose the photograph by holding the camera in its default position—horizontally.
If you were to look through your library of images right now, a fair bet is that the vast majority are taken horizontally, or in the proper imaging vernacular, "landscape" orientation. But many subjects and situations beg to be shot in the other orientation, known as "portrait." In this guide, we introduce you to the two orientations and give some tips for when to use each in your underwater photography.
Defining Landscape vs. Portrait Orientation
Unless your images are cropped or captured as a square—i.e., equal dimensions on all sides—they belong to two categories of orientation: landscape or portrait. The length of the longest side determines the orientation. For example, if the height of the image is longer than the width, it is a "portrait" format. Images where the width is longer are called "landscape."
The exact length of the sides is dependent on your aspect ratio, or the proportional relationship between the dimensions of the image. Aspect ratios can vary, but the most common (and default) on many cameras is 3:2. So a portrait image may be 3,000 pixels tall and 2,000 pixels wide, while a landscape shot would be 3,000 pixels wide and 2,000 pixels tall.
Instead of taking all of your images "horizontally," consider trying out a "vertical" orientation to increase the diversity of your image compositions
As mentioned above, landscape orientation is often the default: Our cameras are designed with the grip on the side so when held naturally the image is "landscape" oriented. Our underwater housings also pigeonhole photographers, with one or both handles and arms located on the sides.
In and out of underwater housings, it takes a rotation of 90 degrees to produce a "portrait"-oriented image. (Note: You can accomplish this by rotating in post-process, but this is often an after-the-fact thought rather than a conscious compositional decision.)
Consider the shape of your subjects. Long and thin subjects, such as nudibranchs or eels, make for compelling "portrait" orientation subjects
Choosing an Orientation in Underwater Photography
So how does one go about choosing which way to orient an image? Largely, it comes down two main considerations: The direction of lines in the scene and compositional balance.
When you have identified a subject, take note of any dominant lines in the composition. The most obvious may be in the title of the horizontal image orientation: "landscape," or in our case, "seascape." In these images, there is often a primary horizon line crossing the scene. By sticking to a horizontal composition, we are able to include as much of this line, and the scene, as possible.
But this might change if our scene transitions to the side of a dramatic wall, where the compositional line of the wall runs top to bottom. Rotating the camera to a "portrait" landscape will include more of this compositional line.
Landscape images highlight long lines running horizontally, such as in this image of waves crashing into the top of a reef
A second factor that may help determine the "proper" orientation is the compositional balance of the scene. A strong photograph has not only a prime subject in the foreground, but a pleasing negative space that provides balance to the image. Choosing between portrait and landscape gives you control over how much negative space you want in the image.
Secondary subjects, such as other divers, schooling fish, and coral, are also considerations when choosing your orientation. An image of a reef scene might be made more interesting by using a portrait orientation to include a diver and schooling fish in the top half of the frame.
One final consideration is whether you want to fill the frame: Sometimes there is no pleasing negative space and your best choice is to fill as much of the frame as possible with the subject. In this case, it really comes down to the shape of the subject. Eels, for example, are ideal subjects for "portrait images," as they tend to be tall and skinny when photographed head-on.
Here, the vertical line created by the cave opening compliments the "portrait" orientation of the frame
Going Vertical: Tips for Portrait-Oriented Underwater Photography
Since "landscape" orientation is the go-to for many photographers, let's look at ways to include more vertically oriented shots in your portfolio. Here are your top tips for taking better "portrait"-oriented images:
Experiment: Honestly, just give it a try. This can be the hardest step: Getting out of the mindset of just shooting the same horizontal orientation. Sure, some subjects and scenes are no-brainers for a landscape orientation. But many subjects, such as fish portraits, big animals, and even macro critters, can be photographed both ways. So the next time you go on a dive, set a goal to take at least one image of every subject in a vertical format.
Many subjects and scenes can be photographed in either vertical or horizontal orientations. Trying both will increase the diversity of compositions in your portfolio
Shutter Finger on Top: So, which way do you want to rotate? There's no right answer for this. However, the majority of underwater photographers choose to rotate their cameras 90 degrees counterclockwise. This places the shutter button on the "top" of the housing, in a position that's comfortable for most.
Rotate Your Strobes, Too: When you rotate your camera underwater, you're also rotating your strobe(s). This adds the artificial light from the top and bottom of the frame, rather than the sides. In most cases, the natural, ambient sun light will illuminate the top of the frame, so you'll want to rotate your strobes so that they are once again illuminating from the side, or bottom of the frame to eliminate those shadows.
When you rotate your camera for a "portrait" landscape, remember to rotate the strobes too for even side lighting
Final Thoughts
In most cases, there is no single choice for image orientation. Your decision can be based on the specific subject, placement of compositional elements, or even artistic vision. Having said that, far too many underwater photographers fail to include "portrait"-oriented images in their portfolios. So, the next time you are snapping away at an amazing subject, be sure to rotate the camera. Remember that there's always one great reason to shoot vertically—for that precious magazine cover shot.
RELATED CONTENT
Be the first to add a comment to this article.
Newsletter
Travel with us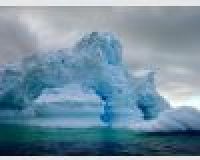 Antarctica
Plan Your Adventure >
Featured Photographer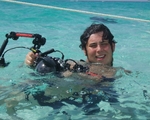 Joseph Tepper
Expert Photographer
I started diving at the age of ten and since that time have wanted to become a better photographer whether using a disposable Kodak waterproof (you know the blue ones) or my D300s. Last summer I received my dive-master in Grand...