Underwater Fashion Photography
By Aaron Wong
There is something mesmerizing about the way models and fabric move underwater that makes it a dream to photograph. I have done so for many years and I must say it is still every bit as fascinating as the first frame I shot.
As a fashion photographer, the make-believe world of glossy fashion images is nothing new, so I guess it is safe to say that bringing them into underwater was more of a natural progression. The weightlessness of the underwater world blows the window of creativity wide open and I know no other environment that can even remotely come close to the fluidity of this submerged realm.
The idea sounds simple enough: Just get a camera and a model into a pool, or is it? There's much more that goes behind each image than one may think. I started the WATER.COLORS project several years ago, but the project has gone from simple ideas to big budget commercial shoot. In 2011, it culminated when it was published into a 120-page coffee table book. There are many useful tips I have learnt over the years that will greatly help those who might want to consider trying it out yourself.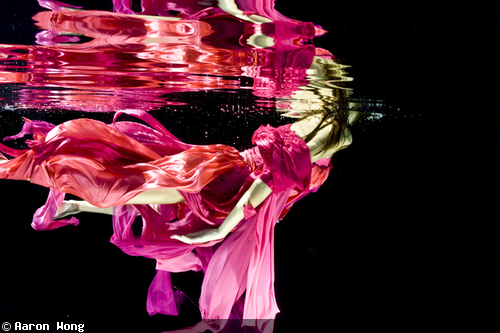 Finding the Right Approach
The first step I would say is starting off with the right approach. I have always said that everything starts with a good idea. Once you have that, one just have to stick to it and make it happen. For a start, you want to keep the idea simple. Be realistic about what you can achieve with your first try.
There really isn't a point to have grand ideas that your experience (or budget) doesn't allow. Try working with soft fabrics or outfits that is lose and flowy. This would best show the weightlessness of the water. (That is after all the key to why you are doing this.)
The next obvious factor is your model. This can be a big problem as you struggle between whether to select a model for her looks or her abilities. Needless to say, he or she must be comfortable in the water more than having the best looks. I have made it a point to train all my models before the shoot—this could be a pool session with my instructor or safety diver.
A quick acclimatization in the pool just before the shoot helps too. Get the models to open their eyes a few times underwater just to get her body familiarized. Being comfortable is crucial as the slightest stress shows in the end shot.
Underwater Fashion Photography Logistics
One other big problem you will encounter is communication, or rather, the absolute lack of it. We obviously cannot talk underwater and hand signs don't do any good either, as your models would most likely not be wearing a mask. Signal all you want, chances are, all that the model is going to see is a black blob that resembles a photographer.
So having a good briefing with your entire team on land before the shoot is key. Look at it as formation skydiving. Everyone in the team must know exactly what, how and when things work. Stick to the idea and collectively achieve it instead of merely going in just to see what you may get. You will see that proper planning goes a really long way.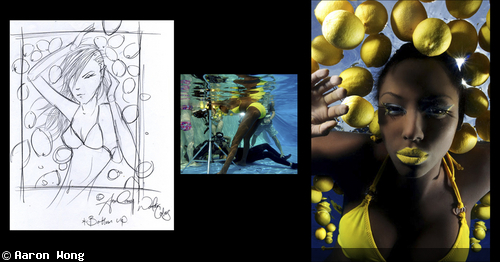 The other factor that is often over looked which ironically is the most important is safety. Remember this: A model underwater with weights strapped on can be a quick ticket to an emergency. I always have safety divers, assistants or first aid responders in the water with me. Any underwater shoot without one should not even happen. If anything, I should have made this my first point.
Underwater Fashion Setup
The setup for fashion photography is worlds away from marine imaging. Think of the water as your studio. The best way to do this is to use light stands, but if that is not available, several of your longest arms joined together will work. The only problem with this is that your strobes will move as your camera do. A change from landscape to portrait would throw your entire light set up off track, as will moving back and forth.
Consider investing in some light stands just to keep control over the lighting situation. However, with the strobes so far apart, triggering them becomes a challenge in itself. The only way is to customize your cables. Proper sync cords work best as fiber optics tend to be limited by how long they can be while being reliable. Cutting up and extending your sync cord is the easiest way though it will cost a bit. Trust me, it would still be cheaper than having one custom made.
There are several lenses that will work well with underwater pool shots. Depending on your needs, anything from 60mm to a 12-24mm works. Try to stay away from fish eye lenses. Remember, you are after all in the pool, so you will end up see more than you want to show with a fisheye.
For the really ambitious, you can also try creating a background. The best marital is, of course, a huge piece of cloth. Needless to say, that would need to be custom made. Trying using thinner materials, as the thicker ones have a tendency to hold too much air, making sinking them a challenge in itself! Either way, you will need a lot of weights. The weights that do get into frame will have to be removed in postproduction.
Getting the Shot
The basic rules of underwater photography still apply even in the pool: And that is, always get close and get low. Get the framing you want by moving back and forth rather than cropping in postproduction. Getting less water between you and your model will help with the colors. Remember that the scattering of colors happen even horizontally. Shoot upwards is obvious. You don't want to show the ugly tiles of the pool if you can.
As for lighting, always try to have a main light and a "fill light." The fill light is usually at least two stops under the main. Of course you can also forfeit the strobes and shoot with just ambient light. For that, it is best you do a custom white balance. For compact camera users without this function, be sure to set it to the "underwater mode," which is usually represented by a fish icon.
Try shooting the scene at least half stop under, as this will help bring out the colors. You can either set that in manual mode, or for those camera without manual functions, try using the exposure value (EV +/-): Set it to -0.7.
Keep in mind that most pools are light blue in color—this can create an unpleasant blue hue on the model's face. The easiest way to get rid of that is to have your model face up. This would allow the natural sun light to light up the face rather than the bounce from the blue floor.
Last but not least, you clearly need to be good underwater with good buoyancy control yourself. This is the bare minimum before you can consider any form of underwater photography.
Remember these simple points before you consider trying out. Have fun with the weightlessness and explore the possibilities within...
Be the first to add a comment to this article.
Newsletter
Travel with us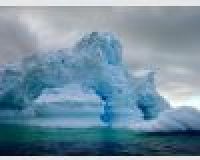 Antarctica
Plan Your Adventure >
Featured Photographer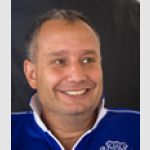 Pasquale Pascullo
Photographer
My style includes doing many repetitive dives on the same place. I get to know the animals, they get to know me! And I always tell my modeling fish subjects, \"I love you.\"