Equipment for DSLR Underwater Video

Let's say you have a DSLR video-capable camera with an underwater housing. Now what? Well, when it comes to outfitting the rest of your system to shoot high-caliber underwater video, there's good news and there's bad news. The good news: The majority of your current gear will work as well for video as stills. The bad news: You'll need to invest in dedicated video lights.

Lenses for DSLR Underwater Videography
Many of your existing lenses, ports, diopters and arms can serve a dual purpose: You can use them all to shoot photos and video. Shooting video with your DSLR doesn't require any special optics. I use the exact same glass that my photographic counterparts use. In fact, the versatility in lenses and ports between the two forms of media is one of the primary advantages of taking video with a DSLR.
But let's say you're in the market for a new lens and plan to utilize it for video too. As I mentioned in the previous article in this DSLR Underwater Video Series, the biggest benefit of using a DSLR to shoot video is the extreme focal lengths you have access to. With that said, I like to use really wide lenses (like the Tokina 10–17mm) or really long lenses (like the 100mm or 105mm) for both ends of the focal length spectrum.

Whether you shoot stills or video, you can use the same lenses—like the Tokina 10–17mm for wide angle and the Nikon 105mm for macro
Video Lights for DSLR Underwater Videography
To shoot high-quality video, you will need to invest in dedicated video lights. And by dedicated video light, we are talking not about "focus lights" (600 lumens or less) or your strobes' built-in focus lights. That's not nearly enough output to light up an entire scene.

Invest in the most powerful video lights you can afford—and consider their CRI and beam angle

As such, you'll need to invest in lights specifically designed for underwater video use. These benefit from three advantages over your average torch:
1. Intensity: Even "entry-level" video lights produce a minimum of 1,000 lumens. Using two dedicated video lights provides sufficient, even lighting, which allows you to stop down the aperture or increase the shutter speed in order to achieve the desired exposure. In addition to exposure, lights help generate color in your subject. Want to capture those vibrant reds and purples in a nudibranch? You will need powerful video lights to do so.
2. Color Rendering Index: Dedicated video lights feature superior color rendering index (CRI), which measures the ability of an artificial light source to reveal the colors of a given subject in relation to natural light. Higher values correspond to better performance. Keep an eye out not only for lumen output, but also the CRI—ideally higher than a CRI of 80.
3. Beam Angle: The final benefit of dedicated video lights is an increased beam angle. Most focus lights and torches produce relatively narrow beams of light. This isn't especially useful for lighting up larger scenes or even medium-sized subjects. Look for an underwater beam angle of 85 degrees or wider.

Even a moderately powerful pair of video lights is sufficient for shooting great macro video (video frame grab)
Equipment for DSLR Underwater Video in Natural Light
Bright lights are great for macro and close-focus wide-angle imaging, but not all situations will benefit from really bright lights. These situations generally involve subjects so large—shipwrecks and large reef scenes—that even the most powerful lights cannot light up.
When shooting wide angle, you can obtain great color reproduction without the use of lights. Instead, you can set the white balance manually (to be discussed in a future article) or stay really shallow, where you haven't lost all the red spectrum of natural light. Alternatively, you can consider using a color correction filter. Color correction filters are easy to use and can be applied to the front or back of your wide-angle lens, depending on brand and style. For more information, check out this article about using color correcting filters for underwater photography.

If you shoot video in shallow water, you can capture your subject without the need for artificial light
Setting Up a DSLR Underwater Video Rig
Just like your strobes, video lights need to be mounted to your housing in some way. You can certainly use your existing strobe arms; however, you may need to purchase an adapter or mount to connect the video light to the arm. Check with your manufacturer.
When it comes to the complexity of your entire rig, you can keep it simple or conversely, create what I call a "Franken-rig" (something that looks like it belongs in a Transformers movie). I prefer to keep it simple. For me, less is more. I don't like all sorts of extra brackets, lanyards, mini-cameras mounted on my hot shoe, and long, elaborate multi-piece light arms with floats.
I would recommend not using a tripod to start off with—or at all. Using a tripod reduces your rig's hydrodynamics and makes the shooting process more complex. Sometimes, water passes through the tripod and camera, shaking or even tipping the system over.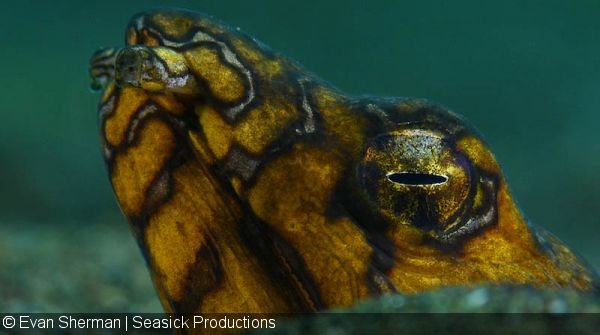 To get as low as possible for shooting macro, place your housing directly in the muck—and don't get bogged down with a tripod (video frame grab)

Most importantly, I find that using a tripod raises the camera higher off the bottom and forces you to shoot down on many of your subjects. For me that's a deal breaker. When shooting macro you want the camera as low as possible. So I prefer to place the housing directly in the muck, the sand or anywhere else there isn't living reef.
Once you've built-up general DSLR underwater video skills, and when the situation is right, then you can begin to utilize a tripod. This is especially useful for producing in-focus, stable footage of super-macro subjects.

Media Recording for DSLR Underwater Videography
When it comes to selecting media recording cards, I have some pretty simple advice. Don't use cheap, low-end cards. When shooting HD, I suggest cards with a minimum write speed of 45MB per second and if you are lucky enough to be shooting in 4K, stick with cards that write at 90MB per second or higher. Compared to photography, video requires media cards with a much faster read/write speed as there is more data being captured, processed, and stored. (Note: This is just a guideline and individual results may vary.)

Use fast, high-capacity recording media: A 32GB card holds over four hours of HD video—ensuring you've got enough space to capture each and every encounter
Final Thoughts
Shooting video takes time. It takes patience. And yes, it involves investing in additional pieces of equipment—like video lights. So you might be hesitant to invest more of your hard-earned cash into video experimentation, especially if you're a dedicated still shooter. But let me make the case.
Video lights aren't nearly as expensive as you might think (or than they were a decade ago). You can purchase a pair of high-quality continuous video lights for under $1000—even less than two strobes. What's more, video lights aren't just for video. Using continuous light for still photography—especially close-focus wide-angle and macro—is the latest trend. And you can use a tripod for creative techniques like fluorescent underwater imaging or self-modeling. So don't think of your video gear purchases as separate investments from still photography. Remember, passion fuels the artist, and tools allow the artist to be.

---
About the Author: Evan Sherman is the owner of Seasick Productions, a full-service multimedia company that specializes in underwater imaging. Based out of Orange County, California, Seasick Productions provides on-location and studio production services around the world. His professional underwater credits include television networks, Fortune 500 companies, and numerous entities within the dive industry. Evan's recent film, "Bali Close Up," earned top honors at the World ShootOut Underwater Photo Grand Prix in Germany, Video of the Year at the ADEX Voice of the Ocean Competition in Singapore, Best of Show and Stan Waterman Legacy Award at the Turquoise Bay International Underwater Film Festival in Roatán, and Silver in the video category of Our World Underwater 2016. He is a contributor to DivePhotoGuide and a Sea & Sea Alpha ambassador. Throughout the year, Evan conducts dive expeditions and imaging workshops.
RELATED CONTENT
Be the first to add a comment to this article.
Newsletter
Travel with us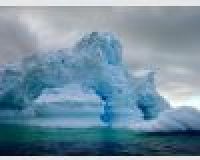 Antarctica
Plan Your Adventure >
Featured Photographer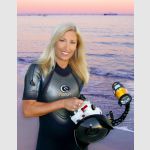 Tracy Kahn
Expert Photographer
Tracy has a unique specialty of shooting people underwater. She uses state of the art underwater digital equipment, as well as a variety of lighting techniques to create stunning, high quality underwater images. After years of...