Best Lenses for Sony E-Mount Full-Frame Mirrorless Cameras
By DPG Editorial Staff, with James Ferrara, August 24, 2018
While the lens selection for photographers shooting Sony interchangeable-lens cameras is more limited compared to that from the big DSLR makers, the full-frame underwater shooter is well catered to with the professional-grade optics offered by Sony. The Japanese manufacturer is also more than two decades into its partnership with German glass gurus Zeiss, and those collaborative efforts have yielded both noteworthy Zeiss and Sony-Zeiss lens creations. Sony's own premium lenses go under the G series (barrel logo: "G" on black background) and top-of-the-line G Master series (barrel logo: "G" on orange), which are designed to complement the high-resolution sensors found in the company's Alpha camera line.
One lens not offered by Sony—or Zeiss for that matter—is a high-quality full-frame fisheye. However, with EF-mount to E-mount adapters like that from Metabones, it's possible to use Canon's fisheye zoom on a Sony body retaining full functionality and autofocus speed and accuracy.
Let's take a look at the best lenses for underwater photographers with Sony E-mount full-frame mirrorless cameras:
Make/Model
Minimum Focus
Angle of View
Weight (Air)
Price
Canon EF 8–15mm f/4L Fisheye
+ Metabones Adapter
6.3in/16cm
180°
19.1oz/540g
$1250
+ $400
Sony FE 12–24mm f/4 G
11in/28cm
122°–84°
20oz/565g
$1700
Zeiss Batis f/2.8/18mm
9.8in/25cm
99°
11.6oz/330g
$1400
Sony Zeiss Vario-Tessar
FE 16–35mm f/4 ZA OSS
11in/28cm
107°–63°
18.3oz/518g
$1350
Sony Zeiss Distagon
FE 35mm f/1.4 ZA
11.8in/30cm
63°
22.3oz/630g
$1600
Sony FE 50mm f/2.8 Macro
6.3in/16cm
47°
8.4oz/236g
$450
Sony FE 90mm f/2.8 Macro G OSS
11in/28cm
27°
21.2oz/602g
$1100

Recommended lenses for Sony full-frame mirrorless cameras compared
Canon EF 8–15mm f/4L Fisheye + Metabones Adapter
For Sony full-frame users, the only fisheye option is the Canon 8–15mm in combination with an appropriate adapter like the Metabones. Fortunately, this is an optically first-rate lens, producing vibrant images that are sharp all the way to the corners and snapping to focus almost instantaneously. Close-focus wide-angle shots can be achieved with ease due to the near-zero minimum focus distance. And then there's the bonus: As well as frame-filling fisheye at the 15mm end, you've got circular fisheye at the 8mm end, adding yet another dimension of creativity to your photography.
$1250 | www.backscatter.com | $400 | www.metabones.com
Sony FE 12–24mm f/4 G
If you're not smitten by the distortion of the Canon fisheye, this ultra-wide rectilinear zoom should fully satisfy your wide-angle cravings. Sony has managed to engineer a relatively lightweight and compact lens with a reasonable price tag—it's half the weight and a little more than half the price of Canon's equivalent ultra-wide. Expect mind-blowing perspectives and excellent sharpness, perfect for wrecks, large reef scenes, and the biggest animals—in a lens not much bigger and heavier than the 16–35mm f/4. The only real consideration is the expense of the dome port you'll need with this lens.
$1700 | www.backscatter.com
A tiger shark captured with the Zeiss Batis 18mm
Zeiss Batis 2.8/18
The Zeiss Batis 18mm is the perfect wide-angle lens for photographing fast-moving sea life. Fleeting wildlife interactions means little time to prepare image settings, and the rapid autofocus of the Batis 18mm allows you to keep up with the action. This lens consistently produces beautifully crisp images, even with the challenges of unpredictable marine subjects, and the shallow depth of field when used at maximum aperture opens up possibilities for different styles of shots. Being a prime, the Batis 18mm is also comparatively compact and lightweight, a bonus for photographers wanting to streamline their underwater setups. James Ferrara
$1400 | www.zeiss.com
Sony Zeiss Vario-Tessar FE 16–35mm f/4
The Sony 16–35mm is the go-to lens for many a wide-angle shooter. With an eminently usable focal length range, it's great for medium-sized subjects like turtles, but wide enough for reefscapes and big animals. Being a rectilinear lens, it doesn't suffer the extreme distortion of a fisheye lens, so it's also ideal for wrecks and divers. Corner sharpness is superb across the focal length and aperture ranges. If you've got deep pockets, Sony also offers a G Master version, the FE 16–35mm f/2.8 GM ($2,200), which promises even more impressive sharpness as well as beautiful bokeh.
$1350 | www.backscatter.com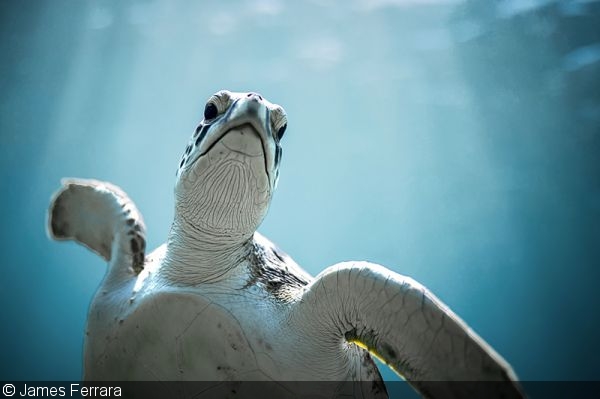 A sea turtle photographed with the Sony Zeiss Distagon 35mm
Sony Zeiss Distagon FE 35mm f/1.4
An ideal choice for larger subjects that are further away, such as sharks and turtles, the Sony Zeiss Distagon 35mm works best in clear water with reduced chances of backscatter. The minimum focal distance of around a foot still allows you to get up-close detail shots of your subject, while autofocus is fast, though not quite as quick as the Zeiss Batis 18mm. As you'd expect with a prime lens, image quality and sharpness are exceptional. Shooting at apertures as low as f/1.4 gives you the opportunity to make the most of the attractive bokeh of this lens. James Ferrara
$1600 | www.sony.com
Sony FE 50mm f/2.8 Macro
Optically excellent, this versatile "short" macro lens offers underwater photographers great opportunitites to shoot close-up environmental portraits of small subjects, while bigger creatures like turtles and even sharks are also fair game. In practice, while true 1:1 macro is possible for almost-stationary subjects like nudibranchs, the working distance is too short for skittish critters like gobies and blennies, and achieving even lighting becomes difficult. Although autofocus is reasonably fast, the lens is prone to hunting, making working in low-light conditions frustratingly difficult.
$450 | www.backscatter.com
Sony FE 90mm f/2.8 Macro G
Images produced with the Sony 90mm are impeccably sharp from corner to corner, with a very pleasing bokeh and virtually imperceptible distortion. The adequate working distance makes it possible to capture spectacular 1:1 close-ups, even with more skittish subjects. The lens can also be used with a wet diopter for creative super-macro images. Getting the most out of the lens requires practice and patience, but the best performance can only be achieved under very forgiving lighting conditions. In lower-light, lower-contrast situations, the lens often fails to lock focus.
$1100 | www.backscatter.com
Nudibranch shot with the Sony 90mm
Final Thoughts
Its leading position in full-frame mirrorless camera technology may be under threat from the likes of Nikon and Canon, but Sony is, ironically, well ahead in terms of native lenses. And even when compared side by side with the lenses on offer for Canon's and Nikon's full-frame DSLRs, the Sony, Zeiss and Sony-Zeiss lenses are impressive.
Wide-angle shooters who want a fisheye perspective will still need to go with the Canon 8–15mm and an appropriate adapter. If not, either the 12–24mm or 16–35mm are excellent choices, though few would justify owning both. If you want maximum optical quality and superior bokeh, you can also consider prime wide-angle lenses—the Zeiss 18mm and Sony Zeiss 35mm. You'll be forgoing the convenience of zoom in favor of a faster maximum aperture. Macro shooters may be generally dissatisfied with the performance of their Sony full-frame camera with either of the macro lenses here, as both are prone to autofocus issues in the demanding conditions underwater, but due to the working distance, the optically outstanding 90mm remains the obvious choice for "true" macro.
---

When purchasing underwater photography equipment like the products mentioned in this article, please support DPG by supporting our retail partner—Backscatter.com.
RELATED CONTENT
Be the first to add a comment to this article.
Newsletter
Travel with us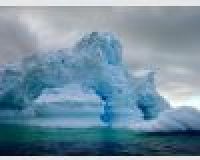 Antarctica
Plan Your Adventure >
Featured Photographer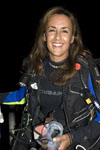 Michele Hall
Expert Photographer
Michele\'s work in film production began in 1991 when she retired from a 19-year career as a pediatric nurse. In addition to taking underwater still photographs and authoring a children\'s book on sharks, she has...