Best Lenses for Nikon Full-Frame DSLRs
By DPG Editorial Staff, October 7, 2017
While there is an excellent selection of lenses optimized for Nikon's cropped sensor "DX" format DSLRs, both from Nikon and other manufacturers, the best quality glass is reserved for Nikon's full-frame "FX" format cameras. As you'd expect, lenses for full-frame bodies tend to be heavier and bulkier than their "DX" counterparts, which is one reason why underwater photographers prefer the latter format, but there can be little doubt that Nikon aims to maximize the optical quality of its full-frame lenses.
If you want the highest-quality "Nikkor" lenses, as Nikon calls them, you should look to its "Gold Ring" series—denoted, unsurprisingly, by the gold ring on the edge of the lens barrel—which include technologies such as Aspherical and Extra-Low Dispersion elements and Nano Crystal Coat antireflection coating. Just a few "Gold Ring" lenses are "DX" format; the vast majority are "FX" lenses. Note that unlike Canon, Nikon's full-frame bodies are compatible with "DX" lenses; the camera automatically goes into "DX" crop mode if a "DX" lens is attached.
Here's our pick of lenses for Nikon full-frame DSLRs that are best suited to underwater photography:
| Make/Model | Minimum Focus | Angle of View | Weight (Air) | Price |
| --- | --- | --- | --- | --- |
| Nikkor AF-S 8–15mm f/3.5–4.5 | 6.3in/16cm | 180–175° | 17.2oz/485g | $1100 |
| Sigma 15mm f/2.8 EX DG Fisheye | 5.9in/15cm | 180° | 13oz/370g | $610 |
| Nikkor AF-S 14–24mm f/2.8G ED | 11in/28cm | 114–84° | 35.3oz/1000g | $1900 |
| Nikkor AF-S 16–35mm f/4G ED VR | 11.4in/29cm | 107–63° | 24oz/680g | $1100 |
| Nikkor AF-S 60mm f/2.8 Macro | 7.3in/19cm | 39° | 15oz/425g | $600 |
| Nikkor AF-S VR 105mm f/2.8 Macro | 12in/31cm | 23° | 25.4oz/720g | $900 |

Recommended lenses for full-frame Nikon DSLRs compared
Nikkor AF-S 8–15mm f/3.5–4.5
While Canon users have enjoyed the novelty of a fisheye zoom offering both "circular" and "frame-filling" images since 2010, Nikon has just released its equivalent lens. Fortunately, it seems to have been worth the long wait: This "Gold Ring" 8–15mm Fisheye offers the highest quality results throughout the zoom range. The frame-filling image you get at 15mm offers an ultra-wide angle of view that's perfect for reefscapes and the biggest pelagics. The circular images you get at 8mm won't be to everyone's taste, but there's no denying that the effect is unique, and there's no telling what creative tangents it could lead you to explore.
$1100 | www.backscatter.com
Sigma 15mm f/2.8 Fisheye
Nikon's 16mm f/2.8 Fisheye ($1000) is equivalent to the company's 10.5mm f/2.8 Fisheye for cropped-sensor DSLRs, with a frame-filling 180-degree angle of view. But Sigma's similar prime ultra-wide lens is slightly wider, at 15mm, focuses closer, and costs considerably less, while matching the Nikon 16mm in terms of optical quality. The Sigma 15mm's fisheye perspective works a treat for subjects such as sharks and sea lions, but creative shots of small subjects can also be achieved using the close-focus wide-angle technique.
$610 | www.backscatter.com
A wall adorned with sea fans in Palau captured with the Sigma 15mm Fisheye
Nikkor 14–24mm f/2.8G ED
This "Gold Ring"-series rectilinear wide-angle lens is a monster in more ways than one: It tips the scales at a weighty 2.2lbs, has a very chunky front element, and commands a hefty price tag—probably the most cash a Nikon-toting underwater shooter will ever put down for a piece of glass. The reward is a very versatile lens offering breathtaking optical quality and very minimal distortion and aberration throughout the zoom range, even at the wide end. The 14–24mm can take on any wide-angle subject, but as a rectilinear lens, it's particularly well suited to shooting such things as wrecks, piers, and kelp forests. Keep in mind that the lens does require a very large (and expensive) dome port.
$1900 | www.backscatter.com
Nikkor AF-S 16–35mm f/4
The go-to lens for a whole range of subjects, from sharks to wrecks, the 16–35mm—a "Gold Ring" series lens—offers good image quality throughout a very useful zoom range. Barrel distortion is noticeable at 16mm, but this can be quite easily corrected in post-processing. If you have deep pockets, a more-expensive alternative is the Nikkor 17–35mm f/2.8, which offers a wider maximum aperture but somewhat reduced corner sharpness at wide apertures compared to the 16–35mm f/4.
$1100 | www.backscatter.com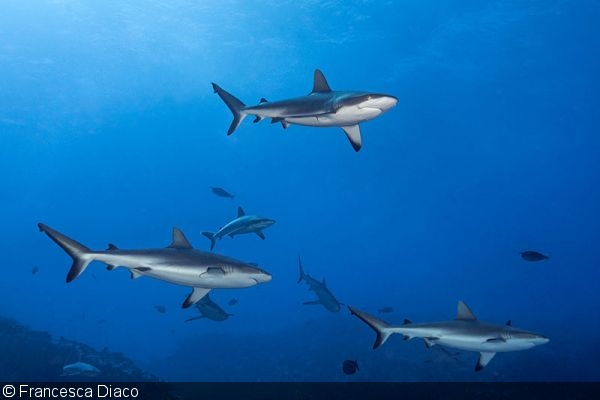 Gray reef sharks in French Polynesia photographed with the Nikkor 16–35mm
Nikkor AF-S 60mm f/2.8 Macro
Whether you shoot smaller subjects with a 60mm "short" macro or a 105mm "long" macro often comes down to personal preference. With its wider field of view, the 60mm is considered to be the more versatile of the two, and can be used to shoot portraits of medium-sized subjects as well as macro critters up to life-size (1:1 reproduction ratio), allowing you to include some of the subject's environment in the frame. The 60mm's short working distance means you can get very close to minimize backscatter in low-visibility situations, but this also makes the lens unsuitable for photographing shy critters.
$600 | www.backscatter.com
Nikkor AF-S VR 105mm f/2.8 Macro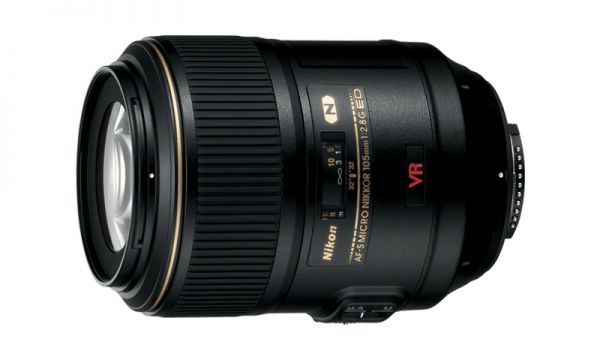 Owing to its greater working distance, the 105mm is the lens of choice for filling the frame with more skittish critters like mantis shrimp, gobies, and blennies, which don't allow you to get so close. The 105mm tends to create more-dramatic macro images, and produces an attractive bokeh that is favored by many macro photographers. It can also shoot up to 1:1 reproduction ratio. The "Gold Ring"-series 105mm works best in bright, clear conditions, and can sometimes struggle to gain focus if the light level or visibility isn't ideal. (For more on the advantages and disadvantages of "short" and "long" macro lenses, see "Comparison: 60mm vs. 105mm Macro Lenses for Underwater Photography.")
$900 | www.backscatter.com
A sailfin blenny shot with the Nikkor 105mm
Final Thoughts
Apart from the lenses being smaller and lighter weight, cropped-sensor DSLR users love the flexibility (and low cost) of the Tokina 10–17mm, a fisheye zoom that has no equivalent in full frame. Most full-frame DSLR shooters will use the Sigma 15mm prime for ultra-wide-angle fisheye duties, because of its ability to focus just as close as the Tokina. Alternatively, consider adding the new 8–15mm to your kit if you want to add a little spice to your wide-angle shooting experience in the form of "circular" images.
The "Gold Ring" rectilinear zooms recommended here—the 14–24mm, 17–35mm, and 16–35mm—are comparatively expensive, but you get what you pay for in terms of image quality.
If you're just starting with full frame, there's one other lens you should probably have in your camera bag: the 105mm macro. If you love shooting the really small stuff, you'll quickly appreciate the extra working distance that this high-quality lens gives you.
---

When purchasing underwater photography equipment like the products mentioned in this article, please support DPG by supporting our retail partner—Backscatter.com.
RELATED CONTENT
Be the first to add a comment to this article.
Newsletter
Travel with us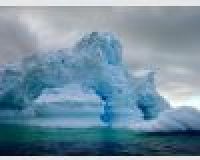 Antarctica
Plan Your Adventure >
Featured Photographer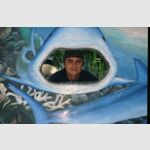 Scott Tuason
Expert Photographer
Scott "Gutsy" Tuason began his romance with the sea when he was still legally too young to dive. Still, this did not prevent him from going with his father on diving trips around the country. Gutsy's...