Best Lenses for Nikon Cropped-Sensor DSLRs
By DPG Editorial Staff, June 20, 2017
Nikon, like Canon, makes an extensive range of lenses specially designed for their cropped-sensor "DX"-format DSLRs (see "Selecting Lenses for Underwater Photography"). There are also various other companies, such as Sigma and Tokina, that manufacture lenses for the Nikon DSLR "F-mount," which tend to be cheaper than their Nikon equivalent, and in some cases have no Nikon equivalent. Some Nikon lenses made for full-frame bodies (which are compatible with cropped-sensor bodies) are employed by DX-format camera users to good effect. It should be noted that Nikon manufactures its lenses under the Nikkor brand.
APS-C, or Advanced Photo System type-C, which is used to describe cropped-sensor DSLR formats actually varies in size from one brand to another. Nikon's APS-C sensor, designated "DX" format, is actually slightly larger than that of its main rival, Canon—23.6 x 15.8mm compared to 22.2 x 14.8mm. The difference, albeit small, translates to a slightly smaller crop factor for Nikon—1.5 versus Canon's 1.6—which, on paper at least, arguably gives Nikon a slight advantage over Canon. In practice, the difference is far too small to be noticeable in terms of, say, angle of view, and is only one of many factors that combine to create a lens that produces "quality" results.
Instead, as with Canon, there are lenses in the Nikon lineup—and in the catalogues of third-party manufacturers—that are particularly favored by underwater shooters for their performance and versatility. Here are the top lenses for underwater photographers with Nikon cropped-sensor DSLRs:
| Make/Model | Minimum Focus | Angle of View | Weight (Air) | Price |
| --- | --- | --- | --- | --- |
| Nikkor AF-S 8–15mm f/3.5–4.5 | 6.3in/16cm | 180–110° | 17.2oz/485g | $1100 |
| Nikkor AF DX 10.5mm f/2.8 | 5.5in/14cm | 180° | 10.8oz/305g | $775 |
| Sigma 8–16mm f/4.5–5.6 | 9.4in/24cm | 115–76° | 19.6oz/555g | $700 |
| Tokina AT-X DX 10–17mm f/3.5–4.5 | 5.5in/14cm | 180–100° | 12.3oz/350g | $470 |
| Nikkor AF-S DX 10–24mm f/3.5–4.5 | 9.4in/24cm | 109–61° | 16.2oz/460g | $900 |
| Nikkor AF-S 60mm f/2.8 Macro | 7.3in/19cm | 27° | 15oz/425g | $600 |
| Nikkor AF-S VR 105mm f/2.8 Macro | 12in/31cm | 15° | 25.4oz/720g | $900 |

Recommended lenses for cropped-sensor Nikon DSLRs compared
Nikkor AF-S 8–15mm f/3.5–4.5
Recently released, Nikon's first fisheye zoom is actually a premium ("Gold Ring" series) lens designed for full-frame format cameras, where it offers an unusual behavior, producing a circular fisheye at the wide end and changing to a frame-filling 180-degree diagonal angle of view at the long end. However, it's also compatible with DX bodies, and in this case—perhaps more usefully—the image fills the frame at both ends of the zoom, from 110 to 180 degrees. That makes this lens a sort of premium version of the coveted Tokina 10–17mm—only even wider, with an equivalent focal length range of 12–23mm. If it performs as well as its spec sheet suggests, this lens could emerge as the ultimate fisheye lens for wide-angle underwater photography.
$1100 | www.backscatter.com
Nikkor AF DX 10.5mm f/2.8
WIth its frame-filling 180-degree angle of view, this "Gold Ring"-series compact fisheye lens is unique among lenses for cropped-sensor cameras—of any brand. Only Nikon produces a prime lens with an equivalent focal length of 16mm on a full-frame DSLR. Its extreme distortion is a novelty on land, but underwater the lens produces a fantastic perspective that works well for everything from sharks to small subjects using the close-focus wide-angle technique, owing to its very close focus (less than six inches from the back of the camera, so just over an inch from the front of the lens). Being a prime lens, the quality of results is top notch, with excellent corner sharpness.
$775 | www.nikonusa.com
Sigma 8–16mm f/4.5–5.6
If you want to go really wide, but without the exaggerated distortion of a fisheye like the Nikkor 10.5mm or Tokina 10–17mm, the Sigma 8–16mm is a great choice, with an equivalent focal length range of 12–24mm on Nikon DX bodies. This ultrawide rectilinear zoom preserves straight lines, making it ideal for wreck photography or for shooting under manmade structures like piers or oil platforms. Its minimum focus is just a few inches from the front of the lens, so it can also be used for close-focus wide-angle work, again, without the heavy distortion of a fisheye.
$700 | www.sigmaphoto.com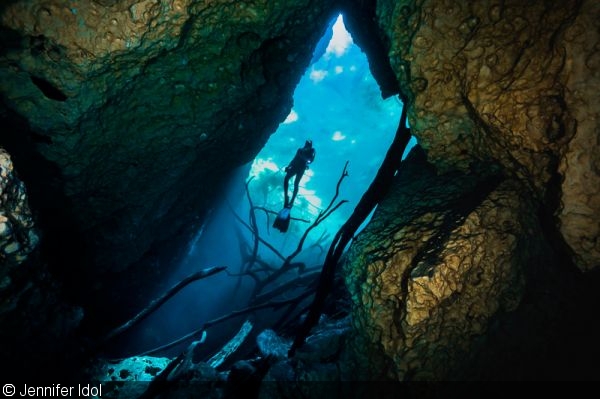 A diver at Orange Grove Sink, Florida, taken with the Nikkor 10–24mm
Tokina AT-X DX 10–17mm f/3.5–4.5
This comparatively inexpensive fisheye zoom is the go-to wide-angle lens for many shooters using cropped-sensor DSLRs, with any number of applications, from fish portraits to reefscapes. Producing a frame-filling image, the Tokina 10–17mm has a maximum field of view of 180 degrees and an equivalent focal length range of 15–26mm on Nikon DX camera bodies. It also focuses very close, so it's possible to create dramatic close-focus wide angle portraits, too. Find out why this lens is so popular by reading our guide, "An Underwater Photographer's Guide to the Tokina 10–17mm Lens."
$470 | www.backscatter.com
Nikkor AF-S DX 10–24mm f/3.5–4.5
Covering an equivalent focal length range of 15–36mm, this rectilinear wide-angle zoom is designed specifically for DX-format cameras, and as such can tackle a range of subjects, such as pelagics, models and wrecks. The lens offers superb image quality throughout the zoom range, and has a minimum focus less than six inches from the front of the lens. The Sigma 10–20mm f/3.5 ($449) and the Nikkor 10–20mm f/4.5-5.6 ($310) are two cheaper alternatives with similar specs but slightly lower image quality that are also popular choices.
$900 | www.backscatter.com
Golden sweepers photographed in their environment with the Nikkor 60mm
Nikkor AF-S 60mm f/2.8 Macro
For various reasons, Nikon's 60mm is the go-to lens for macro photography for many shooters. With an equivalent focal length of 90mm on a Nikon cropped-sensor body, it's a versatile lens that can shoot up to life-size (1:1 reproduction ratio), anything from nudibranchs to larger macro subjects like fish. Compared to the 105mm, the lens is a great choice when you want to include some of the critter's environment in your shot, and it's also more forgiving in low-light or poor visibility conditions. With skittish subjects, however, the 60mm isn't the best option, because of its relatively short working distance. (For more on the pros and cons of the "short" and the "long" macro lens, see "Comparison: 60mm vs. 105mm Macro Lenses for Underwater Photography.")
$600 | www.backscatter.com
Nikkor AF-S VR 105mm f/2.8 Macro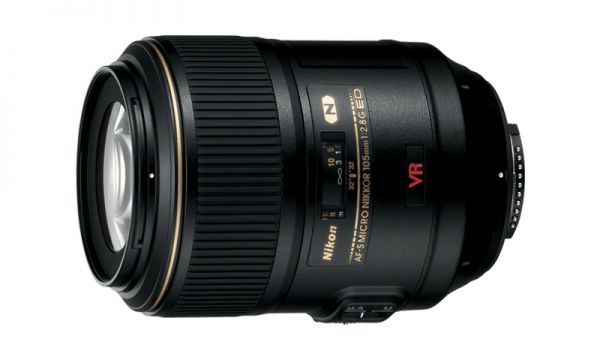 With a greater working distance than the 60mm, and an equivalent focal length of 158mm, the 105mm is the better option for shy subjects such as blennies or mandarinfish, or if you don't need to come in close to minimize backscatter. Capable of shooting up to 1:1 reproduction ratio, the 105mm autofocuses well when conditions are clear and bright, though getting focus spot on takes a little practice for shooters accustomed to the 60mm. It's possible to add a teleconverter to the 105mm to increase the working distance even further for the most skittish subjects.
$900 | www.backscatter.com
A whip coral shrimp shot with the Nikkor 105mm
Final Thoughts
These lenses represent the most popular choices for underwater photography and video among Nikon cropped-sensor DSLR users, whether you're a macro maniac or wide-angle wizard. Most established shooters will own the Nikkor 60mm macro, a rectilinear zoom like the Nikkor 10–24mm, and of course, the workhorse Tokina 10–17mm fisheye zoom. Macro enthusiasts will also very likely want to add the excellent 105mm to their arsenals.
In the Nikkor 10.5mm and the new Nikkor 8–15mm, Nikon DX shooters have the option of two interesting fisheye lenses where equivalents are not found in the lineups of other brands, potentially unlocking some creative perspectives on a variety of underwater subjects.
---

When purchasing underwater photography equipment like the products mentioned in this article, please support DPG by supporting our retail partner—Backscatter.com.
RELATED CONTENT
Be the first to add a comment to this article.
Newsletter
Travel with us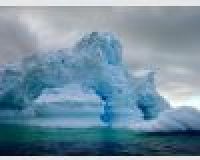 Antarctica
Plan Your Adventure >
Featured Photographer
Rand Mcmeins
Photographer
My first certified dives were in 2001. I rented a film camera from the dive shop in Curacao and took 2 rolls worth of shots. One roll was lost in the mail. It had a shot of a turtle on it and I was very dissapointed to lose it....