Best Lenses for Canon Full-Frame DSLRs
By DPG Editorial Staff, with Allison and Andy Sallmon, October 10, 2017
Canon produces an extensive range of optics for both its cropped-sensor bodies and its full-frame DLSRs, but its most-impressive lenses are designed for use with the latter. The company's premium range of prime and zoom "L"-series lenses are designed for professional use and aim to offer the best optical results, with characteristics such as fluorite and aspherical elements, wide maximum apertures, environmental sealing, and ultrasonic autofocus motors.
Some of the best optical quality in the business does come at a price, though, with many of Canon's lenses putting a serious strain on your wallet. However, with Canon's full-frame cameras ramping up the megapixels with each new generation, you'll want to get the most out of your DSLR's high-resolution sensor by using the very sharpest and highest-performing lenses on offer.
These are our top lenses for underwater photographers with Canon full-frame DSLRs:
| Make/Model | Minimum Focus | Angle of View | Weight (Air) | Price |
| --- | --- | --- | --- | --- |
| Canon EF 8–15mm f/4L Fisheye | 6.3in/16cm | 180° | 19.1oz/540g | $1250 |
| Sigma 15mm f/2.8 EX DG Fisheye | 5.9in/15cm | 180° | 13oz/370g | $610 |
| Canon EF 14mm f/2.8L II | 7.9in/20cm | 114° | 22.8oz/645g | $2100 |
| Canon EF 11–24mm f/4L | 11in/28cm | 126–84° | 41.6oz/1180g | $3000 |
| Canon EF 16–35mm f/2.8L II | 11in/28cm | 108–63° | 22.6oz/640g | $1600 |
| Canon EF 100mm f/2.8L Macro IS | 11.8in/30cm | 23° | 22oz/625g | $900 |

Recommended lenses for full-frame Canon DSLRs compared
Canon EF 8–15mm f/4L Fisheye
Although it's a zoom, the Canon 8–15mm is essentially two separate lenses in one: When zoomed out, it's an 8mm "circular" fisheye, and when zoomed in, it's a 15mm frame-filling fisheye. Behind a dome port with the appropriate extension ring, it's wonderfully sharp, even at the periphery when using a wide aperture, and it focuses so close that shooters are more likely to be limited by the physical presence of the dome port—or the unwillingness of their subject to be in such close proximity to the dome. Using the 8mm end of the lens is often a creative choice, but with the right subject and composition, it is a powerful "bonus" tool that packs an artistic punch.
$1250 | www.backscatter.com
A temperate reefscape captured with the Canon EF 8–15mm f/4L Fisheye at 8mm (left) and 15mm (right)
Sigma 15mm f/2.8 Fisheye
Sigma's 15mm Fisheye is a great low-cost alternative to Canon's 14mm rectilinear lens if you don't mind (or love) the reality-bending effects of a fisheye lens. With its ability to focus incredibly close—just six inches—and the almost limitless depth of field even at maximum aperture, the Sigma 15mm is a very versatile lens that can be used to shoot medium and large marine animals as well as small subjects using the close-focus wide-angle technique. The exaggerated distortion isn't suited to everything, however, and the lens shouldn't be used wide open—to avoid light falloff and softness in the corners of the image.
$610 | www.backscatter.com
Canon EF 14mm f/2.8L II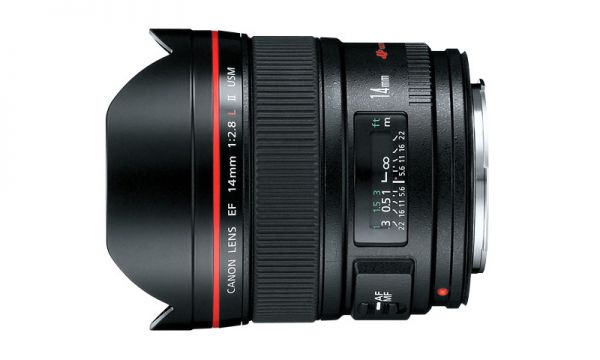 The Canon 14mm is an excellent—if rather pricey—lens that's perfect for medium subjects such as sharks, seals and sea lions. The lens is very sharp in the center, though it suffers a little from distortion the further from the center you get. Ironically, this is due in part to one of the positive features of the lens: its ability to focus very close. Most underwater shooters will try to use it as they would a fisheye lens, but the depth of field in the corners just isn't there when focused extremely close. The best way to use the lens is to maintain a high f-number (preferably above f/11) and refrain from extreme close-focus work, remaining at least a foot or a foot-and-a-half from your subject.
$2100 | www.usa.canon.com
Moray eels photographed with the Canon EF 11–24mm f/4L
Canon EF 11–24mm f/4L
Big, heavy, and expensive, the Canon 11–24mm is a beast of a lens. At 24mm, it's as sharp as can be, while at the wide end, it displays a little distortion at the edges, which goes away as you zoom in and isn't noticeable by about 13–14mm. Thus, the wider end of the lens works well for medium-sized subjects that are often framed centrally, such as such as sea turtles and sharks. More-skittish marine life can be captured using the 20–24mm end, making this lens a very versatile nature portrait tool that doesn't have the "bendy" barrel distortion of a fisheye. The large diameter of this lens requires a special dome port, made by only a few manufacturers. With the added cost of the dome, the 11–24mm can be a very pricey proposition indeed.
$3000 | www.backscatter.com
Canon EF 16–35mm f/2.8L II
A top choice for many underwater shooters, the 16–35mm f/2.8L II is a versatile lens that shines as a portrait tool for skittish marine life at and beyond about 20mm. Similar to the 11–24mm, when zoomed out to its maximum width of 16mm, the center is sharp, but there is some edge distortion (some of which is correctable in post). Lighter than its wider sibling, it also works with standard diameter dome ports. Canon offers various alternatives to the 16–35mm f/2.8L II: The recently released 16–35mm f/2.8L III, which costs a hefty $2200, aims to reduce edge distortion and improve overall sharpness. At $1100, the Canon 16–35mm f/4L is a less expensive option offering impressive sharpness but with a narrower maximum aperture. The even cheaper Canon 17–40mm f/4L ($800) is another decent alternative, though corner sharpness isn't quite as good as its more costly siblings.
$1600 | www.backscatter.com
An eagle ray captured with the Canon EF 16–35mm f/2.8L II
Canon EF 100mm f/2.8L Macro IS
The longtime go-to macro lens for Canon full-frame shooters, the 100mm f/2.8L is capable of life-size (1:1) close-ups at its minimum focus distance of around 12 inches. The lens produces extremely sharp images and focuses very fast, even in low-light conditions—though the use of a focus light is always recommended for macro. Canon doesn't offer a "short" macro for full-frame DLSRs; their 60mm macro is an EF-S lens designed for use only on cropped-sensor bodies. "Environmental" macro portraits, including more of a critter's surroundings, aren't easy to achieve with the 100mm.
$900 | www.backscatter.com
A cardinalfish with eggs shot with the Canon EF 100mm f/2.8L Macro
Final Thoughts
At a minimum, underwater shooters beginning their journey with a full-frame DSLR will likely want to have two lenses in their kit: the Canon 100mm f/2.8L for macro work, plus one of the various wide-angle options—depending on what they are most interested in shooting. If sharks and skittish creatures are more desired subjects, the 16–35mm f/2.8L II (or one of its close relatives) probably offers the most versatility. If epic reefscapes are the preferred target, the Canon 8–15mm f/4L is a top choice. Even if you never use the end that produces those novel "circular" images, you'll appreciate the excellent image quality of the lens at 15mm, which ultimately has the edge on that of the Sigma 15mm fisheye prime.
---

When purchasing underwater photography equipment like the products mentioned in this article, please support DPG by supporting our retail partner—Backscatter.com.
RELATED CONTENT
Be the first to add a comment to this article.
Newsletter
Travel with us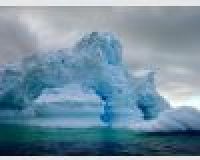 Antarctica
Plan Your Adventure >
Featured Photographer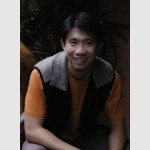 Lawrence Alex Wu
Expert Photographer
Color and light take on new sensations through a lens when combined with water and modern imagery techniques expressing a totally different art form. Alex specializes in creating underwater images as well as multi-media content...