Best Lenses for Canon Cropped-Sensor DSLRs
By DPG Editorial Staff, May 20, 2017
The lenses we choose for underwater photography and video are important decisions, which impact the quality of our images. As we discussed in "Selecting Lenses for Underwater Photography", certain lenses are made specifically for cropped-sensor DSLRs, while full-frame lenses can work on both cropped and full-frame cameras. Most lenses made specifically for APS-C cameras will only work on cameras with the proper lens mount, which in the case of Canon is the EF-S mount. Each lens manufacturer has different acronyms to differentiate between full-frame and cropped lenses. If you plan to switch to a full-frame camera one day, Canon's EF-S lenses won't work. However, EF lenses designed for Canon's full-frame bodies generally work fine on cropped-sensor cameras.
While it's important to know whether the lens you are planning to purchase will work with your specific camera body, it is also of great importance to understand how the cropped sensor changes the focal length of any given lens. Canon cameras have a crop factor of 1.6, which means the actual focal length of a lens can be determined by multiplying the focal length by the 1.6 crop factor. Thus, a 100mm lens becomes 160mm on a DSLR with an APS-C sensor.
Let's take a look at the best lenses for underwater photographers with Canon cropped-sensor DSLRs:
| Make/Model | Minimum Focus | Angle of View | Weight (Air) | Price |
| --- | --- | --- | --- | --- |
| Sigma 8–16mm f/4.5–5.6 | 9.4in/24cm | 115–76° | 19.6oz/555g | $700 |
| Tokina AT-X DX 10–17mm f/3.5–4.5 | 5.5in/14cm | 180–100° | 12.3oz/350g | $550 |
| Canon EF-S 10–22mm f/3.5–4.5 | 9.5in/24cm | 108–64° | 13.6oz/385g | $650 |
| Sigma 10–20mm f/3.5 | 9.4in/24cm | 102–64° | 18.3oz/520g | $450 |
| Canon EF 16-35mm f/4L | 11in/28cm | 108–63° | 21.7oz/615g | $1,100 |
| Canon EF-S 60mm f/2.8 Macro | 7.8in/20cm | 25° | 11.8oz/335g | $470 |
| Canon EF 100mm f/2.8 Macro | 12in/31cm | 24° | 21.1oz/600g | $600 |

Recommended lenses for cropped-sensor Canon DSLRs compared
Sigma 8–16mm f/4.5–5.6
This ultra-wide rectilinear zoom lens from Sigma is the widest lens available for Canon cropped sensor DSLRs. After taking into account the 1.6 crop factor, this 8–16mm lens becomes a 13–26mm and creates an exaggerated perspective that is ideal for underwater photography. With its close focusing distance, this lens is great for the close-focus wide-angle technique. Keep in mind that this is not a fisheye lens, however, so it doesn't distort the image to the same degree as a lens like the Tokina 10–17mm. As it is a rectilinear, it will keep any lines found underwater straight and should therefore appeal to wreck photographers.
$700 | www.sigmaphoto.com
Tokina AT-X DX 10–17mm f/3.5–4.5
This fisheye zoom lens is a beautiful tool for capturing vast underwater scenes. Made specifically for cropped-sensor DSLRs, the 10–17mm has an equivalent focal length of 16–27mm, with a maximum 180-degree field of view that will amaze first-time users. Unlike other fisheyes, this lens provides a full corner-to-corner image. With its minimum focusing distance of less than six inches, photographers are able to get very close to their subjects, thereby reducing the water column and increasing image clarity. There are many reasons why this lens is the workhorse of many wide-angle underwater photographers, from close-focus wide angle to expansive seascapes and marine life portraits, this lens is the holy grail of underwater lenses. (Read more about it in: "An Underwater Photographer's Guide to the Tokina 10–17mm Lens.")
$550 | www.backscatter.com
A reefscape shot with the Tokina 10–17mm lens
Canon EF-S 10–22mm f/3.5–4.5
This ultra wide-angle rectilinear EF-S zoom lens is designed specifically for use on Canon's cropped-sensor DSLRs—meaning it will not work on a full-frame DSLR. With the 1.6 crop factor, the lens essentially becomes a 16–35mm lens. As we mentioned, rectilinear lenses are good for creating straight lines, photographing skittish marine life, and reef scenes. Canon also makes a less expensive, slightly slower and wider 10–18mm f/4.5–5.6, which is less than half the price.
$650 | www.backscatter.com
Sigma 10–20mm f/3.5
Like the more-expensive Canon 10–22mm, this Sigma wide-angle zoom is made specifically for cropped-sensor DSLRs, with versions available with mounts for Canon and Nikon cameras, among others. Offering excellent image quality, the lens features a constant maximum aperture of f/3.5 throughout the entire range of focal lengths, which is equivalent to 16–32mm on full frame. With a minimum close-focusing distance of nine inches, the lens is ideal for shooting wide angle, wrecks and sharks—and is a great topside lens as well.
$450 | www.sigmaphoto.com
A Caribbean reef shark shot with the Canon 16–35mm f/2.8L on a cropped-sensor DSLR
Canon EF 16–35mm f/4L
This rectilinear wide-angle full-frame zoom lens provides photographers with excellent image quality, a bit more reach for encounters with timid marine life, and is a nice travel lens for both topside and underwater photography. With an equivalent focal length range of 26–56mm, it's also a great option for those looking for a different perspective from the go-to fisheye lens. Canon offers two 16–35mm L-series lenses at different speeds and price points. If it's not really necessary to shoot wide open, the f/4 will be your best bet for underwater use—as the f/2.8L retails for twice the price.
$1,100 | www.backscatter.com
Canon EF-S 60mm f/2.8 Macro
The Canon 60mm macro lens is an EF-S lens with an equivalent focal length of 96mm. It is usually the most popular choice for macro photography among new underwater shooters looking to capture small critters and fish. Compared to the 100mm macro lens (below), the 60mm is better for focusing in low light, weighs half as much, and is less expensive. As the lens can go closer than the 100mm, you'll have less water between the lens and the subject, which will help in poorer visibility conditions. Just be careful not to spook your subject as you move in tighter!
$470 | www.backscatter.com
Canon EF 100mm f/2.8 Macro
A brilliant lens for capturing the smallest creatures in the sea, this lens produces life-size 1:1 macro magnification. As it is made for full-frame cameras, the 100mm focal length becomes 160mm on a cropped DSLR. The lens can have a bit of a learning curve for new macro shooters, as focus can shift a bit when trying to lock onto your subject—but once mastered it is an invaluable tool for macro photography. The Canon 100mm f/2.8L Macro is also a great choice—as L-series lenses provide superior image quality—although it will set you back half as much again.
$600 | www.backscatter.com
A blue-ringed octopus shot with Canon's 100mm macro lens
Final Thoughts
The selection of lenses above is a good representation of the most widely-used lenses for the different genres of underwater photography—wide angle and macro—and should fit every budget. If you are just getting started in underwater photography and you want to cover all of the bases, you certainly can't go wrong with the following three lenses in your camera bag: Tokina 10–17mm fisheye, Canon 60mm macro and a rectilinear wide-angle zoom like the Canon 10–22mm or 16–35mm.
While cropped-sensor DSLRs require a bit of math to figure out their actual focal lengths, they do have plenty of benefits for underwater and topside photography. In fact, a lot of professionals choose to shoot with cropped sensors for shy subjects and tiny critters in particular.
---

When purchasing underwater photography equipment like the products mentioned in this article, please support DPG by supporting our retail partner—Backscatter.com.
RELATED CONTENT
Be the first to add a comment to this article.
Newsletter
Travel with us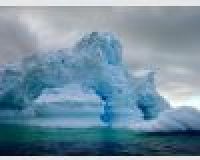 Antarctica
Plan Your Adventure >
Featured Photographer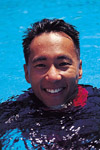 Tony Wu
Expert Photographer
Since having his toe pinched by a crab as a child, Tony has been obsessed with the inhabitants and ecosystems of the sea. Combining this with his love of visual art, Tony has been photographing marine life since he acquired his...