Big Animals – Basking Sharks, UK
Once you get shots of whale sharks you must get shots of the world's second-largest living fish, the basking shark. And they'd better have their mouths open. Eating only plankton, basking sharks have a huge mouth and gill rakers to funnel and filter plankton through. Although they live in every ocean, they prefer to spend a lot of time offshore and deep, unless you go to Cornwall.

CORNWALL, UK

The number of sharks and timing of the sharks varies from year to year. Cornwall has some of the better visibility versus other UK basking shark areas. Basking sharks like to feed near the surface, making it easy to spot them. Sharks cannot be touched or chased, and there are limits to how many people can be in the water at a time. Strobes are not forbidden but usually, due to visibility and plankton and particles in the water, using ambient light will get better results.

Recommended Operator

When to Dive

The months of April to September bring the basking sharks close to shore, although June to August is best.

Other Locations

Most other locations that offer the opportunity to get in the water with basking sharks are little more than chance encounters. However, a little bit farther up the coast, in Scotland, you can find the sharks in similar numbers. Go with Basking Shark Scotland. The sharks are also rarely spotted and photographed in the coastal waters of Rhode Island. Go with Pelagic Expeditions.

Pro Tips

The most important aspect to photographing basking sharks is to be in the right position in the water. Basking sharks usually swim in predictable ways and ideally you want to be all set up situated about 60 feet in front of a feeding shark.

Natural light is the order of the day, so leave your strobes behind and try to have the sun behind you to enhance visibility. I recommend using a fixed focal length lens that gives around 90 degrees coverage underwater. On full frame, a 20mm lens is perfect. Program mode works quite well but you need to underexpose by at least one stop. As there is no artificial light to freeze the action, I recommend at least 1/125th second shutter speed and ideally 1/250th, so set your ISO accordingly—typically, ISO 800 works well.

When the shark approaches, the only thing you should do is activate the shutter release. It is important to remain as still as possible to avoid disturbing the shark—otherwise it will swim off at an angle before coming to within a usable shooting distance.

Lastly, you need to find a camera-wise operator to take you out to see these sharks, not just a topside, tourist operator.—Charles Hood
RELATED CONTENT
Be the first to add a comment to this article.
Newsletter
Travel with us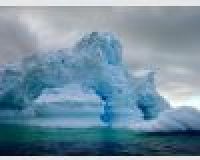 Antarctica
Plan Your Adventure >
Featured Photographer Felipe Barrio
Expert Photographer
Felipe Barrio has been devoted to nature photography since 1982. His photographs have been featured in different magazines, both in Europe and United Estates/Latin America. He has made various exhibitions and presented lectures...