Big Animals – Bull Sharks, Mexico, Fiji
Named after their stocky, bullish shape and bad attitude, the bull shark is known for its aggressive behavior and is a prized underwater subject. Also called Zambezi sharks, they like warm, shallow water including brackish waters such as estuaries and rivers. Growing to an average of eight feet, they can survive in fresh or salt water and are sometimes considered more dangerous than great whites. So the difficulty in photography lies not only in the proper imaging technique, but safety as well. They use their stout nose to bump prey before attacking with their wide, powerful jaws.

PLAYA DEL CARMEN, MEXICO

Some operators chum for the bulls but most don't. Female bull sharks passing through the area may still show up even without chum, although they will come closer to divers with chum. Numbers vary from five or six on a dive to upwards of 20. Visibility is usually good at 60 to 80 feet.

When to Dive

November to February is the best time to photograph bull sharks.

Pro Tips

Try something different such as slow shutter speeds or using natural light, and you will come home with some very cool shots none of the other 10 divers in the group will get.

Conserve your air. The best chances for a great shot of the feeder doing his magic happen once everyone is halfway to the surface.

Don't pack up and turn your camera off when your bottom time is done. These sharks will follow you to the surface and you might get great photo opportunities with clear blues in mid-water.

—

Rodrigo Friscione

FIJI

Strap in tight for this exhilarating shark feed and photography dive. Dozens of bull sharks zip around the reef—occasionally bumping into the (un)lucky photographer—while trained experts keep them encouraged with fish heads. It's one of the few bull shark dives where it's possible to photograph that open-jawed behavior.

Recommended Operator

When to Dive

Diving with Fiji's bull sharks is possible year round, but there are fewer numbers during the November to December mating season.

Pro Tips

It is very important to observe how the sharks move in order to be ready at the right time in the right place.

The presence of large amounts of fish chum is good news in terms of the number of sharks, but often results in bad visibility and composition. Sometimes it's better to concentrate on photographing the "edges" of the action, where it's less chaotic and the background is cleaner.

Pay attention to your strobe positioning. Keeping them low and angled out, coupled with lower power settings, will minimize backscatter from the chum and more evenly illuminate the shark's shadow-prone underside.

Don't just concentrate on the sharks. Given the presence of huge numbers of fish, there are opportunities to photograph massive groupers and hungry barracudas.

Think outside the box to avoid coming home with a standard profile shot of a bull shark. The abundance of animals will give you the opportunity to experiment with lighting techniques like long exposures with rear-curtain sync.—Davide Lopresti
RELATED CONTENT
Be the first to add a comment to this article.
Newsletter
Travel with us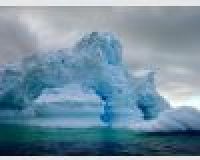 Antarctica
Plan Your Adventure >
Featured Photographer
Alex Kirkbride
Expert Photographer
Alex Kirkbride is an award-winning photographer with an international following. His water images have been exhibited in England, Italy and the United States, included in private collections, appeared on numerous covers...