All Articles
A review of the waterproof Olympus Mju/Stylus 1030 SW, used underwater without a housing.
continue
Colin Gans provides a comprehensive review of the Sealux underwater housing for the popular Nikon D300
continue
Is Apple's new MacBook the best kind of Air since nitrox? Here is my review of my new Macbook Air specifically for underwater photographers.
continue
Eric Cheng of Wetpixel posted a great review of the Sea & Sea MDX housing for the Canon 1D Mark III and 1Ds Mark III
continue
Our friends at LetsGoDigital posted a review of the Olympus E3 DSLR in the new Nexus housing, a combination we've been eager to hear more about since Olympus announced this partnership during DEMA...
continue
Our good friend Mauricio Handler sent us some updates while on assignment in Japan with Brian Skerry. You can follow the journey of these two great underwater photographers on the National...
continue
Our good friend and DPG field corespondent Amos Nachoum is in Mexico diving with Sailfish this week. He sends us his preliminary report
continue
Photographer and Wetpixel member Stephen Frink borrowed a copy of the new 14mm II from Canon Professional Services to examine both topside and underwater performance and compare against the other...
continue
This is one of the most comprehensive reviews of the D300 we've found so far, so we figured that we'd share it with our DPG readers. It's not an underwater review, but gives you a nice well rounded...
continue
The Sea & Sea DX-D80 is a professional underwater housing, but because it is very easy to use the beginner underwater photographer can use it as well. It is quite robust; it can be taken down up to...
continue
Newsletter
Travel with us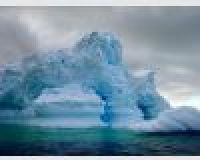 Antarctica
Plan Your Adventure >