Articles
Zoggs Goggles Commercial Shoot
By
Cal Mero
, March 9, 2011 @ 09:00 AM (EST)
By Cal Mero
I'm writing this because I wish that I read more articles like this one.
I want to read more about what challenges commercial photographers face when they take on an assignment. I've been a full time underwater photographer for about 18 months now. I've done some big budget shoots and I've done more zero-to-no budget shoots than I can count.
Here's a brief highlight of some of the weirder and more wonderful experiences I've had in the last 18 months...
I photographed $40,000 worth of dresses unerwater on a single shoot
I produced an underwater advert campaign for full body latex suits (not the swimming kind...)
I was asked to photograph "a feminie rebirth of an octopus underwater". Please explain? (I will Fed-Ex a beer to the first person who can decipher this brief!)
I photographed the international swim suit model of the year
I was stuck on an island in Vanuatu during a Tsunami
I've worked in over 25 pools in my city
My mom broke a rib assisting me on a shoot
I was vomited on by a baby during an underwater shoot
2 weeks later I was vomited on by a dog in a pool on a shoot
The vomit dog
Needless to say, when the Blinq Sports Photography Agency asked me to produce underwater stills for Zoggs International, I breathed a massive sigh of relief. Normality at last!
Blinq Photography is a team of professional photographers who are as passionate about sports as they are about photography. The brief for the shoot was quite simple: they wanted to showcase a new set of goggles in a bright, friendly and marketable way. The goggles were to be worn by a professional athlete swimming in both a pool and ocean setting. The images were supposed to show that the goggles helped reduce light due to the fact that they were polarized.
...hold on a second, how do you show that goggles are reducing glare/light in a photo? More than that, how do you show that light is being reduced by these goggles in an environment (water) that literally sucks out light?
My first thoughts were that the model had to be close to the surface with the goggles angled towards the sun. I wanted to get a bit of catch light on the goggle and hoped that this would convince the viewer that "hey, you actually need polarized goggles when your swimming!"
On a bright sunny day getting a reflection on the goggles wouldn't have been that difficult. The model just would have been positioned close to the surface and his goggles angled correctly. However, the day of shooting was very overcast so I hooked up an off camera Ikelite DS 125 flash unit trigger by a fibre optic slave system. This worked wonderfully and really provided the difference. Basically, I used the off camera strobe to provide catch light. My assistant was instructed to walk beside the model and aim the strobe at the goggles as they swam.
In fact, it was lucky that it was a very overcast day. Some readers might scratch their head at this, as its common knowledge that the best underwater photography happens when the sun is bright, shinning, and illuminating your subjects. However, having an overcast day meant that the lighting was very flat; therefore I could manipulate the lighting quite easily and direct where I wanted the highlights to fall -- namely the goggles.
It also meant that when I was below the subject and shooting up, the world appeared very 'glary' and therefore much more suited to my objectives. With a little bit of Photoshop and a levels layer enhancement, I was able to make the evenly lit sky 'pop' more than I would have with a sunball (Note – Post Production for the final images was produced in-house without my consultation as per our contract).
The shoot was broken into 3 segments – in pool swimming shots, black background portraits, and ocean swimming shots. The black background shots were relatively relaxing compared to the rest of the shoot. Black backgrounds are something that I've shot 100's of times. I setup my underwater studio, ran the models through some basic underwater modelling techniques (i.e. not squinting, not puffing cheeks out, etc.) and we got some great results.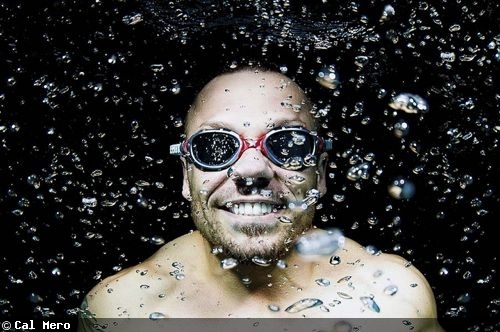 Shooting in the ocean was a different matter all together.
I expressed initial concern at the prospect of ocean shooting, as it's a dynamic and unpredictable environment, and true to form the viz was less than 6 inches on the day of the shoot. I briefly consulted with the Art Director and we came up with an affable solution to the problem. I'd produce some over/under imagery with the top portion displaying the swimmer with goggles catching the sunlight.
The idea was solid but there were waves. Big waves! Really, they were a few feet high, but when you're trying to produce an over/under that might as well be a tidal wave. So I opted for an alternative form of photography called "splash photography," which is quite commonly used in the surf photography community. I actually picked up this style on Kuta Beach, Bali, from a surf photographer named Seth Johnson- it's where you use your housing to produce photos above water but where the lens has water splashing over it. It's a very dynamic shot. This technique requires a great deal of 'spit'.
Patience was the real virtue here. I needed to nail a shot where the model was looking up slightly towards the sun so catch light was present on the goggles but I also needed a wave to be breaking over him so that the shot had some 'grit' to it. It needed to look tough. The goggles are marketed at serious to professional swimmers and this was the alternate marketing angle to the light and fluffy pool work we'd done earlier.
They didn't actually use this, but how cool is it!
I spent about an hour with each of the models in the water. They both froze as the water was 59F degrees and they were doing very little physical activity besides mock swimming (on the other hand, my drysuit kept me toasty!) My drysuit was a hot conversational piece, as the others (non-divers) have never seen one before. I pulled it on over my jeans and T-shirt to the bafflement of the onlookers. I wish I had been wearing a Tux.
I shot with a Nikon D90, Tokina 10-17mm, 2 x ds 125 strobes and an Ikelite housing with an 8' dome port. Additionally, as a backup, I used a D90 in a nexus housing with 2 x Z240 strobes courtesy of James Peake.
RELATED ARTICLES
Be the first to add a comment to this article.
Newsletter
Travel with us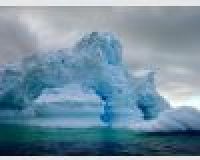 Antarctica
Plan Your Adventure >
Featured Photographer
Mike Veitch
Expert Photographer
Mike Veitch is a professional underwater photographer/videographer originally from Vancouver, BC, Canada. Not long after graduating from the University of British Columbia, Mike embarked on a long exploration of the SE Asia and...