Articles
The X(X) Factor: Observations on Women in Underwater Imaging
Lill Haugen surfaces in the icy fjords of Oslo, Norway.

Perception is a strange, scrappy and stubborn thing. It's no surprise that many decades ago diving was considered a man's prerogative, but women have since pushed their way into—and excelled at—the most macho niches of the sport.
My open-water class in 1992 was populated by more women than men, and I know so many avid female divers that I can easily plan a local charter with nary a Y chromosome represented on board. Nevertheless, popular media's suggestions for the appearance of ocean-going women can be—ahem—slightly unrealistic (mermaids and Jessica Alba, I'm looking at you), and even in 2014, one of the most difficult challenges female divers face is finding gear that fits.

Amanda Cotton signals to fellow shark divers.

Underwater imaging, which relies on patience and artistic aptitude more than testosterone, seems like a diving-related pursuit that would be particularly gender-neutral, but this is not always the case. At times, the obstinate seem to be everywhere, commenting that our camera setups are "awfully big for such a small girl", telling us how sweet we are for carrying our boyfriend's backup camera, or stating, with apparently genuine confusion, that they figured we were "just the model."
Frankly, things don't always improve when we are off the boat and in the company of so-called "normal" people. It can be quite difficult to find another person at a cocktail party who is interested in hearing about our new super-macro converters or our tricks for navigating an airline's overweight baggage fee structure.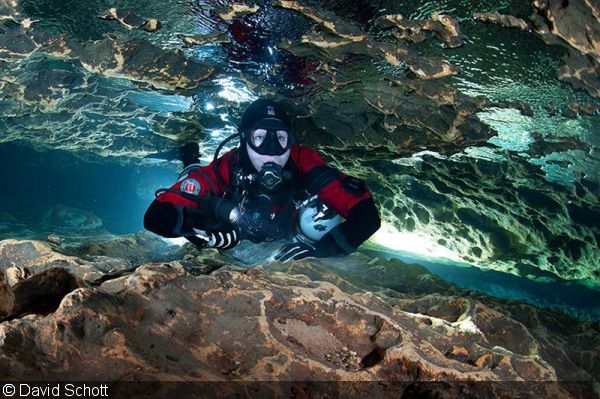 Becky Kagan Schott demonstrates that sidemount is not always optional.

Despite the remarks and oddities involved, we ladies stubbornly remain on deck, but sometimes I wonder: Why do we continue to pursue one of the least glamorous activities in existence? Why do we chase 16-foot sharks, subject ourselves to extended decompression stops, and travel alone to remote (and occasionally dangerous) locations when we could be photographing orchids at the local botanical garden?
I spoke to a number of accomplished females about their obsession with diving and underwater imaging. The 13 women I surveyed have been diving for a cumulative total of 264 years, with over 38,500 dives between them. They include instructors and instructor trainers, technical diving experts, renowned explorers and marine wildlife authorities—and they represent some of the most widely published, broadcast and awarded photographers/videographers in the world. They can relay tales of danger (the respondent who was trapped within an Antarctic iceberg), bravery (the respondent who participated in two life-saving rescues in a single day) and injury (the respondent who glanced down during a dive just in time to watch a disgruntled moray sink its teeth into her thigh).

Amanda Cotton freedives with sperm whales in Dominica.

Extreme tales aside, many participants relayed perplexing and cringe-worthy accounts of being disregarded as experts in diving or photography when accompanied by men—even in cases where the accompanying man was neither a diver nor a photographer. Imagine being the male customer who determined with a glance that then-dive shop owner Tanya Burnett didn't know enough about scuba gear to answer his questions. Or the dive boat captain who responded to boat-savvy Annie Crawley's deckhand position application with the remark: "Sorry, I'm not hiring any galley girls right now."
I wouldn't want to be the male diver who asked Becky Kagan Schott—who typically sports a large rebreather and even larger video camera—if she was certain she could handle the heft of a single scuba tank. And I'd definitely not want to be in the shoes of the guy who told explorer Jill Heinerth that she was "too big for her britches." Talk about faux pas! I greatly preferred reading about the man who keenly observed that Michele Hall has "steel ovaries"—a truer statement has rarely been made, and he was probably not kicking himself all the way back to the harbor.

Michele Hall shoots a giant cuttlefish in Australia.

Occasional stories included the odd assumption that we weren't even buying our own gear. Ellen Cuylaerts, for instance, walked onto a boat with her new DSLR system (one she had saved up for over many months), and the first male diver she passed commented on the new toy… that her husband had surely purchased for her. This was obviously news to her husband!
Humorous tales were naturally very common. Shark photographer Amanda Cotton told me, "I have been asked more times than I care to count by female clients, concerned husbands and boyfriends, children during shark presentations, new shark divers and also the occasional non-diver, 'Can women dive safely during that time of the month?' … Of course, the answer is an emphatic yes!"

Ellen Cuylaerts freedives with sperm whales in Dominica.

Most of the women I spoke to have learned to take comments in stride. Norwegian photographer Lill Haugen observed, "I have a male model when I work, and sometimes when I travel to other parts of the world, other divers automatically assume I am the model and he is the photographer. We just laugh. I think I am more offensive to male divers than the other way around: Sometimes I make men carry my double tanks and make sexist comments about their 'girly' dive gear—muahahhaha!"
Lest we dwell too long on scenarios, I'll get back to the most important point to be made here: Why do we dive? Why do we shoot? Why do we wear (and carry) gear that outweighs us? From Debi Henshaw: "When I am underwater, all thoughts of deadlines and budgets melt into insignificance." Tanya Burnett said, "I dive to be… a part of the intoxicating alchemy of beauty, movement, color, life, wonder, curiosity, exploration and joy that being in the ocean brings me." Jill Heinerth's answer was downright poetic: "Each day, I get to swim inside the veins of Mother Earth, exploring the very places where the lifeblood of the planet pulses. It is incredibly exhilarating."

Jill Heinerth, jubilant in full gear post-dive.

For Kerri Bingham, "it is where I feel the most at home… When I'm diving, it's completely natural and it's where I belong." I especially liked Anna DeLoach's scientific approach: "I dive because it is the closest I can get to feeling like an explorer. I was a fan of science fiction when I was younger, and the underwater world is as wild and alien as anything I could ever have imagined." And Michele Westmorland's simple answer truly said it all: "I dive because I feel such joy in it. There is both peacefulness in calm waters and exhilaration in seeing marine life… and the one shot in thousands that makes me smile."
Escape, joy, exhilaration, comfort, exploration and getting "the shot." There is nothing more gender-neutral than this reasoning. Perception, be damned.
Author's Note: It is a terrible shame that I cannot highlight the incredible accomplishments of each of the fantastic women that answered my inane and repeated queries, as each of them deserves to be individually recognized. Ladies, I am in awe of all of you. Thank you for sharing your stories and your inspiring imagery.
Admiration and thanks also go to Carol Grant and Karen Doody for their support.
RELATED ARTICLES
Be the first to add a comment to this article.
Newsletter
Travel with us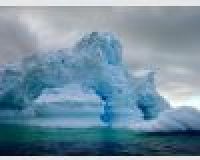 Antarctica
Plan Your Adventure >
Featured Photographer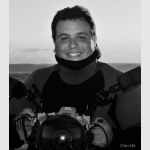 Daniel Botelho
Expert Photographer
Daniel was born at Rio de Janeiro,few steps from Copacabana Beach.Growing with the sea and with the rainforest around, he found in the wildlife photography a mission and work.Photojournalist,he is always trying to go beyond of...