Articles
Wrecks, Reefs and Rays with the Sony a6400 in Fantasea Housing: Part II – Alor and Komodo
There is no better place to shoot wide-angle reef scenes than the shallow reefs of Alor and Komodo. And who needs strobes and tanks when you have the sun and a snorkel?

Despite the recent excitement around full-frame mirrorless cameras, the arguments for "cropped-sensor" formats in underwater imaging are just as valid as they ever were: Even though the pixel count won't be quite as jaw-dropping, you can get a much more compact and portable rig that doesn't compromise on features, performance or image quality—for a significantly smaller outlay.
Right now, near the top of the APS-C heap is Sony's α6400, the latest in a long line of steadily improving mirrorless cameras that offers 24-megapixel, UHD 4K 30p and Full HD 120p video capabilities, and 11fps continuous shooting, along with the impressive autofocus capabilities that have made Sony the mirrorless king. It's this highly capable camera that I've been field testing in recent weeks with the help of Fantasea's equally capable FA6400 housing, the 16–50mm (24–75mm equivalent) f/3.5–5.6 standard kit lens, and two high-quality wet lenses, Fantasea-AOI's UWL-09F wide-angle lens and UCL-900F +15 super macro lens.
I initially tested out this rig in one of my go-to testing grounds for new equipment, Bali's USAT Liberty wreck just off the shores of Tulamben while on a tour with Dive Safari Asia. The wreck and surrounding sites offered an instructive look at the α6400's dynamic range, autofocus prowess, and macro capabilities while also giving me a good sense of the usability and reliability of the Fantasea housing. Despite being a modest $2,000 for camera, lens, housing, and port, the package really blew me away both in terms of its photo and video capabilities.

The compact and maneuverable Sony α6400 in the Fantasea FA6400 housing—complete with Fantasea-AOI UWL-09F wide-angle wet lens—is the perfect setup for snorkeling

While I did get a solid feel of the setup in my time spent scuba diving in Tulamben, I had only scratched the surface in terms of what the camera can do. I had yet to see how the α6400's 11fps burst mode would handle fast-action shooting, how the custom white balance worked with colorful reef scenes, or how usable the camera's ultra slow-motion video proved in practice.
The next leg of my two-part field review would be taking me to the pristine reefs of Alor in eastern Indonesia and then later to the big action of Komodo as I embarked on a two-week trip with Snorkel Venture, who specialize in worldwide group-led snorkel tours. These two chart-topping locations would hopefully offer me the subjects and scenery I had in mind as I dug deeper into the Sony α6400's tantalizing photo and video options. I just hoped my lungs were up to the challenge now that I was packing only fins, mask, and snorkel, and leaving my cumbersome scuba gear hanging in my wet room back home.

Getting Perfect Color
One of my favorite ways to shoot underwater is with natural light. Not only does it provide more flexibility in terms of composition now that we don't have to worry about working within the proximity of our strobe's reach, but it also means the natural colors will extend throughout the image and not be just where the strobe light hits. Moreover, turning off our strobes and harnessing the power of the sun, we can finally properly make use of our camera's high-speed continuous shooting mode, unhindered by flash recycle times. Given the abundance of clear skies, shallow reefs, and marine life that I didn't want to spook with a blinding burst of light from my strobes, I had plenty of subjects to choose from.

The dynamic range of the α6400 is really quite impressive even in the most diverse lighting scenarios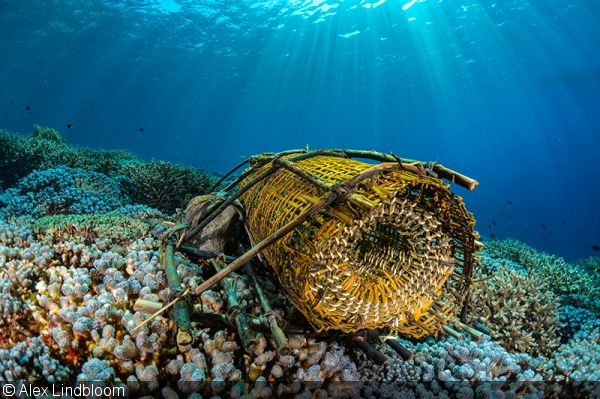 The fishing baskets used by the local fishermen in Alor not only ensure that fishing is done sustainably but also provide really unique wide-angle subjects

The α6400's RAW files offer plenty of flexibility for some post-processing creativity, as in this black-and-white shot of a fisherman escorting one of the fishing baskets into position on the reef

Now that I was snorkeling rather than diving, setting the custom white balance on the α6400 required a bit more effort and planning, but I happily welcomed the new challenge as I attempted to harness my inner freediver. To get an accurate calibration off my pasty white hand, I had to dive down to the depth where I would be doing most of my shooting and then set the white balance.
The method for setting the custom white balance on the α6400 is really straightforward and requires only a couple of button presses. As long as I had the sun at my back, I was able to quickly get an accurate calibration yielding wonderfully color-rich images on my first attempt. To make things easier for the user, the α6400 offers three options for storing different white balance settings—for our purposes, for different depths. I had one set for 5 meters (16 feet) and another set for around 1–3 meters (3–10 feet), which I rotated between.
Given Sony's reputation for not having the most accurate colors underwater, I was very conscious about the accuracy of the white balance, but I really didn't have much of an issue at all. I found that after my initial white balance calibration at my desired depth, I could then fine-tune the colors by going into the color grid and moving the point to get me even closer to the natural colors of my subjects. This is also just a couple button presses and can easily be done on the fly on account of the user-friendly ergonomics of the Fantasea housing.
The final step in getting perfect colors was the post-production process, which was quick and painless since most of hard work was done in-camera. I found that with just a tweak in temperature and a simple boost to the saturation, my colors from the α6400 weren't so different to photos from my Canon EOS 7D or Panasonic GH5 shot in similar situations.

With the Fantasea-AOI UWL-09F wide-angle wet lens, it was a joy to experiment with shooting the beautiful coral heads bathed in the natural sun rays only found in the shallows

Even in a tricky natural light situation like late afternoon, when the dappled light rays come though, the α6400 manged to capture the natural colors of the reef with the right custom white balance
Composing the Action
While the reefscapes of Alor didn't require me to rip at 11fps in order to capture them in all their glory, Komodo's mantas feeding near the turbulent surface were a different story, and I was thankful for every one of those frames, the 46-frame RAW buffer, and the lightning-quick autofocus.
True, you could take a single frame of a passing manta, and it would doubtless be impressive—given that mantas rock—but did you capture it at the best possible moment? Are the wings up in that classic manta pose or are they curved down with only one wing visible, or are they some where in-between? Then there's the constantly changing shapes of the dappled light on the back of the manta and the reflection on the surface. There are so many variables to consider that really can't be planned for or predicted by mere mortals. So what's the best way to ensure you get the shot? Answer: burst mode—and the faster, the better. Eleven frames per second is exceedingly fast, especially if you consider that this is cropped-sensor camera costing less than a thousand bucks.

When a large manta passed by at the surface, the combination of the camera's ultra-quick autofocus abilities and its impressively fast 11fps burst mode made it possible to capture the perfect composition

Fast-moving subjects against an intense sun is a challenge for any camera's autofocus, but somehow the α6400 always hit the mark

While the camera boasts one of the most reliable autofocus systems on the market—and I'm sure it would nail a 10-foot manta at close range had I just left it with its factory settings—I wasn't leaving anything to chance in the event the camera suddenly focused on passing debris. So, with a bit of forethought, I selected the Expand Flexible Spot focus and positioned the now selected AF area where I intended to frame the manta, and once it was in range, all I had to do was frame the manta and hold onto the shutter.
Some people refer to this as "spray and pray," but I prefer to think of it as a calculated burst of images at a precise moment in time… Regardless of what you call it, the α6400 definitely lived up to the hype around its autofocus system. Of the 19 photos I took in the span of a second plus change, exactly zero of them were out of focus.

My record breath-hold is about 35 seconds and it took about 25 seconds to reach this turtle resting at about 40 feet. Fortunately, the rest was easy as the wet lens allows a subject to literally be on the dome while the housing's ergonomic design allowed me to quickly dial in the settings I needed to get the shot

The α6400's lightning-quick autofocus really helped when shooting this cuttlefish, as it was quite deep and there wasn't much time to get the shot—given my limited breath-hold abilities!
Capturing Buttery Slow Motion
Where video is concerned, one of the most exciting new technologies is variable frame rates. Not long ago recording at high frame rates for super-smooth slow-motion playback was something only reserved for the likes of those elite cameramen filming massive great white sharks leaping out of the water like trained dolphins. Now, the cameras on most smart phones have a super-slow-mo function, and the Sony α6400 has also followed suit by allowing underwater videographers more creative freedom in their productions.
In the S&Q (Slow and Quick) mode, one can choose between 1fps for a stop motion effect, all the way up to 120fps for that butter-smooth slow motion of a subject moving a quarter of its original speed. I'll assume I don't need to convince you how cool that is and what an awesome tool variable frame rates are for underwater videography. The only downside—and it's just a small one—is that high frame rates are only available at 1080p HD and not 4K. But given that most people's videos end up on Facebook or Instagram—neither of which accept footage in 4K—that your variable frame rate clips are "only" in HD is not really an issue. (It will be a while before a $900 camera can shoot 4K at 120fps, so you might as well just enjoy your awesome video on your HD TV and quit complaining.)

Shooting in natural light gave me a really good idea about how well custom white balance performed on the α6400, which was really no different to my Canon DSLR or Panasonic GH5—both of which have solid reputations where color is concerned
Final Thoughts
Having had the pleasure of using the Sony α6400 in Fantasea's housing quite extensively in a grab bag of situations in both video and photo modes—dark corners of wrecks, super-macro, large pelagics, close-focus wide angle, and sun-drenched reefscapes—I must say I'm quite blown away by it all. The overall image quality of the photos and videos produced by the α6400 truly gives higher-end mirrorless cameras like my Panasonic GH5 a run for their money.
At the same time, with its robust but lightweight build and well-designed controls, Fantasea has created a very reliable home for this little powerhouse of a camera that makes it a joy to shoot with. The integrated vacuum check and leak detector is a huge bonus while the assortment of high-caliber wet lenses available within the Fantasea ecosystem allow the user to switch effortlessly between wide angle and macro on the same dive. From pros looking for a solid backup camera or those just starting to take their underwater imaging to the next level, everyone should consider the Sony α6400 in Fantasea's housing. There are really no limits to what you can do with this amazing little setup.
Click here to read "Wrecks, Reefs and Rays with the Sony a6400 in Fantasea Housing: Part I – Bali."

Absolutely full of stunning coral colonies, this jetty in Alor is a wide-angle photographer's dream. The diverse capabilities of the α6400 made easy work of the unusual underwater landscape

Fisheye lenses aren't ideal when they overly distort the horizon or straight lines like jetty pilings, but with the Fantasea-AOI UWL-09F wide-angle wet lens, there's just enough distortion to add a bit of playfulness to images without overdoing it

One for the flash: Although this bommie was on the large size, the Fantasea-AOI UWL-09F wide-angle wet lens allowed me to get in nice and close so I could illuminate the whole scene with strobes

---
About Alex Lindbloom: Alex is an award-winning underwater photographer and videographer originally from Boise, Idaho and Seattle in the USA. His work has been featured on the Discovery Channel, in various dive magazines, on display in the United Nations building in New York City, and even on a 100-foot monitor in one of Jakarta's skyscrapers. After leaving the States in 2010 to pursue film and photography in Asia, Alex quickly fell in love with the never-ending diversity of Indonesia, where he has lived and worked since 2013. www.alexlindbloom.com
---

When purchasing underwater photography equipment like the products mentioned in this article, please support DPG by supporting our retail partner—Backscatter.com.
RELATED ARTICLES
Be the first to add a comment to this article.
Newsletter
Travel with us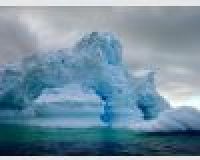 Antarctica
Plan Your Adventure >
Featured Photographer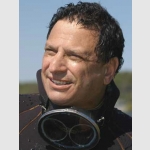 David Doubilet
Expert Photographer
David Doubilet is a contributing photographer for the National Geographic Magazine where he has photographed over 65 stories since 1971. David's most recent books are Water Light Time and Fish Face published by Phaidon and...