Articles
The World's Best Shark Dives – Part II

In our introduction to a new series on shark ecotourism and photography, we continue our list of the planet's top shark dives and the species you are likely to come across. In Part I, we focused on the most exciting encounters in Europe and the Americas, and here, in Part II, we look at the best action across Africa and Australasia.

1. South Africa
The continent most famous for wildlife safaris is also home to some wild underwater action. Most of us will be familiar with the annual Sardine Run, where sharks and other predators attack sardine baitballs in feeding frenzies that result in some crazy action shots. If you are lucky enough to visit on a good year, you may just capture award-winning images unlike anything else in your portfolio, but be prepared to put in many hours at sea in tough conditions to get them.
The majority of the other shark diving activities on offer in South Africa are based out of Simonstown or Gansbaai, south of Cape Town. Seal Island in False Bay is famous for great white shark encounters and is the location of numerous documentaries focusing on this species. Although the water is not as clear as Guadalupe and you can't scuba dive with the sharks like you can in South Australia, what makes the sightings special in this part of the world are the unique aerial attacks commonly performed by the white sharks hunting seals around Dyer Island. Although images of this behavior don't qualify as underwater images, they are amazing nonetheless.
Offshore, you can also go looking for blues and makos, and the kelp forests closer to land provide the opportunity to dive with prehistoric broadnose sevengill sharks and other rare species. In the same way that tour operators offer land safaris to see the "big five," dive companies in South Africa also offer shark diving safaris where it is possible to take part in all of these dives and photograph up to 10 different species of sharks in one expedition.
Recommended operator: Shark Explorers

A great white shark lunges after a potential meal in South Africa
2. Egypt
A popular destination for scuba divers based in Europe, Egypt is known for its colorful coral reefs, amazing visibility and numerous tropical fish species. Head deeper into the Southern Red Sea and you can also find epic pelagic shark action at The Brothers, Daedalus and Elphinstone reefs but you will need to join a liveaboard to get there. These sites are best known for encounters with oceanic whitetip sharks, a species that is bold and curious, making them fantastic photography subjects.
Although you will be on scuba, these sharks prefer to stay close to the surface so there is no need to go deep to see them. This means you have the best of both worlds, as you can play around with surface reflections and sunlight without worrying about deco time or any of the other restrictions of diving at depth.

The easily recognisable and beautiful oceanic whitetip shark

It is also one of the only sharks that will regularly approach divers without using bait, as they are programmed as part of their pelagic lifestyle to investigate everything and anything they come across. While not necessarily aggressive, you definitely need to keep a close eye on this shark at all times, so don't get stuck playing around with camera settings or reviewing images.
Head (much) deeper on the same dive sites and you can also come across schools of hammerheads and even the occasional thresher shark or whale shark.
Recommended operator: Blue O Two

Oceanic whitetips come close, allowing for experimentation with creative camera techniques
3. The Philippines
South East Asia is well known as a spectacular diving destination there you can photograph rare macro critters and coral covered reef systems, but there are a couple of locations in the Philippines that also offer unique shark encounters.
Malapascua island in the Visayan Sea is the only place on the planet where it is possible to reliably encounter the elusive pelagic thresher shark (Alopias pelagicus), a species that is instantly recognisable by its long whip like tail that it uses to strike and stun its prey before consuming it.
These deep water creatures rarely enter recreational dive depths, but this small island is home to a cleaning station that the sharks use to rid themselves of parasites like an underwater drive-thru car wash, and every day a handful of individuals appear for a service. You have to wake up very early to catch them, as cleaning time is just after sunrise and you have to be kitted up and in the water well before 6am, but its worth the effort and you can always catch up on sleep on the plane journey home.
Capturing decent images of these sharks is difficult as they don't approach divers often, and the use of any underwater light or strobe is banned. If you get lucky with conditions and have a camera that can handle high ISO settings you may still get something special, so plan on repeating the dive on multiple occasions to maximise the chance of good results.

The rare and elusive pelagic thresher shark in Malapascua

Three hours south of Malapascua in Oslob, Cebu, you can swim with a more common and much bigger fish, the whale shark. This destination has caused quite stir, as ex-fishermen from the local villagers feed the sharks handfuls of prawns from small boats close to shore, a practice frowned upon by some organisations who say the town is exploding wild animals for financial gain.
Others point out that the activity has converted many fishermen into tour guides, reducing the fishing impact in the region and providing families with a higher standard of living and education, but whatever your stance on this topic, there is no doubt the interactions between the sharks and the feeders is unique and worth documenting even if it doesn't feel like an entirely wild encounter.
Recommended operator: Thresher Shark Divers

4. Australia
With over 16,000 miles of coastline between its five states, Australia is home to many species of sharks and some amazing diving. The most famous area for shark tourism is Port Lincoln, South Australia, where a significant population of great white sharks can be encountered all year round at the Neptune Islands. While there are companies that offer this bucket list activity as a day trip, by far the best way to get the most from this experience is to join a multiple day liveaboard expedition where you can dive in submersible cages and view the sharks on the reef.
Sitting among the kelp and seeing these giant predators approach you on the seabed is a unique experience, and for photographers it provides the opportunity to photograph the white shark in its natural habitat, something you cannot replicate anywhere else in the world.

An Australian great white shark at the Neptune Islands

Head up the coast into the warmer waters of Western Australia, and it is possible to join snorkeling tours to swim with whale sharks at Ningaloo Reef. These trips are perfect for beginners and photographers alike, and you may even get lucky and see manta rays, and other sharks species while out at sea, too.
There also a number of famous dives up the east coast of Australia, and one particular site that every diver should visit is Fish Rock Cave in New South Wales. Here, you can see large groups of sand tiger sharks and the rare and unusual wobbegong shark.
In the very north of the country, you cannot forget the Great Barrier Reef, where you can see many gray reef sharks on the outer reef chains as well as occasional sightings of tigers, thresher sharks and great hammerheads.
Recommended operators: Rodney Fox Shark Expeditions, Mike Ball Dive Expeditions, and South West Rocks Dive Centre

Face to face with a giant whale shark at Ningaloo Reef, Western Australia
5. Fiji
The island of Fiji in the South Pacific is best known for two things: colorful soft corals and big sharks. Pacific Harbour is the shark diving capital of the island and home to the Shark Reef Marine Reserve, an expansive marine protected area created by the dive operator Beqa Adventure Divers in collaboration with local villagers and stakeholders.
The star of the show in the reserve is a population of massive bull sharks that have been conditioned over the years to hand feed from local dive guides, and it is not uncommon to have up to 50 bull sharks at one time present at the dive site. The dive is highly regulated and controlled and is therefore suitable for all levels of scuba diver, even those with no shark diving experience.

In Fiji, the bull sharks are big and come in close to check you out!

Bull sharks aren't the only regular visitor to the area. You can also see lemon sharks, silvertips, gray reef sharks, blacktip reef sharks, and the occasional giant tiger shark that will muscle its way through the gang of bull sharks in search of a tuna head.
Unsurprisingly, the photography opportunities are amazing, but you will be told to stay in one position for safety reasons and so you are somewhat reliant upon the action that unfolds in front of you and where you are positioned in the lineup. To maximize your chances of success, repeat this dive as often as possible and ask to change positions to shoot the sharks from different angles.
Outside of Beqa Lagoon, there are plenty of other dive sites where it is possible to see sharks during regular reef dives, but there is no denying that the best way to see the most sharks and get the best images is to join a shark feeding dive that many people consider the best shark dive in the world!
Recommended operator: Beqa Adventure Divers

Bull sharks as far as the eye can see in the Shark Reef Marine Reserve, Pacific Harbour
6. French Polynesia
French Polynesia is a shark lover's paradise. In Rangiroa, it is possible to take part in exhilarating dives where you will pass alongside hundreds of gray reef sharks hanging effortlessly in the current. These large gatherings make excellent wide-angle scenes, and the reefs are healthy and covered in coral, providing the perfect backdrop to the sharks. It is also possible to encounter a variety of other species here, such as silky sharks, lemon sharks, silvertips and the occasional great hammerhead. This type of diving is not for beginners, as most of the action is deep and currents can be strong, but those with enough experience who like reef and drift diving with plenty of sharks for company will love it.

The famous wall of reef sharks in Rangiroa

A less intense but equally as exciting highlight of the region is photographing the blacktip reef sharks that gather in the shallows. You can experiment with natural light, reflections, over-unders and even the use of drones to get some special shots from above.
In Tahiti, it is also possible to take part in a baited shark dive, which almost guarantees close encounters with numerous shark species. The stars of the show are large tiger sharks, and the only thing stopping you from getting clean profile shots of these top predators will be the thousands of reef fish and other marine life getting in the way!
Recommended operator: Master Liveaboards

A Tahitian tiger shark sends the reef fish scattering for cover
RELATED ARTICLES
Be the first to add a comment to this article.
Newsletter
Travel with us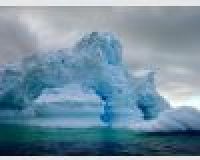 Antarctica
Plan Your Adventure >
Featured Photographer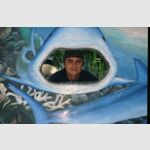 Scott Tuason
Expert Photographer
Scott "Gutsy" Tuason began his romance with the sea when he was still legally too young to dive. Still, this did not prevent him from going with his father on diving trips around the country. Gutsy's...